Do you remember last month when I wrote the blog post announcing the re-launch of the website? I was so excited that months of hard work finally come to fruition, and couldn't wait share it with all of you! Unfortunately, my joy was short-lived … and now I need your help.
Publishing that blog post revealed an 18-month scheme where my content – 228 blog posts and 863 photos in all – was stolen and re-publishing on the website of a publicly-traded company. When I demanded the removal of my posts and compensation for their use, the company responded by suing GoPetFriendly.com for $5 million. The entire story is laid out here, and I'm asking you to contribute to a GoFundMe account for legal fees to help us show this publicly-traded company that there are consequences for taking what doesn't belong to you.
Discovery
A few hours after publishing our excited announcement of the website re-launch, I discovered this tweet, which included the title of my post and one of my photos: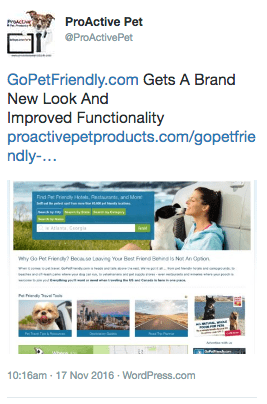 Using "GoPetFriendly" in the title (something I rarely do) triggered an alert that notifies me when people mention the website on Twitter. At first I thought this was a kind re-tweet … but then I noticed that the URL provided did not link to my website. A knot began to develop in the pit of my stomach because I've been through this before.
History
Two years ago another website was republishing my blog posts on their website without permission. It took weeks to get my articles and photos removed and more mental and emotional energy than I care to admit. I was really hoping to never have to experience that again.
To make it harder to swipe my content, I changed the RSS feed and email delivery of my posts so that our subscribers only receive the first few sentences followed by a link to the rest of the article. I hated making it harder for our friends to follow our adventures, but at least I was doing what I could to avoid delivering entire posts directly into the hands of people who would steal them.
The Treachery Runs Deep
But even that experience did not prepare me for what I found on this website. Dozens of my blog posts (225 at that point) had been duplicated in their entirety. A search revealed 23 pages of results for "GoPetFriendly" on their site.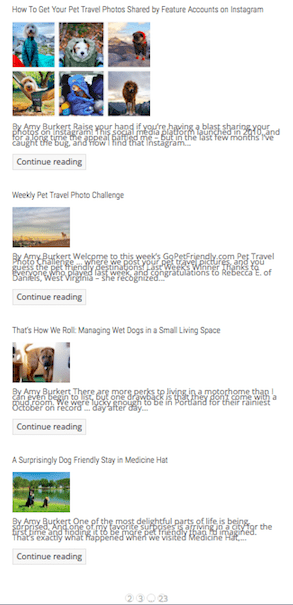 And the posts included all of my photos, some of which were marked with my logo, which is a registered trademark with the US Patent and Trademark Office. Remember my post about Managing Wet Dogs in a Small Living Space? Here it is on their website: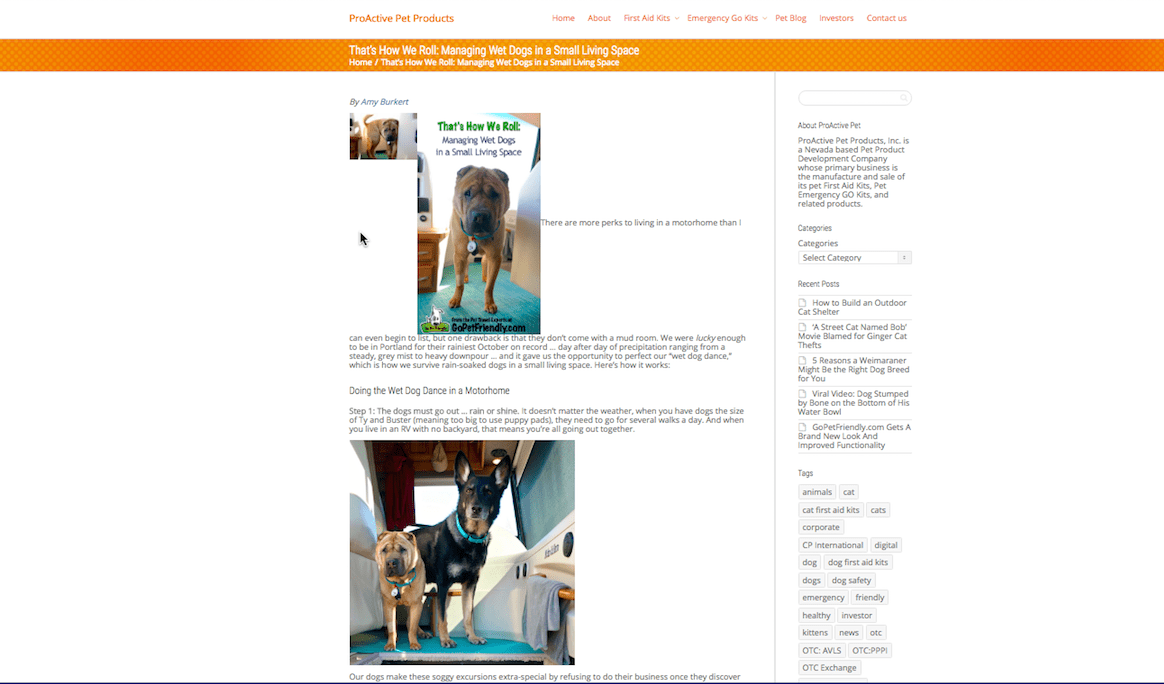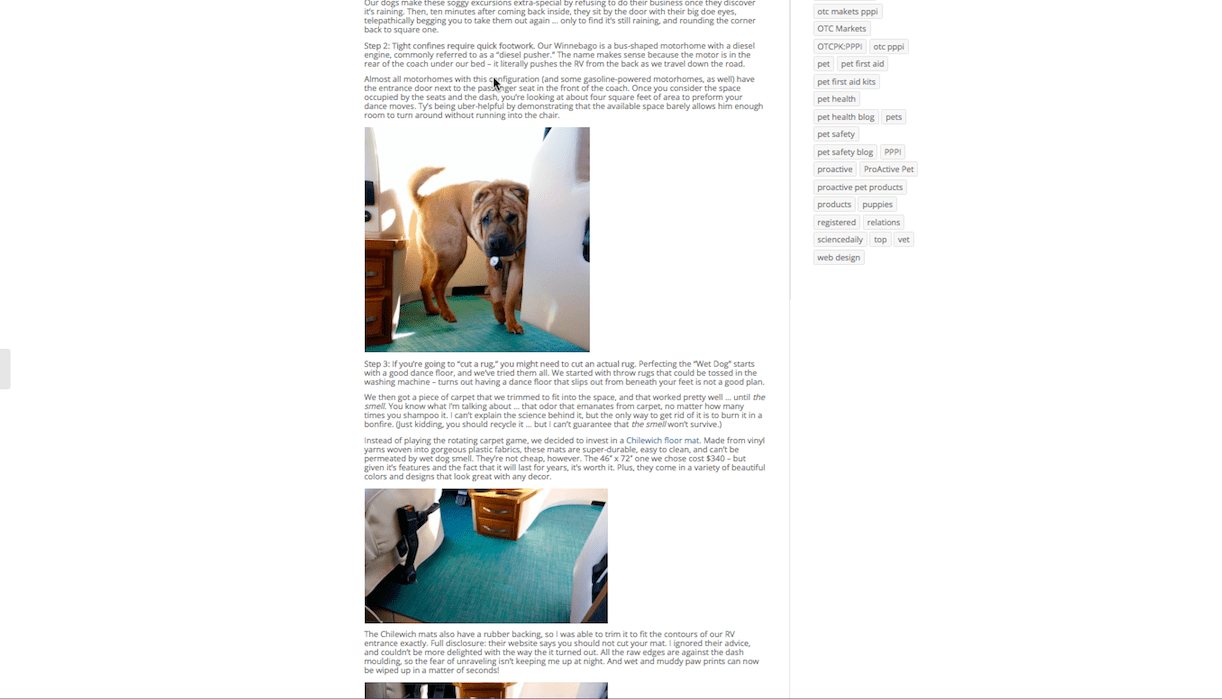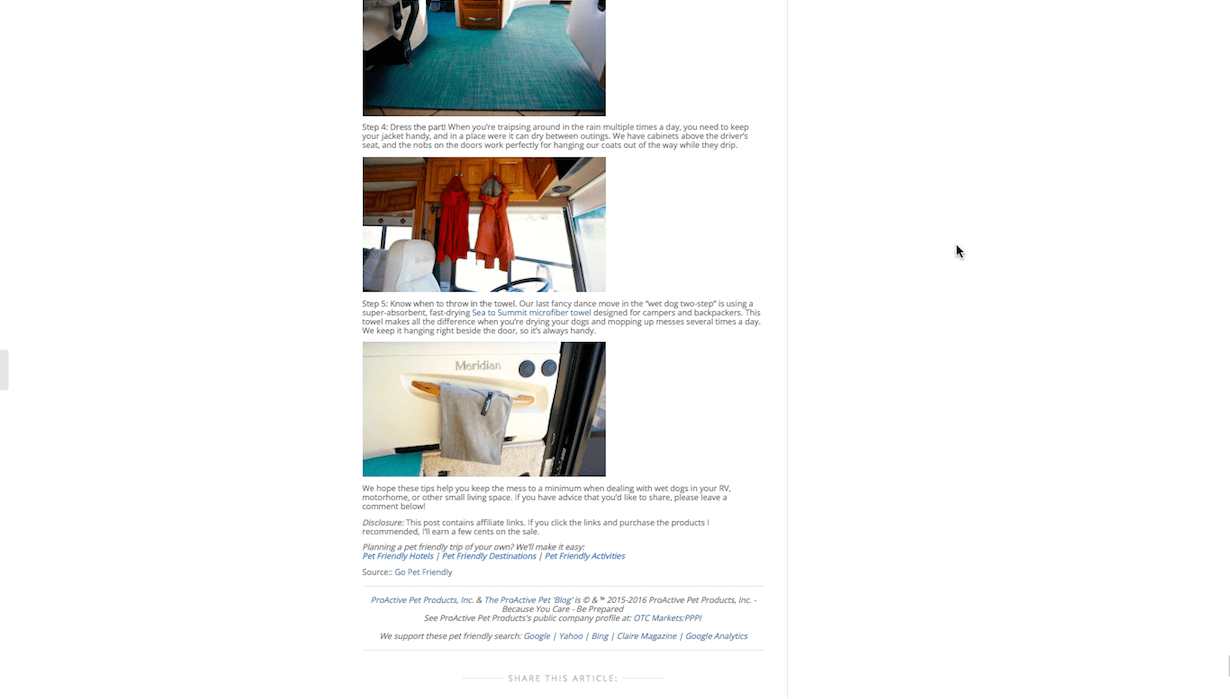 Copyright Law Protecting Blog Posts
I'm not an attorney, but I've learned a bit about copyright protection over the years. This is what I know:
Whether or not you mark your work or state your ownership, copyright protection attaches to "original works of authorship" the moment it is "fixed in any tangible medium of expression." For us bloggers, that means as soon as our text is saved on a hard drive or server, it's protected. And our photos enjoy copyright protection as soon as they're stored on our camera's memory card.
Only the owner of a copyright is permitted to do or authorize any of the following: reproduce the work, prepare derivatives based upon the work, distribute copies of the work to the public, perform the work publicly, and display the work publicly.
Works can be registered for copyright protection with the US Copyright Office for a reasonable fee. Guidelines for registering online works (including blog posts) is provided here.
If you choose not to register your work you can still recover actual damages from the infringer, or any profits the infringer earned attributable to your work.
If you register your work for copyright protection before an infringement occurs, or within three months of it's publication, and you win a judgement against an infringer, you can recover attorney fees and you can opt to collect statutory damages rather than actual damages.


Statutory damages are the court's "big stick." Penalties imposed for infringement can range from several hundred dollars up to $30,000 per work. In cases where the court determines the infringement was "willful," the damages awarded can be even higher – up to $150,000 per infringed work.

Here is a link to the entire copyright act if you'd like further information.
Cease and Desist
On November 17th, right after discovering the infringing articles and snapping a few screen shots of them, I sent a Cease and Desist letter to the email addresses listed on the infringer's Contact Us page. A cease and desist is a common tool used to notify a party that they are infringing on your work and demanding that the offending material be removed from their website within 24 hours. I also included an invoice for the use of my blog posts over the past 18 months.
Then I began collecting the URLs of every infringing blog post on their website, took screen shots of many of them, and collected the tweets they'd published using my photos and linking to my stolen posts on their website:
Timeline of Events
The company did not respond to my initial email, but their website stated that they are publicly-traded, so with a little digging I was able to obtain a lot of information from the public filings. I spent hours over the next several days researching the business and this is what I learned:
The company was organized in 1987 and has changed names six times over the years.
On January 21, 2015, "… to diversify the Company's operations and pursue new business opportunities in the pet product industry," the name was changed to ProActive Pet Products, Inc. from Registered Express Inc., which had focused on the digital mail business.  (from the Sept 30, 2016 Financial Statements)
The infringement of my blog posts began on June 25, 2015, when they first republished my work on their website without permission.
On August 3, 2015, the company issued a press release announcing the completion of their new website and blog.
On March 17, 2016, the company's stock took a huge hit, declining more than 60% in one day, after a series of paid analyst reports had ignited trading over the previous few days. The company continued paying to pump up the stock through the end of June, but the stock price never rebounded.
On November 14, 2016, the company once again changed its name, this time to GVCL Ventures, Inc. and implemented a 1:10,000 reverse stock split. This press release announced that, during the restructuring, the company also had a change in ownership and control.


The press release went on to describe the company as follows: "GVCL Ventures, Inc., through its wholly owned subsidiary, ProActive Pet Products, Inc., is a Nevada based pet product development company whose primary business is the manufacture and sale of its pet first aid kits and related products. Its expertise lies in the innovative development of its pet safety and health products, its recognition of the demands by dog and cat owners and the need for practical preparedness solutions." It invited people to "visit ProActive Pet Products, Inc. at www.proactivepetproducts.com."

Three days later, on November 17, 2016, I published GoPetFriendly.com Gets A Brand New Look and Improved Functionality, discovered the infringement, and reported it to the company using the contact information on their website.
On November 21, 2016 I sent a second email to the company using additional email addresses that I'd discovered in the public filings. By that time, three more of my posts had been republished on their site, bringing the total to 228.
On November 22, 2016, the company issued a press release announcing its purchase of GVCL Marketing, Corp., "… a specialty network marketing company that provides its clients access to a unique and extensive audience that they would not normally have access to." The press release goes on to state, "In order for the Company to focus on its new business direction, it will no longer engage in the business of Proactive Pet Products."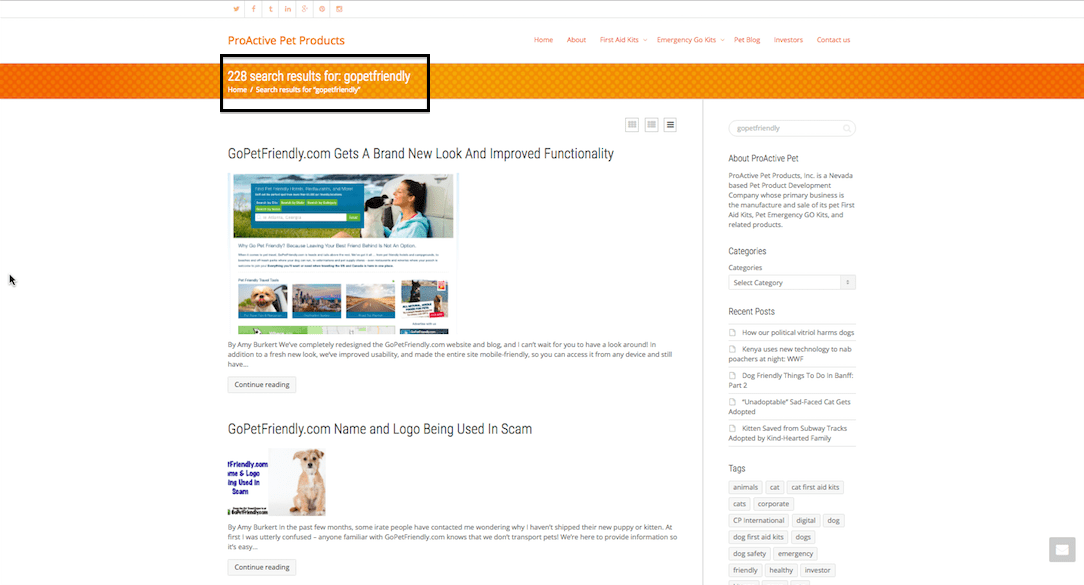 Making Contact
On November 22nd, I received a response from the new president of the company stating that the firm was under new management and had no knowledge of any infringement. I explained that I was aware of the change in control, but that the company was still liable for its liabilities. I pointed out that, under the new president's ownership, the company had continued to infringe on my content, and that if we couldn't reach an agreement, I'd have to involve my attorney.
At that point the company's entire website, my posts included, disappeared.
Fortunately, I collected screen shots and there are website archives like 
WayBackMachine.com
to help preserve evidence in these types of cases.
Why Not Walk Away?
Most people have no idea how much time and effort it takes to write a good blog. Unless you're a blogger, or have witnessed the hours devoted to creating each post, it's difficult to understand how completely we pour our hearts, souls, and big chunks of our lives into these online chronicles.
But the GoPetFriendly.com blog is even more than my personal creative expression and way of connecting with fellow pet travelers. It's an avenue for building brand awareness for my company, for improving our search engine results, and driving traffic to the website – which I hope will someday provide a return on all the time and money we've invested.
To know that a publicly-traded company scraped my posts and used them for their own gain for more than a year, and then flat-out refused to take responsibility for their actions, is beyond infuriating. This situation is EXACTLY why the statutory damage provisions of the copyright laws were written – to prevent companies from taking advantage of the little guys.
And yet, it happens ALL THE TIME. So many of my friends have had their content stolen. Why? Because infringers know that bloggers rarely have the means to sue them. We send Cease and Desist letters, the company takes down the offending posts after benefitting from them for months or years, and that's the end. Basically, they suffer no consequences. And I'm sick of it.
After a week of discouraging email banter with the company, it was clear we were not making progress. I asked my attorney to send a letter to their attorney demanding compensation for the use of my articles. We calculated my actual damages to be $250 per blog post, which is how much I receive for writing posts for other companies, plus my attorney's fees.
Trying to Turn the Tables
What happened next completely blind-sided me. The infringing company filed a lawsuit against GoPetFriendly.com demanding $5 million and a declaratory judgement that would prevent me from suing them for infringement.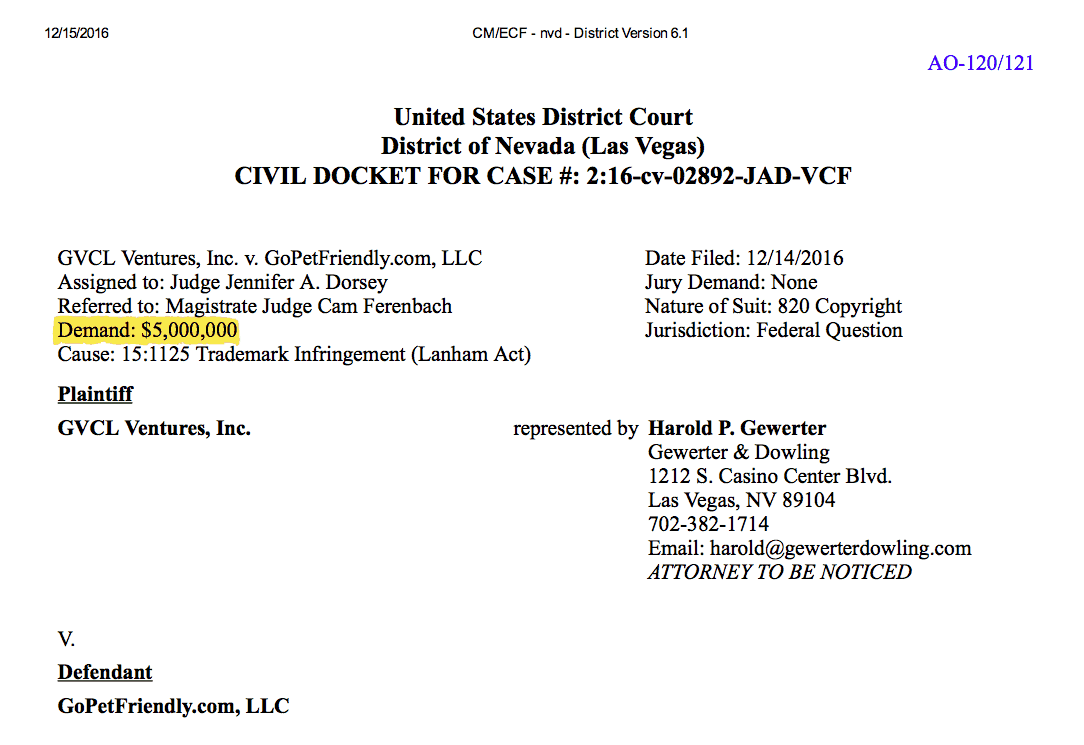 The complaint requests that the court issue a declaratory judgment of non-infringement of alleged copyright(s) rights and further seeks declaratory judgment that any alleged copyright, trademark or trade dress rights asserted by GoPetFriendly are "invalid and unenforceable."
The complaint goes on to explain that, "GVCL denies that it has infringed any copyrights owned by GoPetFriendly and that the infringement, if any, was undertaken without knowledge of GVCL by its former subsidiary, Proactive Pet Products, Inc. a Nevada corporation."
The fact that Proactive Pet Products, Inc. was a wholly-owned subsidiary and under the complete control of GVCL, that at least three of my blog posts were infringed upon after the change in ownership, and that the subsidiary was shut down almost immediately after I informed management of the copyright infringement wasn't mentioned in the filing.
Will You Help Me?
This lawsuit is a classic stunt to get me to go away. It's a cheap attempt by a bully to force me to divert funds from pursuing my justified claim for infringement to defend this bogus allegation. Unfortunately, this is breaking point for most bloggers. Right and wrong succumb to dollars and cents … and not only does the victim get screwed again, she has to pay attorney's fees for the pleasure.
I hope you will help me defend GoPetFriendly.com and stand up for bloggers, sending a message to content thieves that stealing does have consequences! I believe this is a strong case if we can raise the funds to cover the legal fees. I've started a GoFundMe account that you can contribute to here. All the funds we collect will go toward pursing the infringement case for my work, and defending GoPetFriendly.com from this $5 million lawsuit.
I can't begin to tell you how much your support means to me. Thank you.
Planning a pet friendly trip of your own? We'll make it easy:
Pet Friendly Hotels | Pet Friendly Destinations | Pet Friendly Activities
Amazon Affiliate Disclosure: GoPetFriendly.com LLC is a participant in the Amazon Services LLC Associates Program, an affiliate advertising program designed to provide a means for website owners to earn advertising fees by advertising and linking to amazon.com, audible.com, and any other website that may be affiliated with Amazon Service LLC Associates Program. As an Amazon Associate, the owner of this site earns a commission from qualifying purchases.
(Visited 18,302 times, 1 visits today)