Happy New Year, and welcome to the 7th annual Pet Blogger Challenge!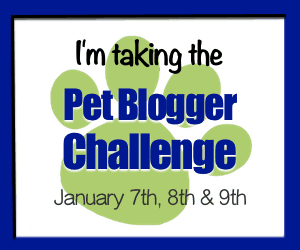 It's mind-boggling to think we've been at this for seven years, am I right?! I've met many of you through this event, and you've become more than a community I belong to – you're dear friends. Celebrating your accomplishments and sharing your visions for the future through these posts is a highlight of my year!
For those of you who are wondering what this is about, once a year we pet bloggers set aside our normal blog topics to reflect on our successes and share the dreams we have for our blogs. It may sound intimidating, but you'll see in the comments that the support of our fellow bloggers comes from the heart. It's why I love this event, and this community.
So, without further ado … let the 2017 Pet Blogger Challenge begin!
If this is the first you've heard of the Pet Blogger Challenge and you'd like to participate, you'll find all the details and the questions in this post.
1. When did you start your blog and, for anyone who is just seeing it for first time, please provide a description of your site. Would you say your blog focuses more on sharing stories with your readers, or providing a resource for your audience?
We started Take Paws 7 1/2 years ago to promote our pet travel website, GoPetFriendly.com, and to inspire other people to travel with their pets. The blog compliments our database of 65,000 pet friendly locations by providing readers with "paws-on-the-ground" insights on pet friendly vacation destinations, pet travel resources, and tips for making pet friendly trips go smoothly.
My goal is that people use the blog as a tool when planning trips with their pets, but I do weave in stories about our full-time travel adventures with Ty and Buster, so that our readers can get to know the boys through my posts.
2. What was your proudest blogging moment of 2016?
The complete redesign and relaunch of the website and blog was my proudest moment of 2016. Take Paws started out as a chronological recording our our travels, but much of the content is evergreen, and many of the older posts still generate a lot of search engine traffic. To make that information easier to access, the new design feels more like a magazine with easily searchable categories to deliver the pet travel advice visitors need at the moment. I'm in love with it!
3. Which of your blog posts was your favorite this year and why? (Please include a link.)
This will seem strange, but my favorite post of 2016 announced that 228 of my blog posts were stolen by a publicly traded company and that company is suing me for $5 million.   
There is something very empowering in following your gut and sharing what you've been struggling with privately for weeks. All the advice I'd received was to handle the matter quietly, but laying out the evidence and revealing the thieves on my blog was something I needed to do for me. The overwhelming support that flowed from that post – both emotional and financial – was so much more that I could have hoped for. Blogging sometimes feels like a solitary endeavor, but the responses I received made it clear that my work is appreciated, and it allowed me move forward to defend my rights in court.
4. Year after year, one goal that we all seem to share is that we want to reach more people. What one tool did you use or action did you take this year that had the most impact on increasing traffic to your blog?
In last year's Pet Blogger Challenge I shared with you that Pinterest had become a major source of traffic to the blog, and that trend continued this year. In fact, Pinterest surpassed Facebook as my primary source of social media readers! To capitalize on that trend, I recently signed up for Tailwind (referral link for $15 off), an online tool that allows me to schedule Pinterest posts in advance. (They do offer a free version, which allows you to get a feel for the platform before committing.) Combining this with Buffer, which I use to schedule Twitter posts, I've been able to more efficiently use the time I spend promoting my blog on social media.
5. Which of your blog posts got the most traffic this year? (Please include a link.) Have you noticed any themes across your most popular posts?
This year's winner was the ever-popular, Traveling With Your Dog to Canada, which I originally wrote in 2012 and updated in August to refresh the content and improve the layout. All of my post popular posts are pet travel resources that answer specific questions, and most were originally written several years ago. (Hopefully the blog posts I'm writing now will be my most popular posts sometime down the road!)
6. What blog do you find most inspirational and how has it influenced your blog? (Please include a link.)
I knew when I wrote the questions that this one would be the most difficult to answer. So many blogs inspire and influence me that it's almost impossible to choose just one … but I must, so it's Maggie Marton's OhMyDogBlog. Maggie has narrated her and John's journey with Lucas, Emmett, Cooper, and Newt, with a contagiously positive attitude, and a desire help others by sharing what they're learning as they go. Honesty, kindness, and love for her boys (and Newt) permeate her writing – you can feel the authenticity, and sometimes the heartbreak, but mostly the gratitude she has as she honors the process of caring for her furry family. She is truly inspirational. 
We had a few serious health scares with Ty this year, and I'm trying to follow Maggie's graceful lead in sharing our experiences with Ty and Buster as the boys grow older in our care.
7. What is one thing your readers don't know about you or your pets that would surprise them?
When we first found Buster as a stray in 2008, the boys didn't get along at all. Ty tried to attack Buster, and Buster went out of his way to instigate a fight. For nearly two months the boys lived on-leash in the house, being tied to opposite ends of the desk during the day, the sofa in the evening, and corners of the bed at night. They were walked, fed, and played with separately – it was a difficult time and we nearly gave up. But eventually the dogs concluded that neither was going to be successful in getting rid of the other, and they learned to accept each other and live together. Now, they love each other like brothers.
8. What is something you've learned this year that could help other bloggers?
My biggest learning opportunity this year relates to the infringement of my posts, and I've learned a lot! The first thing is that anything you create is automatically covered by copyright protection as soon as it's saved, but to give your rights teeth, you need to register your posts and photos with the US copyright office. That can be done for a reasonable fee, and allows you to sue for statutory damages, which can reach up to $150,000 per work if they're used without your permission.
The second thing I've learned is that there are services and inexpensive WordPress plug-ins that will scan the Internet and alert you if your content is being duplicated on other website. If I'd know about this, I could have prevented every one of my posts being stolen for 18 months. 
9. What would you like to accomplish on your blog in 2017?
This is going to be a HUGE year for GoPetFriendly.com. We announced this week that we'll be embarking soon on the Ultimate Pet Friendly Road Trip! This tour will take us to all of the lower 48 states – a 15,000-mile trip over 10 months. We'll visit the #1 pet friendly attraction in each state, host 17 live events where we'll meet you and other pet lovers, promote pet travel and safety, and help match up homeless dogs and cats with their perfect travel buddy.
10. Now it's your turn! You have the attention of the pet blogging community – is there a question you'd like answered, or an aspect of your blog that you'd like input on?
Legal entanglements are expensive, even when you're right, and I started a GoFundMe account to help cover the costs we're incurring to pursue the infringement case and defend GoPetFriendly.com from this $5 million lawsuit. If you can contribute and/or share my story, I'd very much appreciate your help.
That concludes my post for the 2017 Pet Blogger Challenge! Now, settle in your favorite reading spot and hop your way through all of these wonderful pet blogs. You're sure to make some new friends, reconnect with old friends, and learn a thing or two along the way.
Thanks to everyone who's participating!
Amazon Affiliate Disclosure: GoPetFriendly.com LLC is a participant in the Amazon Services LLC Associates Program, an affiliate advertising program designed to provide a means for website owners to earn advertising fees by advertising and linking to amazon.com, audible.com, and any other website that may be affiliated with Amazon Service LLC Associates Program. As an Amazon Associate, the owner of this site earns a commission from qualifying purchases.
(Visited 982 times, 1 visits today)