Welcome to the 9th Annual Pet Blogger Challenge! I am so happy to be hosting this wonderful event once again. It's a great opportunity to peek behind the scenes of my favorite blogs, connect with fellow pet bloggers, and catch up on the ups and downs of the past year.
But best of all, it's a chance to come together as a community to support each others plans and goals for the year ahead!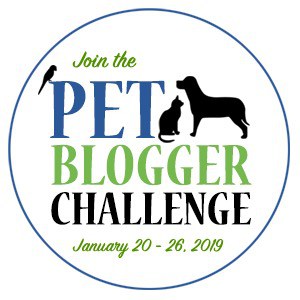 For those who may be wondering what the heck this is all about, once a year we pet bloggers set aside our normal blog topics to honor our accomplishments from the past year, and make our plans for the new year. We incorporate a Linky List into our posts, so it's easy to find everyone who's participating. And we comment on each other's sites, offering congratulations and encouragement. It's my favorite event of the year, and I hope you enjoy it as much as I do.
If this is the first you've heard of the Pet Blogger Challenge and you'd like to participate, you'll find all the details and the questions in this post.
And now, without further ado … let the 2019 Pet Blogger Challenge begin!
1. For those who may be visiting your blog for the first time, how long have you been blogging and what is your main topic?
We started Take Paws 9 1/2 years ago to promote our pet travel website, GoPetFriendly.com, and to inspire other people to travel with their pets. The blog compliments our database of 65,000 pet friendly locations by providing resources pet travelers need, "paws-on-the-ground" reporting about pet friendly vacation destinations, and tips for traveling happily and safely together.
2. What was your proudest blogging moment of 2018?
My proudest blogging moment of last year was publishing my book, The Ultimate Pet Friendly Road Trip. It is a compilation of 49 blog posts that I wrote in 2017, as we traveled to the top pet-friendly attraction in each of the lower 48 states and Washington DC.

To make it even better, last month I learned that the book has been nominated for a DWAA book award and the Sleepypod Pet Travel Safety Award. The winners will be announced next month, so please keep your fingers crossed!
3. What was the biggest blogging challenge you faced in 2018, and how did/will you tackle it?
Transition was the theme for 2018 for me, and that came with a lot of ups and downs. There were two big challenges we faced, and the first is that Ty and Buster are getting older.
At 14 and 11 years old, the boys just don't have the stamina or desire to get out and do as many things as they used to. Because of that, creating fresh content for the blog became a challenge. My solution was to bring on five fantastic women who were traveling with their pets to join the blogging team. Switching my role to more editing and less blogging was an adjustment. But this change allowed us to expand our audience by including insights on traveling with cats, trip inspiration for pitbull lovers, and a new perspective on traveling with a pet by boat.
The second big challenge came when Google changed their algorithm in late April and started hating us. Our traffic dropped steadily from that point, almost driving me to call the whole thing quits. As a last-ditch effort, I started working with a consulting team to help me improve the SEO and increase the speed of the site. It's a little like turning the Titanic, but their efforts are paying off, and we're getting back on track.
4. Which of your 2018 blog posts was your favorite and why? (Please include a link.)
My favorite post of 2018 was Pet Friendly Breweries and Wineries in South Dakota's Black Hills. After writing It Was A Strange, Happy, Sad Summer, this post felt like a return to the old days!
Traveling with senior dogs is a new experience, and one I've had a difficult time adjusting to. I was stuck on all the things we couldn't do and had a hard time seeing things we could. So, it was a joy to galavant around the Black Hills trying out the pet friendly wineries and breweries with Ty and Buster. They obviously enjoyed themselves, alternating from napping in the car between stops and hanging out on the sunshiny patios we visited.
5. Which of your 2018 posts was most popular with your audience? Why do you think it does so well?
The most popular post published during 2018 was Pet Friendly National Parks and the BARK Ranger Program, which was contributed by Leigh Wilson. I think the popularity of this post reflects people's desire to experience our country's natural wonders, while include their pets in a memorable way. It's the reason we do what we do!
6. Did you implemented a new series, feature, or practice on your blog in 2018 that you're enjoying?
With a team of bloggers creating content, I finally had time to create an Amazon shop on the blog! I get a lot of questions about the products we use to travel the dogs, to get internet in the RV, and to keep the boys safe when we need to leave them alone. Now all of our recommendations are in one place, and with links to Amazon, shopping is easy for our readers.
7. As the social media landscape changes, how are you promoting your blog posts and connecting with new readers?
In 2017, Pinterest was a major source of traffic to the blog – some months sending more than 10,000 views. It's still our biggest source of social media traffic, but when they changed their algorithm in 2018, traffic dropped significantly. The same thing happened with Facebook a few years ago, so I've learned that it's best to spread out my social media efforts.
This year I'll be doing more Facebook Live events and increasing my participation on Instagram. These platforms offer the opportunity to let my audience behind the scenes, which gives a more authentic connection. In the meantime, we'll continue working to improve the SEO on my evergreen posts, and incorporating better SEO in my new posts. And finally, I'll be encouraging people to sign up to receive the blog via email. After all, a direct connection with your audience is the only one you can truly rely on.
8. Looking forward to 2019, if you accomplish only one thing through your blog, what do you hope it is?
Our mission is to help pet lovers imagine and plan phenomenal trips with their pets. I'm in the early stages of transforming the site to simplify trip planning and emphasize the experiences people can have with their pets. With luck, the site will look entirely different a year from now.
9. What steps are you planning to take to ensure you reach your goal?
I'm working with a consultant to help me translate my vision into a plan, which can then be broken into projects and communicated to the programming team. I'm much better at the big picture and need someone who can help me think through the details. This person bring the balance I need to ensure our projects turn out the way I'm hoping.
10. Where I could use some help …
Video is part of our plan for 2019, and I'm looking for inspiration. Will you please share your favorite YouTube video series? Any related to travel would be especially appreciated!
There you have it – my contribution to the 9th Annual Pet Blogger Challenge. Now, get comfy and hop your way through all of these wonderful pet blogs! You're sure to make some new friends, reconnect with old friends, and learn something new along the way.
Thanks to everyone who's participating! Be sure to add the direct link to your post below, and include the Linky code on your blog to make it easy for everyone to hop along.



---
(Visited 1,699 times, 1 visits today)