We haven't done any updates on our dog training efforts for a while because there wasn't much to talk about. We work with the boys every day on their reactivity to other dogs when on-leash and on their heeling skills. Progress has been slow – so slow that it sometimes feels like we're hardly improving at all. And so it went, until the day we met up with Mary-Alice, and the impeccably mannered Chloe, of Dog Jaunt.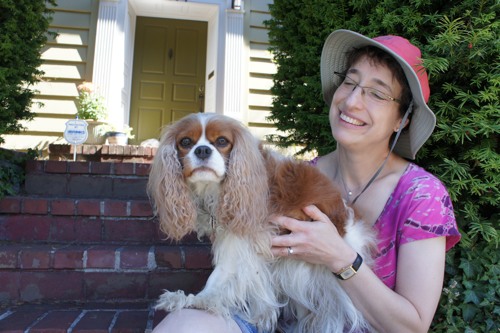 After reading Mary-Alice's post about Seward Park, I knew we had to see it when we got to Seattle. So when she suggested it as a place to meet up for a walk and a picnic, I couldn't have been more excited. We got there a little early and took Buster and Ty for a walk help them settle down a bit. When Mary-Alice and Chloe arrived, Ty was back in his bed, happily chomping on a stuffed KONG toy, and Buster was chilling out on the side walk.
If you haven't had the opportunity to meet Chloe, let me just tell you that she is the epitome of the perfect dog – happy, friendly, adorable, and well-mannered. When she jumped out of the car, Buster was instantaneously smitten. Not in the "in-your-face, I-can't-get-enough-of-you" way, but in the "Dang, I better be on my best behavior so I can impress this girl" way. After briefly introducing Chloe and Buster, we headed for the trails.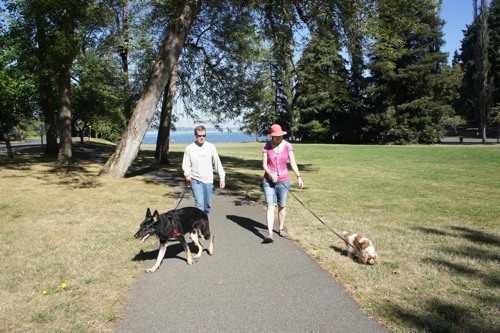 Seward Park is a 300-acre peninsula that sticks out into Lake Washington. There is a paved path around the outside and wooded paths criss-crossing the middle. It was a beautiful day and a lot of people and their dogs were taking advantage of the weather.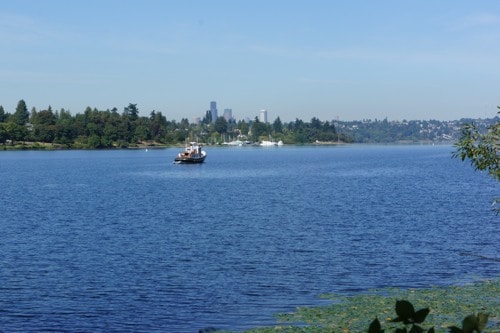 Those of you who know Buster (either virtually or in real life), know that trails with lots of other dogs on leashes are a problem for him. Well, not this time! We arranged ourselves so that Buster was on the outside of the trail, furthest away from passing dogs, and Chloe was on the inside – happily greeting anyone that wanted to say hello. Perhaps it was how happy and calm Chloe was, or maybe Buster could see how she interacted with other dogs and people – either way, he behaved beautifully! It was incredible for Rod and I to see Buster's potential … and we gave him so many treats I'm surprised he didn't burst. We took the opportunity to play a lot of "Where's the doggy?" and then headed for the uncrowded areas of the park before we over did it.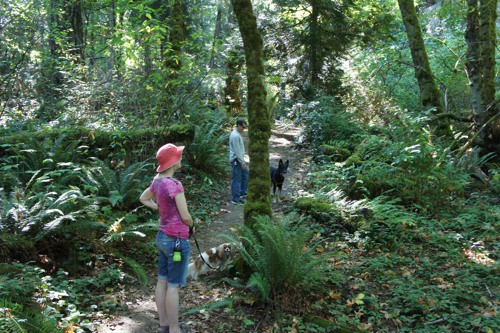 Buster has since reverted back to his pre-Chloe behaviors – needing much more distance between him and other dogs to avoid a barking jag – but that's not the point. The point is we learned something – if we find Buster a walking buddy with the same skills as Chloe, it could result in a break through. We'll be looking for volunteers when we take a break for a couple of months in Austin this winter. It was also huge for us to get to see that the big goof-ball has it in him to be so much fun to walk. After months and months of baby steps, it gave us a picture of our future together that we can envision.
Thanks so much to Mary-Alice and Chloe – for lunch and for the revelation!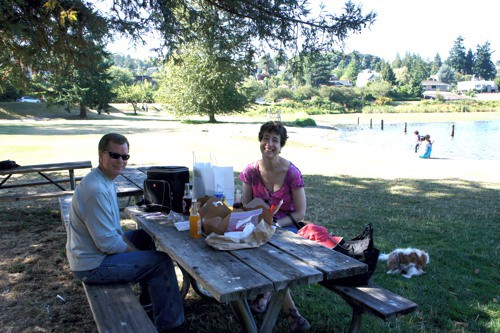 Don't forget – enter to win an autographed copy of Queen Latifah's book and get another chance at the Samsung Galaxy Tablet computer in this week's Zyrtec Parks Unleashed Giveaway.
If you think we're pawsome, recommend us to your friends! One quick click of those buttons on the left is nearly as good as a big, sloppy kiss – helping us grow our audience and ensuring we can keep delivering the quality pet travel stories you love. Thanks for being wooftastic!
Amazon Affiliate Disclosure: GoPetFriendly.com LLC is a participant in the Amazon Services LLC Associates Program, an affiliate advertising program designed to provide a means for website owners to earn advertising fees by advertising and linking to amazon.com, audible.com, and any other website that may be affiliated with Amazon Service LLC Associates Program. As an Amazon Associate, the owner of this site earns a commission from qualifying purchases.
(Visited 153 times, 1 visits today)