We just recently celebrated Ty's eleventh birthday, so calling him out as a "senior" is provoking a twinge of guilt … but it's time to talk about the things we're doing to accommodate his changing needs.
Exercise Considerations
One of our favorite things to do with the dogs is hiking – and don't get me wrong, Ty still has plenty of spunk! Whether we're hitting the trails in a national forest, or taking an urban hike through one of our favorite cities, he's always ready to go. But we've noticed that if our route includes hills, Ty has a hard time making it up without stopping to rest. Last week, we ended a hike with a pretty steep climb, and Rod took mercy on the little guy and carried him the rest of the way to the car.
The weather is also affecting Ty more than it has in the past. High temperatures and humidity sap his energy more quickly, so, in addition to searching out flat courses, we're spending more time consulting the forecast when planning our outdoor activities.
Finally, we know that keeping Ty active will keep him spry – and he still enjoys getting out – but we're shortening the distances we cover, and giving him plenty of time to recover between adventures. In the past, we might have done several 3- to 5-mile hikes a week. Now, we're cutting that back to one longer hike (2-4 miles) and a couple of shorter ones (1-2 miles).
Outdoor Alternatives
Just because we aren't doing as much hiking, doesn't mean we're not spending time outdoors! Buster still needs to get out, and Ty considers it absolutely unacceptable to be left behind – so we've been looking for things we can do that allow Ty to get some rest, and still stimulate Buster's non-stop brain.
Going for a drive has become a popular option, because Ty generally curls up in his bed and sleeps, while Buster keeps a watchful eye on everything and everyone we pass … but last week we hit on what may be a new favorite pastime!
We were taking a drive through Bridger-Teton National Forest near Jackson, Wyoming and came upon a beautiful little lake.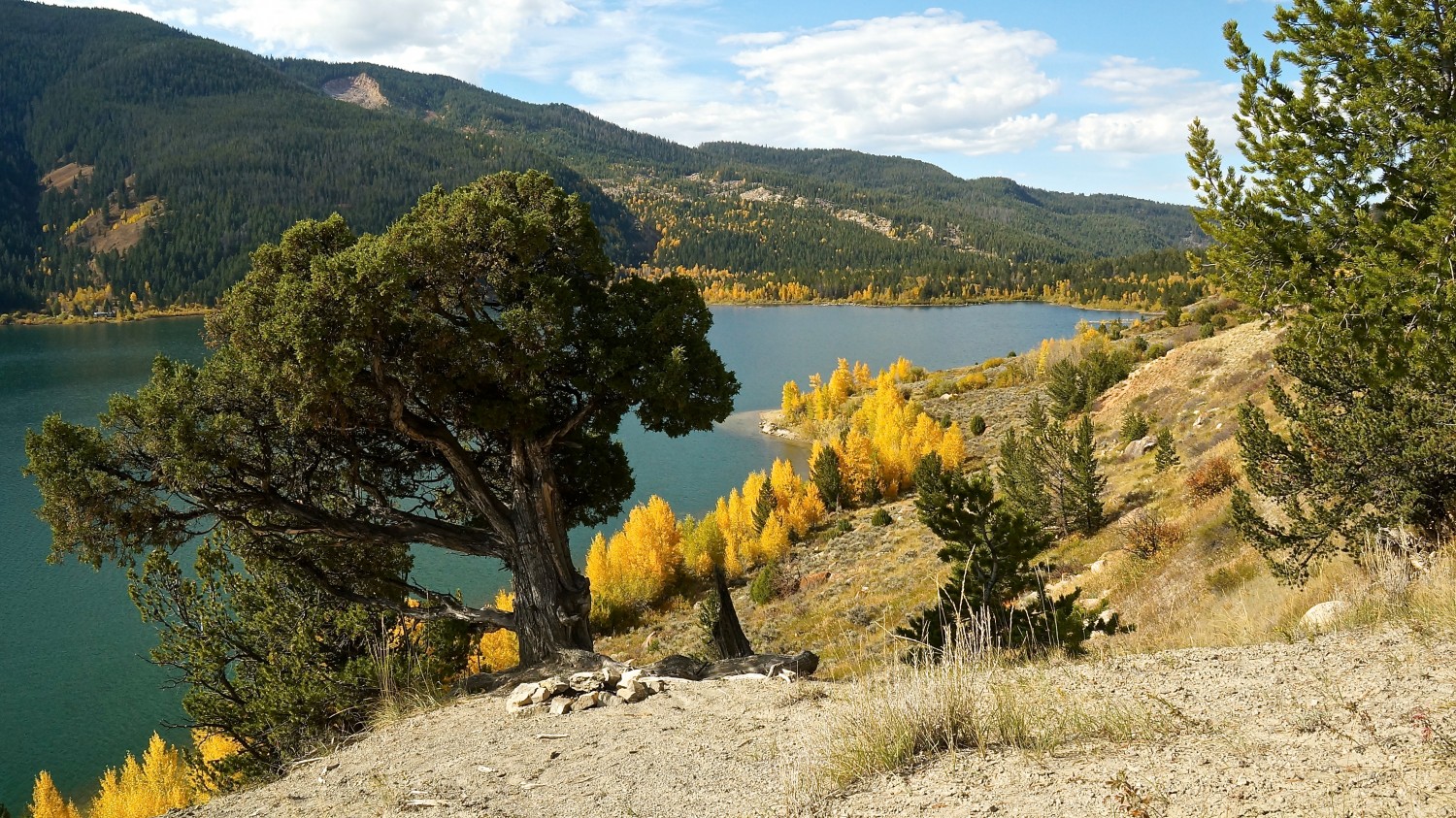 It was a perfect fall day and, as we surveyed Mother Nature's spectacular show, we noticed a campground right on the lakeshore!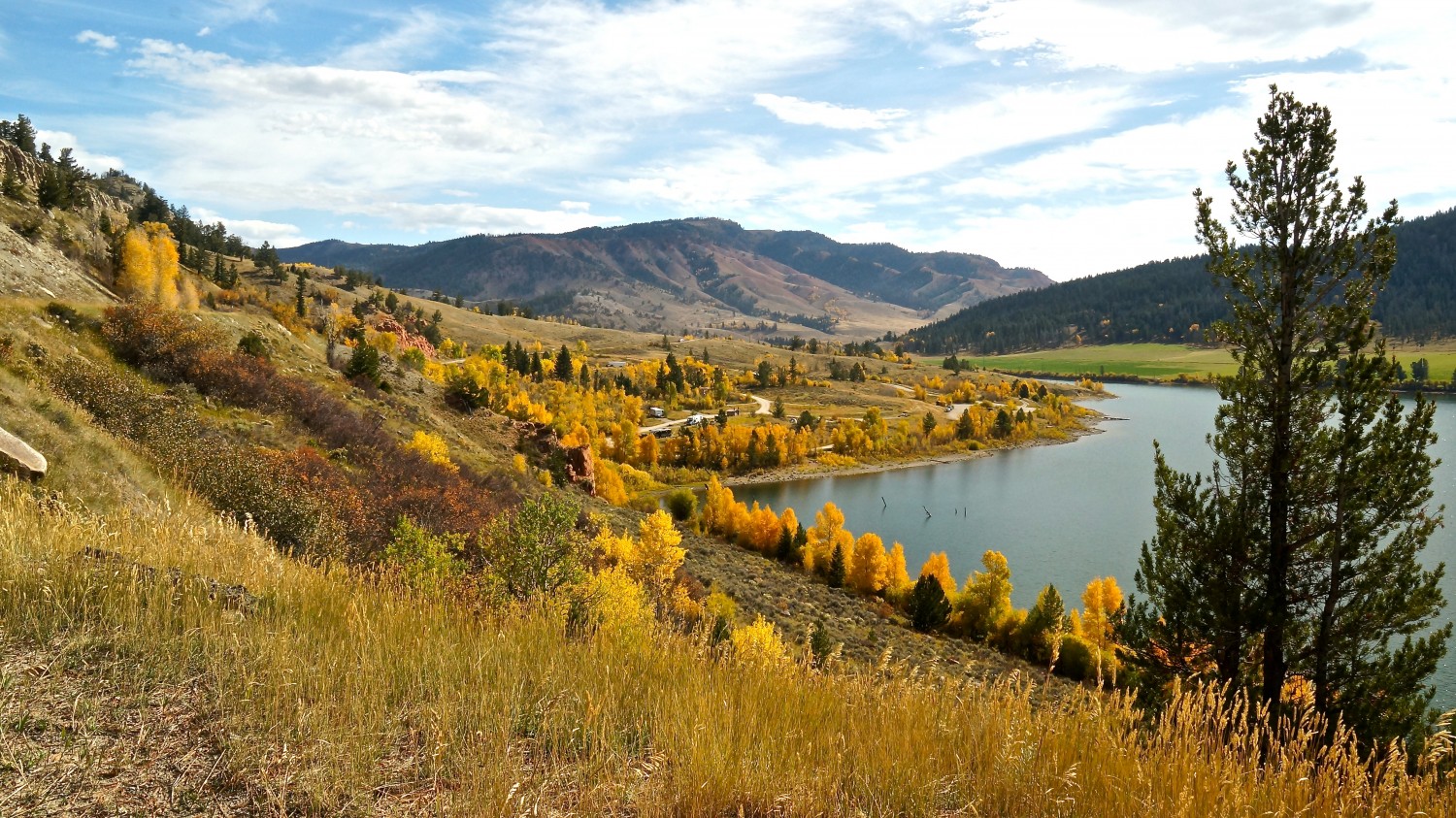 We zipped over and discovered it was Atherton Creek – a campground run by the National Forest Service on Lower Slide Lake – and a campsite for the day was only $12. We agreed it was was money well spent, as we backed into our lake view site!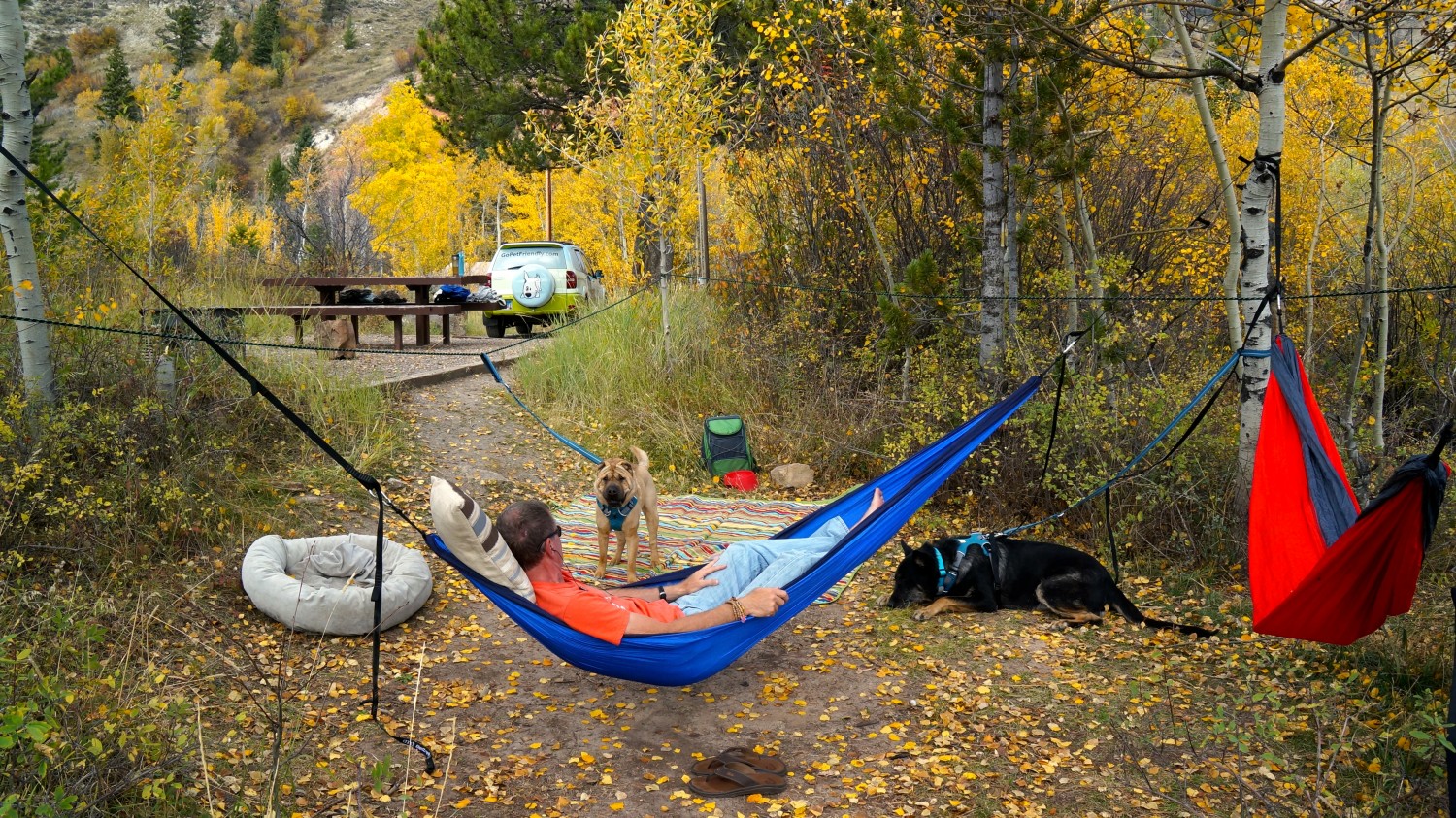 It may be slightly unusual to rent a campsite you only plan to use for an afternoon, but it worked out perfectly for us. We strung up the dogs' zip line, hung our hammocks, unpacked the picnic goodies, and proceeded to kick back and enjoy the afternoon. We had our own picnic table and fire pit, and there were restrooms, a water spigot, and trash receptacles nearby. There were even some trails where we could take Buster for a stroll, and plenty of privacy and peace and quiet for us all to catch a nap.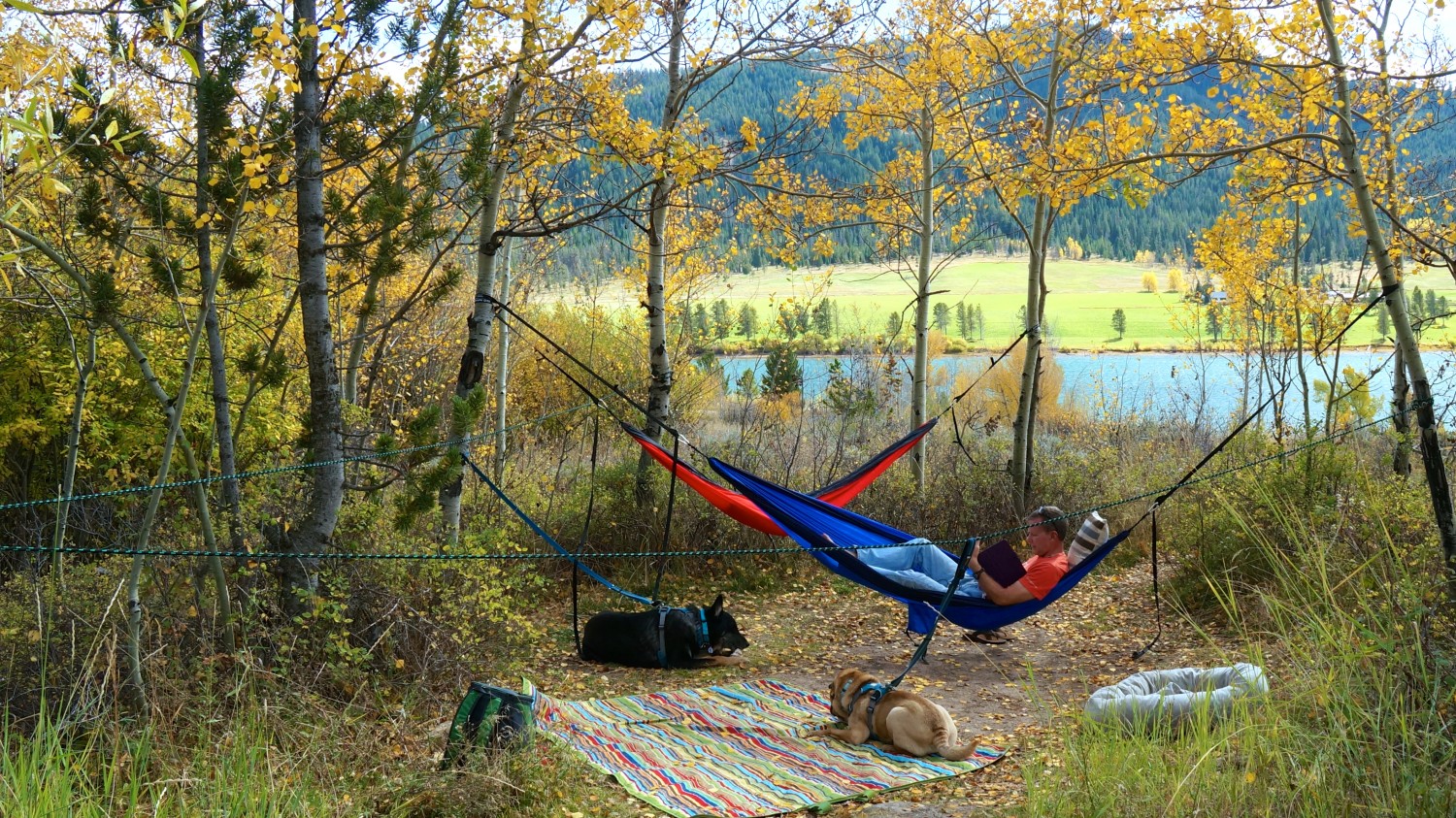 This is a scene I hope to be recreating in the very near future! Have you found other activities to do with your senior dogs? Share your tips below in the comments – we'd love to hear from you!
Planning a pet friendly trip of your own? We'll make it easy:
Pet Friendly Hotels | Pet Friendly Destinations | Pet Friendly Activities
Amazon Affiliate Disclosure: GoPetFriendly.com LLC is a participant in the Amazon Services LLC Associates Program, an affiliate advertising program designed to provide a means for website owners to earn advertising fees by advertising and linking to amazon.com, audible.com, and any other website that may be affiliated with Amazon Service LLC Associates Program. As an Amazon Associate, the owner of this site earns a commission from qualifying purchases.
(Visited 2,158 times, 1 visits today)