The Mighty Mississippi … I grew up only seven miles from her shores, and I've seen her at her best and her worst. Lazy summer days spent fishing and boating contrast starkly with memories of powerful floods and the forbidden frozen wasteland she became in winter. I guess because she's always been there, it's easy to take her for granted – which is why I love traveling with my husband. Rod grew up out east, and had only seen the Mississippi River a handful of times when I met him. Getting to experience this majestic and iconic river though his eyes was one of the highlights of our trip to Minnesota's Twin Cities … and being able to include our dogs made our visit even sweeter!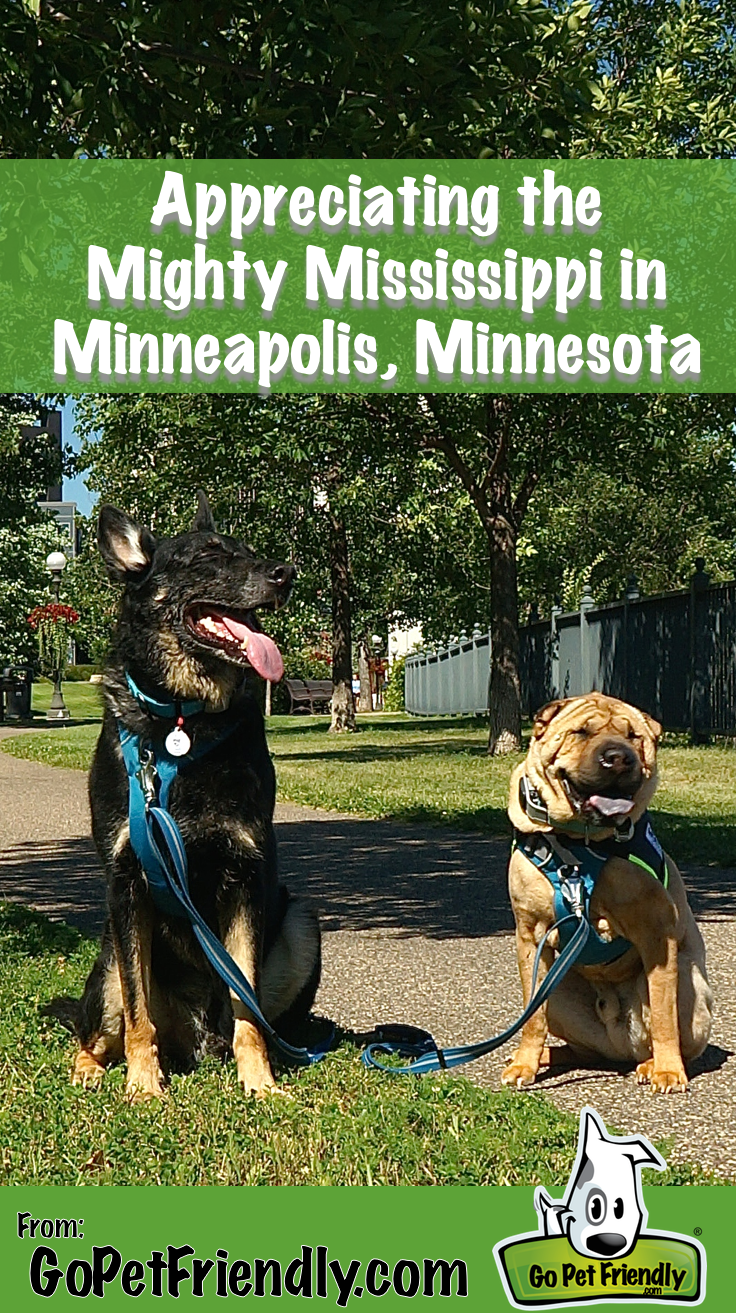 Minneapolis and St. Paul – collectively known as the Twin Cities – are divided by the Mississippi River, and both make magnificent use of her shores. The stretch of river passing though this metropolis is part of the 72-mile-long Mississippi National River and Recreation Area, though the National Park Service owns less than 100 acres within the preserve. Instead, they work with state agencies, 25 local governments, and many organizations to protect and manage the use and development of the 54,000-acre area.
The Park's headquarters are on Kellogg Boulevard in St. Paul, and it's a great place to start your visit. Take turns enjoying the informative movie, then grab a map and hit the trails – they're all dog friendly!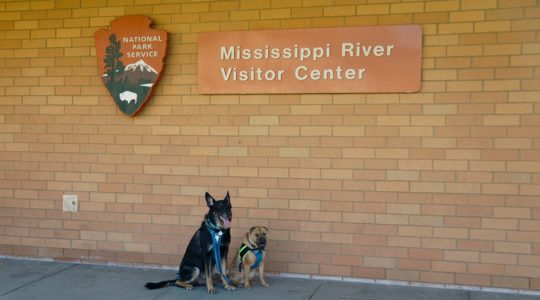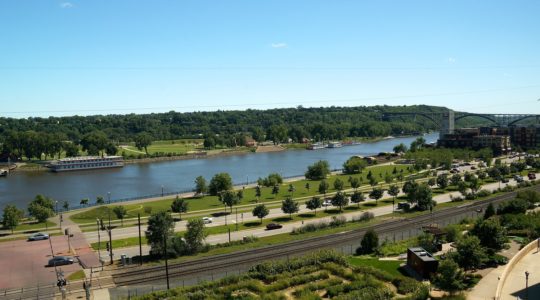 At one time, St. Paul was the northernmost navigable point on the 2,300-mile Mississippi, which flows from northern Minnesota's Lake Itasca to the Gulf of Mexico. Along the way, hundreds of tributaries from 31 states, spanning from the Rockies to the Appalachian Mountains, feed the river.
As European settlers moved into the area, the Mississippi became a major transportation corridor. In 1858 more than 1,000 steamboats docked at St. Paul, and that heritage is still celebrated today by the many paddle wheelers moored here. Minneapolis harnessed the river's power to run gristmills and sawmills, and held the crown as the nation's flour milling capital from 1880 to 1930. The massive grain storage facilities located along the shores stand as testaments to that era.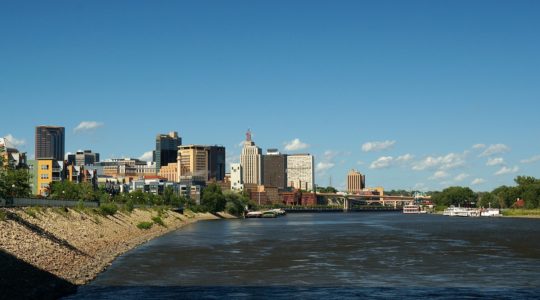 The Sam Morgan trail, which you can pick up at the park's headquarters will take you from downtown St. Paul to downtown Minneapolis, but it would be quite a hike! One of the wonderful features of many of the trails in the Twin Cities area, is that they have separate lanes for bikes and pedestrians, so you never have to worry about a biker whizzing up behind you and startling your dog.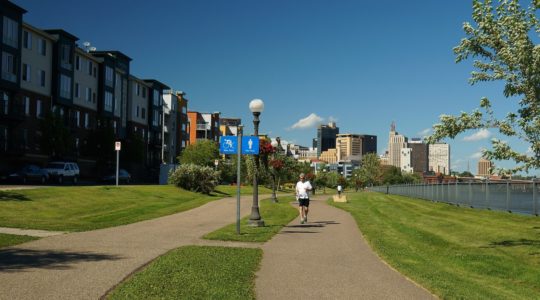 In many places the trails are also beautifully decorated with hanging baskets of flowers and lovely landscaping. It's a unique opportunity to enjoy the outdoors amidst all the offerings of an urban area – truly the best of both worlds!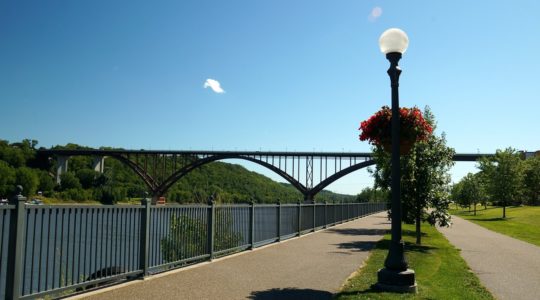 When your pup is ready for some off-leash time, head south from the park headquarters to the High Bridge Dog Park, located under (you guessed it!) the High Bridge, pictured above. There's a huge parking area and plenty of room for dogs to run. They even have separate areas for large and small dogs!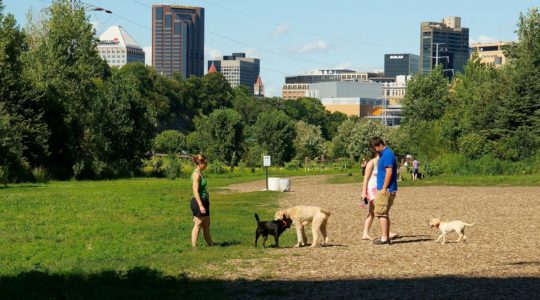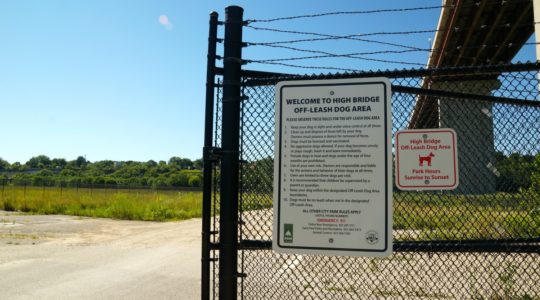 With so many interesting destinations along the river, it would be easy to keep busy for weeks! Hiking, biking, boating, camping, birding, and scenic drives all await you. From the observation decks at the locks and dams, to exploring Fort Snelling State Park, there's plenty to learn about the area and many opportunities to appreciate the mighty Mississippi River in the Twin Cities.
Planning a pet friendly trip of your own? We'll make it easy:
Pet Friendly Hotels | Pet Friendly Destinations | Pet Friendly Activities
Amazon Affiliate Disclosure: GoPetFriendly.com LLC is a participant in the Amazon Services LLC Associates Program, an affiliate advertising program designed to provide a means for website owners to earn advertising fees by advertising and linking to amazon.com, audible.com, and any other website that may be affiliated with Amazon Service LLC Associates Program. As an Amazon Associate, the owner of this site earns a commission from qualifying purchases.
(Visited 339 times, 1 visits today)