They say every day is a blessing, and it really is true. But in the hustle and bustle of life, it's easy to forget to be grateful for the gifts you're given. And there's no greater gift than time.
As the days accumulate and you reach another milestone – a birthday, for example – everything falls back into perspective. Suddenly you're struck by the incredible treasure you've received, and nothing could be more fitting than celebrating all the days you've had … and all those yet to come.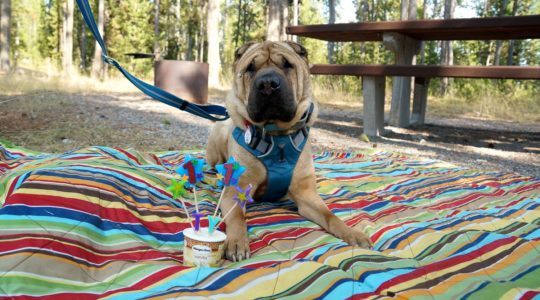 Yesterday Ty turned 11 – quite an accomplishment for a Shar-pei, with an average breed lifespan of only ten years. Looking back, our time together has been a wild ride – very little of the life we were living when Ty joined us is left anymore, and he's rolled with it all. The thing that's stayed the same (and probably the most important to Ty) is that we've always made sure he had breakfast and dinner.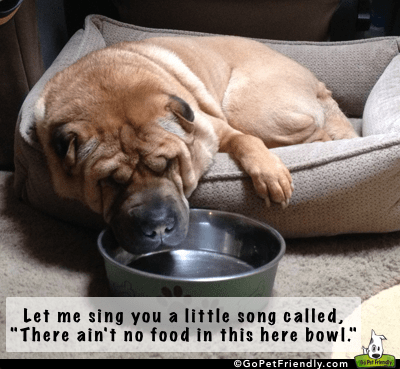 Of course, being together is important, too, and the biggest life change we've made ensures that there will always be plenty of "togetherness." Selling everything and moving into the motorhome was a gut-wrenching decision for Rod and me, but Ty was on-board immediately. He's been a great little traveler right from the beginning, and he's now spent half of his life living in an RV, loving every minute of it!
Ty's first big adventure was a fishing trip with my dad. This was back in BB (the time Before Buster), and our route included taking a ferry. After driving four hours to the dock, we found ourselves at the end of a very long line of "unreserved" cars hoping to board. Knowing there was a good chance that we'd miss the boat, we drove around the lake instead, covering almost 700 miles that day. Ty was an absolute peach, napping in his bed, watching the scenery go by, and never making a peep. He spent the next week stealing lunch from the backpack and partaking in a new delicacy … water directly from the minnow bucket.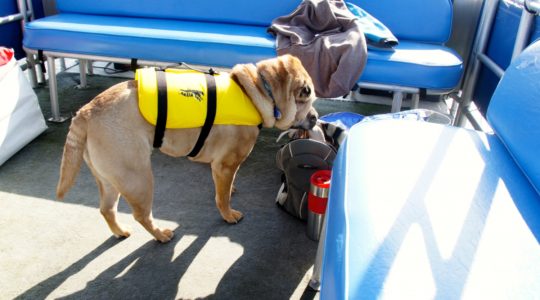 Since then, we've traveled more than 100,000 miles with Ty, seen all of the lower 48 states and the District of Columbia, visited Canada several times, and collected a million memories. What I've learned is that it's the memories that matters most.
There have been a few scares with Ty over the past 18 months – an unexplained fever, a persistent urinary tract infection, and then the discospondylitis (which we're still not out of the woods with, but we're keeping our fingers crossed). Every time I'm terrified – knowing I've already been incredibly lucky, hoping that Ty will be able to bounce back once again. So far he's beat the odds, and appears to be settling into his senior years as you might expect … with a bit less energy, but more than a little attitude.
One thing is for certain, no matter how long it is, the time we have with our pets is never long enough. None of us gets a guarantee, and the best we can do with our lives is to follow the lead of our pets … love, cherish, find joy, and be grateful every day. Yes, birthdays are a wonderful opportunity to reflect, but each day is the gift, if we only take a moment to recognize it.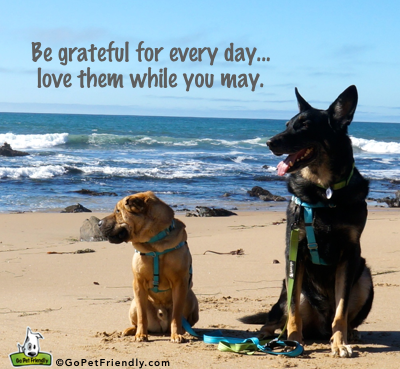 Planning a pet friendly trip of your own? We'll make it easy:
Pet Friendly Hotels | Pet Friendly Destinations | Pet Friendly Activities
Amazon Affiliate Disclosure: GoPetFriendly.com LLC is a participant in the Amazon Services LLC Associates Program, an affiliate advertising program designed to provide a means for website owners to earn advertising fees by advertising and linking to amazon.com, audible.com, and any other website that may be affiliated with Amazon Service LLC Associates Program. As an Amazon Associate, the owner of this site earns a commission from qualifying purchases.
(Visited 280 times, 1 visits today)