Maggie Marton and her puppy, Cooper, recently drove from their home in Indiana to a pet friendly conference in Virginia and used the GoPetFriendly.com RoadTrip Planner to make it easy.
I have to confess: I hate road trips. I hate truck stops and rest areas. I hate gas station bathrooms. I hate fast food. I get bored easily, and I'm prone to (mild) road rage. I'm the person on a road trip who tracks the time. "Seven more hours until we get there." Pause. "How did only five minutes pass? Six hours and fifty-five minutes until we get there." Pause. "I'm bored."
I admire Amy and Rod, and until I planned my recent trip to BlogPaws, I had no idea how they did it. I still don't know how they manage to crisscross the country and stay sane, but at least I have a sense of the logistics. (GPF Note: The jury's still out on that sanity thing! :-) )
When I decided to take Cooper to BlogPaws, I wasn't thinking about the drive. I was thinking about the full-throttle socialization exercise that the event would provide him. As the date drew closer, I realized I had no plan to get us there.
Meet Cooper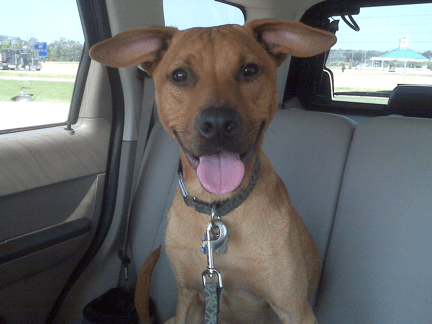 Cooper is an 11-month-old American pit bull terrier mix. He's always on the move, investigating, sniffing, chewing, bounding. He idolizes Emmett and Lucas, my other two dogs, and trots after them emulating and irritating them. He adheres himself like a piece of Velcro to my ankle anytime we go somewhere new. Cooper is a great dog, but he's shy and he's a puppy.
What was I thinking? Driving Cooper almost 600 miles – each way? Away from his brothers? Sleeping in hotels?
Planning the Drive
I sat down at my computer and made a list of all the things I needed to do to prepare Cooper for his big adventure. The first item on the list: Plan trip on GoPetFriendly.com.
I knew I wanted to make it six or seven of the ten-ish hours on the first day. I knew I wanted to stop somewhere that had a pet-friendly hotel, a dog park, and either a Petco or a PetSmart. I tapped my route and preferences into the trip planner and up popped Morgantown, WV. In one sitting, I was able to map our route from Bloomington, IN, to Morgantown, to the conference in Virginia, and back home again. I even got directions from the hotel to the dog park, and from the dog park to PetSmart.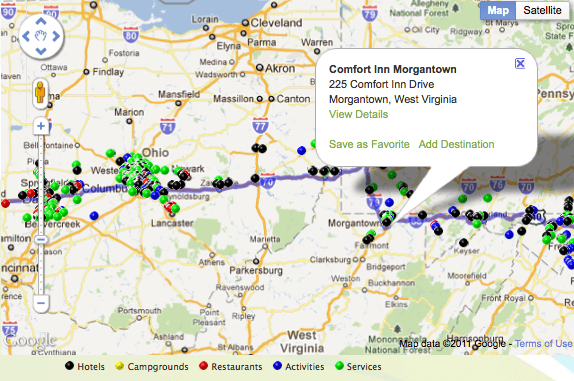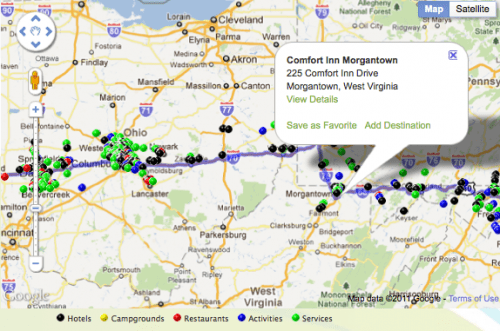 Creature Comforts
We chose the Comfort Inn because of its proximity to both a dog park and a PetSmart, neither of which we actually got to … though that's a story for another day. (West Virginia, why do you make your roads so confusing? Can't a street have the same name the whole way up and down the mountain?) I booked the hotel through GoPetFriendly, which is perfect for someone like me who's busy and want to be sure they're getting the best deal.
On the Road
The turn-by-turn directions got us there in one piece – and faster than my GPS predicted. When we arrived, a woman was letting a Border Collie named Diesel out of the back of her car. Diesel and Cooper romped and played, burning off some pent-up energy. As we chatted, she told me she travels with her pup often. "You should check out GoPetFriendly.com," she advised me.
I'm on it!
Maggie Marton is a freelance writer who spends all her spare time blogging about her three darling dogs at Oh My Dog! blog.
Amazon Affiliate Disclosure: GoPetFriendly.com LLC is a participant in the Amazon Services LLC Associates Program, an affiliate advertising program designed to provide a means for website owners to earn advertising fees by advertising and linking to amazon.com, audible.com, and any other website that may be affiliated with Amazon Service LLC Associates Program. As an Amazon Associate, the owner of this site earns a commission from qualifying purchases.
(Visited 148 times, 1 visits today)