It's been just over a year since I discovered that every blog post I'd written from June 25, 2015 to November 21, 2016 – over 200 in all – had been copied and published on the website of a publicly-traded company. Then, a month later, GoPetFriendly.com was sued by that company for declaratory judgement and damages of $5 million.
If this is the first time you're hearing about our fight, you may want to read my previous posts:

228 of My Blog Posts Were Stolen and Now GoPetFriendly.com is Being Sued for $5 Million

Update on Copyright Infringement Case
Things have been progressing (slowly), and now that we're at the one-year mark, I want to share an update on where we stand. Here's a quick recap of the events that we've discussed in previous posts:
On November 17, 2016 I discovered that a publicly-traded company had copied and re-published more than 200 of my blog posts on their website without my permission.
On that same day I sent a cease and desist letter and a demand for compensation for the unauthorized use of my work to the email addresses provided on the company's website.
My posts continued to be re-published on the ProActivePetProducts.com website, and on November 21, 2016, I sent a second cease and desist letter and demand for compensation.
On November 22, 2016, the company's entire website was removed from the Internet, and the company's management issued a press release that stated, "In order for the Company to focus on its new business direction, it will no longer engage in the business of Proactive Pet Products."
On November 22, 2016, I also received an email from the owner of the company denying any infringement.
On December 14, 2016, the company filed a lawsuit against GoPetFriendly.com demanding a declaratory judgement that would prevent me from suing them for infringement and $5 million of damages, with no indication as to how that amount was calculated.
On June 6, 2017, I was served with legal notice of the lawsuit filed against GoPetFriendly.com.
Being served put the ball in our court – we either needed to file a response or the other side would win by default. After sending a letter laying out the facts of the case to the opposing attorney and scheduling a meeting with him, which he cancelled, my attorney advised me that our next step was to file an answer to their lawsuit and our counterclaim.
We'd registered one of my posts for copyright protection back in December, within the 3-month window of publication allowing us to sue for statutory damages, but the remaining posts still hadn't been registered. In preparation for filing our own lawsuit, we registered all the remaining posts with the copyright office, and on July 21, 2017, submitted our answer and counterclaim to the court, lobbing the ball back to their side of the net.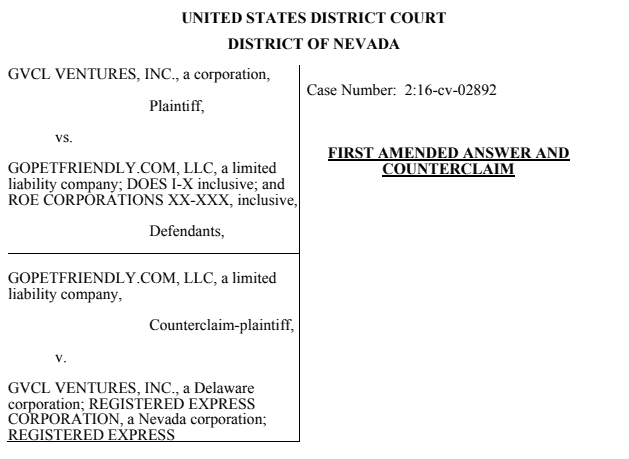 Serving the Parties Can be Challenging
According to the court's requirements, they had 30 days to respond to our counterclaim … which they failed to do. We let another six weeks pass, unsuccessfully attempting to contact the opposing attorney during that time. Getting no response, in mid-September we filed a notice with the court they they'd defaulted on the counterclaim. This got their attention immediately, and their attorney shot off a scathing email. He wanted us to set aside the default, and in exchange agreed to accept service of the counterclaim on behalf of GVCL Ventures, Inc. and Mr. Neziol, the company's owner. We accepted that arrangement, and on October 26th, GVCL and Mr. Neziol were served.
With GVCL and Neziol officially in the case, the next step was for the attorneys to schedule a 26(f) conference – basically a phone call where they lay out the basics of the case – and that took place on November 16th. This conference is important because it opens discovery and allows the attorney to issue subpoenas in the case. Leveraging my accounting background, I sent my suggestions for the documents we'll be requesting in discovery, and that should be going out any day.
In the meantime, we were also searching for the other two men who'd owned and operated the company during the time my blog posts were stolen. John W. Taylor and Mike Dillon are fairly common names, and the corporate addresses we found for the company turned out to be UPS Store mailboxes, so we weren't having any luck tracking them down.
Based on affidavits describing the attempts at service, on November 21st, the court granted us an extension of time to serve these parties and has allowed us to serve them by publication – meaning we need to publish notices in newspapers for a period of time. We're in the process of doing that now, and will be filing evidence of service with court as soon as we've met all the requirements.
Moving Forward
So that's where we stand today. It's been a year, and it feels like the case is finally getting started. Of course, dragging things out is good for the other side … if they can drain our funds, we'll have to give up. Just getting to this point has not been cheap. Your help through the GoFundMe account has been incredible, but litigation is incredibly expensive. A few months ago I took a loan from my 401k to cover more legal costs, and that's allowing us to continue moving forward.
We know that we have a rock-solid case, and that we can't back down to thugs who boldly steal other people's content with no fear of repercussions. If you're invested in seeing people's creative works protected, or would just like to see the little guy take down the corporate bully, I'd very much appreciate your continued support.
Planning a pet friendly trip of your own? We'll make it easy:
Pet Friendly Hotels | Pet Friendly Destinations | Pet Friendly Activities
Amazon Affiliate Disclosure: GoPetFriendly.com LLC is a participant in the Amazon Services LLC Associates Program, an affiliate advertising program designed to provide a means for website owners to earn advertising fees by advertising and linking to amazon.com, audible.com, and any other website that may be affiliated with Amazon Service LLC Associates Program. As an Amazon Associate, the owner of this site earns a commission from qualifying purchases.
(Visited 1,709 times, 1 visits today)