It's been about four months since I last updated you on the status of the lawsuit filed against GoPetFriendly.com by the publicly-traded company that copied and republished 228 of my blog posts. Until now, there were no new developments to report – but things are moving forward again, and I want to keep you up to date.
If this is the first you've heard about the case against GoPetFriendly.com, you may want to read my previous posts:
228 of My Blog Posts Were Stolen and Now GoPetFriendly.com is Being Sued for $5 Million
Update on Copyright Infringement Case
About six months ago, GVCL Ventures, Inc. filed for declaratory judgement against GoPetFriendly.com in US District Court in Nevada. Basically, they're asking the court to rule that they did not infringe on my work and bar me from suing them for copyright damages. In their claim they demand $5,000,000, but do not explain how they were damaged or state how the amount was calculated.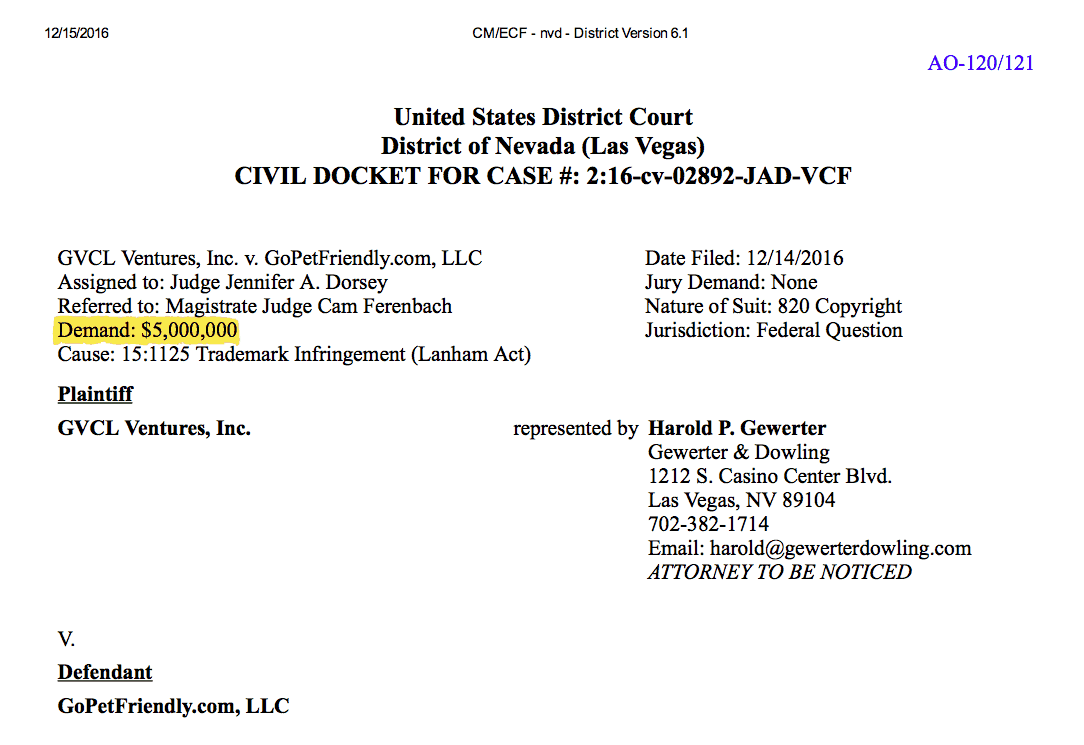 Simply filing a lawsuit does not set the wheels of justice into motion … you actually have to serve the person with legal documents notifying them that a suit has been filed against them. My attorney and I thought that GVCL might not serve me and just let the matter drop. We were wrong – I was served.
Once I received service, I had two options. The first was to do nothing, in which case the court would find for the plaintiff by default – GVCL would be granted their judgement, and I'd be prevented from suing them for infringing on my work. Obviously, that wasn't really an option.
Instead, I hired Philip Kantor, a highly respected intellectual property attorney who is licensed to practice in Nevada. Since the case against GoPetFriendly.com was filed in Nevada, we needed an attorney there to represent us, and Philip is one of the best. He and his colleges reviewed the case against GoPetFriendly.com and filed a response in US District Court, making it clear that we won't be walking away. In addition, they wrote a letter to the opposing attorney suggesting that we settle this matter, as most cases do, before going to trial.
In the time we've been working together, I've already learned a lot from Attorney Kantor. The most important thing he explained to me is that, in cases of copyright infringement, the law allows the victim of the infringement to sue the individuals who were responsible personally. That's a big deal, because liability doesn't end with some hard-to-pin-down corporation – the actual people who caused the infringement to occur will be made to pay any judgements imposed by the court from their personal assets.
If more people knew this, my bet is that there would be a lot less infringement! But it's easy to overlook to overlook this direct, personal liability, because it is different from rules that apply in other areas of the law – this is unique to IP law.
According to what Attorney Kantor has told me, the primary guidance on copyright law is Nimmer on Copyright. Here is the applicable paragraph from the Nimmer treatise (fully supported by citations to authority not reproduced here):

If a corporation commits an act of infringement, its individual officers, and its parent corporation will be liable as related defendants if there is a substantial and continuing connection between them and the corporation with respect to the infringing acts. Thus, an officer of an infringing corporation will be personally liable if he either participates personally (and other than merely in his corporate capacity) in the manufacture and sale of an infringing article, or if he uses the corporation as an instrument to carry out his willful and deliberate infringement, or if he is the dominant influence in the corporation and determines the policies that result in infringement, or if he derives financial benefit from the infringing activities either as a major shareholder or through other means, or on the basis of some combination of the above criteria.

Nimmer on Copyright, § 12.04[A][1].
We don't want to say too much about this, in case the other side is reading my blog, but we feel we have strong standing on this issue. In addition, Attorney Kantor is familiar with the judges assigned to the case and has the utmost respect for their knowledge in the area of intellectual property rights, which has me feeling optimistic about our prospects.
Your Support Means So Much
Writing about my case and asking for your help back in December was really difficult for me – it sounds so ridiculous, but I have this idea that I should be able to handle everything on own. Asking for help has always been uncomfortable, but doing so in such a public way felt embarrassing … even humiliating.
Now I realize that reaching out to you is one of the best things I've ever done. So many fellow bloggers, photographers, and other creators wrote to me about having their work stolen. I quickly learned that I wasn't alone, and came to realize how big this problem really is. We desperately need to do something about it!
The other gift in this was the opportunity to see how many people care about me, about my blog, and about what we're doing here. The notes of support and contributions to our legal defense fund blew me away. You are all amazing, and I don't have the words to express my gratitude for your support in this fight.
We Will Move Forward
Little businesses like mine are bullied all the time by larger publicly-traded companies with far more financial wherewithal. Litigation is expensive … so expensive that many people who've clearly been wronged can't afford to pursue justice. Thus far we've incurred $14,938 in legal fees, plus deposited a $5,000 retainer with the Las Vegas law firm. I need your continued help to defend GoPetFriendly.com and stand up for all bloggers. Together we can show content thieves that their actions have consequences!
If you have the ability, I'd very much appreciate your contribution to the GoFundMe account for legal fees. All the funds we collect will go toward defending GoPetFriendly.com from this $5 million lawsuit and pursing the infringement case for my work. We are moving closer, but there's still a way to go. Thank you!
-Amy, Rod, Ty and Buster
Planning a pet friendly trip of your own? We'll make it easy:
Pet Friendly Hotels | Pet Friendly Destinations | Pet Friendly Activities
Amazon Affiliate Disclosure: GoPetFriendly.com LLC is a participant in the Amazon Services LLC Associates Program, an affiliate advertising program designed to provide a means for website owners to earn advertising fees by advertising and linking to amazon.com, audible.com, and any other website that may be affiliated with Amazon Service LLC Associates Program. As an Amazon Associate, the owner of this site earns a commission from qualifying purchases.
(Visited 5,177 times, 1 visits today)