Imagine a place with acres of woods and meadows, miles of trails, and a nice creek for swimming. Picture fields for playing fetch and a hammock in the shade of an ancient tree to catch a nap before dinner. Envision a campfire with marshmallows for toasting and the company of fellow dog lovers. Now … imagine you and your dog enjoying all of this and never needing a leash!
Sound like doggy heaven? It is. And we found it in Upstate New York.
Glen Highland Farm
Less than 200 miles from Manhattan and 260 miles from Boston, Glen Highland Farm is a dream come true for founders Lillie Goodrich and John Andersen. As with many extraordinary adventures, the couple was inspired by a dog – their first Border Collie, Luke – to create a place where people and dogs could enjoy nature and each other. Set on a gorgeous old dairy farm, this place was given a new life – and we were lucky enough to get a back stage tour.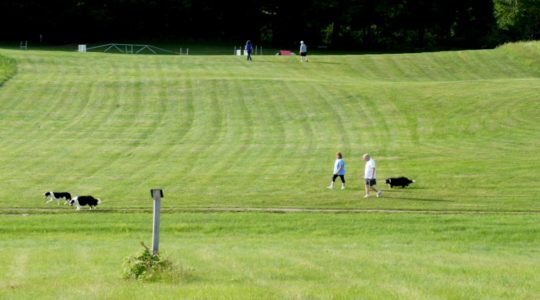 When you pull through the gate into the camping area, the first thing that hits you is how big it all is. Beautifully mowed rolling hills stretch out to the tree line. When I first let Buster out of the Winnebago without his leash he took a quick look around and then glanced at me over his shoulder,  like he was asking "REALLY?!?" Then he took off on a dead run with his tail wagging in perfect circles as he bounced and dashed around. The feeling I had as I watched him ooze pure joy, was phenomenal.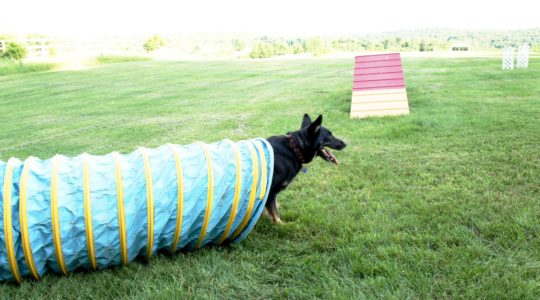 After we got settled, John picked me up for a tour of the grounds. With 175 acres and 5 miles of trails, there's plenty to see! John explained that all the trails are named after the dogs that chose the path. He just let the dogs loose to run through the underbrush and cleared the way behind them. Where the dogs stopped for a swim in the creek or to admire the view, John created a clearing for people to do the same. Though there are plenty of places to run, John assured me that they haven't lost a dog in 12 seasons.
I've never experienced a place that was so clearly designed for dogs. For instance, one of the dogs, Witt, has a special affinity for stinky, dirty things. His path goes right through the backwater where a fine odoriferous selection has collected. When campers expressed their distate for the new trail, they were reminded that this places is not about them – and that dogs can easily be rinsed in the creek after a good roll in the muck!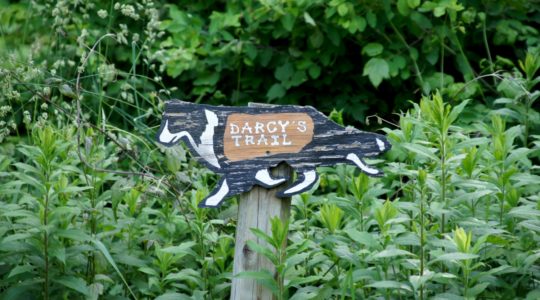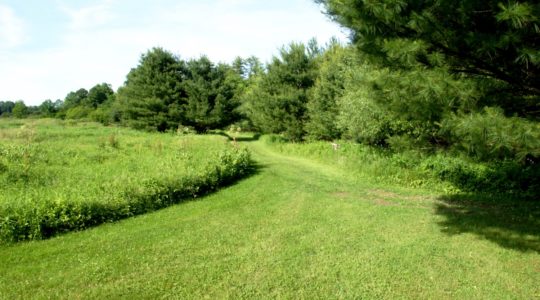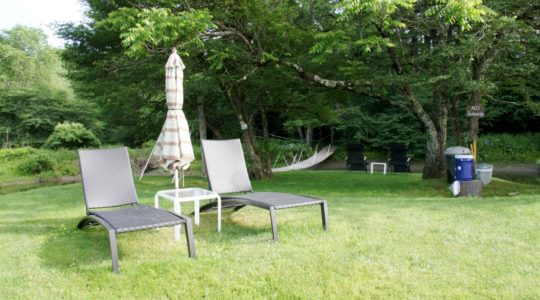 Throughout the grounds you'll find fresh water, trash receptacles and walkie talkies – in case of emergency. Because John and Lillie are lovers of Border Collies, there are lots areas for activities. Fields are mowed for frisbee, fetch, or nose work. There is agility equipment, dog beaches, and a 2.5 acre pond where you can work on your fishing and your dog can practice retrieving.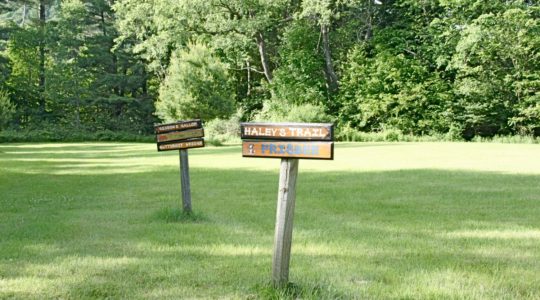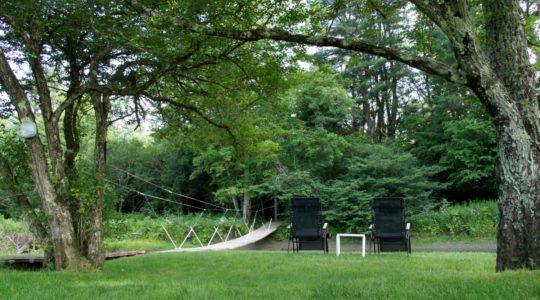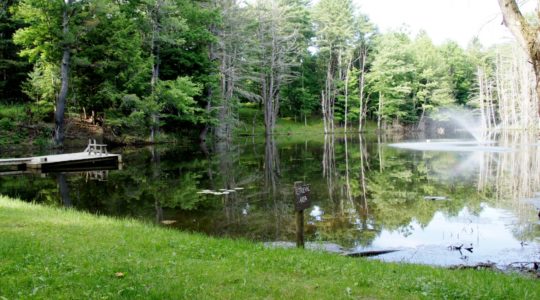 There are also tranquil spots, where you can pause to read the story of a dog like Linc, who loved this place and has since left us.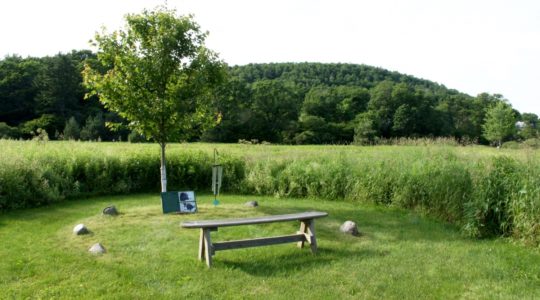 Lodging
There are a few slots for those who travel in their own RVs, but you're likely to want to leave your camping equipment at home so you can take advantage of the facilities provided. There is a two night minimum on all accommodation rentals and they, of couse, include use of the grounds.
Dog Friendly Cabins
There are four comfortable cabins to choose from … and don't worry – pets are encouraged to sleep on the furniture! Rental fees start at $175 per night and decrease the longer you stay. We took a peek in one – there was plenty of room for our crew, and there was a coffee maker and refrigerator.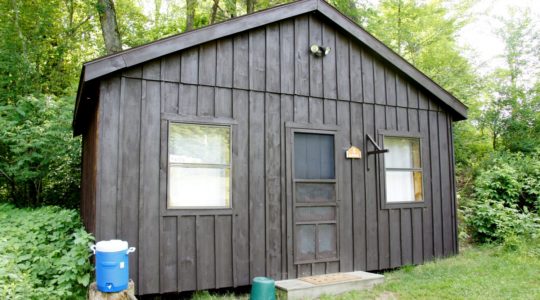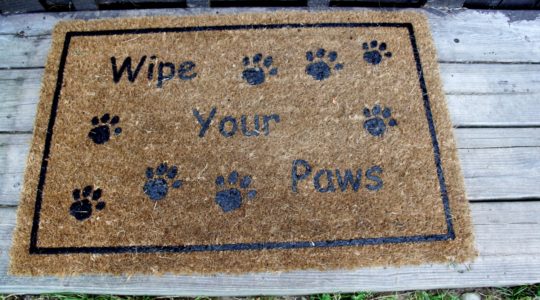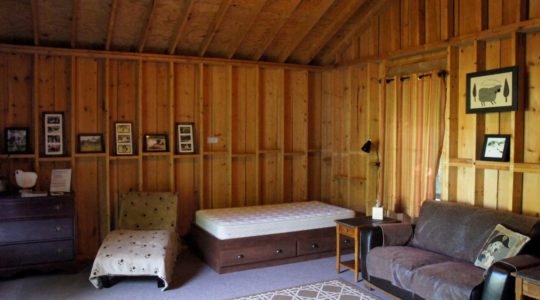 Dog Friendly RVs
If you've always wanted to give RVing a try, you can choose from the six available for rent. These are swanky accommodations with TVs, DVD players, air conditioning, private baths, memory foam beds and fully equipped kitchens. Crank out your awning, pull up your lawn chair, and soak up the views. Rentals start at $250 a night and decrease the longer you stay.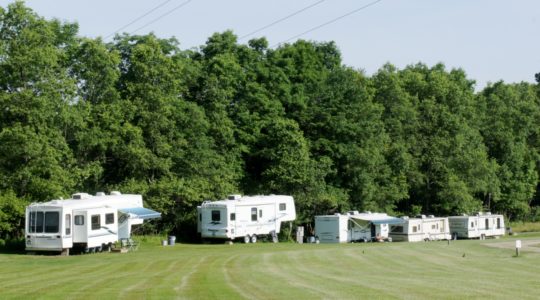 Tenting With Dogs
If you're into "ruffing" it, without actually "roughing" it, check out these tents! Tucked into the woods along the creek, the tents are set on wooden platforms and come with a full-sized futon, storage shelf, camping chairs, and outdoor clothesline. Just know that dogs left unattended in the tents have to be crated to protect the tents from damage. Rentals start at $135 a night and decrease the longer you stay.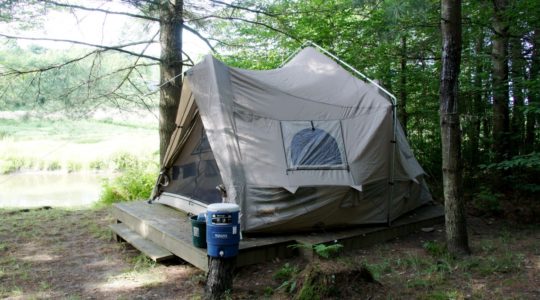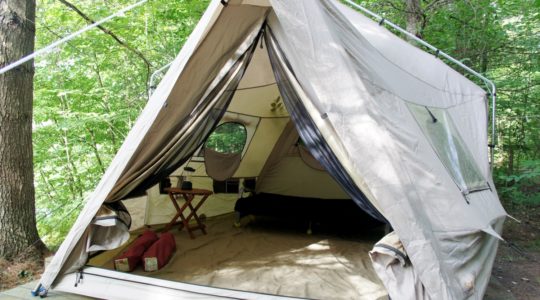 Cooking Pavilion
With so many acres to explore, you'll have all the solitude you want during the day, and in the evening you can enjoy the company of the other campers. All guests are invited to use the cooking pavilion, which is stocked with everything you'll need to prepare your meals – from seasonings and condiments, to plates and utensils. There is a big fireplace with cooking grate, gas grills, and for the less adventurous, a microwave.
Everyone gathers on the picnic tables and there is a real sense of community among the group, with people preparing and sharing their food, chatting about their dogs, and making new friends. Of course, dogs are also welcome!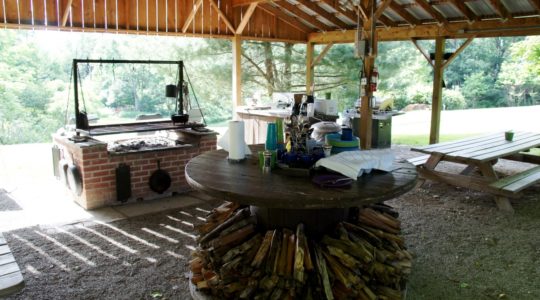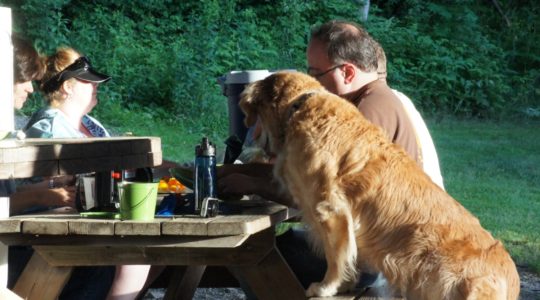 Camp Fire
At the end of the day, if you're not completely exhausted, you can grab your s'more ingredients and meet up at the camp fire for a little more joviality and some star gazing.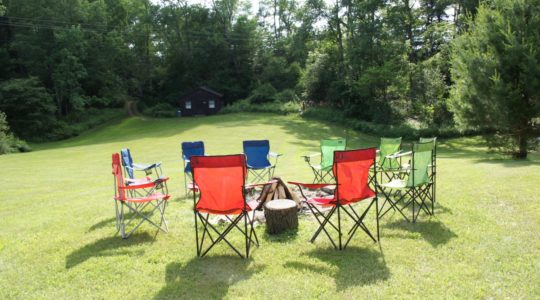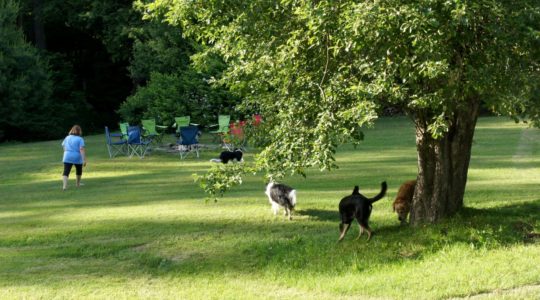 Sweet Border Collie Rescue
As cool as this all is, I've kept the best part for last. John and Lillie's passion isn't to provide the best dog camping experience in the world. The camp is there to help fund their true calling … border collie rescue.
They started rescuing and rehabilitating border collies fourteen years ago on a 2-acre property in Connecticut. In 2001, they sold that house – along with many of their possessions – to purchase Glen Highland Farm and turn it into a border collie rescue sanctuary.
The 200-year-old barn now houses dogs waiting for adoption and the big paddocks are the perfect place for a border collie to burn off some energy.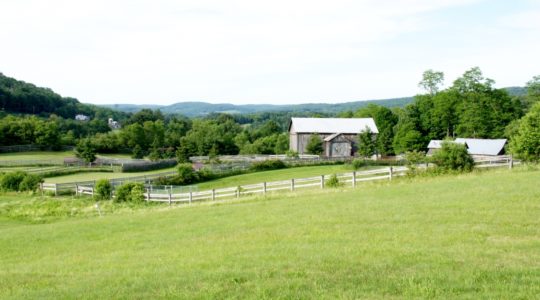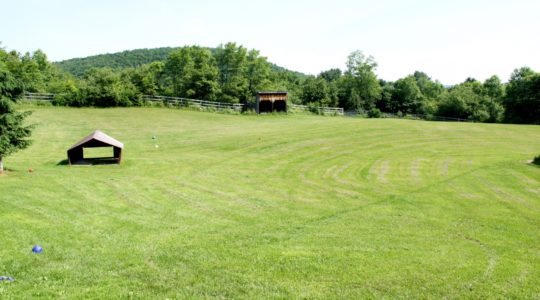 Lillie picked me up for a tour of the rescue operation where she devotes all her time. We talked a little about the nearly 2,000 dogs they've placed into happy forever homes since they started, but she's more focused on the future and finding the dogs currently in their care the perfect family.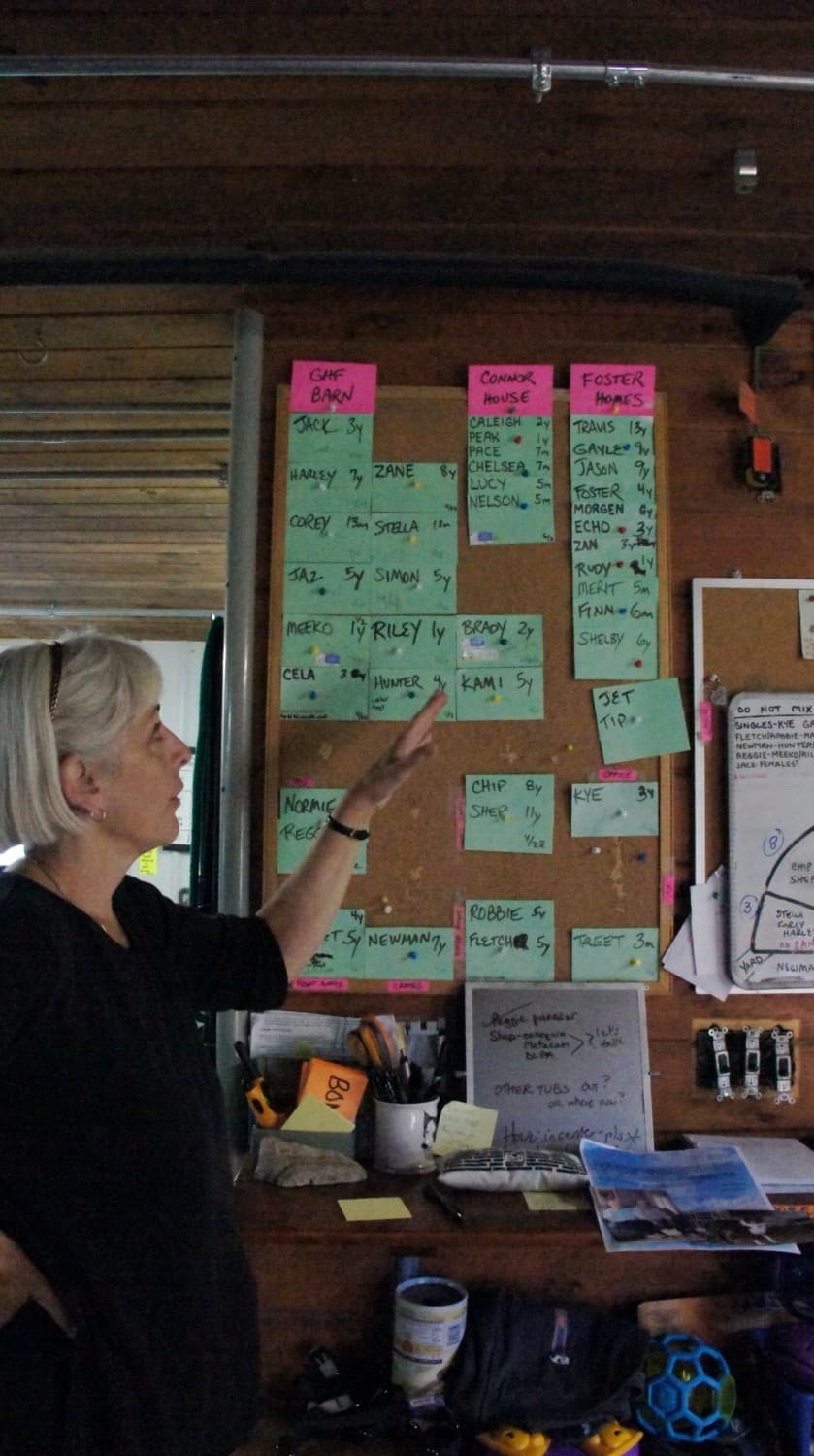 Each dog is represented by a tag on the bulletin board, and Lillie knows every one of them intimately. It's a sad situation – one that I knew nothing about. Originally farm dogs, border collies have become well known for their intelligence and athletic ability, but many people are unprepared for their boundless energy and willingness to herd small children. About two-thirds of the dogs that come here are under two years old. You might think that would be about the time they'd start calming down, but you'd be wrong. Lillie said most border collies start to unwind when they're around eight years old.
That being said, the dogs that are lucky enough to be here are happy – and for good reason! They have a loving staff and truly understands the breed, they've got cushy accommodations, and they have acres and acres to run and play.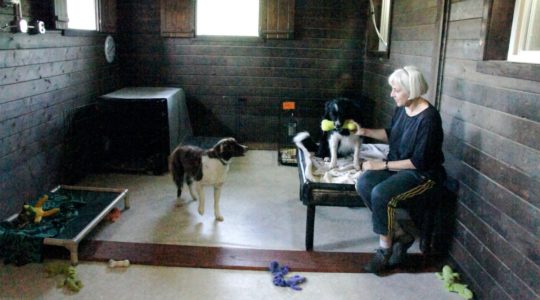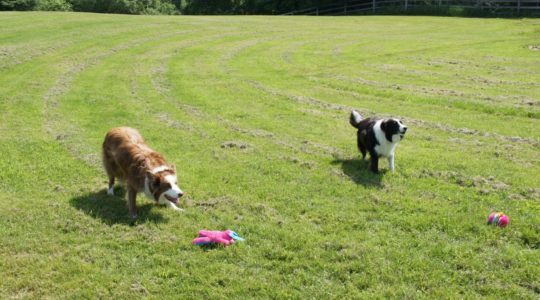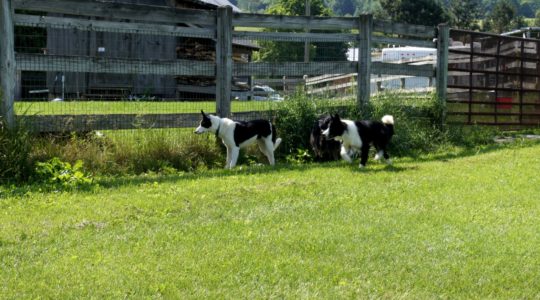 For the puppies in need of socialization and the seniors who wouldn't do well in the group living environment in the barn, there is the Connor House with the live-in caretaker, or Lillie and John's house with their pack. There's even a volunteer's cabin where the dogs prefer the company of people to other dogs live peacefully.
John's passion also extends beyond the hours he spends meticulously mowing. Each year the farm hosts a two-week summer camp for at-risk kids from New York City and Newark. Being a city kid himself, John melts when he talks about how each of the kids and the dog they choose to work with during their stay heal each other.
Are you ready to pack your bags? I guarantee you won't be disappointed. John and Lillie are an inspiration, our fellow campers were a joy, and Buster absolutely had the time of his life.
Note: For those of you who are wondering, Ty also had fun examining the inside of his eyelids and gorging himself on treats. Since he's not comfortable around strangers or other dogs, he stayed inside during our visit.
Planning a pet friendly trip of your own? We'll make it easy:
Pet Friendly Hotels | Pet Friendly Destinations | Pet Friendly Activities
Amazon Affiliate Disclosure: GoPetFriendly.com LLC is a participant in the Amazon Services LLC Associates Program, an affiliate advertising program designed to provide a means for website owners to earn advertising fees by advertising and linking to amazon.com, audible.com, and any other website that may be affiliated with Amazon Service LLC Associates Program. As an Amazon Associate, the owner of this site earns a commission from qualifying purchases.
(Visited 8,921 times, 1 visits today)