Where does the time go?! It's been five years since we first visited Yellowstone with our dogs, and learned that the National Park's rules require pets to be on a leash no longer than six feet and within 100 feet of a road, parking area, or campground at all times.
The restrictions are pretty severe for most dogs, and Ty and Buster would have been stir-crazy if we'd kept them cooped up in the RV several days in a row while we explored the park. Fortunately, even as pet travel novices back then, we found a few activities the boys could enjoy with us outside the park's borders.
All these years, we've been looking forward to going back to Yellowstone … not to spend more time inside the park, but to more thoroughly explore the surrounding areas for places that pet travelers can enjoy with their dogs. We finally made our return, and we're delighted to say there are plenty of things to do with your pets just outside Yellowstone's borders!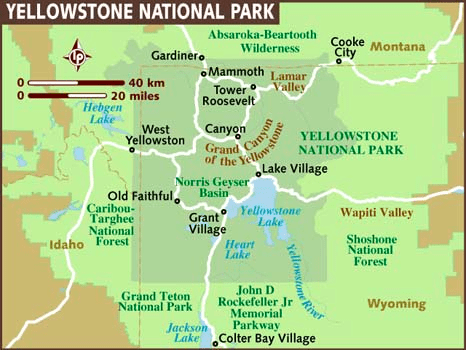 Paradise Valley
The Yellowstone River flows out the north border of the park, through the village of Gardiner, and up Paradise Valley to the town of Livingston. This spectacular river valley, flanked by the Absaroka Range to the east and the Gallatin Range to the west, was the original entrance to Yellowstone, and is one of he most idyllic places we've ever been. The pastures stretch for miles, the mountain peaks frame the view, and right through the middle of it all, the river tumbles along over perfectly worn stones.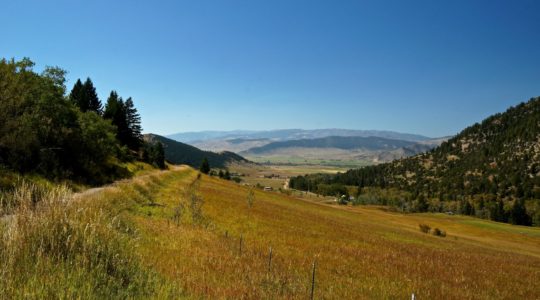 The beauty of the valley beckons you outdoors and then provides plenty of activities to choose from. The Yellowstone is a world-class fly fishing river with many access points along it's shores. Wildlife viewing is always exciting in this part of the country, and antelope, big horn sheep, bison, elk, mule deer, and white-tailed deer are often seen from the roads. Of course, one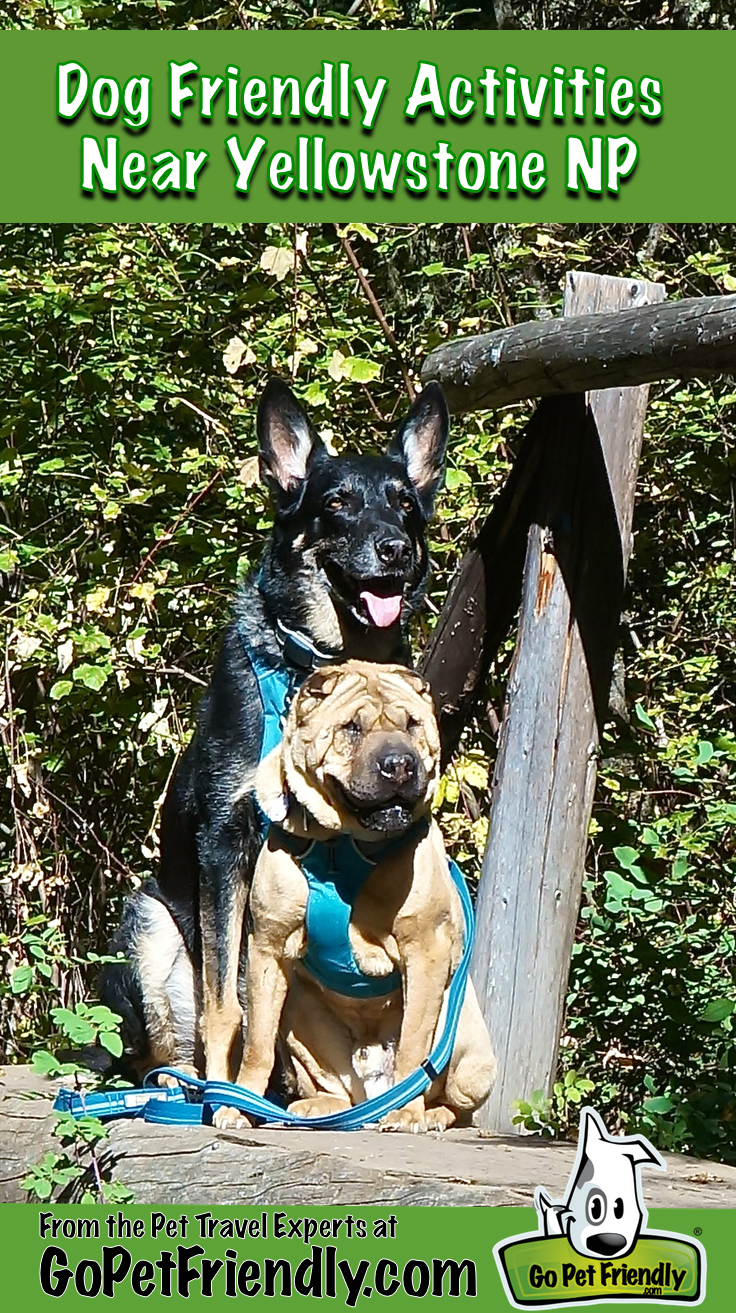 of our favorite activities is hiking with the dogs, and the Gallatin National Forest offers spectacular trails for both the serious hiker and those just out for a stroll in nature, like us.
The National Forest Service has offices in Gardiner and Livingston, so stop by one of those locations for the latest trail conditions, and recommendations depending on your skill level. One of the most popular trails in the area is Pine Creek Falls, a 5.1 mile out and back that originates at Pine Creek Campground on Pine Creek Road, and it sounds spectacular. But we opted for the less trafficked Suce Creek Trail, located off East River Road. This trail is 3.3 miles long, and less strenuous for Ty than Pine Creek Falls.
The trail was shady and quiet on a weekday – in fact, we only saw one other person during our hike. We did, however, get a look at some wildlife … a mother and baby moose were bedded down near the trail and jumped up as we got close. We gave them plenty of space, and I don't think Ty and Buster even knew the moose were there, but they certainly kept an eye on us!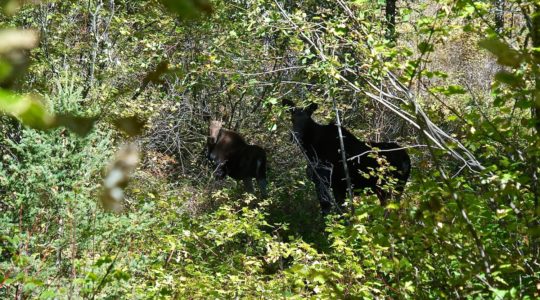 This is probably a good time to remind everyone that it's important to stay safe while you're hiking with your dogs. Though the National Park rules may not require it, it's best to keep your pups on-leash in areas where wildlife encounters are possible. An off-leash dogs could chase and harass wildlife, causing them undue stress and possible injury, or the dog could be lost or injured as well. In areas like this, it's also important to always carry your bear spray and put bear bells on your dogs to alert surrounding wildlife to their (and your) presence.
When you've had your fill of hiking, you'll be happy to know that Paradise Valley is also home to several hot springs. The most popular is Chico Hot Springs, where a resort and day spa, as well as access to the natural hot springs-fed pool, awaits you. A day pass to the pool is just $7.50 per adult, and provides access from 8am to 11pm. If you're looking for pet friendly accommodations as well, their brochure claims that they invented "dog friendly," so your pup will likely look forward to staying here as much as you!
Gardiner and Jardine
It's also good to note that you don't necessarily need to be deep in the forest to encounter wildlife. On an afternoon walk around the town of Gardiner we met a small group of elk!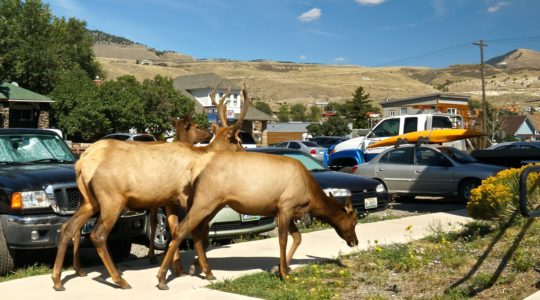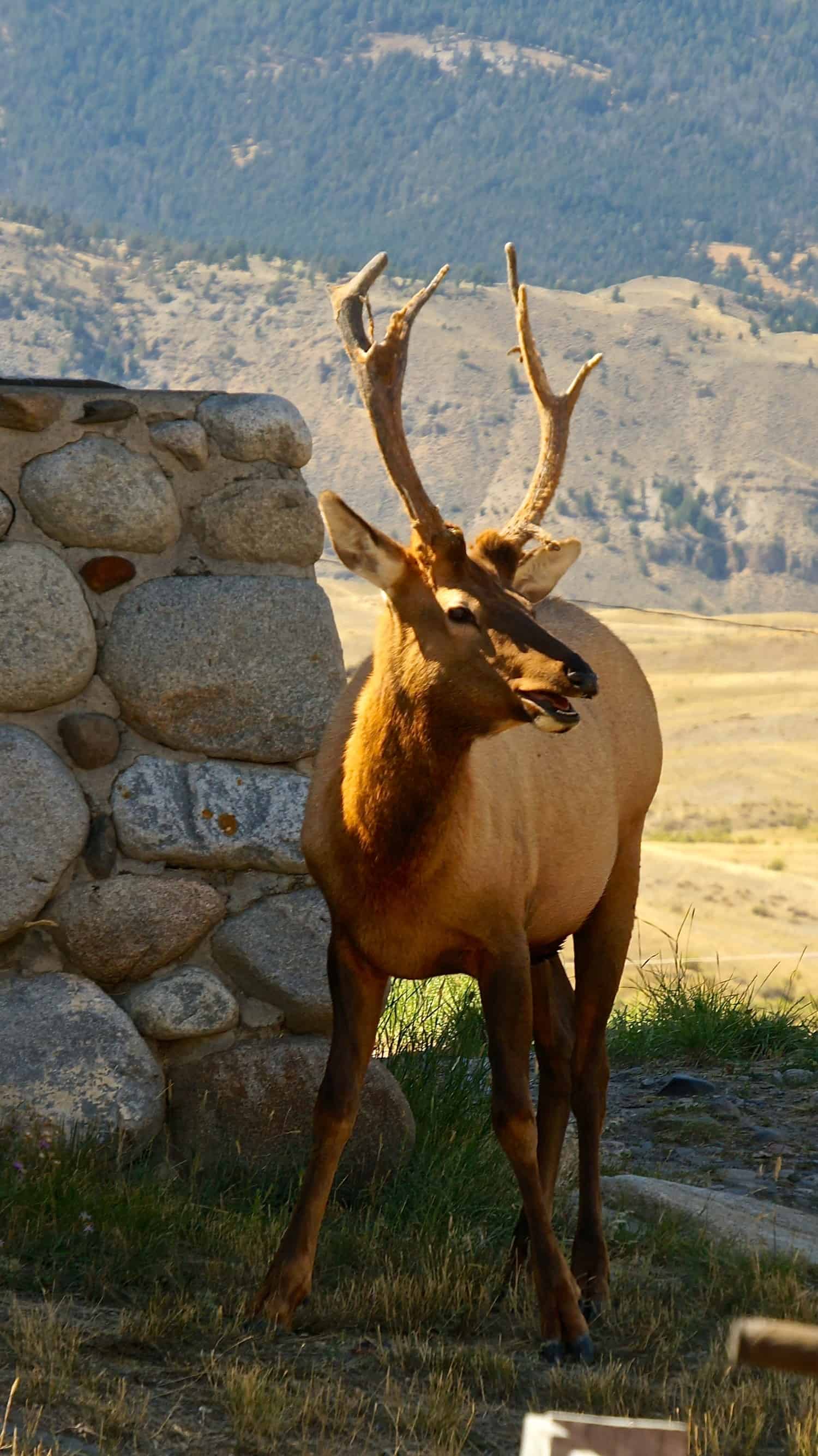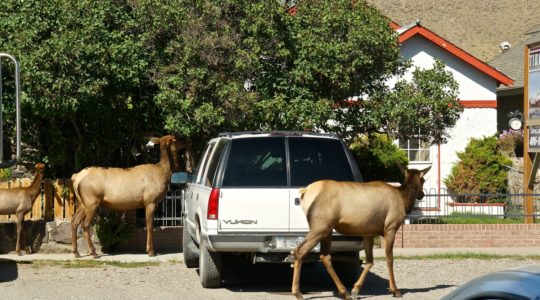 Gardiner has the typical feel of a small, western town – unpolished and friendly, with little pomp and a down-to-earth respect for the practical. The streets are lined with modest houses, the business owners go out of their way to be helpful, and the locals are more than happy to stop for a chat. And, though there are only a handful of places in town, we found a couple of pet friendly restaurants with outdoor seating!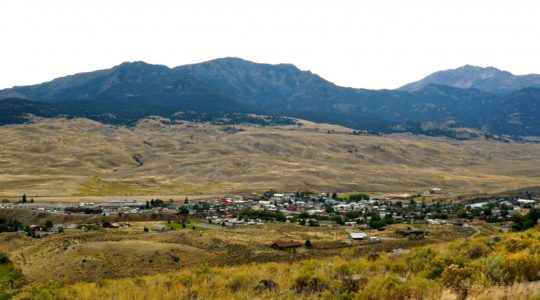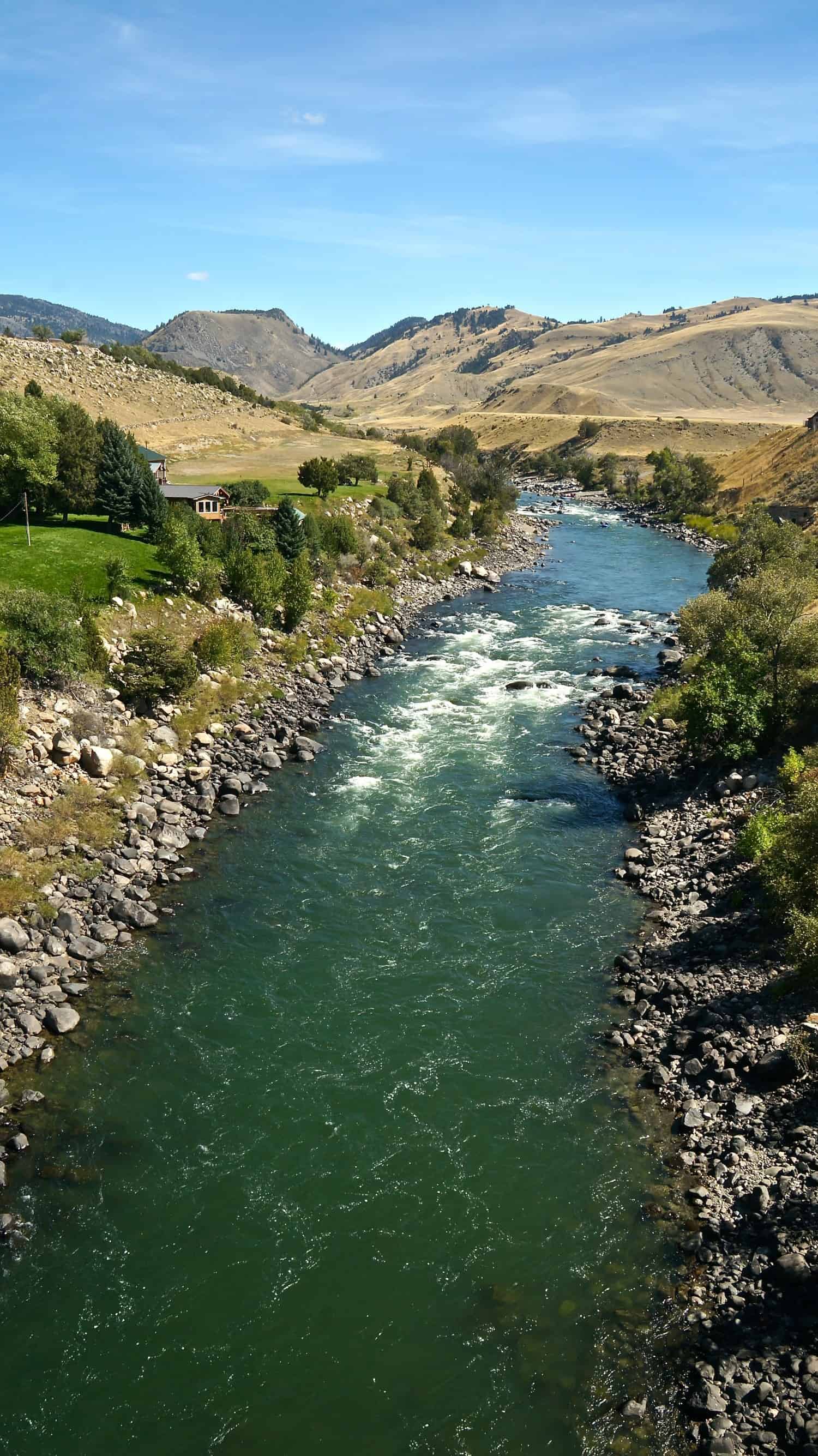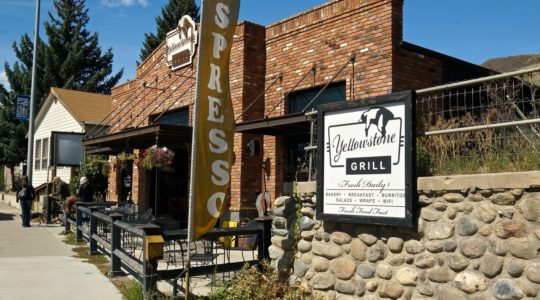 For some more great views, follow the signs from Gardiner toward Jardine. It's a short seven mile drive up the road, and well worth the time!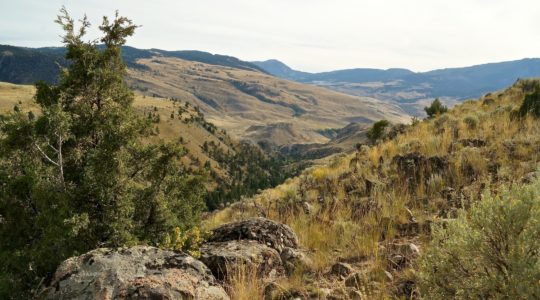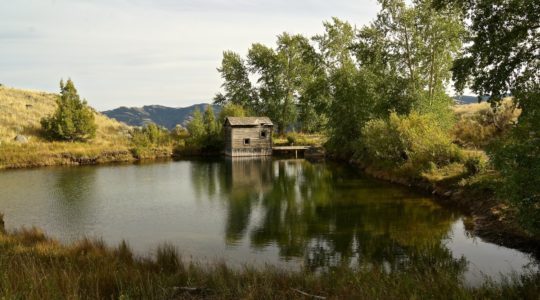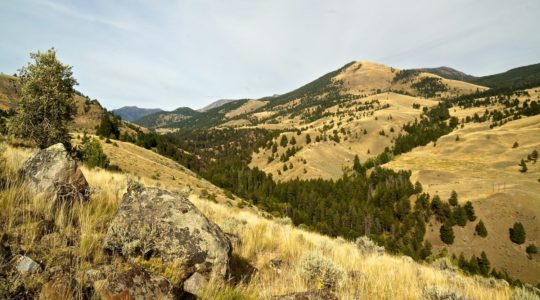 Bozeman
Bozeman is one of those cities that we can go back to over and over and always find something new. Originally we were charmed by her lively main street, drawn in by the shops and eateries with people spilling out on to the sidewalk. On this visit we discovered there's even more to love about Bozeman!
From every Saturday from June through September, Bozeman shows it's stuff at a spectacular – and dog friendly – farmer's market. It's a big affair with fresh fruits and veggies, handmade products by local artisans, and plenty of fodder to nosh on while you browse the bounty.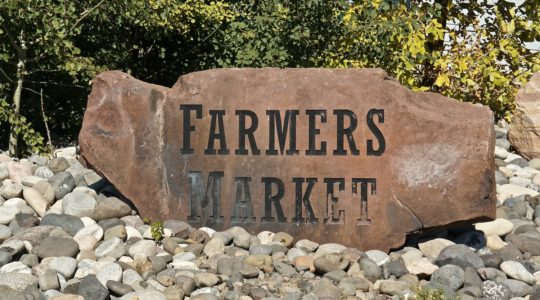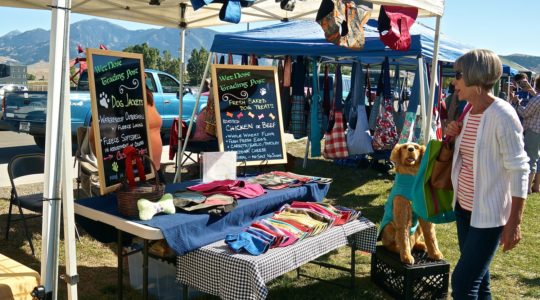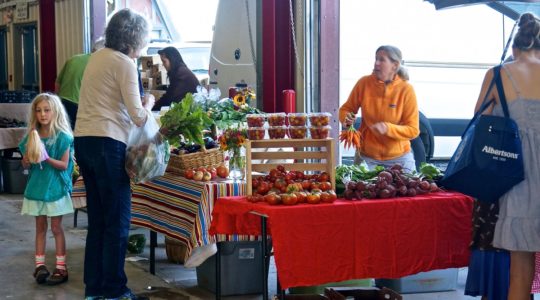 Many of the vendor booths are located inside the pavilion, and if you carry your pup, he's welcome to accompany you inside. Those with larger dogs will find a decent number of booths outside, and taking turns looking around the pavilion while one of you waits with the dog is no hardship – there are food trucks where you can grab a snack and soak up a little sun.
Another new treasure for us on this trip was Hyalite Reservoir and Hyalite Creek Trail. Located just 12 miles south of Bozeman in the Gallatin National Forest, this 206-acre lake is a dog's dream! Splashing along the shore, getting out for a paddle, enjoying a picnic, hitting the trails, or picking out one of the campsites for our new favorite pastime are all options here!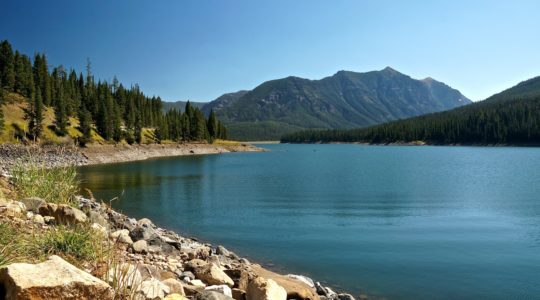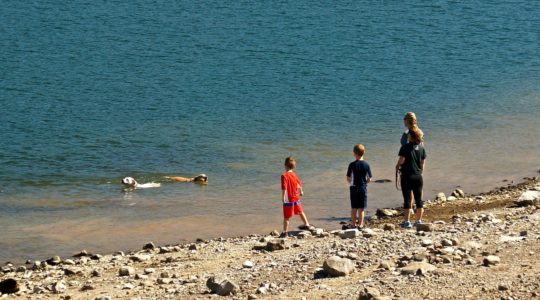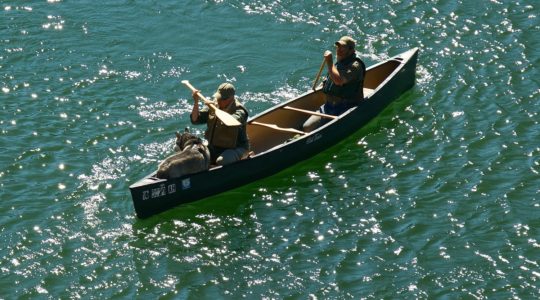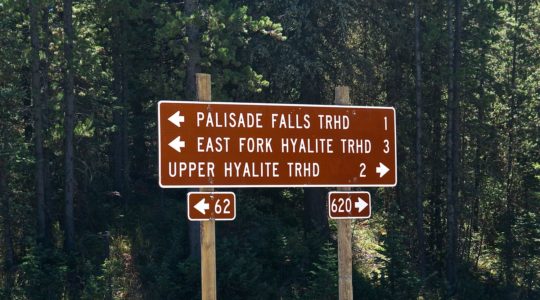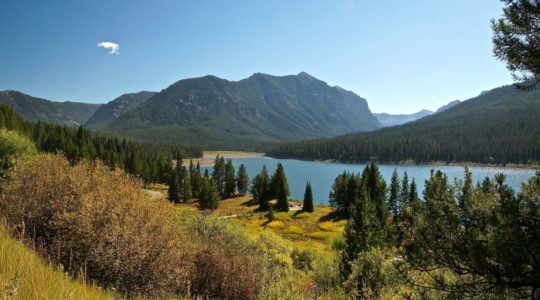 As you can see, your trip to Yellowstone National Park doesn't need to be a drag for your dog! There are plenty of dog friendly things to do just outside the park borders. Next week we'll post about the dog friendly fun we found west of Yellowstone.
Planning a pet friendly trip of your own? We'll make it easy:
Pet Friendly Hotels | Pet Friendly Destinations | Pet Friendly Activities
Amazon Affiliate Disclosure: GoPetFriendly.com LLC is a participant in the Amazon Services LLC Associates Program, an affiliate advertising program designed to provide a means for website owners to earn advertising fees by advertising and linking to amazon.com, audible.com, and any other website that may be affiliated with Amazon Service LLC Associates Program. As an Amazon Associate, the owner of this site earns a commission from qualifying purchases.
(Visited 10,497 times, 1 visits today)