There's nothing quite like the roller coaster ride on Dog Mountain. The pure joy of the 150 acre off-leash dog park, complete with hiking trails, swimming ponds and playground equipment. The raw heartbreak of Dog Chapel, where photos and notes to the pets that have left this world literally plaster the walls. The whimsical humor of the t-shirts, prints and carvings in Stephen Huneck's art gallery. This place brings you full circle, pulls you into the moment, and then curls up quietly in a corner of your heart and sticks with you like few places we've been.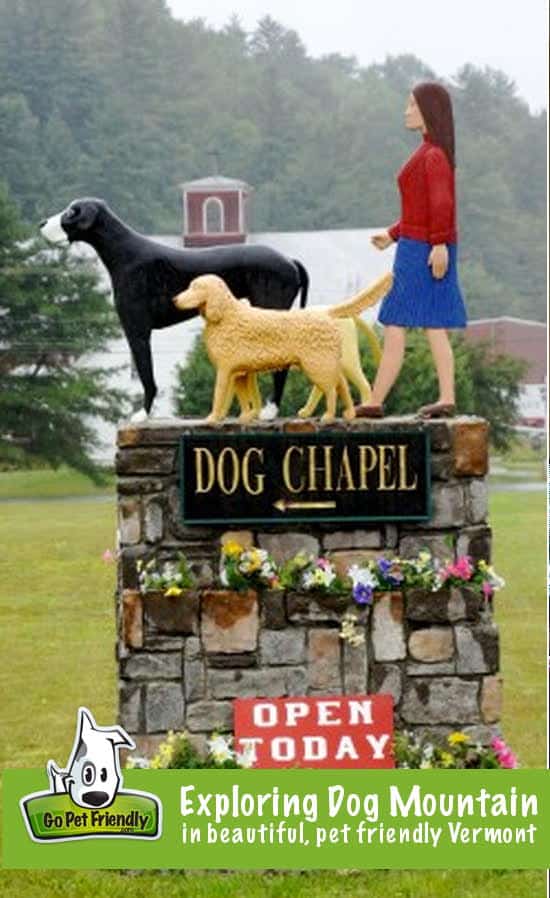 Dog Chapel
As with many days on this tour of New England, it was raining in St. Johnsbury when we visited Dog Mountain. Hoping for a break in the weather so we could take the boys exploring the forest and trails, we started our visit in the Dog Chapel. It's beautiful architecturally, with stained glass windows celebrating some of the best canine qualities: loyalty, play, and trust. The pews are carved with sitting dogs supporting each end, and even the weathervane – a Labrador with wings – is perfect.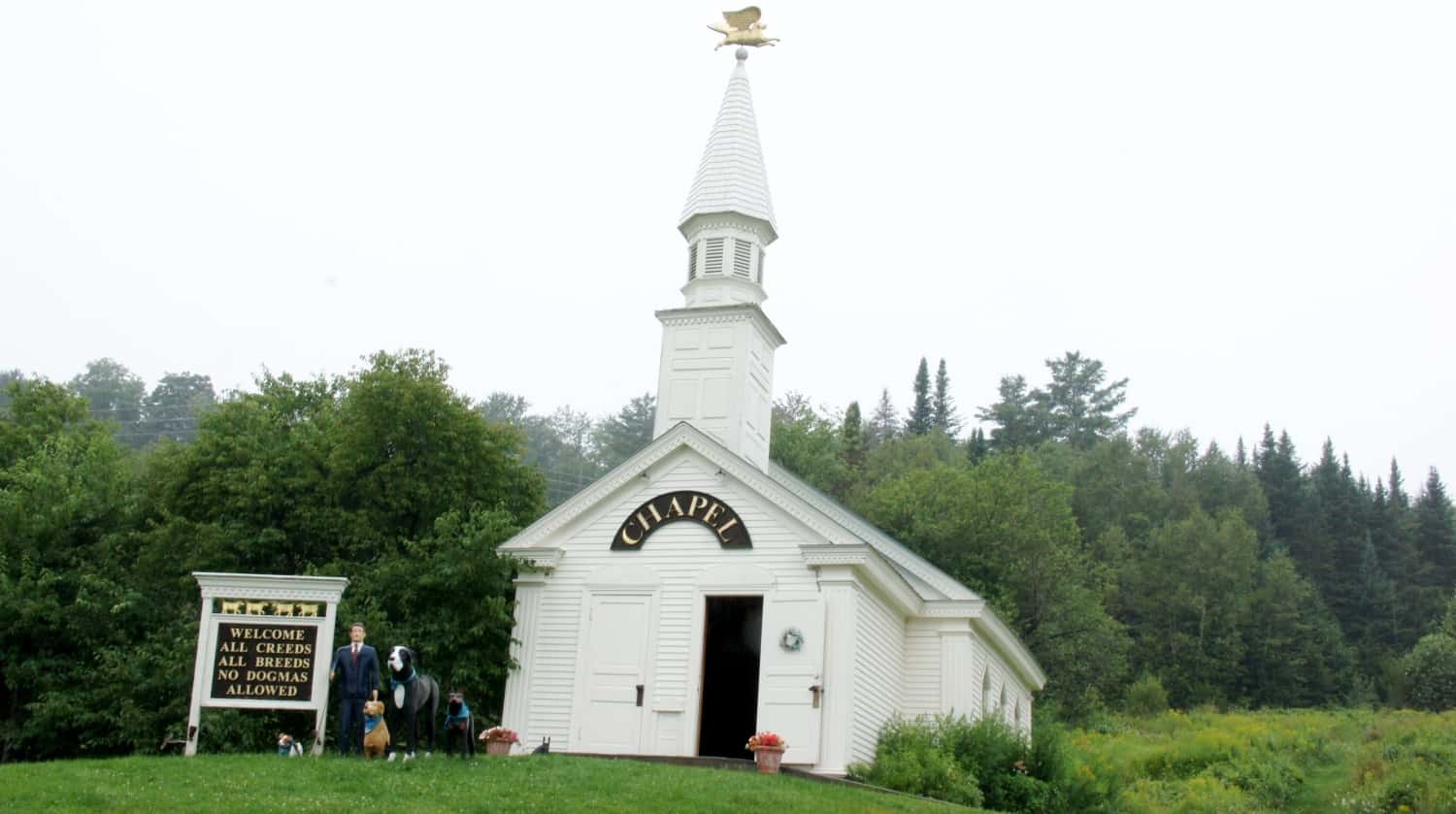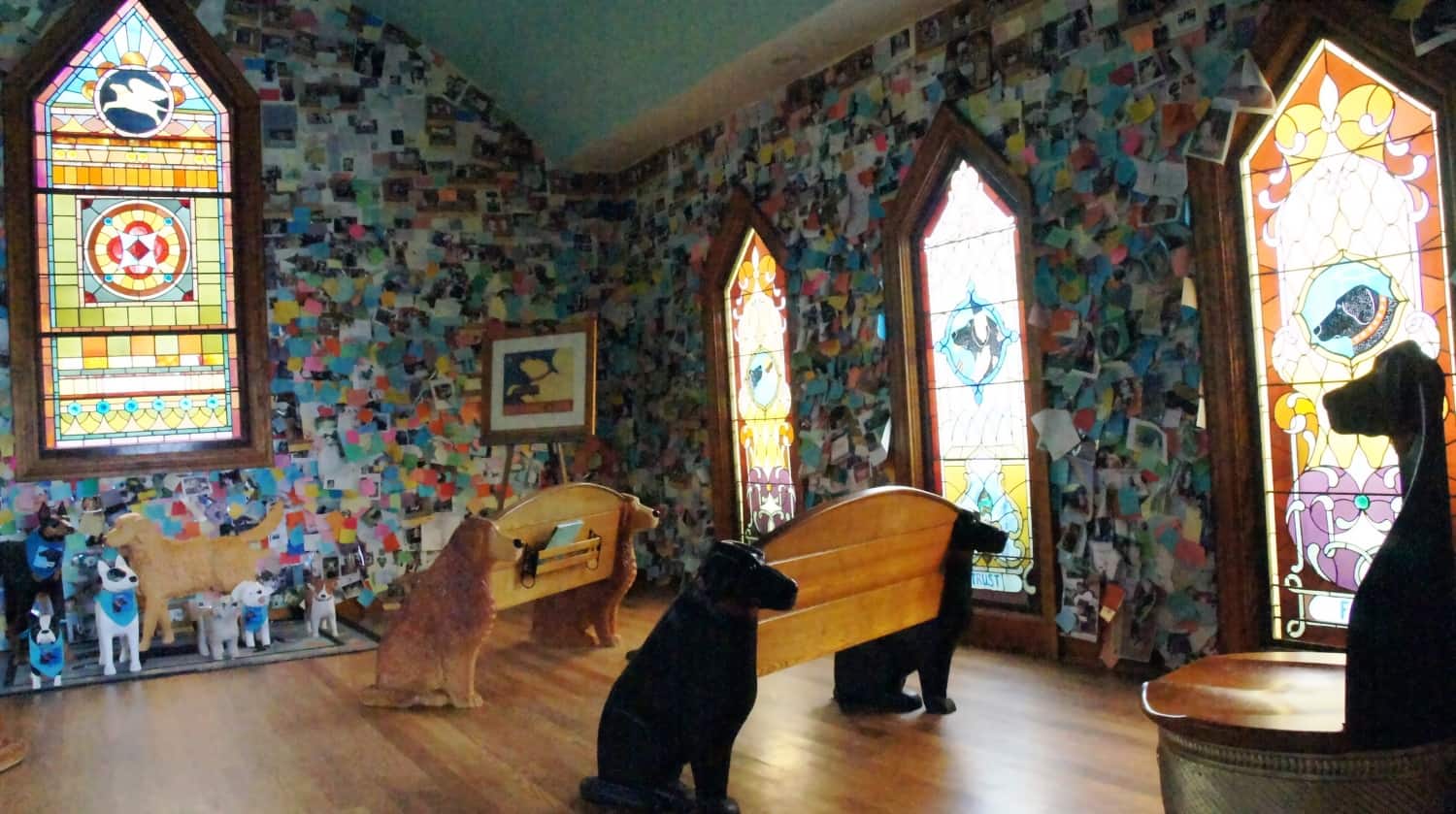 The walls are covered – two and three layers thick in some places – with pictures of pets that people have come here to remember and the messages they want to send. At first glance, the multi-colored notes look like a fun-loving wall paper pattern, but as you let your eyes wander over the touching messages, you can feel these people missing their beloved friends. As it turned out, the rain didn't stop … fortunately it helped to hide my tears.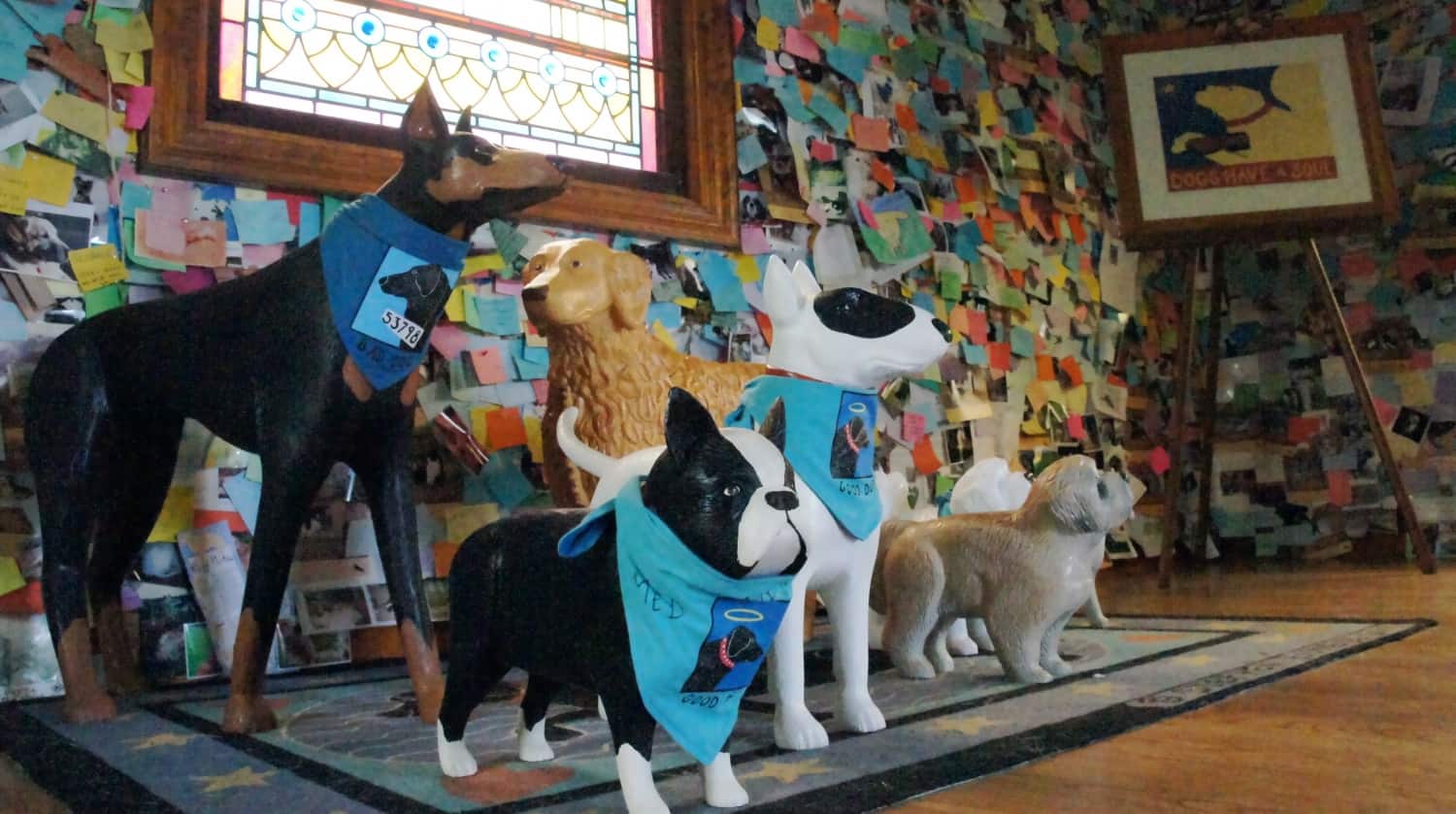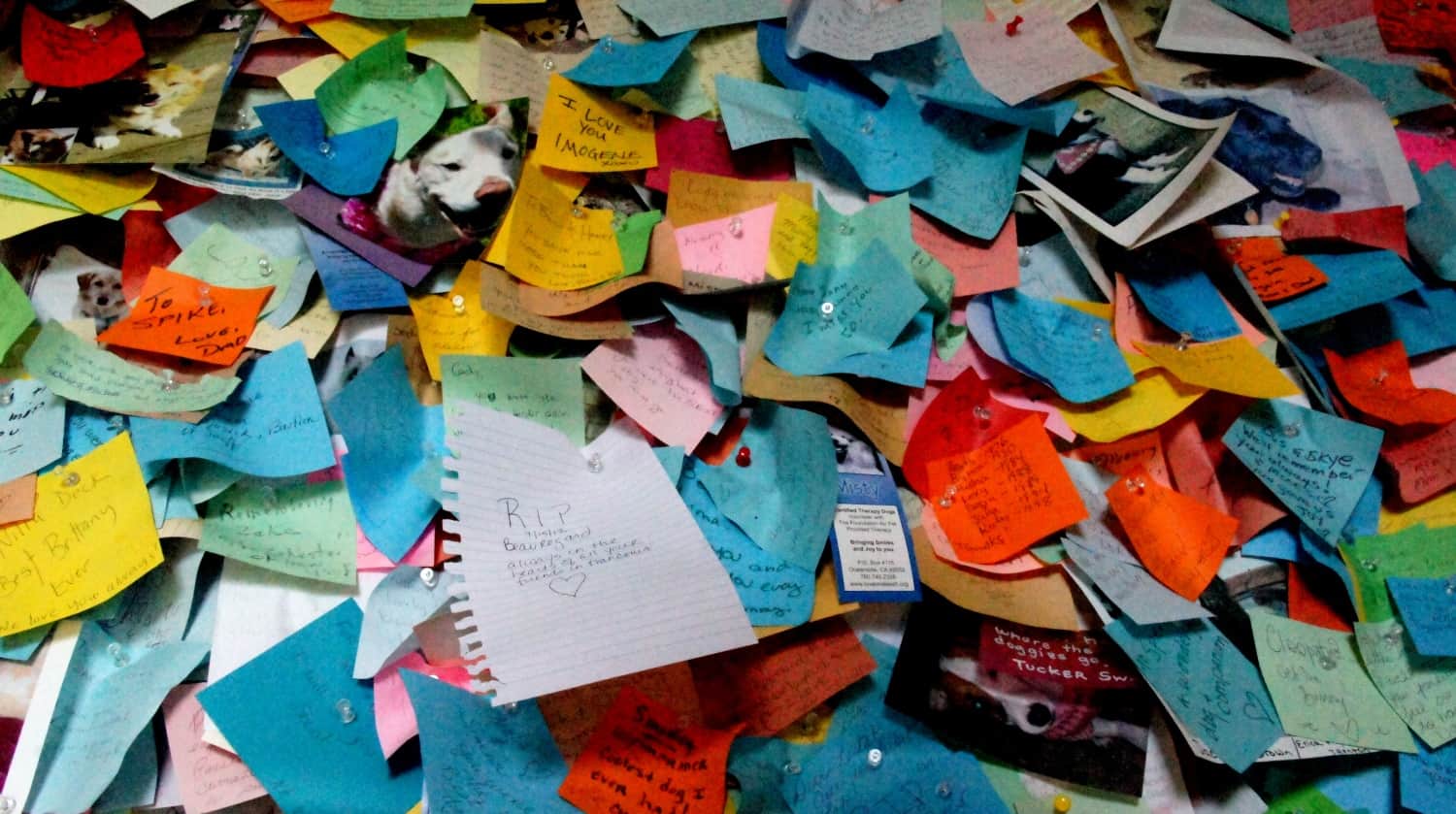 The Gallery
It's hard not to smile as you walk around the art gallery. Clearly, the artist had a deep love for dogs and a fantastic sense of humor. Many pieces, including crafted furniture, sculptures, woodcut prints and t-shirts, feature Stephen Huneck's black lab, Sally. One of my favorites is the message, "No Dogmas Allowed" – a welcome take on the signs we often see forbidding Ty and Buster from joining us.
Learning that Stephen took his own life in 2010, when the economic downturn made keeping Dog Mountain look like an insurmountable struggle for him, made the experience even sadder. But you also get a sense that this is a peaceful place, meant for healing broken hearts, and Stephen's wife, Gwen, has continued his mission to give people a spot to remembering the pets that have gone before us and enjoying the ones we have now.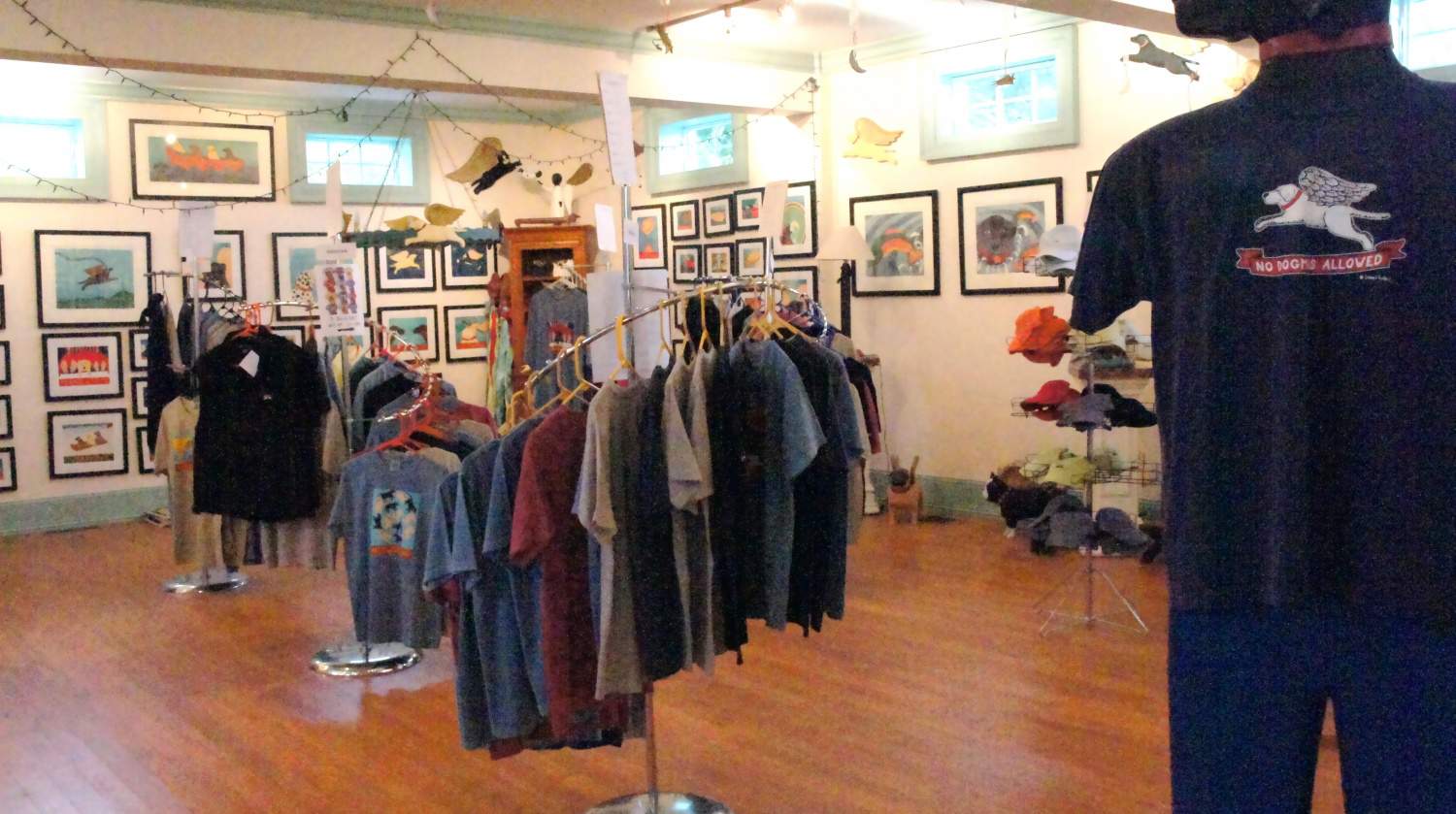 The Park
The rain kept us from seeing the grounds, but I've heard from several of people that playing with their dogs on Dog Mountain was a highlight of their travels. The vivid reminder that we all have a limited amount of time here makes the experience even sweeter, I suspect. If you've been to Dog Mountain, please leave a comment below and share your experience with other pet lovers!
And now … go hug your pets.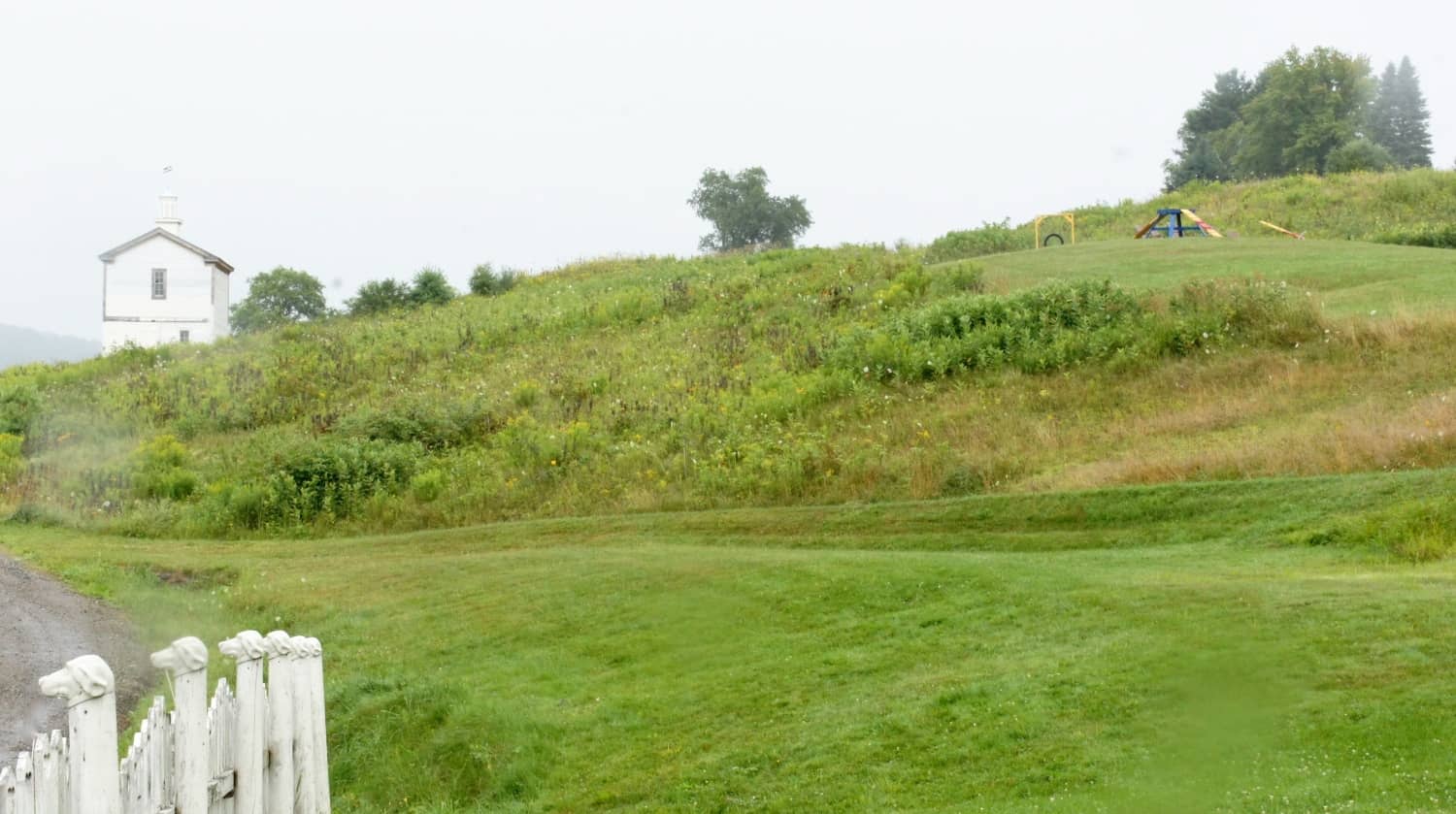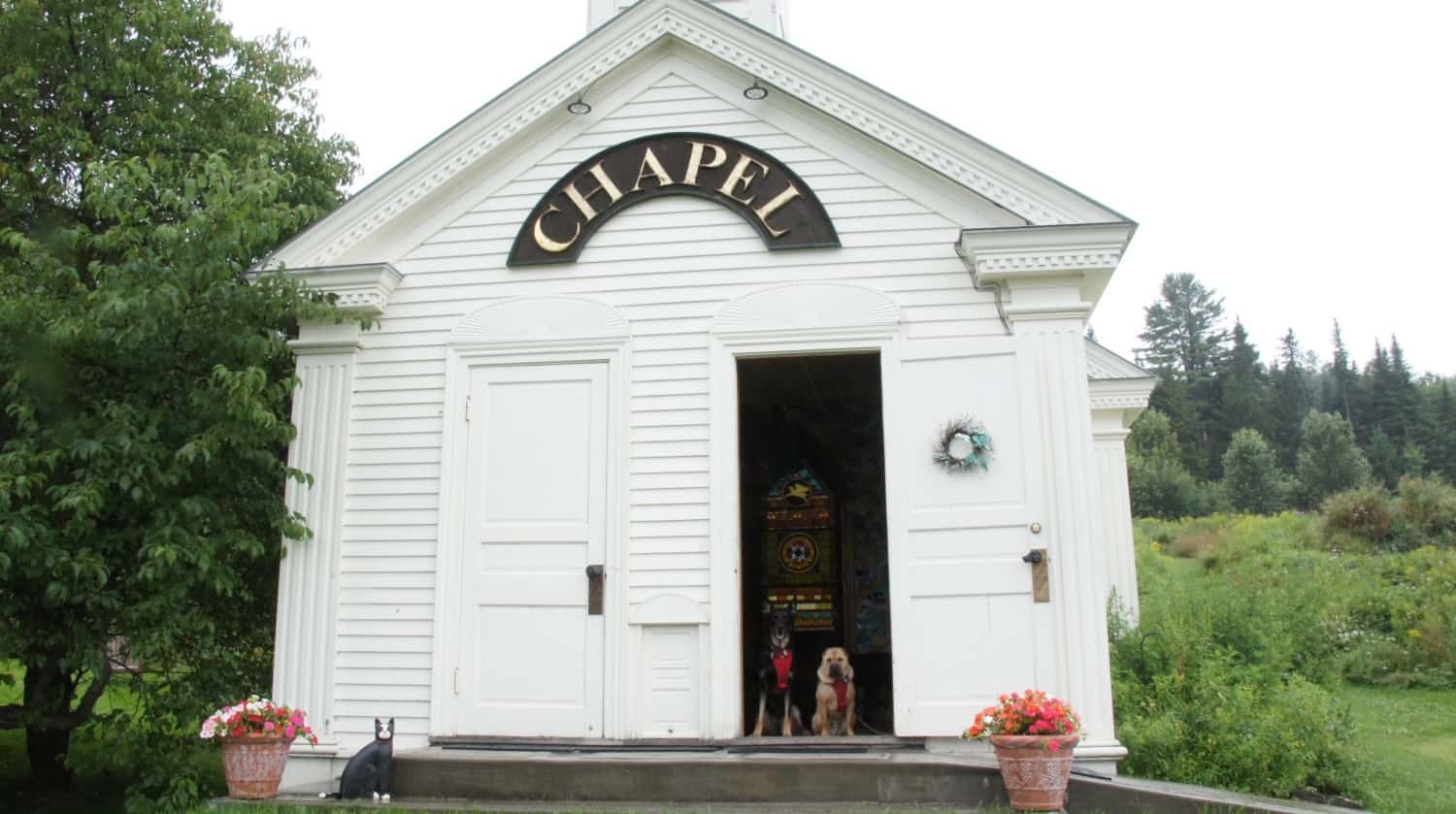 If you're looking for a place to stay near Dog Mountain, check out the very pet friendly Moose River Campground or visit the Dog Mountain website for suggestions on local accommodations.
Update
We finally made it back to Dog Mountain. Read our most recent paws-on-the-ground research now!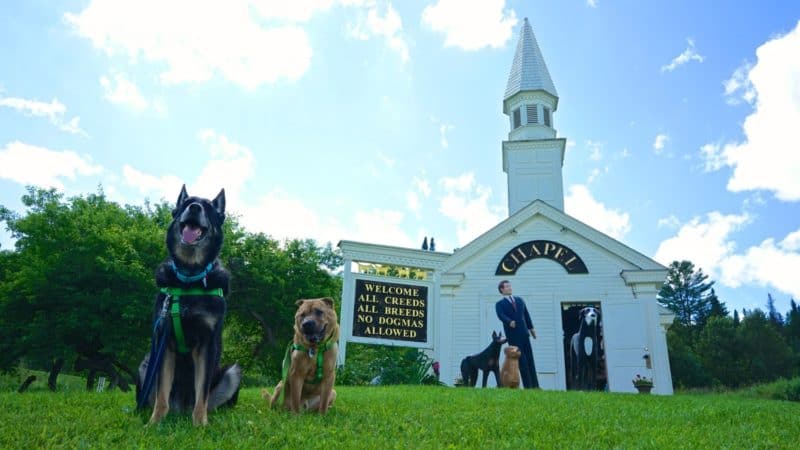 Planning a pet friendly trip of your own? We'll make it easy:
Pet Friendly Hotels | Pet Friendly Destinations | Pet Friendly Activities
Amazon Affiliate Disclosure: GoPetFriendly.com LLC is a participant in the Amazon Services LLC Associates Program, an affiliate advertising program designed to provide a means for website owners to earn advertising fees by advertising and linking to amazon.com, audible.com, and any other website that may be affiliated with Amazon Service LLC Associates Program. As an Amazon Associate, the owner of this site earns a commission from qualifying purchases.
(Visited 1,786 times, 1 visits today)