Take Paws is a showcase for people having fun with their pets – and sharing YOUR pet travel experiences may be the nudge someone else needs to pack up and head out with their own best friend! Today we're excited to have Paul and Brittany from Fluffy Kitty sharing their pet travel experiences.
***
This is the story of a handsome grey cat named Yoda who went on a grand adventure across the world.
But wait. That's not how it all began.
Picture it. It's July 2014 and Paul and I, at the time aged 24 and 20, just came back from studying for a year in France. Young and filled with wanderlust, we knew it wouldn't be long until we would be traveling again. But Paul didn't know what he was in for, being with an animal lover.
One mere week later, I had somehow convinced him to adopt a beautiful 10 week-old boy kitten. "Don't worry! We can still pursue our dream of a life of travel, even with a cat! I promise. You'll see, everything will work out just fine!" And just like that, Yoda was adopted into his forever home.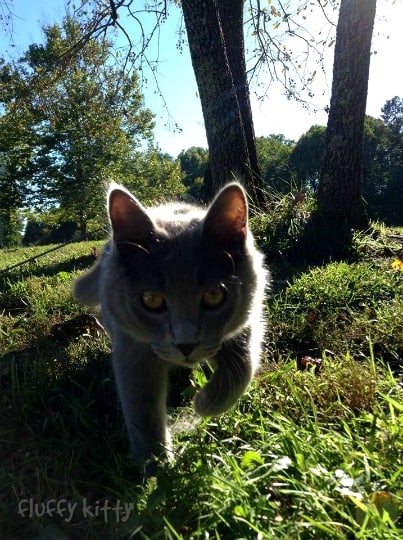 Yoda's kittenhood was filled with travel. He's a natural at it, too. Maybe kittens are born with it, or maybe it's pedigree – either way, we took him everywhere we went and exposed him to our busy lives, and he adapted extraordinarily well. From short and long car rides to walking on his leash in public parks, Yoda became known to everyone who saw him as a very special and unique traveling cat.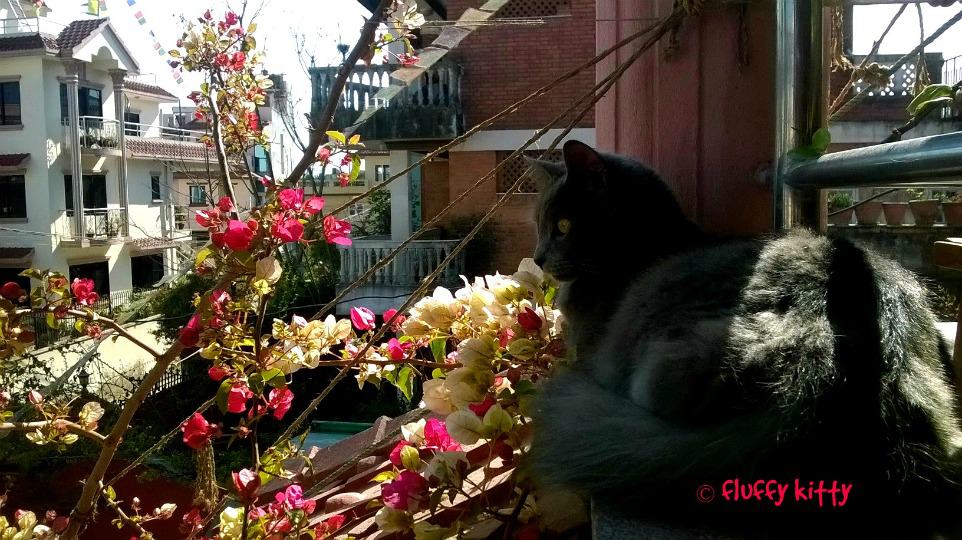 After Yoda's first birthday, Paul and I decided we should share our unique experiences of traveling with Yoda. And that's how Fluffy Kitty, our cat blog inspired by Yoda, came to be.
Each day is a learning process with our wild beast, so you can imagine the challenge of learning how to fly across the world with a cat. Well, no need to imagine it – I'm here to tell you.
Flash forward to July 2015 and I'd just found out I was accepted to work and pursue a graduate program in Kathmandu, Nepal. I accepted without hesitation. But here's the catch: I was given two weeks to get there!
Two weeks to pack up our life with Yoda in Greensboro, North Carolina, move back home with mom in the mountains, figure out how the heck to get Yoda approved for flying, buy tickets, pack, and get going for a planned stay of two years.
People were surprised when we told them Yoda was coming with us to Nepal, as if we could actually leave him behind for two years. Yeah, right.
I had confidence in Yoda; after all, he is our traveling cat.
It's a miracle I got everything done in two weeks: vaccinations; vet appointments that I had to beg for; an international health certificate (required no more than 10 mere days prior to departure); finding an IATA approved pet carrier that satisfied BOTH in-cabin and cargo regulations; numerous calls to reserve Yoda's space with two different airline companies; getting signatures from the USDA in Florida – the list goes on and on. Preparing a cat for international plane travel is no easy task! Here are the steps you'll need to take:
Preparing to fly with your cat:
Research airline pet policies and your destination country's requirements for entry of pets.
Call your vet in advance and make an appointment for vaccinations/microchip at least 30 days in advance.
Make an appointment to get the international health certificate (must be within 10 days of your departure date) and then FedEx overnight ship it to be endorsed by the USDA.
Call the airlines you are flying with to confirm their requirements and reserve space for your pet. If flying with more than one airline, then you will need to pay separate pet fees for both.  Make sure you get reliable answers, when in doubt ask again.
Buy an appropriate-sized pet crate and accessories whether soft-sided (in-cabin) or hard (cargo).
Get your cat used to traveling in the crate by associating it with positives (treats, toys, caresses).
Just to be safe, make copies of all your documents (vaccinations, rabies certificate, health certificate) and keep these with you in your carry on while you're traveling.
In addition to having your cat microchipped, have a tag engraved with pet name, your name & contact information. I got Yoda's for $4 at the animal shelter.
During the flight with your cat:
Expect to be stared at; it's like being a celeb when you walk around the airport with a carrier that announces "live animal" on both sides.
If going on board with your cat, security will require that you take your pet out and hold him – then they swab your hands. Yoda was afraid to come out of his carrier, so you may also run into a bit of resistance from your furry travel companion.
If you're waiting around, open the carrier a bit and stick your hand in there to comfort your kitty (or sneak him a yummy treat), you'll both feel better for it.
If your cat is flying in cargo, when you board the plane(s) notify one of the flight attendants, and ask him or her to confirm with the pilot that the oxygen and temperature are being regulated in the hold.
Last but not least, try not to stress! Telling yourself it will be okay will let your cat feel it, too.
For our crazy story about flying from the US to Nepal, and a more detailed to-do list for traveling with a cat on a plane read Yoda Flies to Nepal. We've been in Nepal eight months now, and having Yoda by our side in Kathmandu has been nothing but rewarding; we simply couldn't imagine traveling and living abroad without him!
About the Authors: Paul and Brittany are two young digital nomads discovering their diverse passions in life by way of travel and exploration. Currently based in Kathmandu, Nepal, when Paul and Brittany are not typing away for Fluffy Kitty, they enjoy learning about the exotic Nepali culture, making and eating delicious food, and living in the moment alongside their furry best friend, Yoda.
Planning a pet friendly trip of your own? We'll make it easy:
Pet Friendly Hotels | Pet Friendly Destinations | Pet Friendly Activities
Amazon Affiliate Disclosure: GoPetFriendly.com LLC is a participant in the Amazon Services LLC Associates Program, an affiliate advertising program designed to provide a means for website owners to earn advertising fees by advertising and linking to amazon.com, audible.com, and any other website that may be affiliated with Amazon Service LLC Associates Program. As an Amazon Associate, the owner of this site earns a commission from qualifying purchases.
(Visited 8,009 times, 1 visits today)