The city of Minneapolis was incorporated in 1856, and as the city quickly grew, an influential group of citizens recognized the need to protect and promote their city's best interests. They decided that Minneapolis needed parks – but the city council wasn't in favor of this initiative, and had historically opposed creating a park board. These dedicated folks were undeterred, and went
straight to the Minnesota state legislature to put the idea to a ballot. In April 1883, the voters in Minneapolis approved the Parks Act, and we're still enjoying the benefits today!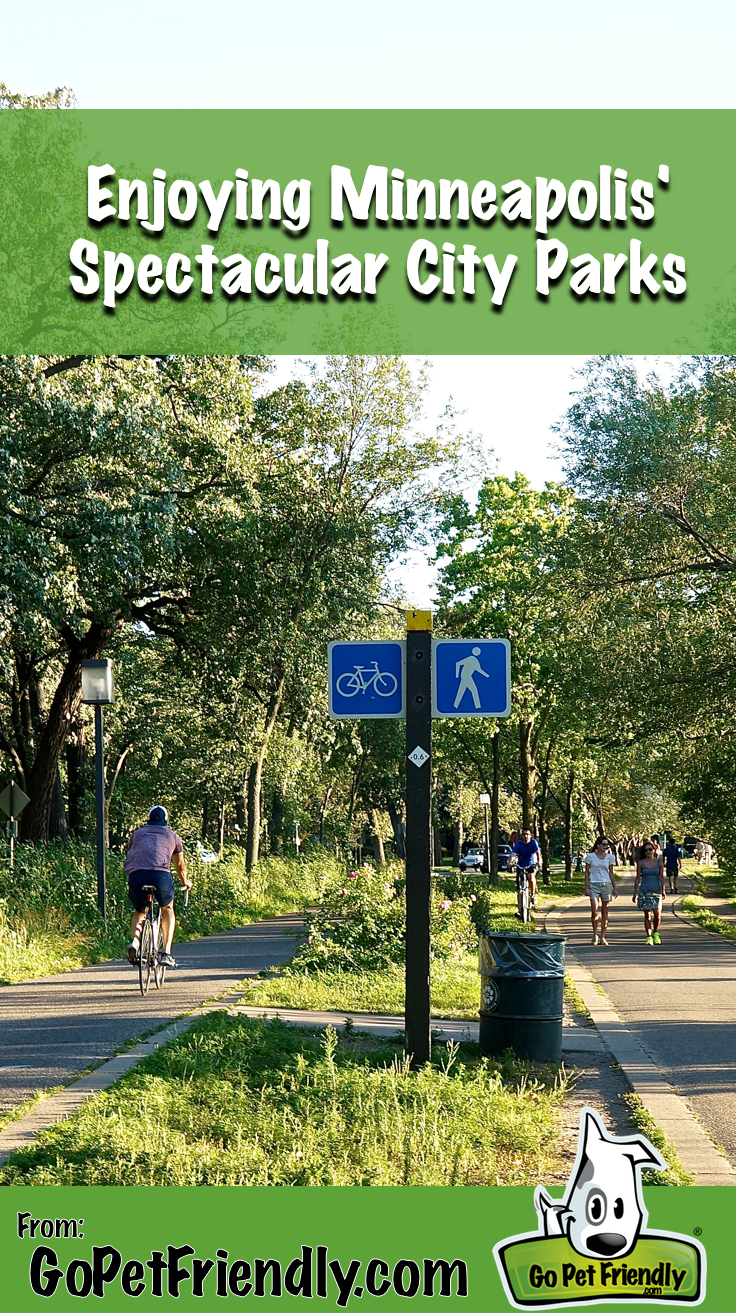 Over the years, the Minneapolis Park System has grown to encompass an amazing 6,790 acres, and consists of local and regional parks, playgrounds, golf courses, gardens, biking and walking paths, nature sanctuaries, lakes, and a 55-mile parkway system. In fact, it was named the number one park system in America by the Trust for Public Land in 2013 and 2014!
Almost all the lake shores, stream banks, and the banks of the Mississippi River in Minneapolis are included in the park system, preserving the enjoyment of the city's waterfront for the public. One of our favorite places to explore was the trail system around the Chain of Lakes, west of downtown.
The Chain of Lakes includes Cedar Lake, Lake of the Isles, Lake Calhoun, and Lake Harriet – all of which are ringed by hiking and biking trails. The interconnected trails provide twelve miles of spectacular views, quiet overlooks, and woodsy ambiance in the middle of a major metropolitan area.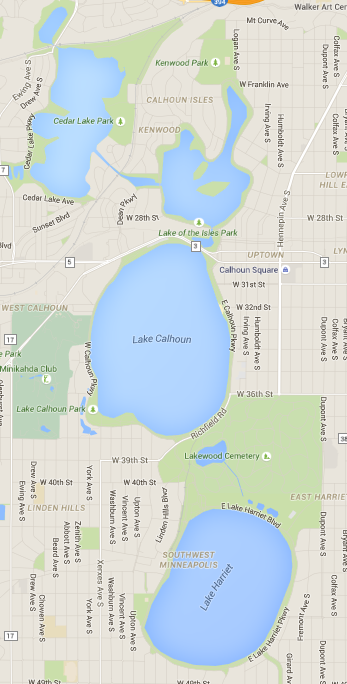 We hit the trails on a Sunday evening, and found a lot of Minnesotans out enjoying the beautiful summer weather – from kayakers, to rollerbladers, to runners, and dog walkers, it seemed these hearty northerners were thoroughly enjoying every moment of their weekend.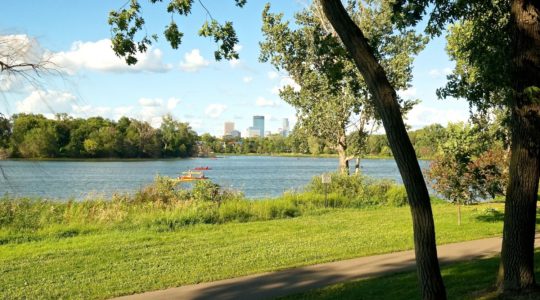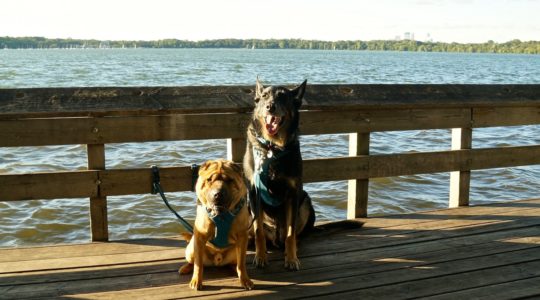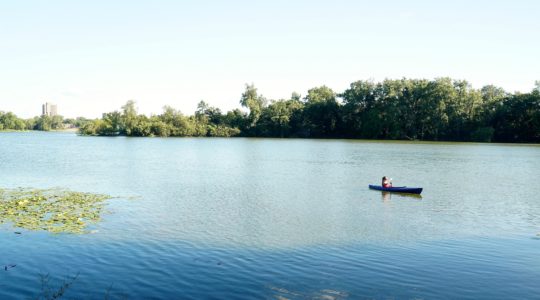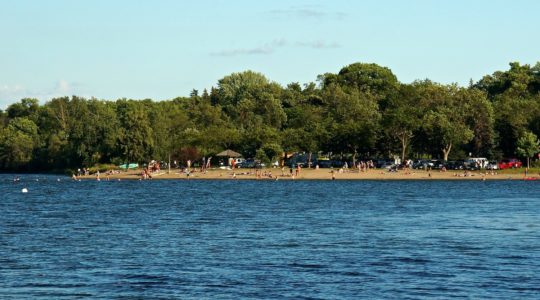 For two people who live in an RV, Rod and I have a morbid attraction to ogling houses … and the residential neighborhoods around the lakes have some of the best house-gawking opportunities we've ever seen! There are old homes, new homes, huge homes, and homes with perfectly manicured lawns and gardens in every shape and style you can imagine. And there are HUNDREDS of them! The ones overlooking the lakes are the most stunning, but even a few blocks off the lakes you'll find gorgeous houses. We had a fantastic time strolling up and down the quiet residential streets admiring all of the amazing abodes.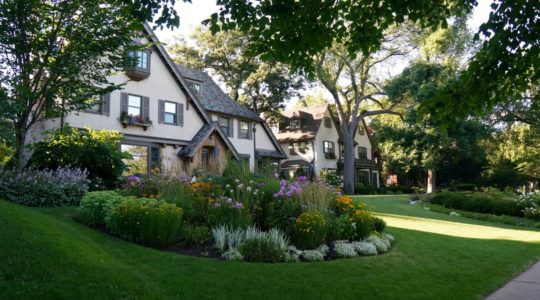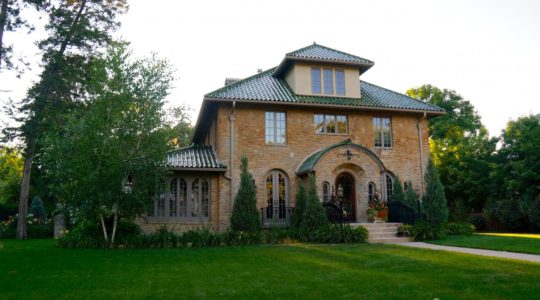 All the trails at the Chain of Lakes are pet friendly, and in many places the pedestrian trail and the bike trail are separate – so you don't have to worry about your dog dashing out in front of a cyclist whizzing up from behind you. But the city also recognizes that pups sometimes need their freedom, and they've installed a big, off-leash dog park just across the street from the trail at Lake of the Isles. For $5 and proof of rabies vaccination you can get your pooch a day pass which covers all seven Minneapolis off-leash dog parks.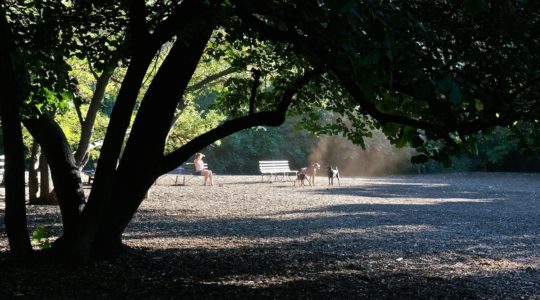 If you get your fill of lake views and house peering, head away from the lakes to the Uptown, Lyn-Lake, or Linden Hills neighborhoods. This is where you'll find shopping boutiques, coffee shops, and restaurants with pet friendly patios. There so much to do in this corner of Minneapolis, you could easily spend a week and not be bored!
Planning a pet friendly trip of your own? We'll make it easy:
Pet Friendly Hotels | Pet Friendly Destinations | Pet Friendly Activities
Amazon Affiliate Disclosure: GoPetFriendly.com LLC is a participant in the Amazon Services LLC Associates Program, an affiliate advertising program designed to provide a means for website owners to earn advertising fees by advertising and linking to amazon.com, audible.com, and any other website that may be affiliated with Amazon Service LLC Associates Program. As an Amazon Associate, the owner of this site earns a commission from qualifying purchases.
(Visited 546 times, 1 visits today)