For the first three years of our travels the Winnebago was our only vehicle. And, excluding a few exceptional cases like Austin and Florence, you don't find a lot of RV parks within walking distance of the things you'd like to do. That meant packing up our home and moving it every time we needed milk, wanted to take a hike, or found time for a little site seeing.
Or not …
Putting things away and getting the RV ready to drive really doesn't take long – everything can be ready to roll in about fifteen minutes – it's more of a mental hurdle. When we corralled a couple of hours of free time, we'd often find ourselves gripped by laziness and opt to stay put rather than do a little exploring with the dogs. It was starting to crimp our style.
The Reasoning
(Remember, we're recovering accountants … there's always reasoning.)
The reason we initially decided to travel without a toad is that … oh wait, you look confused. We're having a lovely converstaion about vehicles and suddenly I've gone off on a tangent about amphibians. Let me explain. In RV jargon "toad" is short for "towed vehicle," and right from the beginning we decided we didn't want one. We chose the Winnebago for it's maneuverability, which would be bashed to smithereens if we started dragging a car behind us. And, truth be told, I was a little afraid of towing. I'd never done it before, and driving a twenty-four foot long RV seemed like plenty without adding a car onto the back.
And, Things Change
(Evidence that we are definitely recovering accountants.)
We rescued the RAV4, which was wrapped in GoPetFriendly.com advertising back when it was our road trip chariot, out of storage in November and took it with us to Austin for the winter. In retrospect, that was our downfall. We got used to being able to load the boys up in the car and take them on short jaunts or day trips. When we left the RAV behind with friends a hit the road for the summer, we realized how much we missed the convenience. So we decided to try towing.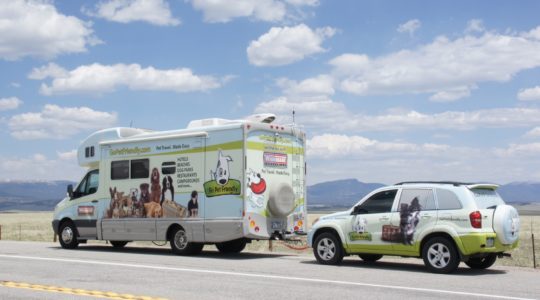 It goes without saying that Buster is thrilled to have his "fort" back, and we've discovered that towing isn't that hard after all. The only unnerving thing is that you CAN'T back up – putting the Winnebago in reverse with the car attached could bend the tow bar and that would cost a pretty penny to fix. So, you have to be very cautious about where you drive into. Getting fuel in a some gas stations can be tricky and finding parking is now a little more of a challenge – even Rod's parellel parking skills can't wrangle this combination!
I'm sure at some point we'll find ourselves between a rock and a hard place and we'll have to disconnect the car and move the two vehicles separately. But, it's worth the risk for the additional mobility the car gives us. We've already noticed we're doing a lot more in the places we visit than when we just had the Winnebago … and that's good for us and good for you, too!
Planning a pet friendly trip of your own? We'll make it easy:
Pet Friendly Hotels | Pet Friendly Destinations | Pet Friendly Activities
Amazon Affiliate Disclosure: GoPetFriendly.com LLC is a participant in the Amazon Services LLC Associates Program, an affiliate advertising program designed to provide a means for website owners to earn advertising fees by advertising and linking to amazon.com, audible.com, and any other website that may be affiliated with Amazon Service LLC Associates Program. As an Amazon Associate, the owner of this site earns a commission from qualifying purchases.
(Visited 392 times, 1 visits today)