It's one of the best known animal rescues in the country, and visiting Best Friends Animal Sanctuary gave me a new appreciation for the work they do here. Tucked in Angel Canyon on 3,700 acres, the sanctuary is about 5 miles north of Kanab, Utah.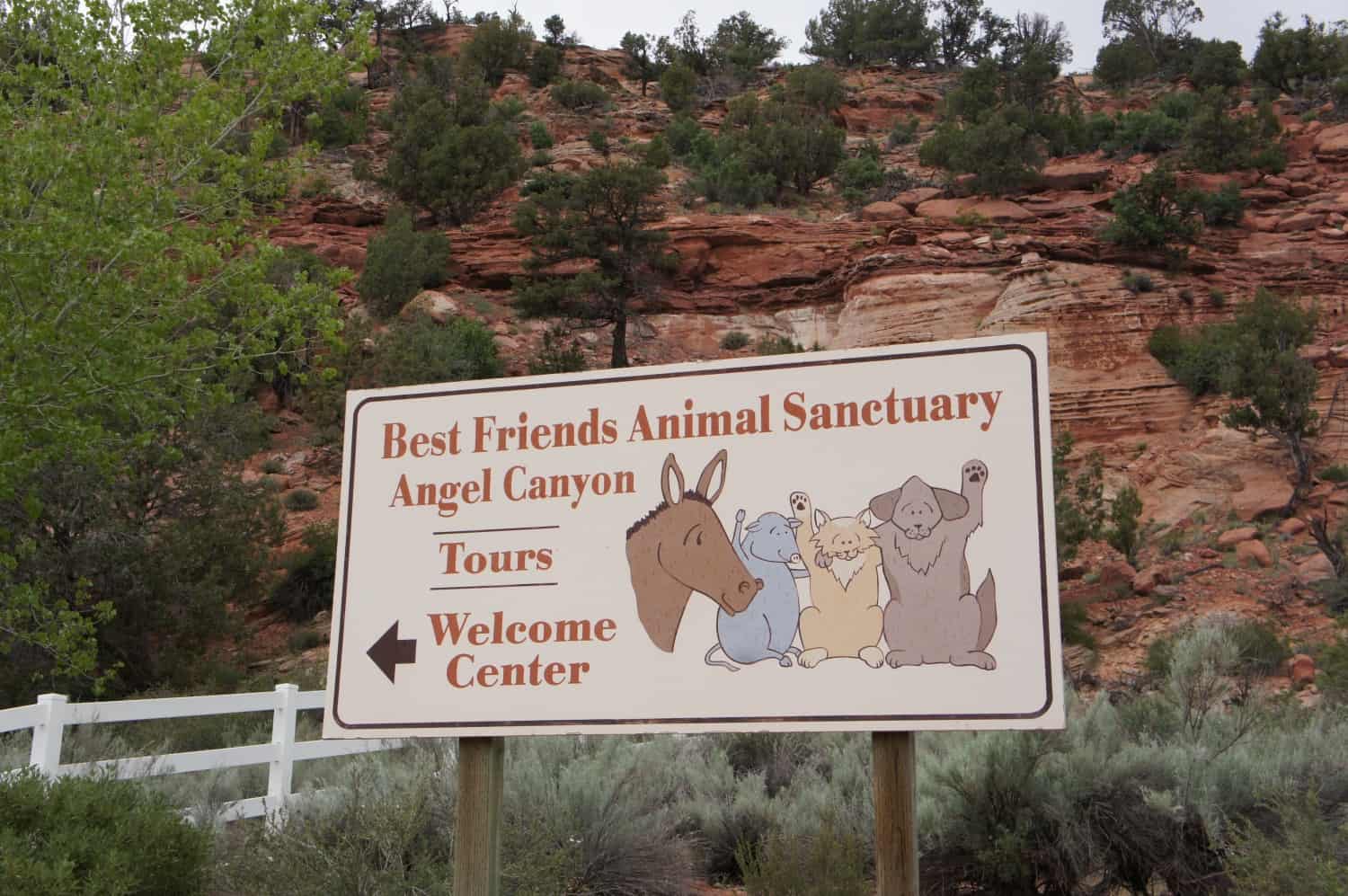 Stopping in Kanab
What Kanab lacks in population, it makes up for in personality. This picturesque landscape was a prime location for filming western movies, and the town continues to celebrate that history. Plaques along the sidewalks honor the many actors who worked here, and a museum preserves the memorabilia. Accommodations are easy to come by, with five pet friendly hotels and three pet friendly RV parks in town.
Visiting Best Friends Animal Sanctuary
Best Friends offers free 90-minute tours, and it's best to schedule one in advance. All tours start with a 20 minute video explaining the mission, accomplishments, and activities of the people who work here. After the video, a tour guide escorts you around the property in a van, explaining the operations and giving you peeks behind the scenes.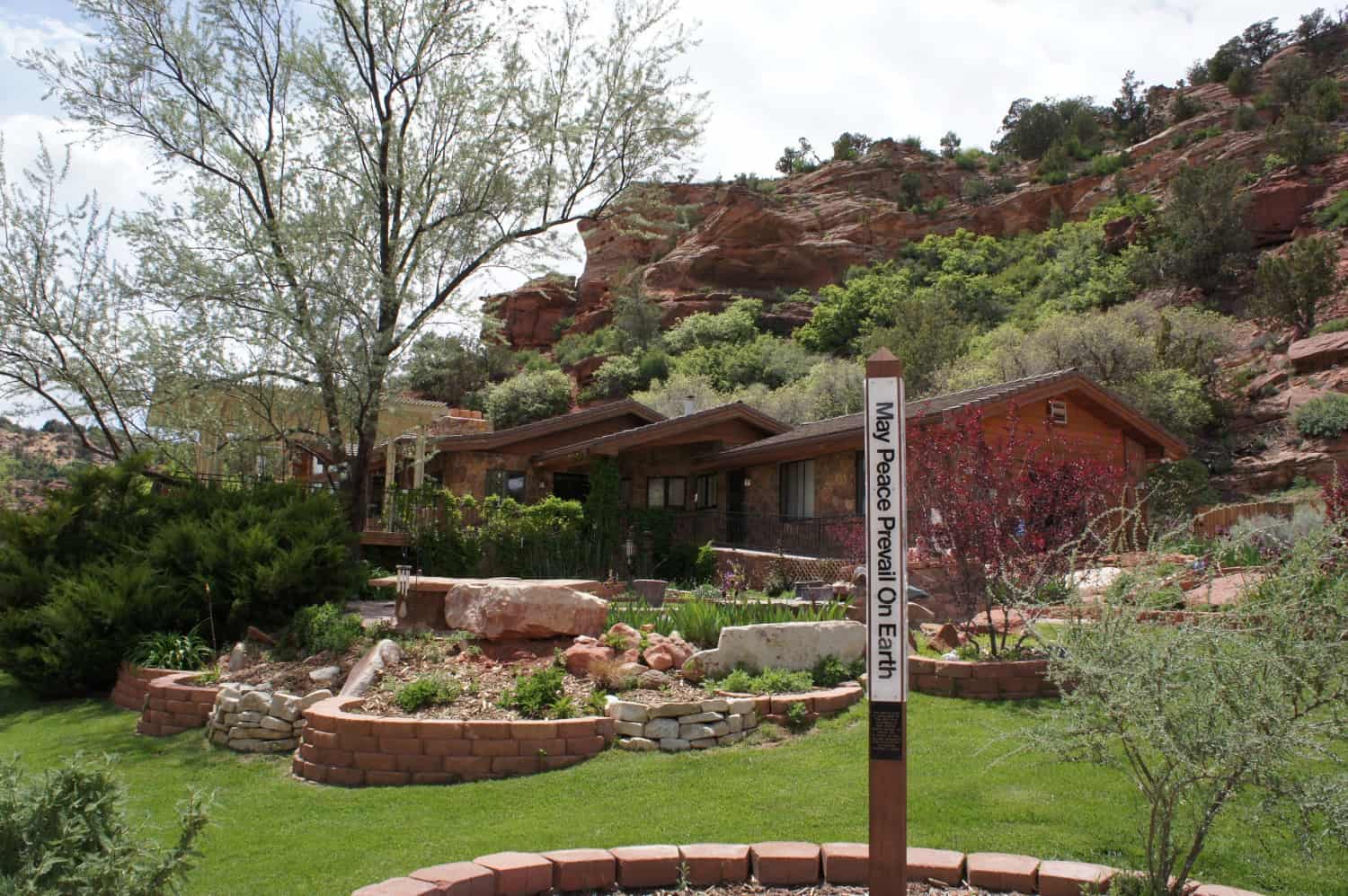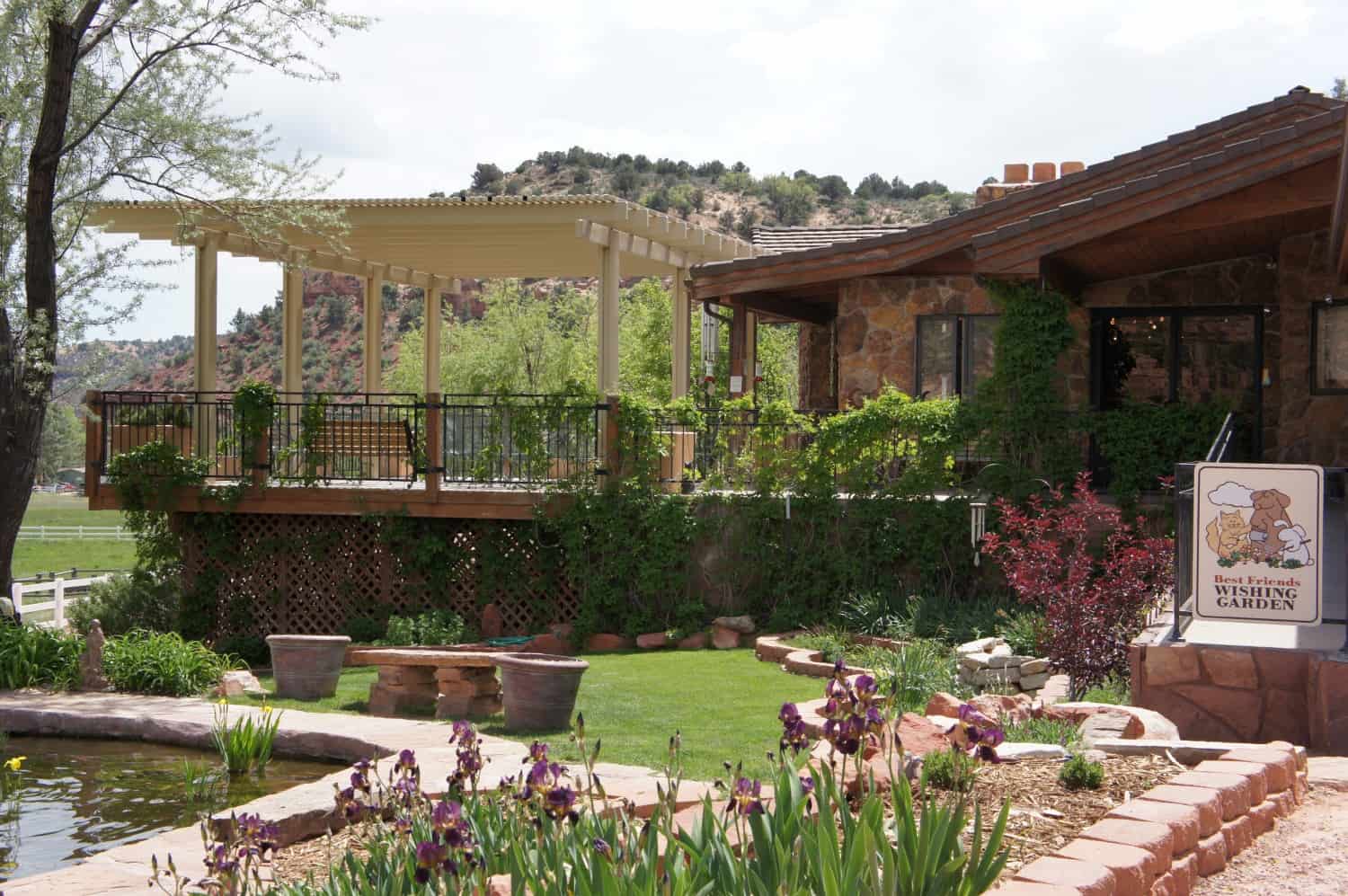 Angels' Rest
One of the first places the tour stops is Angels' Rest – the final resting place for the animals that have lived out their lives here. It's serene, filled with wind chimes and grave markers. Many of the markers are covered with pebbles, each representing a visit people have made to pay their respects.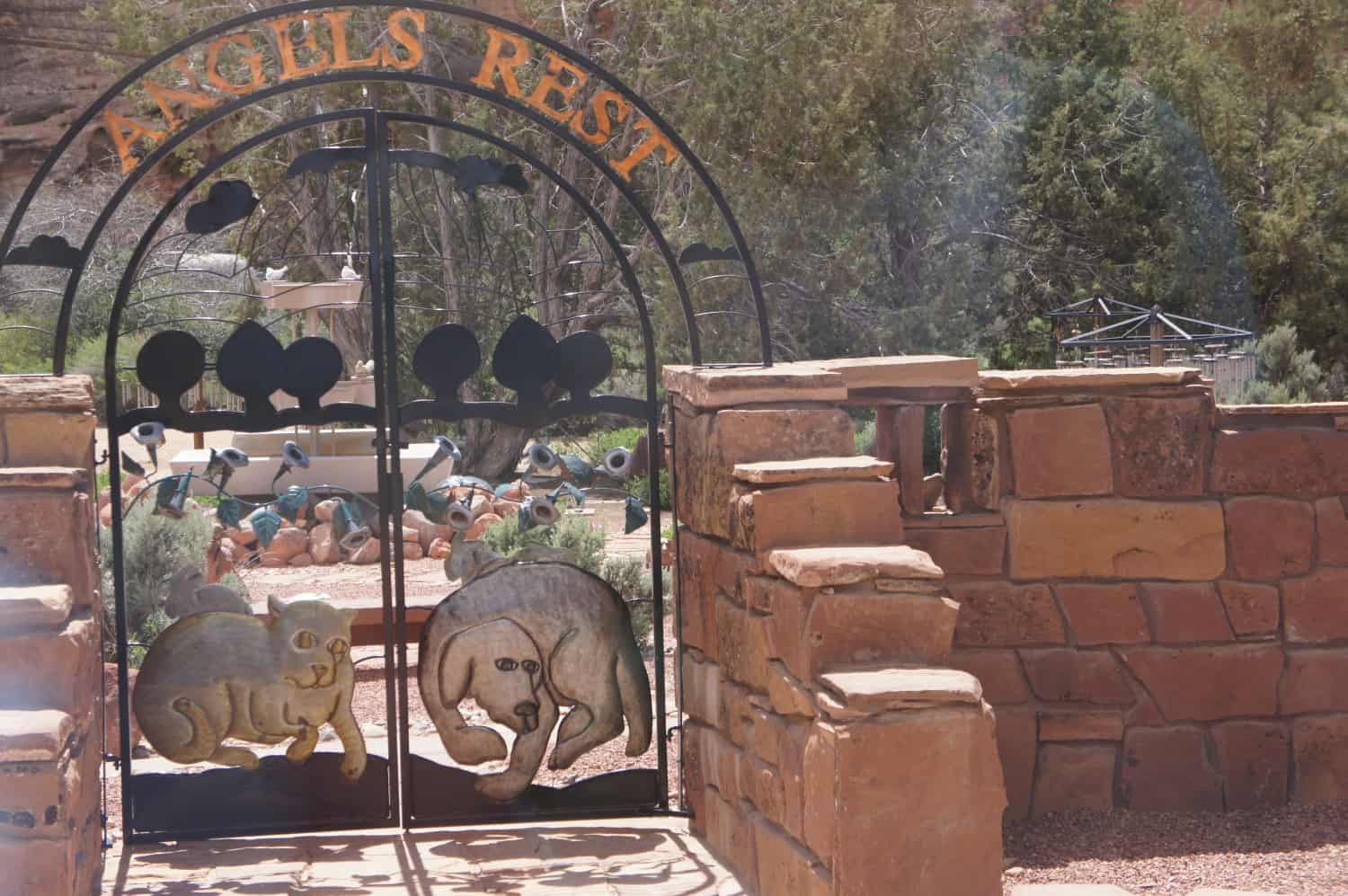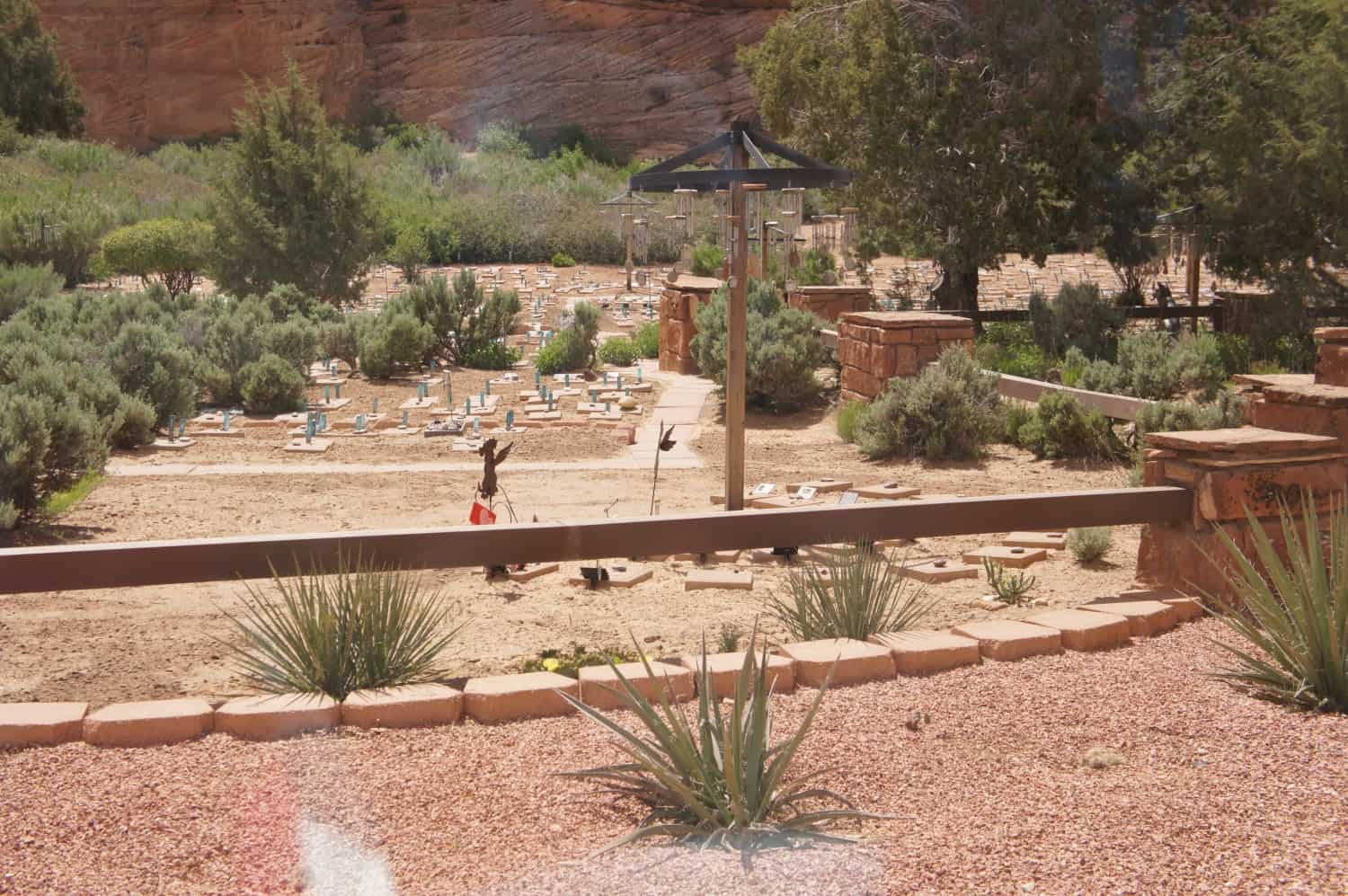 Cat World
The next stop is Cat World. The cats here have the very best, with indoor/outdoor enclosures, radiant heat, lots of toys, and cozy corners to curl up in the sun. Climbing cats can explore the rafters on the porch. And volunteers arrive everyday, so there is always someone to snuggle.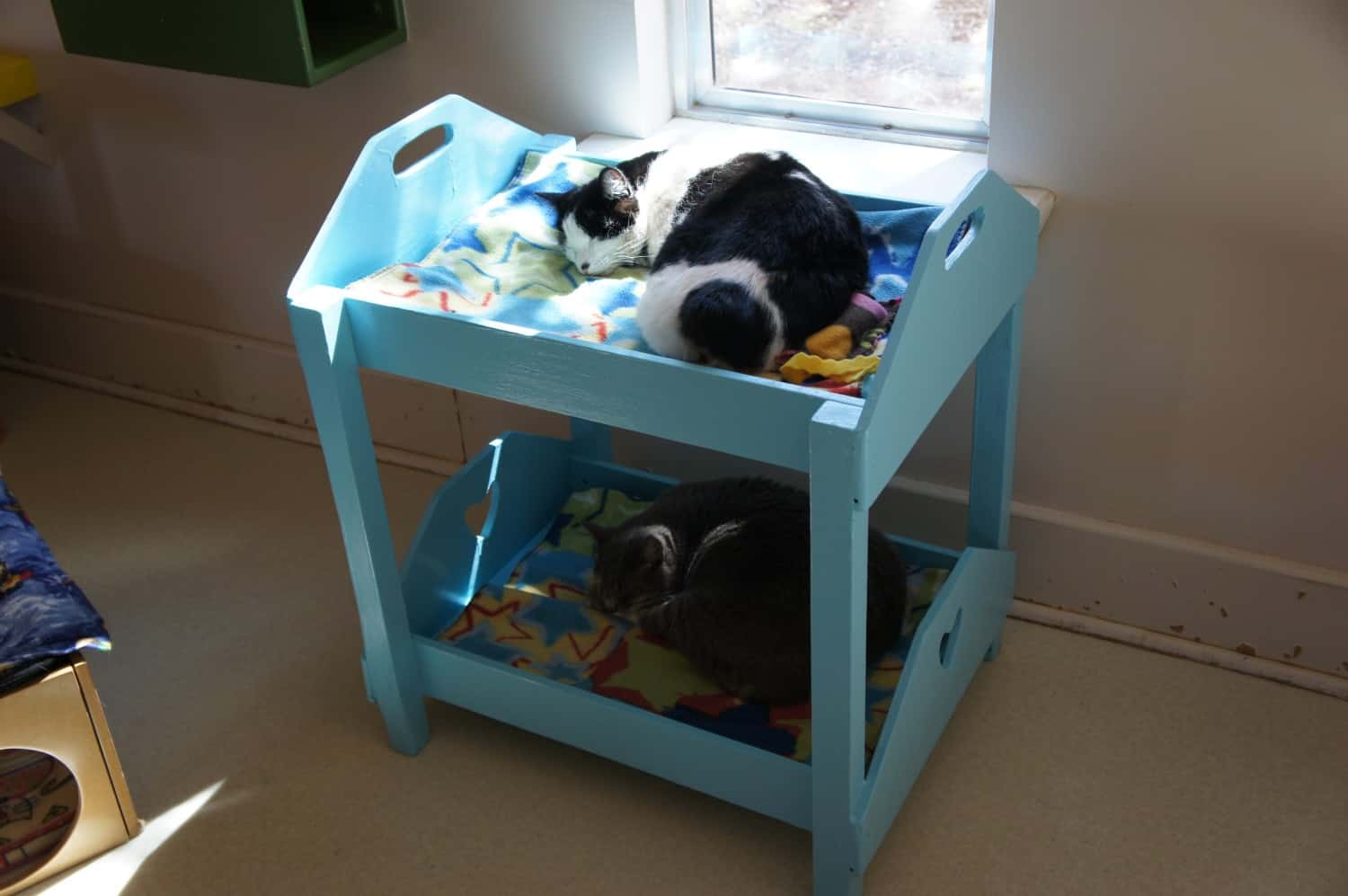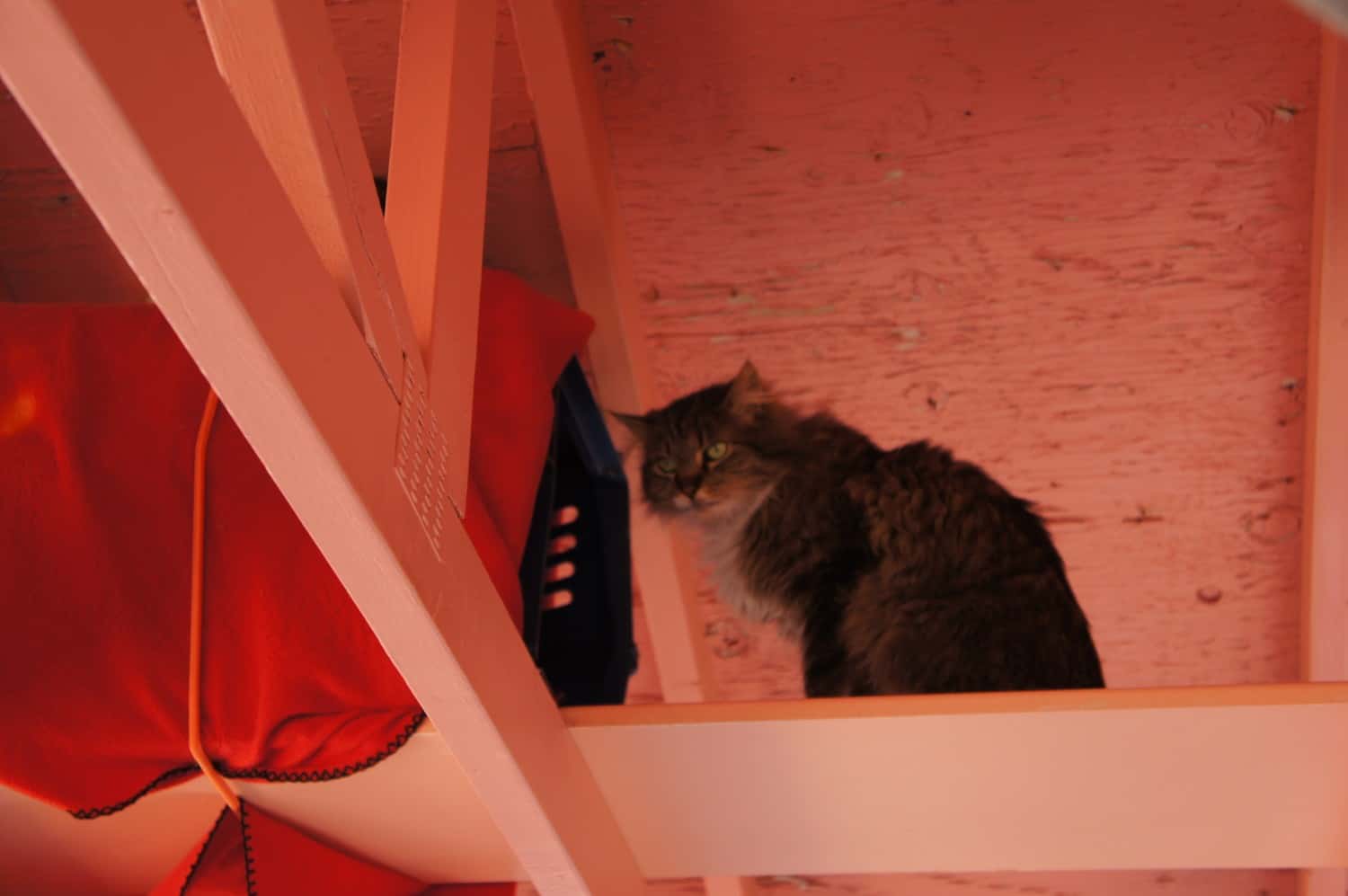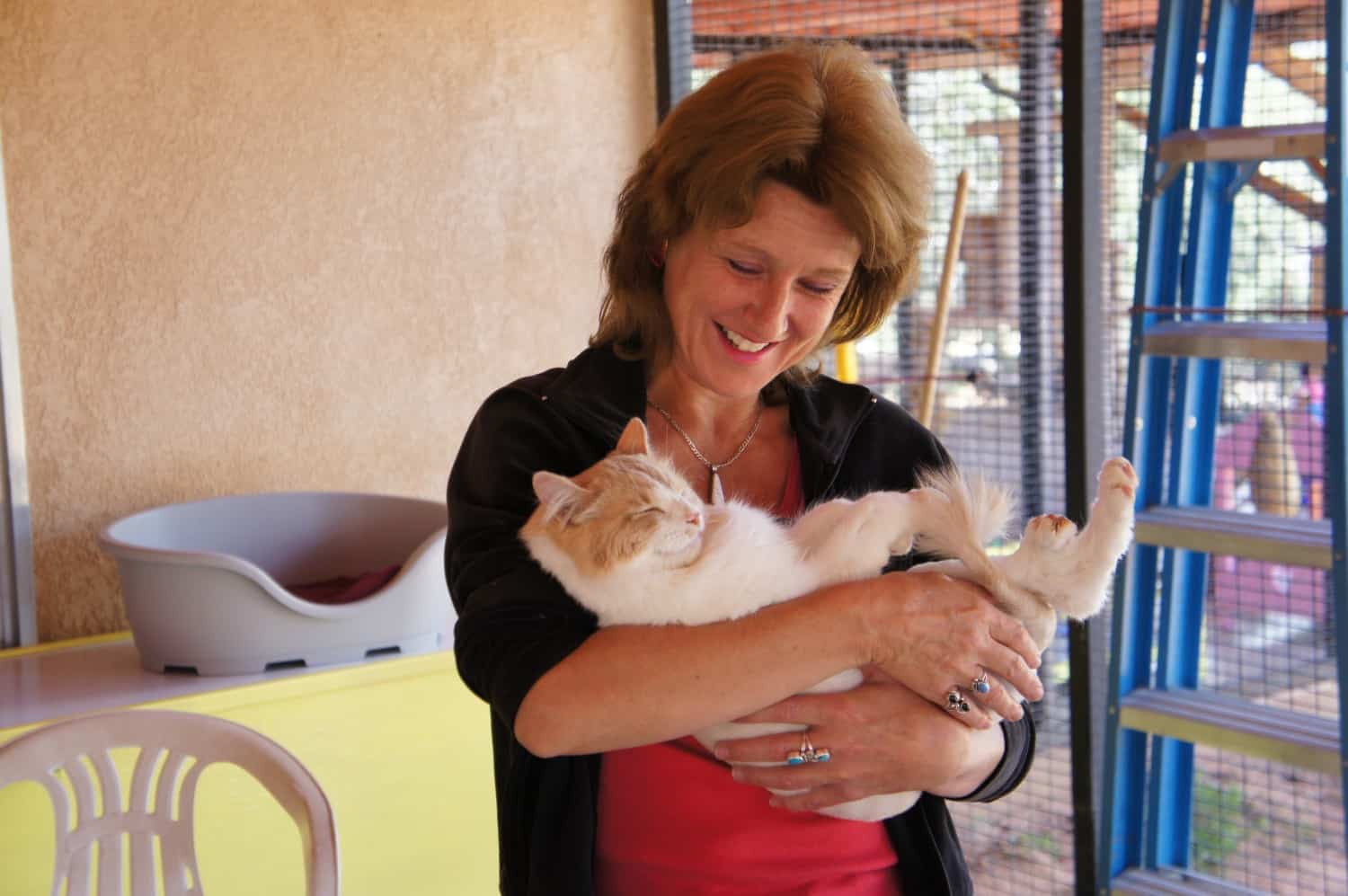 One of the cat-loving dogs even hangs out here. It's her job to help convince the suspicious felines that canines can make great friends.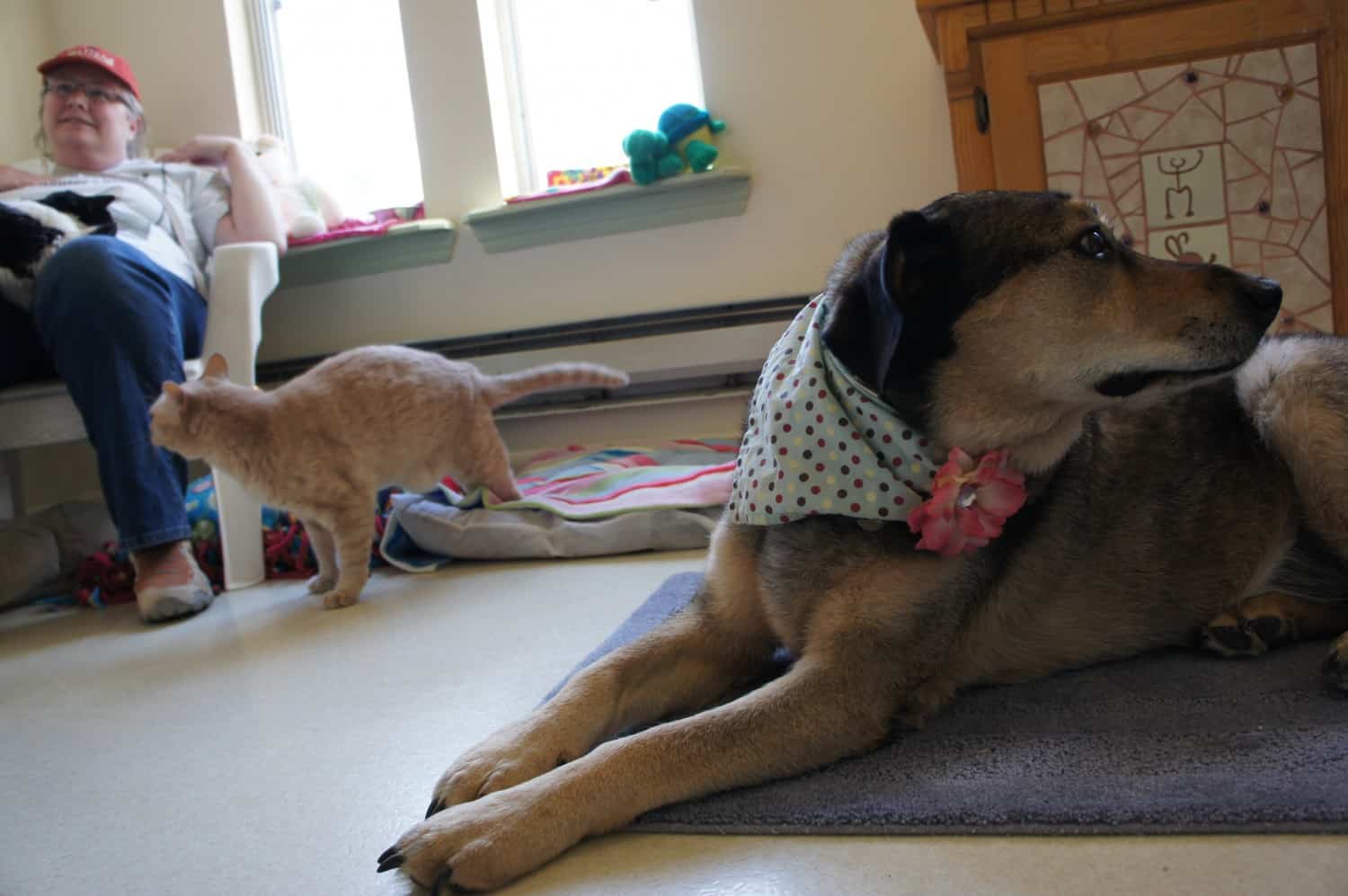 Dog Town
Next on the tour was Dog Town. The dogs here have indoor/outdoor runs and live in octagonal-shaped buildings, so if you stand in the center you can see all the dogs and they can see each other. Each building has an "out dog,"  a canine ambassador responsible for welcoming the guests.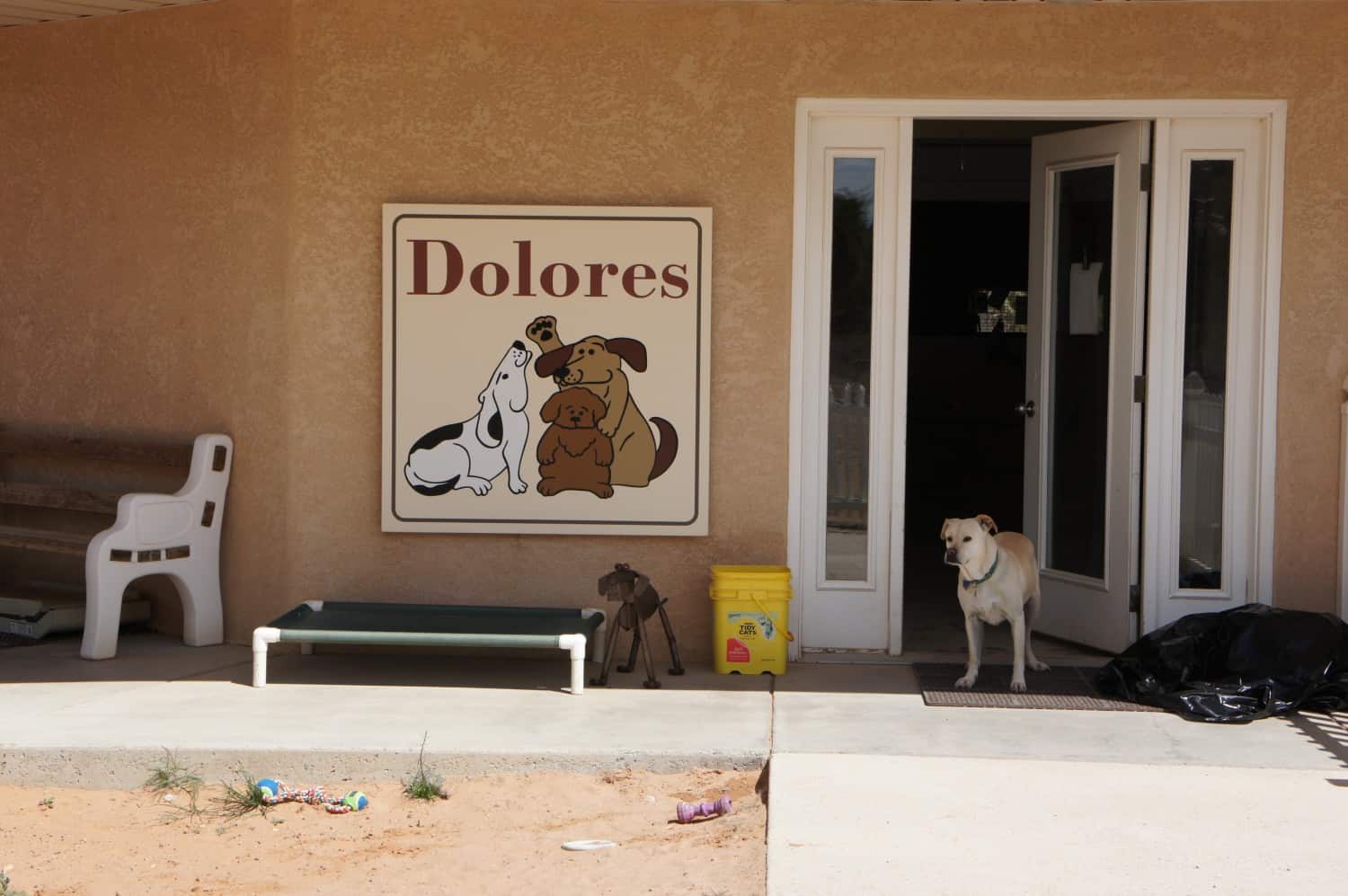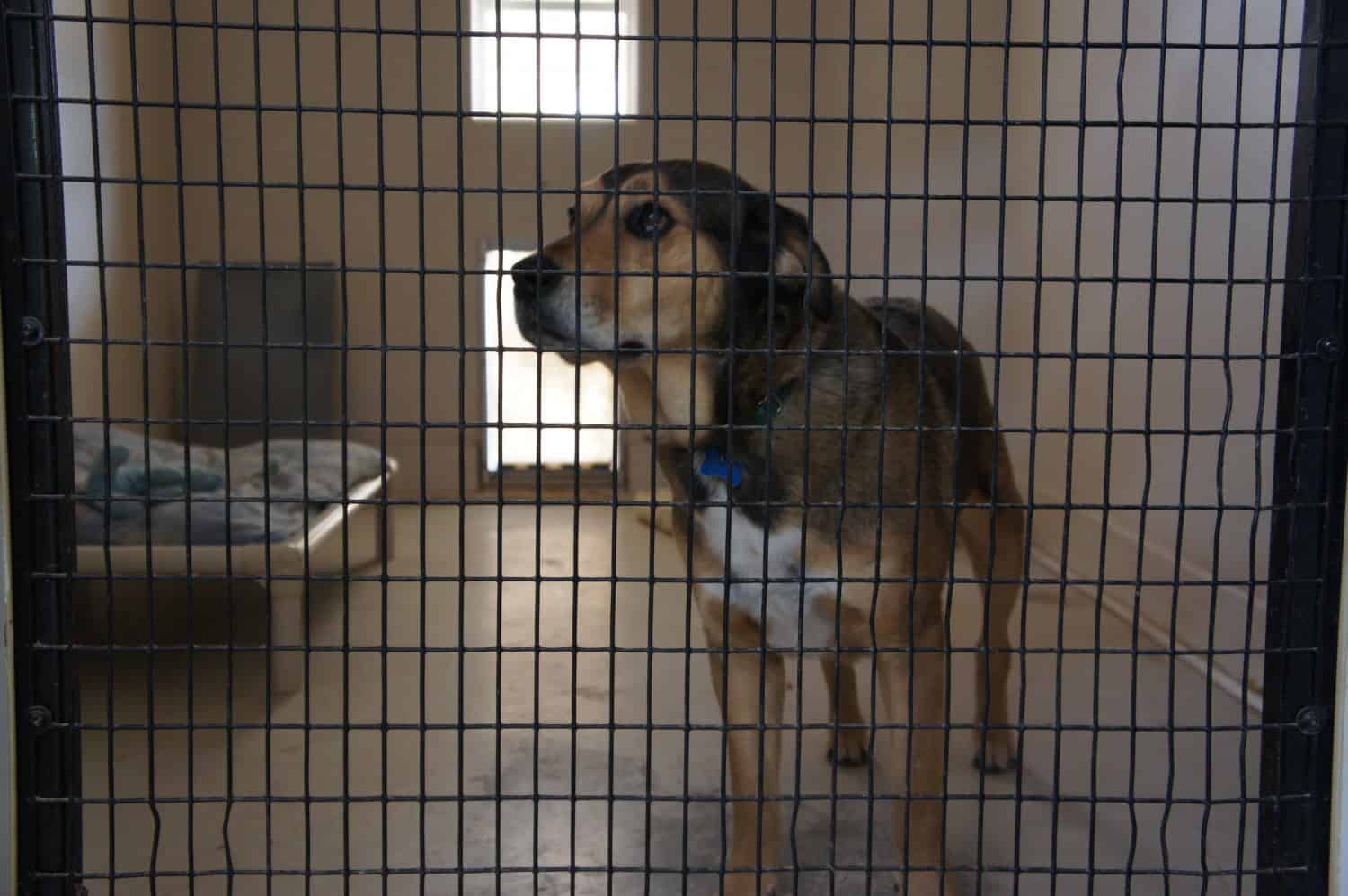 Beyond cats and dogs, Best Friends also provides a haven for rabbits, horses, birds, and pot-bellied pigs. On any give day, about 1,600 animals live here! How does Best Friends do it all?
The staff relies on the support of thousands of volunteers to help care for the animals. Some volunteers come for the day, others stay for a week, and many come back year after year.
Best Friends' mission is for there to be no more homeless pets – something I think we'd all like! And, there are ways you can help.
Helping Best Friends
Visiting Best Friends Animal Sanctuary to volunteer is an incredible experience, but not an option for everyone. Best Friends offers a lot of ways you can help in your own community. You can follow their initiatives to end puppy mills, restore the reputation of pit bulls, or keep cats safe and out of shelters, and use their tools to get involved locally. For hands-on dog or cat people, Best Friends can connect you with a local shelter or rescue groups.
Adoption is also an option! And home visits can be scheduled anywhere in the country. It's easy to make one of Best Friend's adoptable animals a member of your family. A network of volunteers even transports animals to and from the sanctuary. So, if you're not up for a road trip to Kanab to pick up your new pal – no problem!
If another pet isn't possible for you right now, reading the biographies and choosing an animal to sponsor is another way to connect with one of these animals.
From spreading the word, to spending time, to making donations of money or supplies –  Best Friends will be grateful for whatever support you can give.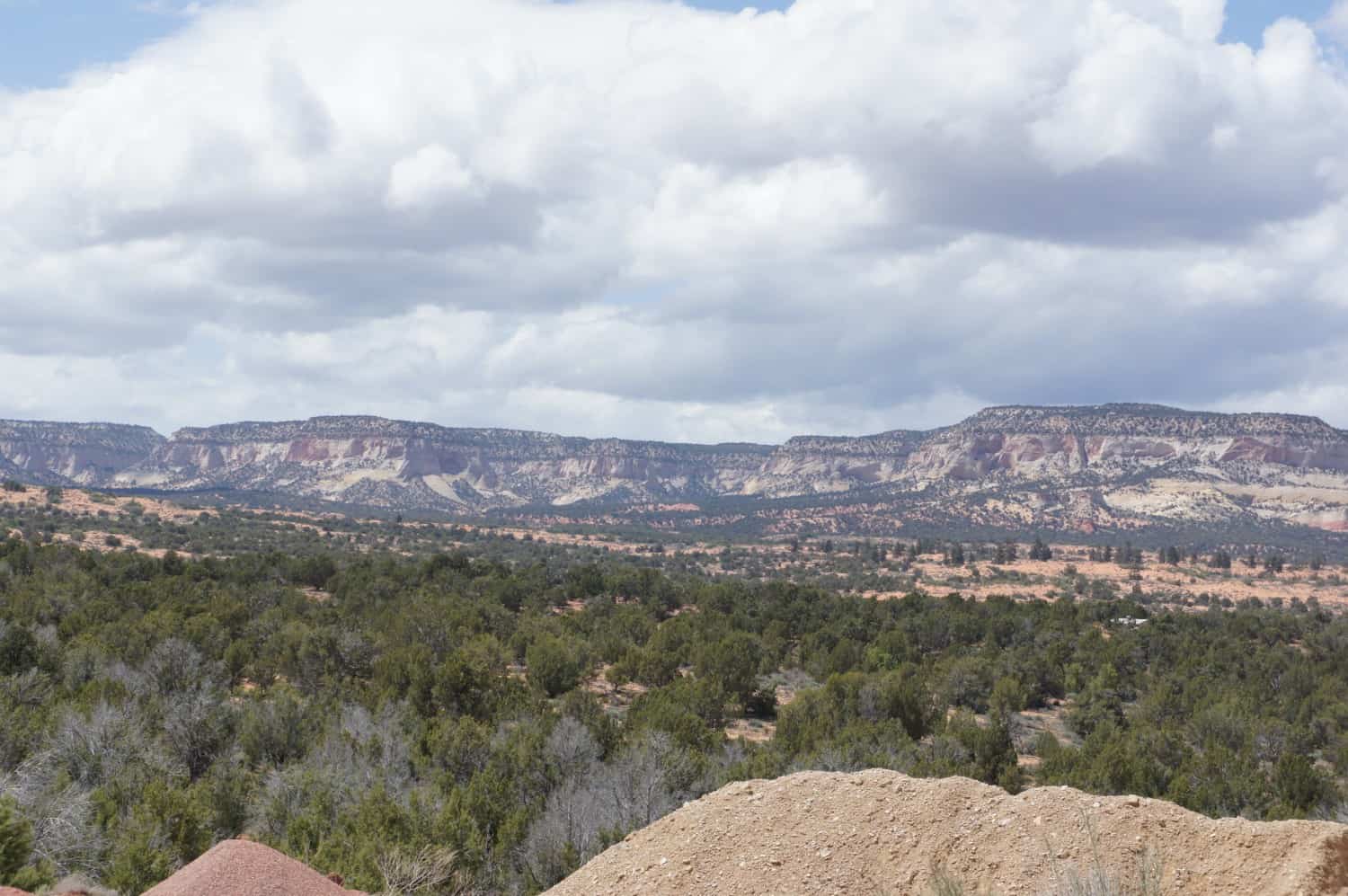 Amazon Affiliate Disclosure: GoPetFriendly.com LLC is a participant in the Amazon Services LLC Associates Program, an affiliate advertising program designed to provide a means for website owners to earn advertising fees by advertising and linking to amazon.com, audible.com, and any other website that may be affiliated with Amazon Service LLC Associates Program. As an Amazon Associate, the owner of this site earns a commission from qualifying purchases.
(Visited 252 times, 1 visits today)