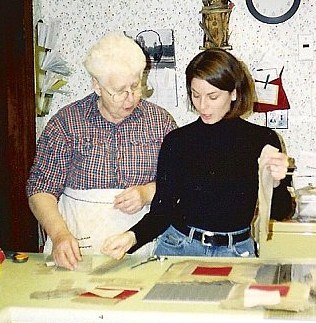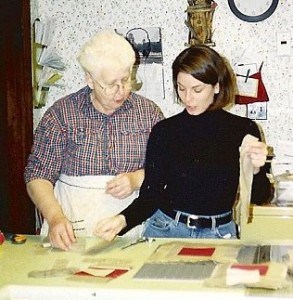 Wow – I knew this was going to be a time of transition, but it's been a bit more overwhelming than I suspected. First, let me apologize for being missing in action last week. I was crossing a bridge I thought would be several years down the road and I wasn't prepared for quite yet – my Grandma passed away. She was my hero, my first experience of unconditional love, and her departure – just before our departure – left me in a bit of shock. I traveled back to Wisconsin for her services and to spend some healing time with my family. My full attention was the last gift I could give her, so thanks for hanging in there while I was away.
I got home on Tuesday, and from there life has been a whirlwind! We did a bit of last minute packing and got ready for the settlement on the house on Wednesday morning. In a poetic twist of fate, all the delays resulted in the closing taking place on the 11th anniversary of the day Rod and I met. January 19th will now mark the beginning of two chapters in our life together.
Let the pet friendly travels begin!! We left Pennsylvania on Thursday afternoon – escaping temperatures that dropped into the single digits – and made our first stop in Richmond, VA. Freezing temps and water in the RV's holding tanks do not mix, so we were excited mild temps in the forecast indicating we could fill up with water. Little did we know …
Shortly after filling the water tank we discovered a puddle on the kitchen floor and an investigation showed that one of our water lines was leaking. Last spring we learned that putting off any repairs – no matter how insignificant they seem at the time – is a bad idea. (A safety switch on our furnace was bad and wouldn't allow the heat to run. It didn't seem like that big of a deal when the temps at night were holding in the 60s, so we put off having it repaired. Later that week we hit a cold snap and woke up to a chilly 42 degrees inside the Winnebago!) So, on Friday, we spent the better part of the day at an RV dealer while they worked on the water line.
We got into Myrtle Beach, SC pretty late on Friday night and decided to stay at a dog friendly hotel. On Saturday morning I was getting the boys their breakfast and discovered that the water leak was fine, as long as the slide-out was in. Once the slide-out was extended, the water was running on the floor like I'd turned on a faucet!
Getting service over the weekend is a nearly impossible, so Monday morning found us in sunny Jacksonville, Florida at another RV dealer. One of the challenges of traveling in a motor home is that when there's a problem with your vehicle, it affects your car and your house. Fortunately, we had a nice sunny spot to hang out with the dogs and wait for the work to be completed. By 1pm the brilliant technician had the leak fixed! We haven't had a single drop of water where it shouldn't be.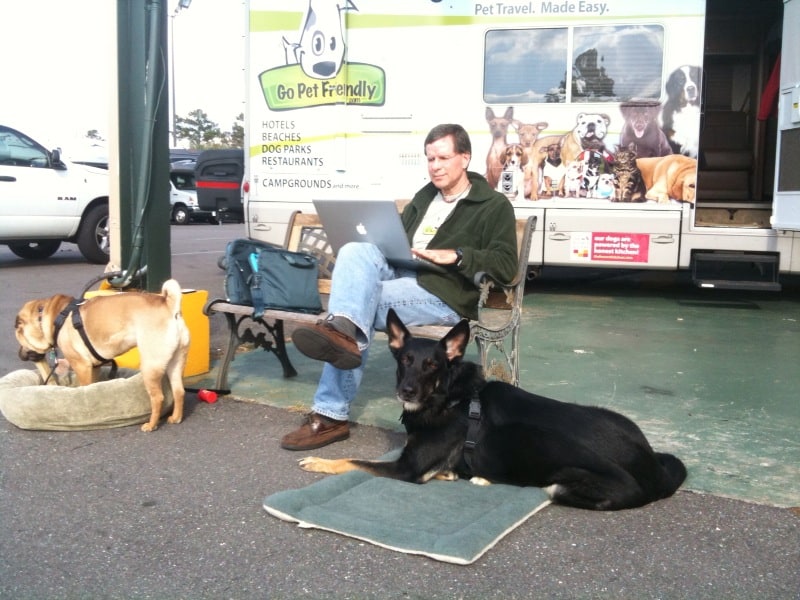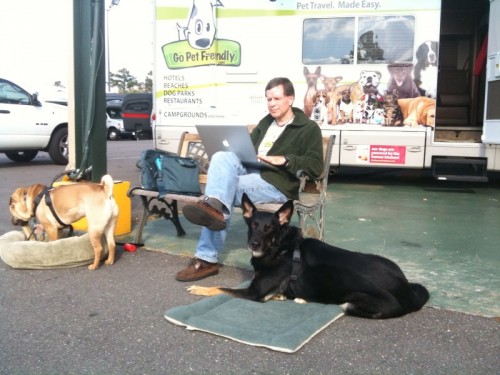 It appears that traveling is like riding a bike for the dogs. They've fallen right back into the routine and couldn't be happier that we're in climates where it's more comfortable to be outside. We're spending a couple of nights just outside St. Augustine, catching our breath from the dash south. From here we'll be heading down the east coast of Florida – all the way to the Keys. I'll keep you posted as we go along. :-)
Amazon Affiliate Disclosure: GoPetFriendly.com LLC is a participant in the Amazon Services LLC Associates Program, an affiliate advertising program designed to provide a means for website owners to earn advertising fees by advertising and linking to amazon.com, audible.com, and any other website that may be affiliated with Amazon Service LLC Associates Program. As an Amazon Associate, the owner of this site earns a commission from qualifying purchases.
(Visited 151 times, 1 visits today)