This week we're coming to you from Forest City, Iowa, where the Winnebago and Itasca Travelers Club Grand National Rally is taking place. This is our second year attending, and we're so excited to be here again!
For those of us driving Winnebago and Itasca motorhomes, the rally is a perfect opportunity to learn a few things, make some new friends, and have a lot of fun in the process. I'm doing a presentation on traveling with pets based on my post, The Ultimate Pet Friendly American Road Trip – what better audience than a room full of RVer's right?!
But there's something here for everyone. The sessions on my list this year include the ins-and-outs of a Freightliner chassis, suggestions for tire maintenance, and tips for using our microwave/convection oven combo. And then there's the entertainment – music performers play all day, there's a concert every night, and plenty of social activities for mingling.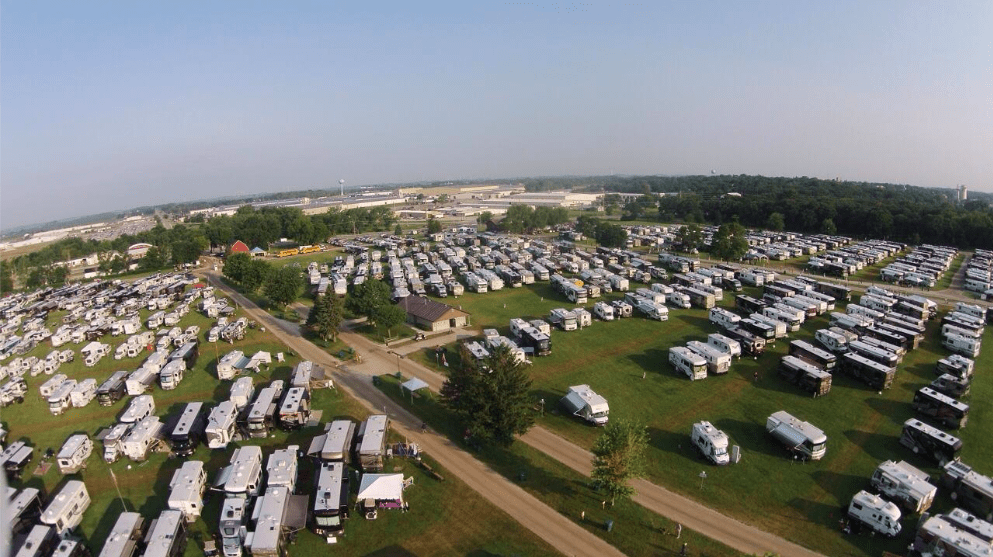 Considering all there is to do and see, it's no wonder so many people consider this a must-do event each year. There were about 1,000 RVs here last year – and around 2,000 people. So … how we manage this with our "less social" dogs?
Less Social Dogs
We've mentioned before that our dogs are less social than most. Ty is afraid of strangers and gets extremely uncomfortable when people he doesn't know approach him. Buster, who came to us when he was about a year old, was probably never socialized. He's leash reactive, meaning that he sometimes barks like crazy when he's on leash and sees another dog – though we're working on this constantly, and he's improving.
To manage the boys' challenges, we usually avoid taking them to crowded places. But occasionally we need to make an exception – like this week for the WIT Rally – so we've developed some strategies to keep Ty and Buster in their comfort zone, even with a lot of dogs and people around.
Walk early and late. Getting out while everyone is asleep is one way to ensure we don't meet a lot of people and dogs on our walks. Sure, it means we may need a nap in the afternoon, but given the warm weather we're having, it's better to exercise the dogs when the temperatures are cooler anyway.
Get off the beaten path. If there's a popular spot for dog walking, you'll almost always see us heading the opposite direction. We've gotten good at sniffing out quiet trails and less attractive, but serviceable grassy patches to meet our needs.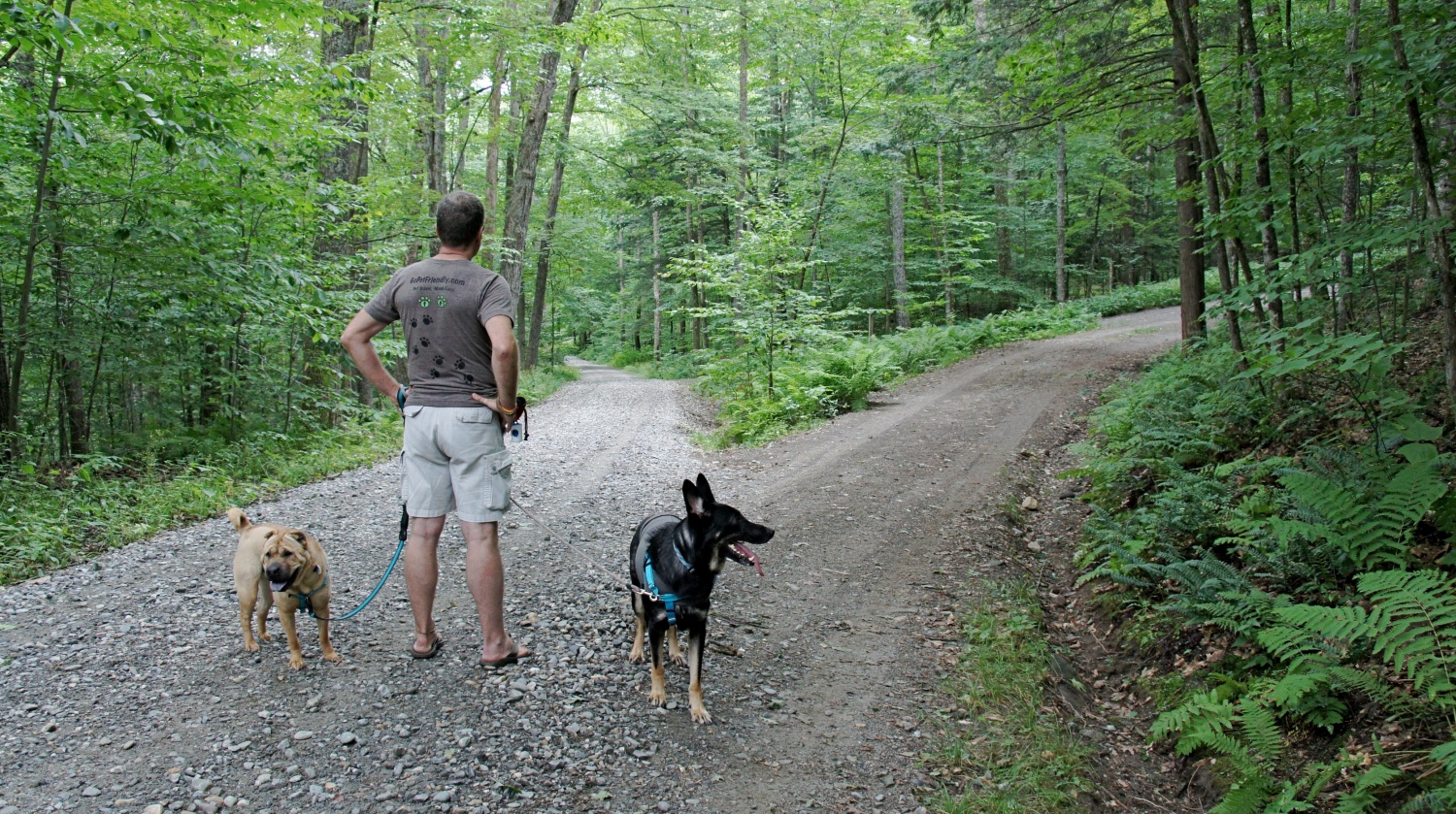 ALWAYS carry the treats. Redirecting Ty and Buster's attention when they're faced with something challenging has been the secret to any success we've had in helping the boys move past their fears. Rod and I both have treat pouches, and where the dogs go, the treats go!
Buster prefers his treats be tossed on the ground in front of him, so he can sniff them ou while continuing to move past/away from what's scaring him. We encourage him to focus on finding the treats by calling "Find it!" and over time it's become a game that he really enjoys.
Ty, not surprisingly, finds eating food off the ground absolutely appalling. So we've taught him to walk in heel position and, as long as he says there, we feed him treat after treat until we're past the difficulty.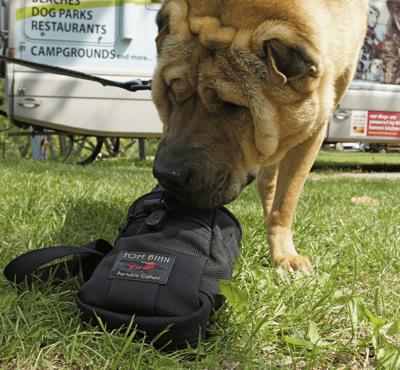 Make it visible. For years we've been using a "Don't Pet Me" vest to keep strangers from approaching Ty. It's amazing how much more relaxed he's become in crowds as he learned that people aren't going to try to pet him. We started out with a vest for assistance dogs, but with all the people faking service dog status, we needed another option. Luckily, our sponsor, SHONGear, came to the rescue. They made Ty the perfect "Do Not Pet" vest, and they're adding it to their line of high visibility pet vests, so you'll be able to get one soon!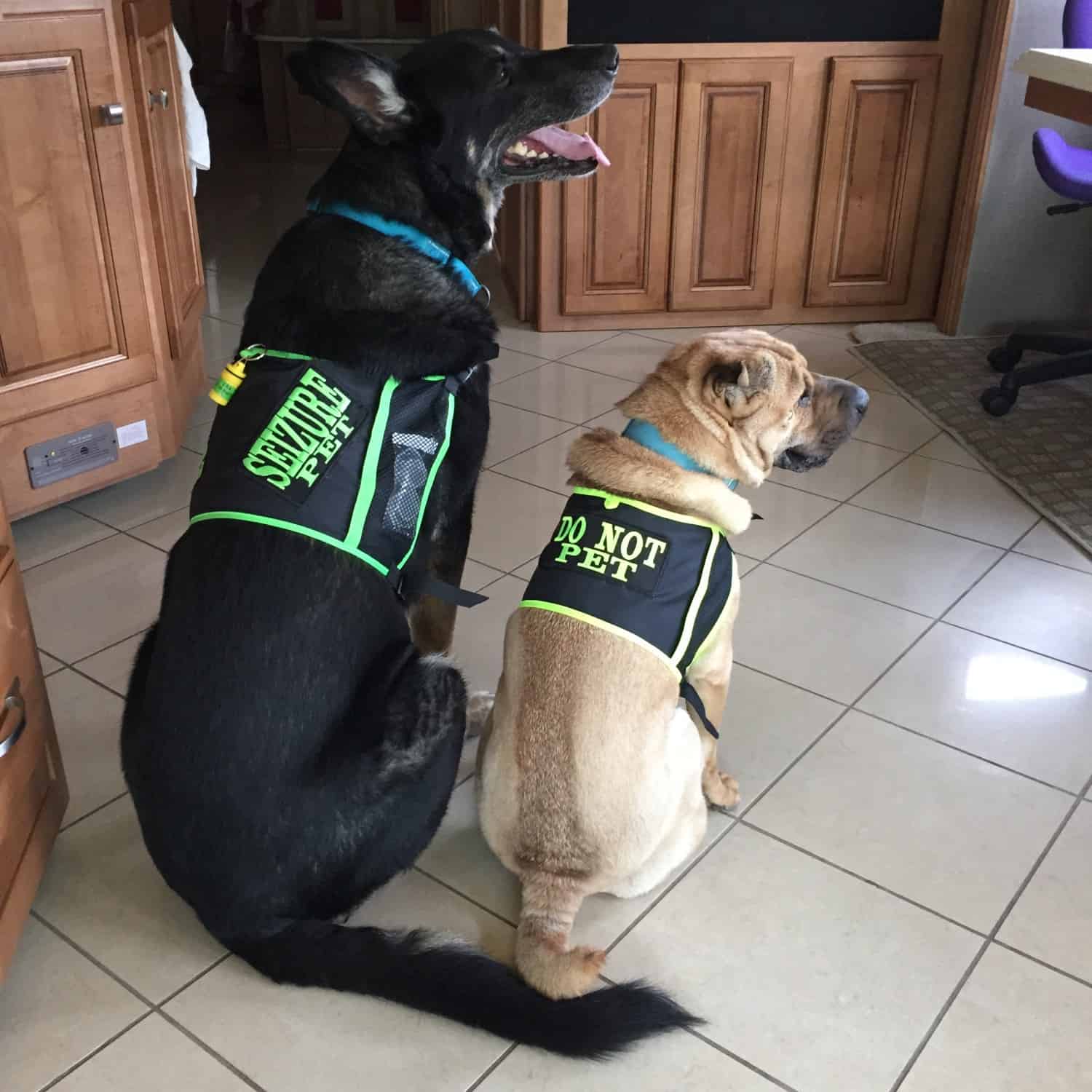 Skip the obvious instigators. One of the events at the rally is a dog parade and costume contest. For obvious reasons, Ty and Buster will not be attending. As much as I'd like to be able to do those kinds of things with the boys, it's just not within their capabilities. Rather than force them to do something that would make them miserable, we'll walk early, and then I'll head off to the parade with my camera to get shots off all the other cute pups.
No pet is perfect, but that doesn't mean that you can't travel together! It's taken some time to discover the best ways to manage Ty and Buster's challenges, but now we rarely even think about it – for us, it's just become a way of life.
Planning a pet friendly trip of your own? We'll make it easy:
Pet Friendly Hotels | Pet Friendly Destinations | Pet Friendly Activities
Amazon Affiliate Disclosure: GoPetFriendly.com LLC is a participant in the Amazon Services LLC Associates Program, an affiliate advertising program designed to provide a means for website owners to earn advertising fees by advertising and linking to amazon.com, audible.com, and any other website that may be affiliated with Amazon Service LLC Associates Program. As an Amazon Associate, the owner of this site earns a commission from qualifying purchases.
(Visited 638 times, 1 visits today)