I'm pleased to introduce JJ Dippel (a fellow RVer) and her cat, Creampuff. That's right … a traveling cat!
Who are you, how old, what did you do for a living?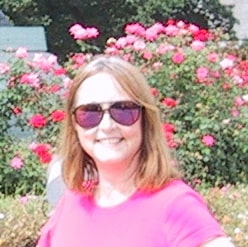 According to one of my best friends, I'm a rolling stone that gathers no moss. Before I retired, I worked for the Federal government and did a lot of business travel involving car road trips to distant places (up to 600 miles) for extended periods of time. I found I enjoyed traveling by car more than I did by plane, which paved the way for my current RVing life. As for age, I can still "technically" say that I am in the early 50s decade.
Tell us about your cat.
In 1998, my sister's cat produced a litter of kittens. She decided I needed one and saved a kitten for me. I went to her house to check out the kitten, and it crawled on my lap right away. I'm guessing that my cat is part Siamese, due to the coloring and his extremely blue eyes, but he also has tabby stripes. He's a big one, 18 pounds.
Your cat is a he, and you named him Creampuff?
My sister told me it was a girl, and I didn't verify – so I named "her" Creampuff.  When I took her to get spayed, the vet said neutering "him" would be half the cost.
How did you decide to begin RVing? How long have you been doing this? How much time do you spend on the road?
In 2004, I was feeling totally stressed out from my job. I saw an RV just driving down the road, and I decided I wanted one. While I was working full time, my trips were just three day weekends here and there, and one week vacations. Now that I'm retired, I spend about 75% of my time on the road to somewhere.
How did Creampuff adapt to traveling?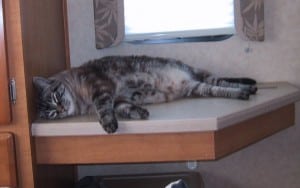 My cat did not like the RV at first and meowed constantly. My first RV trip involved a very winding road through a mountain pass with deep ravines on one side. I was terrified enough trying to drive the RV and my cat insisted on hanging on my arm to look out the window! Now my cat just puts up with the RV travel. He loves state parks … when I'm at one, he's at the window all night!
What kind of RV do you travel in? Where do you stay? Where do you eat?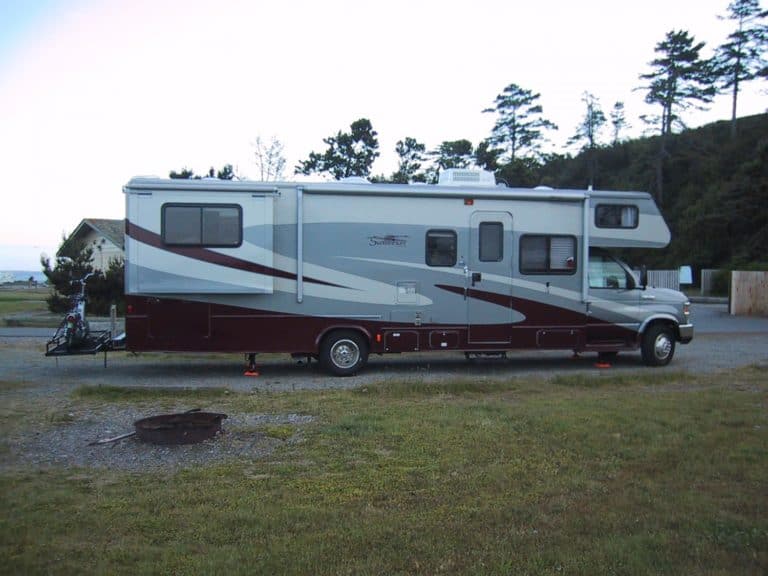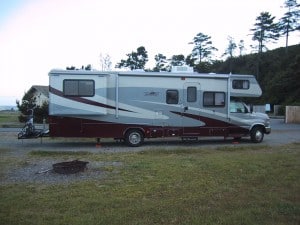 My first RV was a 24 foot Fleetwood Jamboree. It was just a camping RV, didn't have a cold weather package on it. It was a good learning RV, and it drove like a TANK! Then I traded up to a 32 foot Forest River Sunseeker with a cold weather package.
I typically stay in RV parks, and state parks, occasionally boondock on BLM sites, and last year I tried "Wal-Marting" for the first time.
As for where I eat, mostly I do my own cooking and eat in my RV. Gourmet meals are the norm – I don't do frozen dinners. Since I don't tow a car, I don't typically go to restaurants unless they are in walking distance. If there is a restaurant close by, and it's a "local" (i.e., not a "chain") I always try it out. That's part of the charm of visiting places.
What's it like traveling with your cat? What's the best part? What's the part that's been the least fun?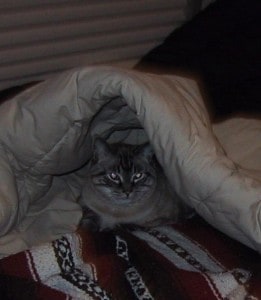 The best part? My cat keeps the "pests" away – like mice and icky bugs. However, Creampuff shies away from black widow spiders. But seriously, I'm a solo, so my cat is great company! At home my cat is a bit aloof, but in the RV he flip flops and turns into "Mr. Cuddles." It's like he thinks he's being punished so he tries to get on my good side. The least fun is when my cat throws up when I drive on winding roads.  I have to stop and apologize to my cat and clean up the mess. The very worst was when my cat had a life threatening medical emergency. Since I don't tow a car – and the vet had no room to park my RV – I had to get Creampuff to the vet on my little scooter bike. He did not enjoy that ride.
My cat would prefer that I let him ride (and hang on for dear life) buried in the bed while I drive, but RVing seminars I have attended strongly urged that pets should ride in carriers while driving.
What kinds of things are you doing on your trip?  What are you seeing?
Well, I have fun trips and "workamping" trips. I try to see various sites so I can report on how I got there without a tow car (i.e., "toadless"). I also enjoy state parks with hiking trails. Last year, I started camp hosting, and I love that. I also volunteered at a fish hatchery in Kentucky. That was fun, and I met some nice people. This year, I'm doing more camp hosting at state parks.
What is your most favorite place that you've visited so far?
1) Pennsylvania, Flight 93 Memorial. That was one of my "bucket list" items.  This was personal, and I had to see this.
2) Arches National Park in Utah.  I hiked in the Arches, and got lost.
3) Pioneer Playhouse in Danville, Kentucky. They had a small RV park with a dinner theater.  What a concept! I stayed there and attended a play with dinner!
What's the place you are most looking forward to seeing?
The US Air Force Academy. I will be attending a graduation there in the future. Other than that, I would like to see Maine and Vermont, and I would like to visit Cheyenne, Wyoming.
How long do you think you will keep this up?
As long as I can, as long as I'm interested, and as long as I don't have any health issues.
Based on your experiences so far, what can businesses do to make it easier for people traveling with a pet?
Don't charge pet fees! Seriously, I have only had to pay a pet fee at an RV park one time. Usually there is no charge for cats. However, I have seen fees for dogs. The reason places charge fees is that some people are not responsible with their pet. So, I think we have to give 50/50 here, if we as pet owners are more responsible, then maybe the businesses would either lower the fees, or discontinue them.
What have you learned about life as a result of your RV travels?
My mantra:  "If you need it, it will be there for you."  I've had my scooter bike get flat tires, and guess what, there were places nearby that fixed it. My water tank heaters fell off on Christmas Eve, and guess what, I found an RV dealer open on Christmas Eve! (I feel I must give them a plug: Uhlmann RV in Chehalis, Washington.) My cat once had a medical emergency on a Saturday, and I found a vet that took care of him and didn't charge a fortune.  (I have to give this vet a plug, too! Dr. Dan DeWeerts of Twisp, Washington.)
What would you like to tell people who say, "Boy I envy you, I wish I could travel like that?"
Just do it. Make it happen. Ok, owning an RV does require a financial outlay, so if you can work it in, do it!
Anything else you'd like to ad?
If your pet has a medical emergency while you are traveling, and the vet goes above and beyond to help you out, ask if he/she has an indigent pet owners fund and make a contribution. It will put out good karma for you and your pet.
Amazon Affiliate Disclosure: GoPetFriendly.com LLC is a participant in the Amazon Services LLC Associates Program, an affiliate advertising program designed to provide a means for website owners to earn advertising fees by advertising and linking to amazon.com, audible.com, and any other website that may be affiliated with Amazon Service LLC Associates Program. As an Amazon Associate, the owner of this site earns a commission from qualifying purchases.
(Visited 244 times, 1 visits today)