This is the fourth post in our ongoing series about people who travel with their pets. We interview people whose lifestyle allows them to spend A LOT of time on the road with their furry folk. Then, we're sharing their stories in hopes of inspiring our readers to do something cool with their pets. Let us know what you think! And if you have a story you would like to share, please contact me.
So I would like to introduce Karen Feld, a Washington DC-based journalist specializing in political personalities, and her two poodle companions, Campari and Biscotti.
Give us the basics. Who are you and what do you do for a living?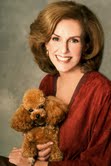 I've been a journalist in all media and based in Washington DC for many years. I penned a syndicated personality column and have been published in major dailies and national magazines. I was also an editor of an airline in-flight publication and frequently write on travel.
And most importantly, tell us about Campari and Biscotti. I understand they are service dogs.
Campari, 7, and Biscotti, 12, are red toy poodles. They are service dogs trained to detect seizures. Campari has his own website page.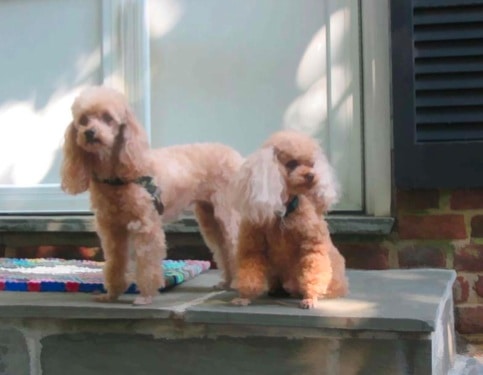 Given your occupation, I imagine you travel often and in all modes of transport – planes, trains, and automobiles so to speak. Do Campari and Biscotti accompany you on all of your trips?
Campari always accompanies me. And Biscotti comes along as well on longer trips.
What are your top pet friendly destination cities?
New York City, Palm Beach, FL and Portland, ME in the US. Paris and Cannes in Europe.
What are your top pet friendly hotels?
The Carlyle and Regency in NYC and Fairmonts and Hyatts, in general.
Do you have any difficulty finding dog friendly things to do with Campari and Biscotti when you're not working?
I haven't told Campari that he's a dog so he prefers people activities, especially listening to live music and dining in outdoor cafes. Both dogs enjoy a romp in the park, sniffing flowers, or a swim in a lake. And we all enjoy curling up on the couch together while I indulge in a good book.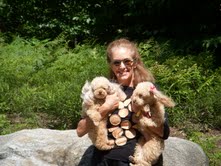 Based on your experiences, what could businesses do to make traveling with a pet easier/better?
Businesses should train their employees to familiarize themselves with ADA rules concerning service animals. An animal that is trained to perform a medical service to help his/her owner can be any size or breed. And they may help someone who has a hidden disability, such as a seizure disorder.
These well-trained animals accompany their owners everywhere and are not pets. That's why they are permitted in restaurants and on public transportation where pets may not be welcome. They are not to be separated from their owner, and in the case of Campari, who tips the scale at 5 lbs, may sit on my lap on an airplane (except in an exit row). I'm amazed at how many flight crews are not familiar and not compliant with this rule.
It's a constant battle to gain acceptance and compliance on certain airlines – particularly US Air, Republic, and United. An even bigger problem is TSA. Too frequently, the secondary screeners at airports have little training and no clue about the importance of the role a service dog plays for its owner. I'm surprised at how many have never even heard the term, "service animal." Campari and I were not only verbally challenged, but both seriously injured physically by TSA screeners at BWI just last month.
Basic manners and sensitivity go a long way if there is a question. I'm amazed at how often I hear, "But you're not blind." Unfortunately, discrimination against those with not-so-obvious handicaps is rampant in the travel industry. In my personal experience, TSA and some airlines are the worst offenders. Although Amtrak does not permit pets aboard their trains, they treat service dogs and their owners respectfully.
What would you like to tell people who say, "Boy, I envy your lifestyle. I wish I could travel with my pet."?
First of all, if they have a well-trained and obedient pet, they can travel with him/her to many destinations. But of course they won't be able to take the pet into restaurants, theaters and some other places in the US. Traveling abroad is very different depending on the country.
Second, appearances and reality are often very different. Sure, I love having my dogs with me all the time, but I would rather not have a disability and it be a choice to travel with Campari rather than a necessity.
---
Amazon Affiliate Disclosure: GoPetFriendly.com LLC is a participant in the Amazon Services LLC Associates Program, an affiliate advertising program designed to provide a means for website owners to earn advertising fees by advertising and linking to amazon.com, audible.com, and any other website that may be affiliated with Amazon Service LLC Associates Program. As an Amazon Associate, the owner of this site earns a commission from qualifying purchases.
(Visited 453 times, 1 visits today)