This is the 6th post in our ongoing series about people who travel with their pets. We interview people whose lifestyle allows them to spend A LOT of time on the road with their furry folk. Then, we're sharing their stories in hopes of inspiring our readers to do something cool with their pets. Let us know what you think! And if you have a story you would like to share, please contact me.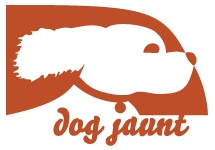 I'm really excited to have Mary-Alice, aka @DogJaunt tapping the computer keys for this interview. We're faithful readers of her blog, Twitter friends, and recently enjoyed catching up with her in person at BlogPaws.
Give us the basics. Who are you, what do you do for a living?

I write a travel blog called Dog Jaunt, that focuses on traveling with a small dog. For a big chunk of my adult life, it didn't make sense to have a dog — when I was practicing law, I barely had time to feed and walk myself, much less a dog, and then I married a man who adores … cats. It took several years to wear down his resistance, but at the beginning of 2009 I brought home a four month-old Cavalier King Charles Spaniel who we named Chloe. That trip home to Seattle, from her breeder's house near San Diego, is what got me started as a dog travel blogger. When I was looking online for advice on how to bring a dog with me on a plane, I didn't find any of the practical, step-by-step info I was looking for. In the first month we owned Chloe, we took her on two more long trips — so by the end of the month, I'd collected a lot of information that seemed too good to keep to myself.
Tell us some more about Chloe.
Chloe just turned two. She's a Cavalier King Charles Spaniel, which is the next size down from a Cocker Spaniel. You often see Cavaliers that are darned big — almost Cocker size — but they're meant to be about a foot tall at the shoulder and weigh 13-18 lbs. Chloe weighs 13 lbs, which is good news for us, since she just fits in a carrier under an airplane seat. She's a good-tempered girl — she's never met a stranger — and an excellent traveler. She loves other dogs, respects our four cats, ignores our chickens, and behaved beautifully when she met a ferret recently — but she's obsessed with squirrels, and yearns to catch one of her own.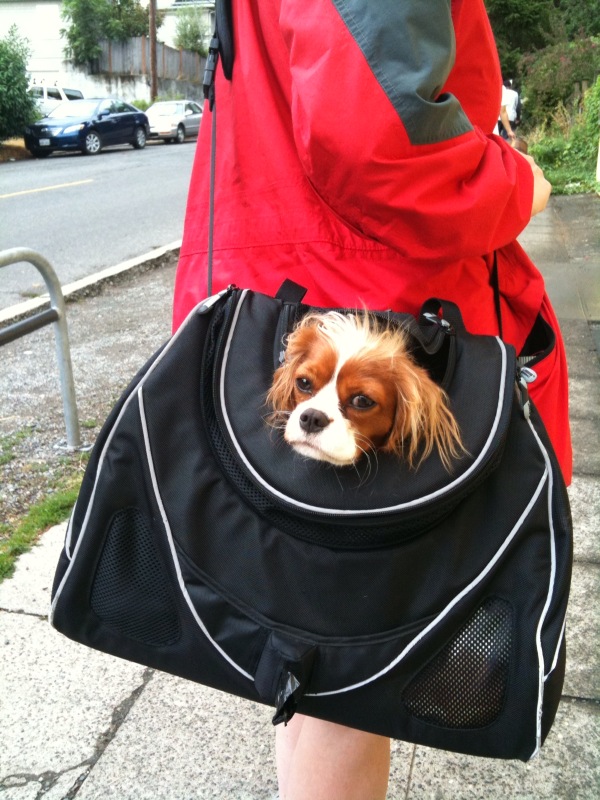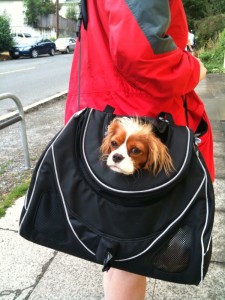 Where is your home base?
We live in Seattle. We do travel a lot — less than we used to before the economy got wobbly, but even still, we make a lot of trips to see our families in Ohio, Minnesota and Florida and friends in California and New York. We also each go to business conferences (this year in California, Ohio and Denver). Closer to home, we often travel to the San Juan Islands, about two hours north of Seattle, and we go to Portland whenever we can.
Do you have a favorite city that you like to travel to?

We suspect that it might be Paris, but we'll only know after we get back in late October! Currently, our favorite would have to be New York — we have fun with Chloe no matter where we go, but visiting NYC with her highlights all the good things about dog travel: It's a big city, and could be lonely, but there's nothing like a having a dog in your hotel room to make you feel at home; and it's a city full of busy, and sometimes standoffish people, but New Yorkers love dogs, so they're at the best, and friendliest, when you have a dog with you. The city is also full of fun dog-friendly places to visit — until you've seen Chloe in Central Park, for example, you've never really seen a happy dog.
And it seems like most of your travel involves airplanes and measuring the available pet carrier space under the seats!
We take a lot of road trips with Chloe, but they're pretty simple: She has a car seat she loves, she adores being in the car, we toss in her tote bag of food and treats, and off we go. Road trips that start away from home — that is, we fly somewhere and then rent a car and start driving — are a little trickier because we can't bring her big car seat with us, and have had to come up with a different car safety solution for her. So I've written a fair bit about driving with a small dog, but I think that people don't find that kind of travel very daunting — we don't, and probably most people don't unless their dog is prone to carsickness. I write a lot about flying with a small dog because it takes a little more preparation, and it does feel daunting at first — you need more encouragement and instruction to give it a try.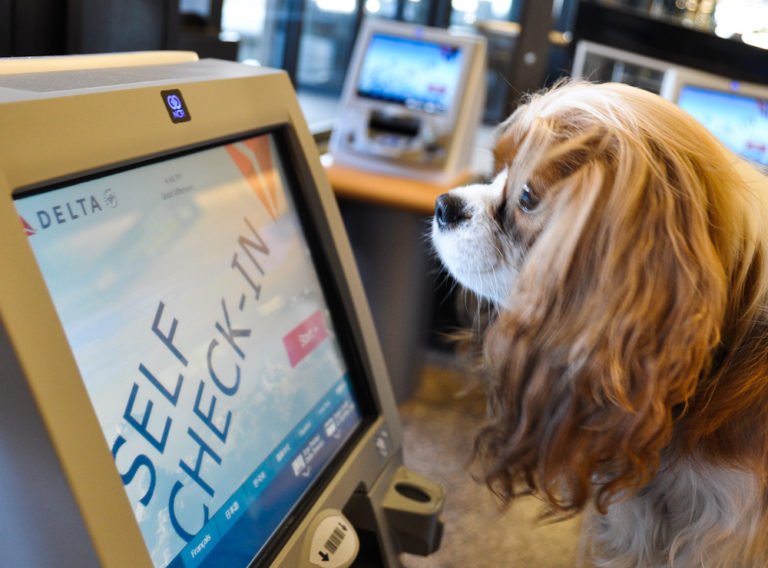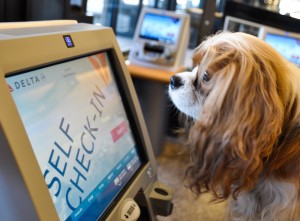 I do indeed measure under-seat spaces on airplanes, and here's why. Nearly every U.S. airline allows you to bring a small pet in-cabin (generally, just dogs and cats, but some allow other pets as well). Each airline tells you the maximum size of in-cabin carrier they allow on board. They
each have different maximums
. The problem with that is that people don't always travel on the same airline, so the bag they buy may satisfy one airline but not another — and people, in general, tend to push the limits anyway, with the result that nearly all the pet carriers you see, for sale or at the airport, are non-complying. Still, the bottom line is that your carrier has to fit under the seat in front of you, so I've embarked on a program of
measuring the actual under-seat spaces
I encounter, and publishing the measurements on my blog. It turns out that there's always more room available than the airline's maximums would lead you to believe, if only in the middle seat in Coach (which, alas, is often the best seat to choose if you have a pet carrier).
What is your biggest challenge when you travel with Chloe on an airplane?

On a long trip with a layover, it's only kind to Chloe to take her out to the layover airport's pet relief area. Each U.S. airport is now required to have a pet relief area, for use by service dogs and any other traveling dogs. A handful of airports have pet relief areas on the air side of security, but most are located outside the terminal buildings, so you need to hurry outside with your dog, locate the pet relief area, achieve your goals, and return through security to catch your next flight. It can be a nail-biting experience, especially if your first flight arrives late or the security line is longer than you expect. Also, your dog must stay in her carrier in an airport, so you have to carry her out to the pet relief area and back — and a 13 lb. dog soon weighs about 65 lbs. when you're sprinting across an airport.
What's in Chloe's travel bag?

I have a comprehensive packing list for Chloe, of all the things we've ever needed, that I consult when I'm getting ready to go — we never take all of it, but it helps me think through what I'll need for this particular trip. On road trips, we just toss her tote bag into the trunk with our tote bags. For plane trips, we have a large hard-sided suitcase for her, which holds her wire travel crate, crate pads and cover, a sheet to cover the hotel bed, her stealth carrier, and her tote of toys, food and treats, and grooming supplies.
What is the best piece of advice you would want to pass on to someone who is going to be flying with her pet for the first time?
I have three pieces of advice (aside, of course, from reading through the Dog Jaunt posts about flying with a small dog, grouped together in categories in my side bar!). (1) If you plan to travel more than once with your dog, get a good-quality carrier — I recommend either a large SturdiBag (if your small dog is largish, in the 10-15 lb. range) or a Sleepypod Air. The features that distinguish them from lesser carriers make a real difference to your dog's comfort and your peace of mind. (And no, I do not get a kickback from either manufacturer!) (2) Once you have your carrier, patiently give your dog the chance to be comfortable in it — put treats and her food bowl in it, take her in it to really fun places, like the pet store that always showers her with treats, and make it available as a cozy den. Don't just bring it out for trips to the vet! Give yourself and your dog enough time with the new carrier and some small road trips in it to see if your dog is a comfortable traveler or not — if not, talk to your vet and a dog behaviorist you trust and see what they can do to help you improve your dog's attitude towards her carrier and being transported in it. (3) On the day of your flight, take your dog for a long walk before putting her in her carrier — not so vigorous that she has to drink water when you're done (you want to pick up her water dish about 4 hrs. before you leave for the airport), but long enough that she really wants to crawl into her carrier and snooze.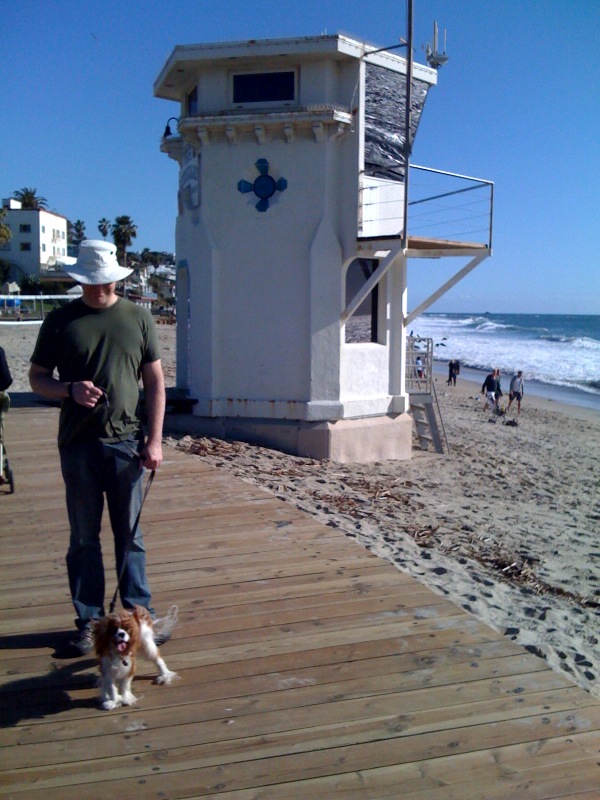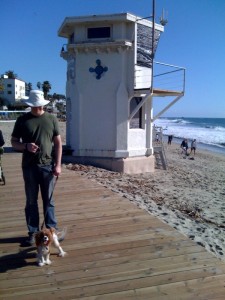 What is your biggest challenge when you stay at a pet friendly hotel?
A young dog in a new environment won't always recognize that the new environment (in this case, a hotel room) is, like her own home, not an acceptable bathroom option. Chloe only had one accident in a hotel room as a puppy (and it was just on a towel on the bathroom floor, so it wasn't completely heinous), but only because I was crazy vigilant. Since we've trained her to use Poochie Bells (there are other makers out there, but we happened to buy that brand of dog training bells), she has a way to tell us when she needs to go out — we carry a set of bells with us, and life has been much easier ever since.
Do you think it's becoming easier to find and book pet friendly hotels?
I do think so — I've only had to nix one trip (to Coronado, CA) because there wasn't a pet-friendly hotel in the location I planned to visit. Otherwise, there are plenty of options available, in all price ranges. And of course, websites like GoPetFriendly.com are making it ever easier to find those hotels in the first place!
Do you have any difficulty finding dog friendly things to do with Chloe?

Not at all. We generally just do what we would have done if we were on our own. We walk a lot when we travel, and walking is one of Chloe's favorite things to do. We do now look for dog-friendly restaurants, partly because we like to encourage them with our patronage and partly because I like to write about them on Dog Jaunt. However, Chloe is small enough that in a pinch we will stick her in her stealth carrier, where she will sleep invisibly at our feet while we eat. I realize that dog-sneaking is controversial, but we limit it to restaurants and to situations where our only alternative is to leave her in the car (which I will not do, under any circumstances). When we want to do something and she absolutely can't accompany us, we simply take her for a long walk and let her snooze it off in our hotel room while we go to a museum, or a show, or a fancy meal. Traveling with her takes more planning than traveling on our own did, but we've never had to forego doing something we wanted to do. And when she can be with us, whatever we're doing is more fun.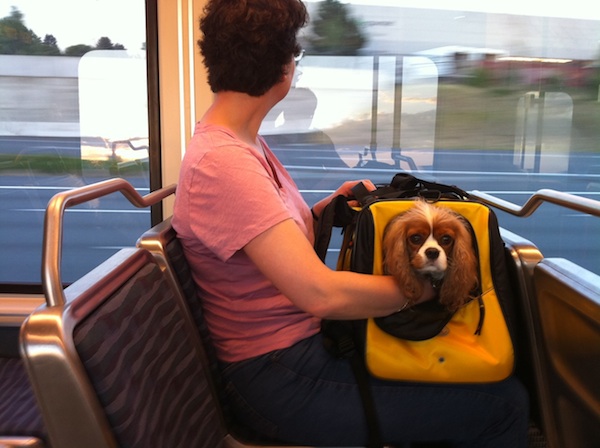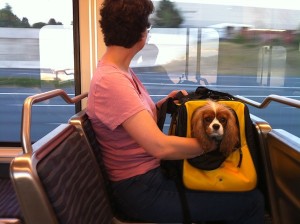 Based on your experiences, what could businesses do to make traveling with a pet easier/better?
The kinds of businesses I interact with most are airlines, hotels, and restaurants. Airlines could charge lower pet fees, rationalize their maximum carrier sizes, and fund a study to determine whether in-cabin pets actually do bother allergy sufferers (the debate over that question is heated and uninformed, and it would be great to have answers based on scientific research). Hotels that require your pet never to be left alone in your room could join their more sensible peers and instead require that you leave your cell phone number with the front desk — and if your pet makes a fuss, they'll call you. Restaurants that would profit from the patronage of dog owners can lobby their city councils for ordinances allowing dogs to join their owners in outdoor dining areas. I can't pass by the chance to say, too, that Amtrak needs to reconsider its no-pets policy (until 1976, Amtrak allowed pets on board), and at least consider allowing small dogs to travel in carriers at passengers' feet.
What would you like to tell people who say, "Boy, I envy your lifestyle. I wish I could travel with my pet as much as you do."?
The fact is, I am lucky. When you add up the cost of health certificates, airplane pet fees, and hotel pet fees, flying with a pet is expensive. Take a look at Dog Jaunt's guides to identify airlines that don't require health certificates and to choose airlines with the lowest pet fees, and browse GoPetFriendly to find hotels with minimal or no pet fees — with some advance planning and research, you can bring the cost of flying with your dog down. For us, the benefits of having Chloe along more than outweigh the pain of paying for her. We find that we see the places we visit at a pace that allows us to really enjoy them, and we meet people we would never have spoken to purely because we have a friendly dog with us. And like I said, nothing warms up a hotel room like a goofy dog!
Amazon Affiliate Disclosure: GoPetFriendly.com LLC is a participant in the Amazon Services LLC Associates Program, an affiliate advertising program designed to provide a means for website owners to earn advertising fees by advertising and linking to amazon.com, audible.com, and any other website that may be affiliated with Amazon Service LLC Associates Program. As an Amazon Associate, the owner of this site earns a commission from qualifying purchases.
(Visited 819 times, 1 visits today)