This is the second post of what we hope will be an ongoing series about people who travel with their pets. We want to interview people whose lifestyle allows them to spend A LOT of time on the road with their furry folk. Then, we'll share their stories in hopes of inspiring our readers to do something cool with their pets. Let us know what you think!

Without further ado, I would like to introduce Scott Dunn and Jill Richards. You can follow their adventures over at 12 Legs Travel. I've been following the blog almost from the beginning and don't know which I like better – the great photography or the witty prose.
Give us the basics. Who are you, how old, and what do you do for a living?
We're Scott Dunn, 39, and Jill Richards, 30 — and we live in Phoenix, AZ. I'm a former photojournalist turned freelancer, and Scott until recently was associate director of communications at the Greater Phoenix Convention & Visitors Bureau. At the moment, however, neither of us is employed — we quit our jobs to travel the country with our dogs. It's scary at times, but we stick to our budget, do piecemeal freelance jobs, and try to relish every day on the road.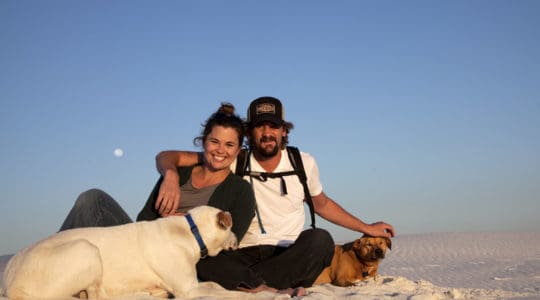 And most importantly, tell us about your dogs.
Isabel and Jack are our mutts.  Isabel is a "New Mexico brown dog" whom Scott took in as a pup when he lived in Albuquerque. (Her mother was struck by a delivery van on the Jemez Pueblo.) She is alternatively sweet and aloof, intensely loyal to Scott and protective of me. She is wild as can be (she hunts squirrels, raccoons and, tragically, cats) and is the unquestioned alpha of our roving household.
Jack is a pound rescue from Columbia, SC. He is supposedly a Shar Pei and Australian Shepherd mix, and there's probably a little Pit in his mongrel bloodline, too. He is gentle and dopey, and completely codependent on Isabel.
They are great travelers. Both are at home in the car, campground, and motel room.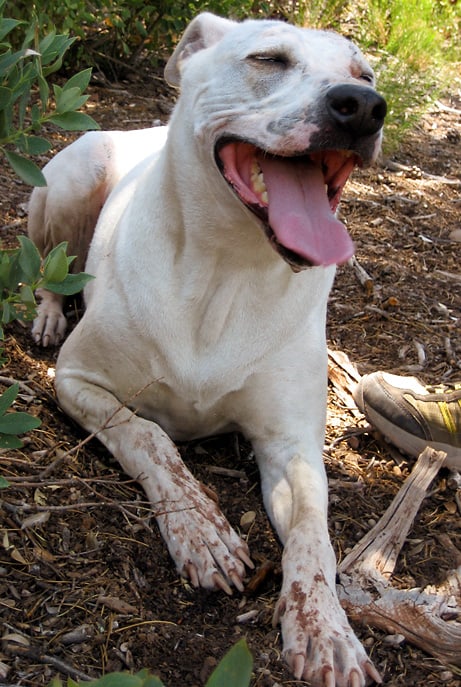 I know from reading your blog that you and Scott are taking a "time out" from life and turning your honeymoon into a year-long trek around the US. So, how did you guys decide to embark on this adventure?
We got married last year at a campground wedding weekend in Tennessee. We've been together for seven years, but most of our respective travels were done before we met. It seemed so natural for us to take to the road. We had talked about traveling to Thailand, but to be honest we really like having our dogs with us — so American road trip it was. Deciding on traveling for a year wasn't an easy decision. The timing worked perfectly for me since I was looking to leave my job, and freelancing was keeping me very busy. One morning, while on a weekend getaway to Tucson, we just decided to do it, and we immediately started planning and budgeting.
I am sure our readers would like to know how you are financing your trip.
We travel cheap, no doubt about that. But, regardless, staying on the road is expensive. We spent 2009 focusing on saving money. In our daily life at home, we live pretty simply. We don't have children, cable TV, car payments, or big debt. I was doing a lot of freelance photography while still working my day job, which allowed me to tuck some money away and make some wise (I hope) investments. I found a great book written by two retirees who spent a year on the road — "Live Your Road Trip Dream" by Phil and Carol White. With the book's help, I created a budget for us. We travel bare bones, doing a lot of tent camping and crashing with friends and family when we can. We eat out once a day, and not lavishly. We travel cheaply in rural areas so we can absorb the expense of motels, restaurants and attractions when we hit big cities.
What are you traveling in? Where are you sleeping? What do you eat?
We call a white 2003 Honda CRV home, and she is loaded for bear. We use a Yakima roof rack to hold our camping gear; luggage, camera gear, groceries in a cooler occupy the backseat; and our mountain bikes are mounted to the rear spare tire. The dogs ride in the cargo hold (Scott calls it the "fartatorium"). When we're not camping or staying at a Motel 6, we try to find affordable vacation homes. We've had incredible luck, renting two-story house in Roswell, NM for $50 a night and a condo in Austin, TX for $90 a night.
We save money by making our own breakfast and lunch. (We eat lots of cereal and PB&J sandwiches.) We try to dine out only once a day. I'm a bit of a foodie, and I like to explore a new place by eating some local cuisine. This has known to get us into trouble with our budget — especially in New Orleans, where we racked up an $80 tab at Cochon. We also blew our budget by sampling scads of whiskey on Kentucky's Bourbon Trail. Thankfully, Scott's culinary passion — BBQ pork sandwiches — is cheap.
What's it like traveling with your dogs? What's the best part? What's the part that's least fun?
I couldn't imagine not traveling with them. They provide constant entertainment. Scott gives voice to Jack's thoughts — the persona is that of oversensitive, simpleton savant — and it never fails to crack me up. The dogs also make for company on hikes and forays to the beach. On the downside, there are some things the dogs simply keep us from doing. Trips to museums or nightlife spots must be either well planned or culled. We've boarded them only once — in Tiger, GA, while we rafted the Chattooga River. There's also the inconveniences of late-night barking at critters, early-morning stumbles outside so they can "do their business," and the vaporous offenses that emit from the aforementioned fartatorium.
Based on your experience so far, what could businesses do to make traveling with a pet easier/better?
Weight and breed restrictions cause us headaches. Trust me when I say my 75-pound and 45-pound dogs are better hotel tenants than little dogs with yappy personalities and small bladders. Small dogs can get away with murder because they're cute, wear sweaters and can be transported in handbags. Big dogs — especially mellow, secure, well-behaved ones — get a bad break. I also wish hotels that advertise being dog friendly would back it up. We've encountered outrageous pet fees and inconsistencies in policies at dog-friendly lodgings. (If you charge a $35 pet fee, you are not really dog friendly.) We typically stick to Motel 6, which doesn't discriminate against large dogs and never charges a fee. Good for them.
What kinds of things are you doing on your trip?
The place where we are typically dictates the things we do. We snowshoed in Utah. We played on the beach in California and the Gulf Coast. We explored swamplands in Louisiana. We tried disc golf at state parks in Mississippi and Alabama. We walked historic neighborhoods in New Orleans. We went caving in Kentucky. We've hiked just about everywhere. We're constantly surprised by how easily our dogs adapt to new places and new activities.
What's your favorite place you've visited so far?
We stayed in a teepee in Marfa, TX. It was 22 feet in diameter with a wood-burning fire pit in the center and animal skins on the floors. It was incredible. I fell in love with all things Louisiana — Cajuns, crawfish, alligators and swamps. We camped in downtown Monterey and drove daily to Carmel City Beach to let the dogs run. We belly-crawled through Mammoth Cave in Kentucky. But sometimes the best moments are napping in a hammock, sitting around a campfire, or reading by a babbling river. We love being on the road. The big moments are great, but they don't compare to all the great conversations, embarrassing moments, and inside jokes.
What's the place you are most looking forward to seeing?
I kind of have a Montana-or-bust mentality right now. I've never been to Glacier National Park, but I keep hearing about how beautiful it is. Scott, despite all his past travels, has somehow never visited Chicago. He's looking forward to that.
When is your year up? What happens then?
January 2011. Or when the money runs out. Then it's back to Phoenix where Scott will resume his old job … unless we figure out a way to remain on the road and make a living doing so.
What have you learned about yourselves on this trip?
We are happiest living simply. We don't need a big house or lots of creature comforts. Joy comes from being outside and seeing new places — for us and the dogs.
What have you learned about life on this trip?
You learn more about your country seeing it up close than by watching cable news. Also, backroads are better than freeways. Life along the interstate is the same everywhere — same stores, same restaurants, same harried pace; life in rural communities is richer, simpler, friendlier. It's cliche, but it's true.
What would you like to tell people who say, "Boy, I envy you. I wish I could take time off to travel like that."?
We meet those people all the time. We always tell them it's not as daunting as they might think. It just takes will.
Planning a pet friendly trip of your own? We'll make it easy:
Pet Friendly Hotels | Pet Friendly Destinations | Pet Friendly Activities
Amazon Affiliate Disclosure: GoPetFriendly.com LLC is a participant in the Amazon Services LLC Associates Program, an affiliate advertising program designed to provide a means for website owners to earn advertising fees by advertising and linking to amazon.com, audible.com, and any other website that may be affiliated with Amazon Service LLC Associates Program. As an Amazon Associate, the owner of this site earns a commission from qualifying purchases.
(Visited 504 times, 1 visits today)