To assist others in adopting a pet friendly lifestyle, our website provides free, up-to-date, and easy-to-use information. Locating travel accommodations, restaurants, and activities to enjoy with their pets has never been easier. Meanwhile, we travel the country in our Winnebago View – our mobile, pet friendly office and home.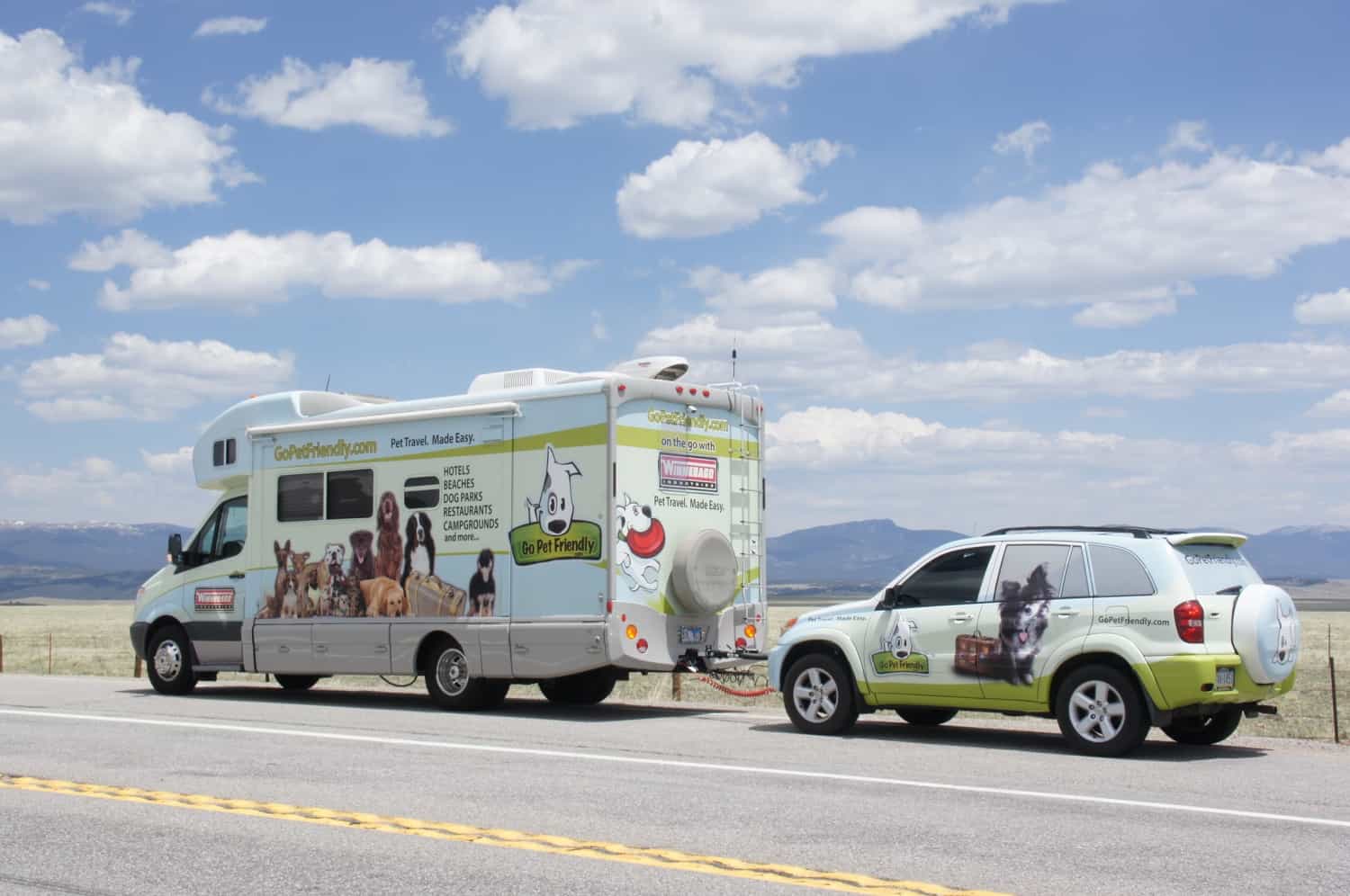 When you first walk in, you get a sense of the entire layout. The desk/dinette to your left, kitchenette and couch on the right, and the bathroom in the back.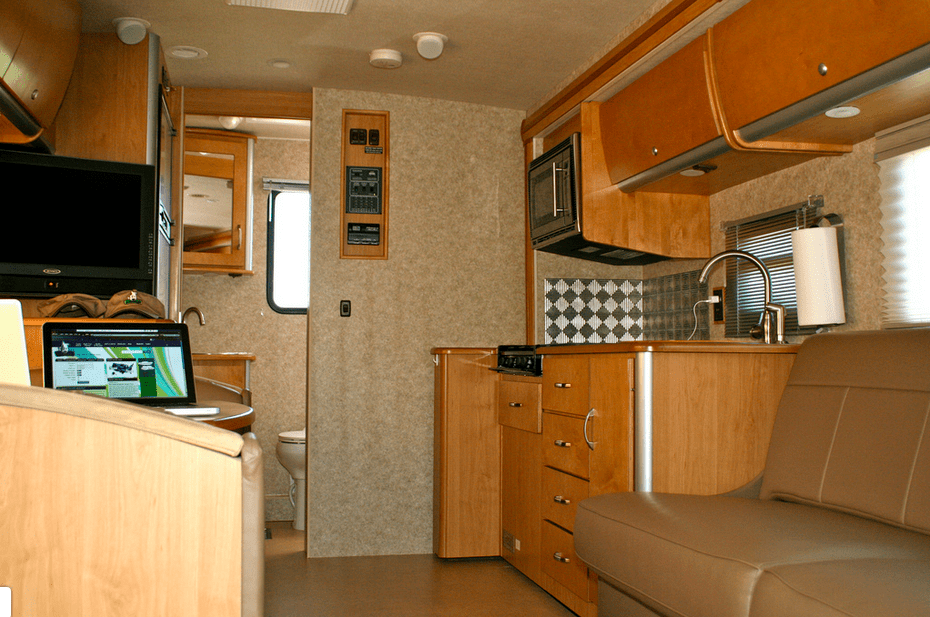 The Office
The Winnebago View has a nice sized dinette, serving as our main office space for both of our laptops. We can even use the television as secondary monitor. On really good days, we get Buster and Ty to do the work!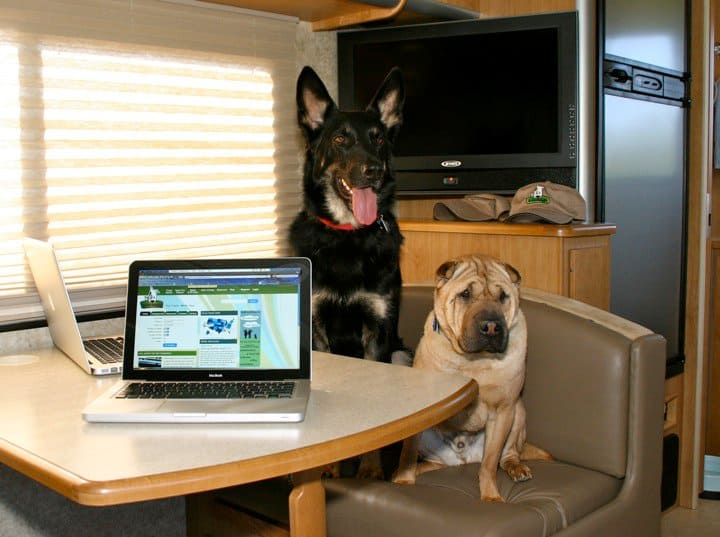 Above the desk, the office accessories cabinet stores our all-in-one printer/scanner/copier,  extra paper, back up drives, business cards and a container with various power cords.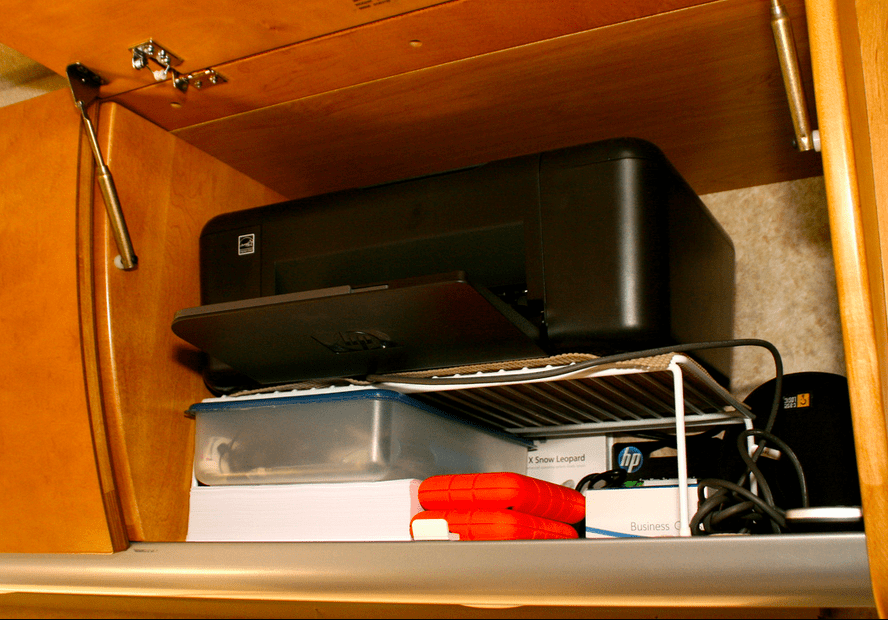 No "tricked-out" office is complete without a refrigerator and television. The power strip you see here shares the outlet with the television. This is the only outlet powered by our inverter, which allows us to charge our laptops, phones and MiFi when we're on battery power.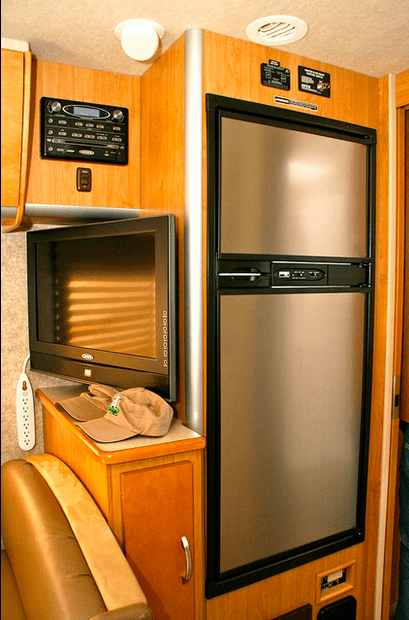 Tucked right next to the inverter is a major requirement of every pet-friendly office/home: a water bowl for our dogs.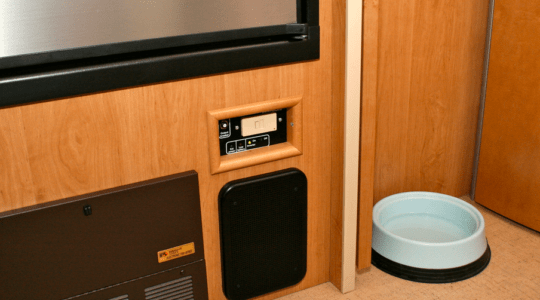 Our kitchenette gives us room to prepare a quick snack or a 5 course meal (yes, really). The combination microwave/convection oven works well for pizza, pumpkin bread, or just warming water for tea.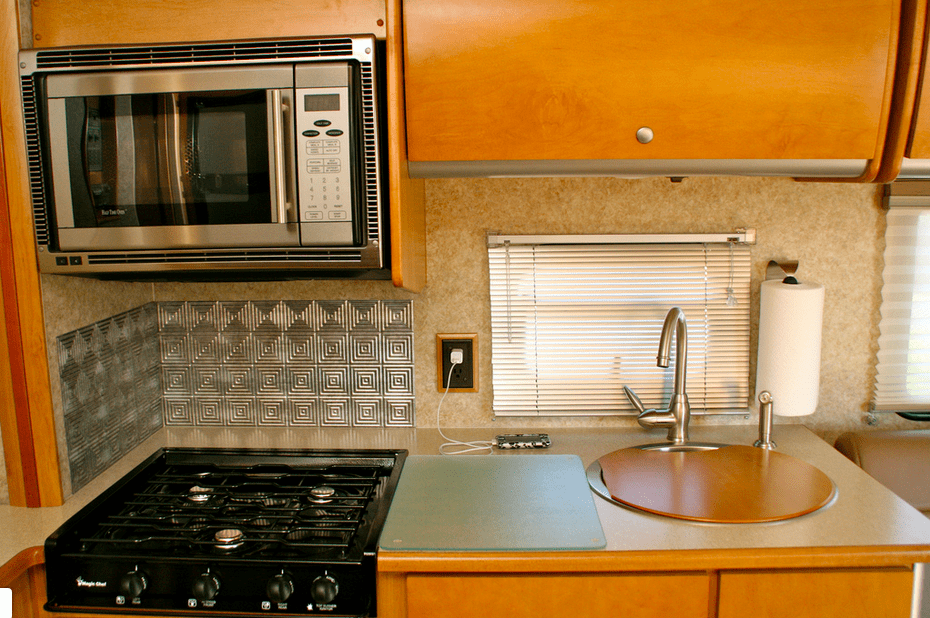 When we're traveling, the dogs are always in their safety harnesses, which attach right to the seat belts in the sofa. The leatherette fabric on all the furniture makes vacuuming up pet hair easy.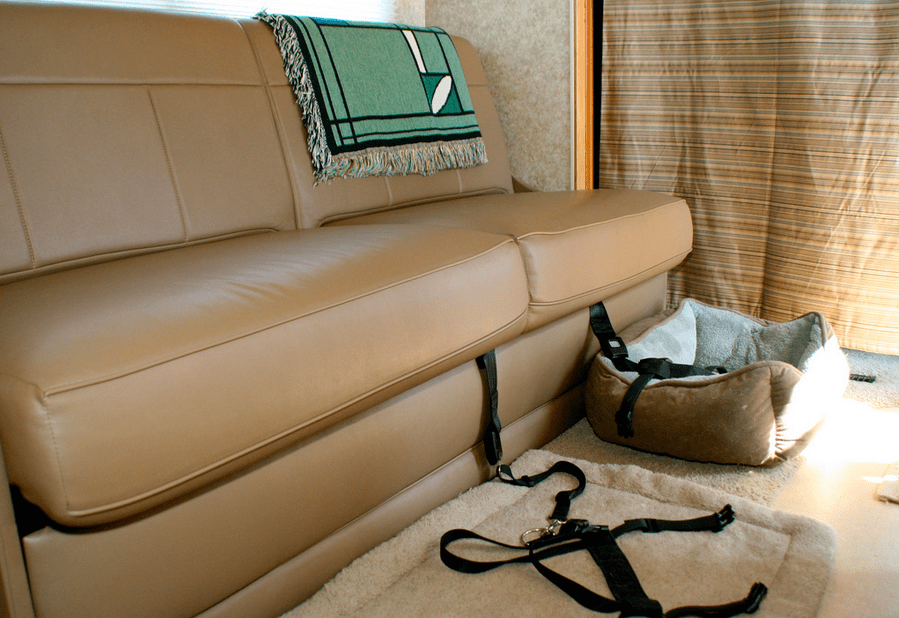 On to our master bedroom where there is plenty of room over the cab to comfortably sleep two adults. (It's like having the bunk bed we never got as kids!) This floor plan option gives us additional floor space compared to the typical plans that have the bed down below.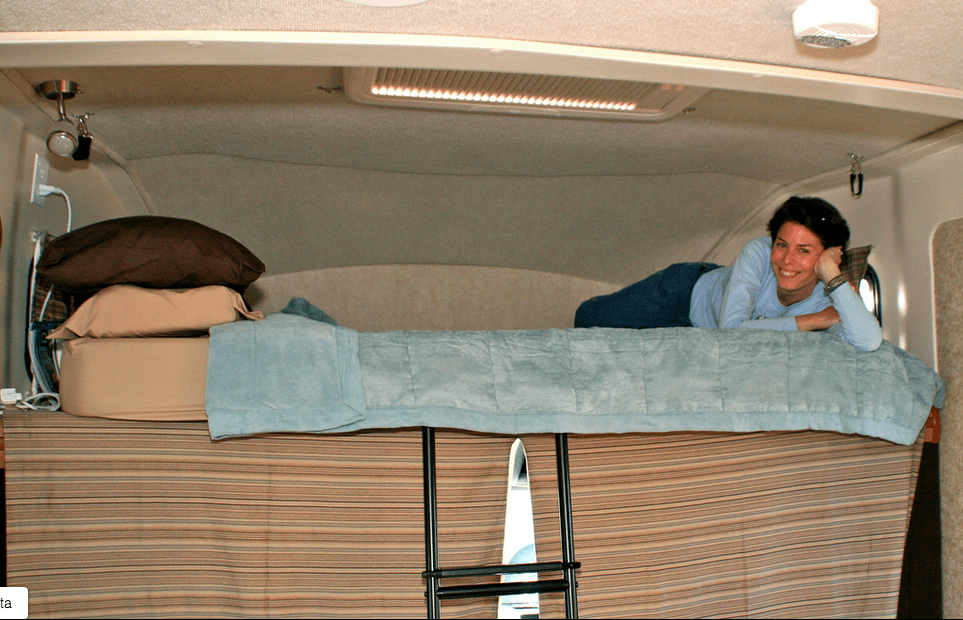 Speaking of floor space, the full-wall slide out adds some valuable square feet inside. When you're traveling with 2 large dogs, every square inch makes a difference!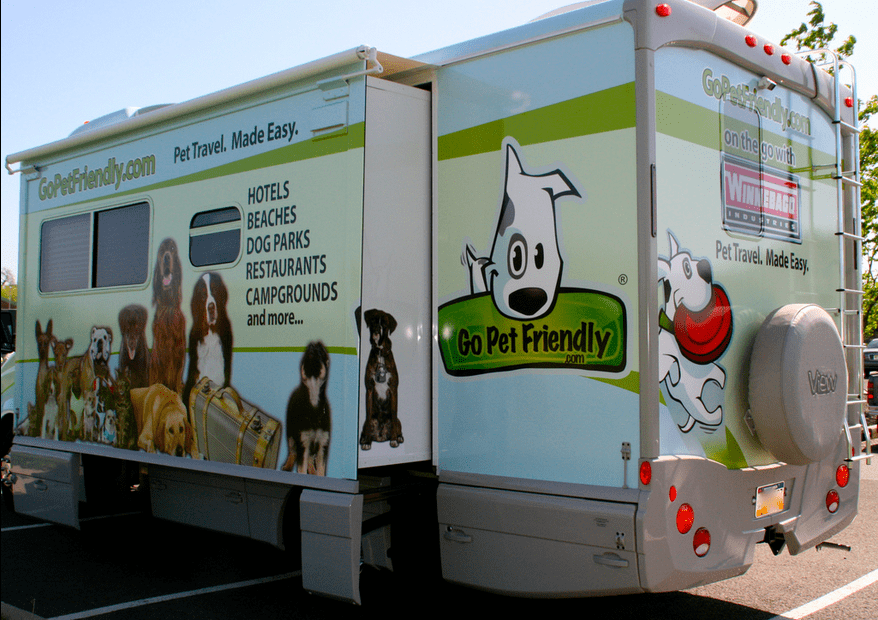 The Exterior
The outside awning is great when it's warm and sunny, giving the dogs a place to be in the shade, and making it much easier for us to see our computer screens when working  outdoors. We even have outdoor speakers and an outlet so the computers can stay charged.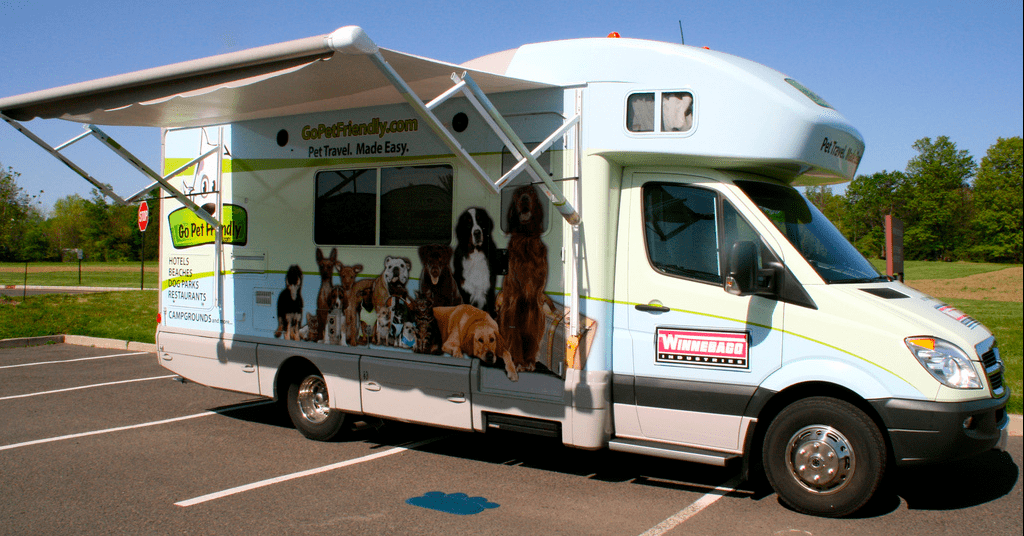 The business end of this motor home is what puts the "mobile" in "mobile work space." We have our Garmin nüvi, Sirius Satellite Radio and our Internet life line in the form of a Verizon MiFi.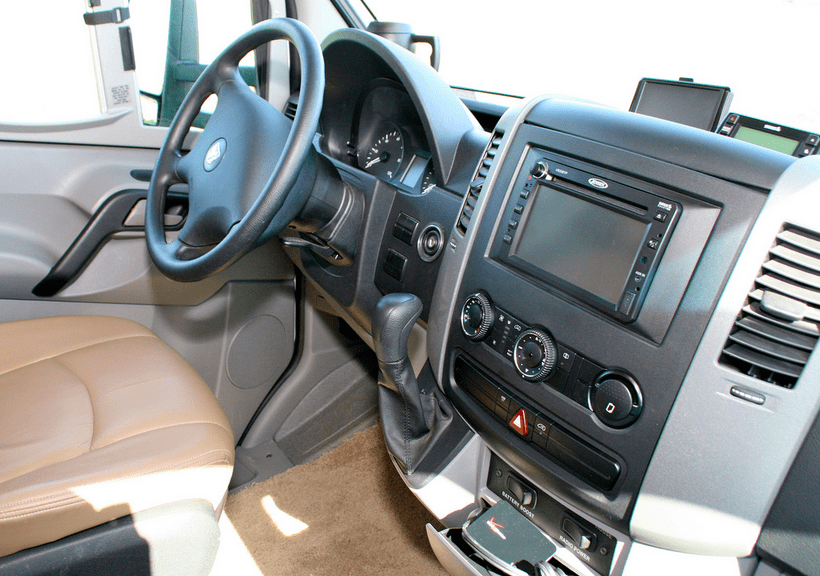 A panel houses the  controls for the gas furnace, electric air conditioning and heat pump, gas and electric hot water heater, thermostat and the switch for our LP generator. This gives us the ability to monitor the levels of our water tanks, our batteries and our LP gas tank.
We even have a heater for our fresh water holding tank. In case we inadvertently get into some cold weather, we don't have to worry about the tank freezing!
If you see us out on the road, tweet us at @GoPetFriendly.
Amazon Affiliate Disclosure: GoPetFriendly.com LLC is a participant in the Amazon Services LLC Associates Program, an affiliate advertising program designed to provide a means for website owners to earn advertising fees by advertising and linking to amazon.com, audible.com, and any other website that may be affiliated with Amazon Service LLC Associates Program. As an Amazon Associate, the owner of this site earns a commission from qualifying purchases.
(Visited 138 times, 1 visits today)