Ever since our first trip to Yellowstone with our dogs five years ago, we've looked forward to going back – not to spend more time in the national park, but to explore the dog friendly things to do outside the park's borders.
They have their reasons, but the national park's requirements that pets be on a leash no longer than six feet, and stay within 100 feet of a road, parking area, or campground at all times, make it difficult for most dogs to enjoy vacationing here. If you have a dog who loves to get out and explore the great outdoors, and you're planning a trip to Yellowstone, this post is for you! We've found plenty of dog friendly activities just beyond the national park boundaries.
Our last post focused on the pet friendly options north of Yellowstone – in Gardiner, the Paradise Valley, and Bozeman. In this post we'll move to the western entrance of the park and hone in on West Yellowstone, Earthquake Lake, and Big Sky.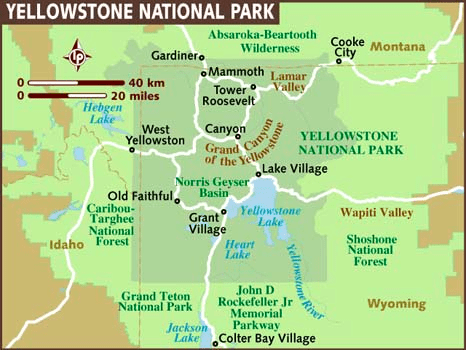 West Yellowstone
The little town of West Yellowstone sits just outside the western gate of the national park, and caters to the many tourists passing through. We were particularly excited to get back here to visit our friend, Chris at Morning Glory Coffee & Tea. We originally connected with Chris on Twitter (he's @MGCTwest) and met in person on our first trip to Yellowstone, so it was great to get back and catch up with him! We were also delighted to know that the coffee shop still welcomes pets inside, so don't leave your pooch on the sidewalk while you dash in for a cup of joe, freshly roasted on the premises.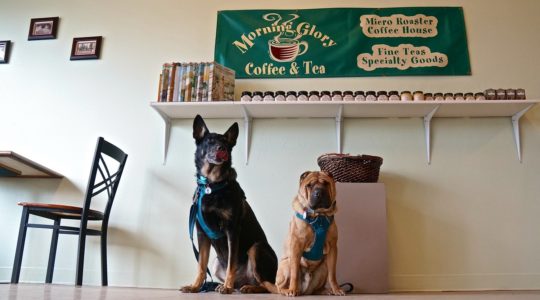 When you're all revved up and ready to go, make a quick stop in the Forest Service office and get the latest on trail conditions, maps, and recommendations for hiking options. West Yellowstone sits within the borders of the Gallatin National forest, with the Madison River skirting the east side of town, and there are several trails you can pick up just off the town's main drag.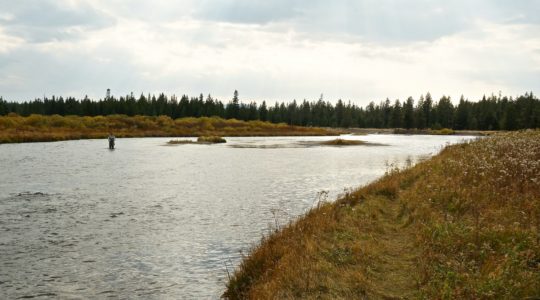 It's good to keep in mind that, even though you're in a well-populated area, wildlife encounters can happen at any time. Bears, moose, elk, and other Yellowstone dwellers regularly roam into town. To avoid confrontations, it's best to keep your pups on-leash anywhere wildlife encounters are possible. Off-leash dogs can chase and harass wildlife, causing them undue stress and possible injury, and dogs can easily get lost or injured as well. Around Yellowstone, it's also important to always carry your bear spray, and put bear bells on your dogs to alert surrounding wildlife to their (and your) presence.
Earthquake Lake
Driving north from West Yellowstone takes you into a fascinating area, where geologic action has forever transformed the landscape. At 11:37 pm on August 17, 1959, an earthquake measuring 7.3 on the Richter scale, struck the area and triggered an 80-million ton landslide. The slide formed a dam across the Madison River, and created what is now known as Earthquake Lake.
Passing by tranquil Hebgen Lake, you'd never guess that this was the site of such terror and devastation. The shifting of the tectonic plates that caused the earthquake in 1959 caused the lake bottom to drop by 20 feet, and that seismic activity generated a huge wave that crashed over the top of the Hebgen's dam and went racing down the river valley.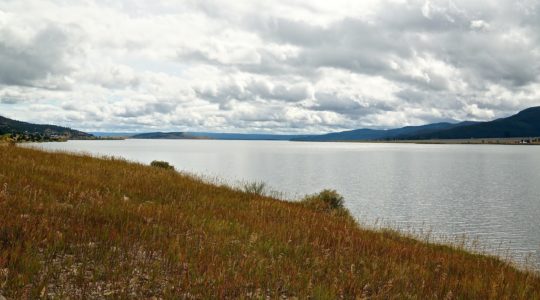 Further downstream, the Madison River was completely choked off by the landslide, and the water was rising quickly. Many families were camping in a national forest campground just north of the slide area, and 28 people tragically lost their lives that night.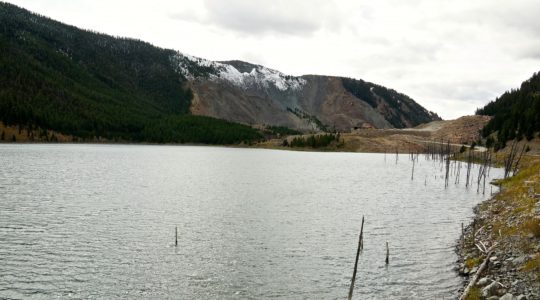 By morning the water had completely engulfed the campground, and just three weeks later, the lake was five miles long and had a depth of 190 feet. The rapidly rising lake was threatening to burst through the landslide dam, so a spillway was constructed through the slide, allowing the water to be released slowly.
But rivers do what rivers do, and since the spillway was constructed, the Madison has been eroding the opening. Now more water leaves the lake than enters, and the lake level is dropping. Over the years, the lake will continue its gradual drain, like water from a bathtub, and eventually the lake will disappear altogether and the river valley will return.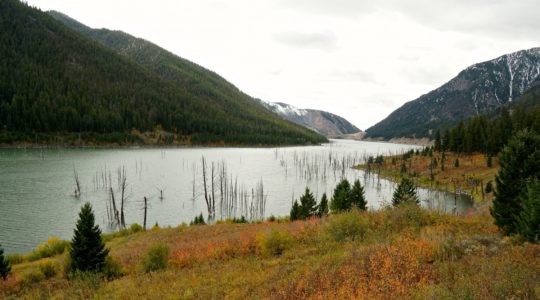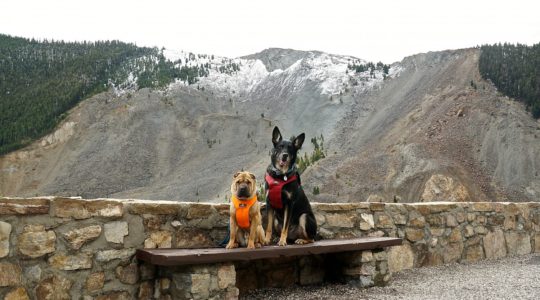 Big Sky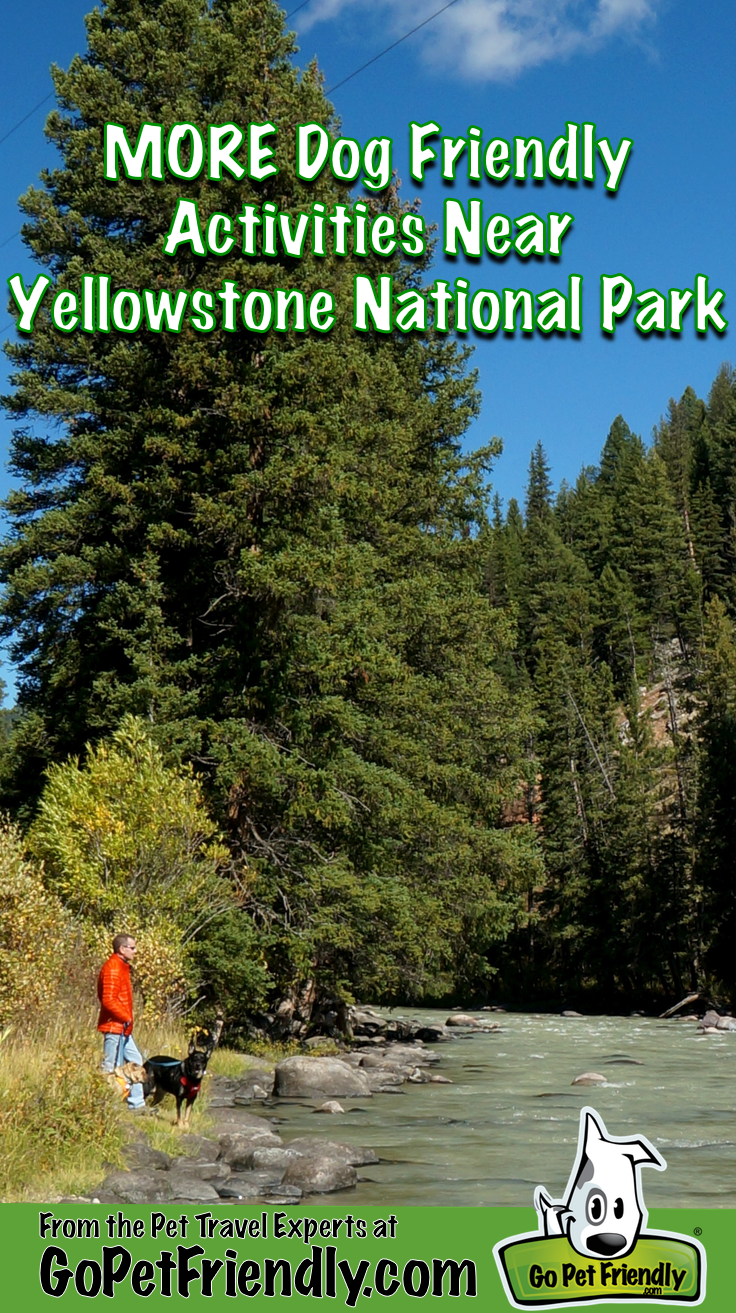 Continuing north on Hwy 191 toward Big Sky takes you through Gallatin Canyon, along the milky-blue Gallatin River. This is the area that had me swearing I'd return during our last visit, and finally seeing it again after five years was like a happy homecoming.
There are many turn-outs, campgrounds, and picnic areas along the river, so plan to take your time and steep in the beauty of this spectacular place. The meandering highway takes you inside the boundaries of Yellowstone National Park, and then back out again. These borders are well signed, so when you're inside the border take care to respect the national park's pet restrictions.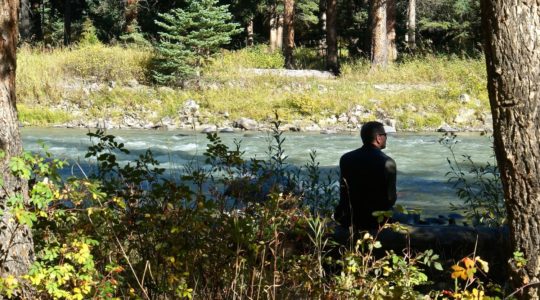 As you ramble along, the horizon is soon pierced by the snow-capped peaks of Big Sky Resort – the largest ski resort by acreage in the US. We love visiting ski towns in the off-season, and Big Sky is unlike any we've seen before! Covering nearly 5,800 acres and crowned by Lone Peak at 11,166 feet, this is a massive venue with several hotels, shopping centers, and residential communities.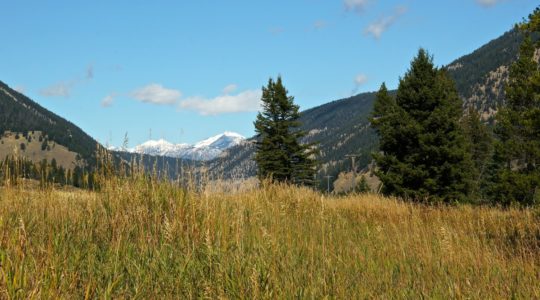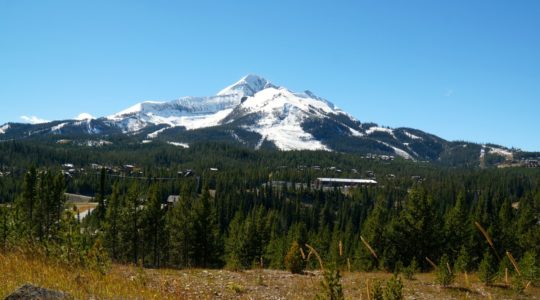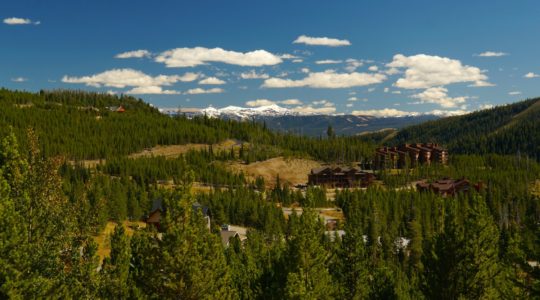 To get the lay of the land, stop at the visitors center at the intersection of Hwys 191 and 64. Here you'll find information on local businesses, maps of the area, and tips on dog friendly hiking trails. After reviewing the options, our first stop was Big Sky Town Center. Ty and Buster enjoyed sniffing around the park, and their noses led right to the Blue Moon Bakery, with it's dog friendly, covered outside seating area. Pizzas, salads, and mouthwatering baked goods are all on the menu here, so make sure you don't miss it.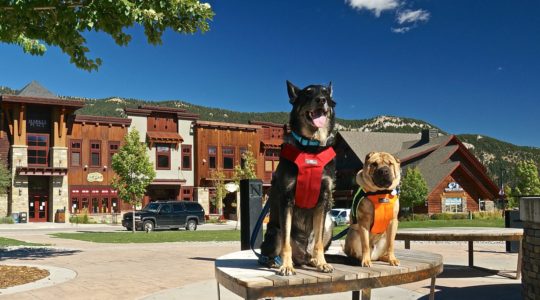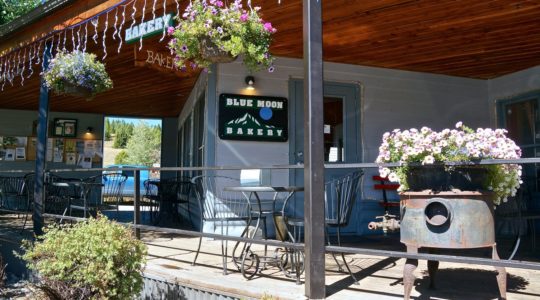 Once again, keep your eyes peeled for wildlife. After posing for a few pictures, Buster caught a bear trying to sneak up on him, and we happened to see this Big Horn Sheep grazing just off the road as we drove by.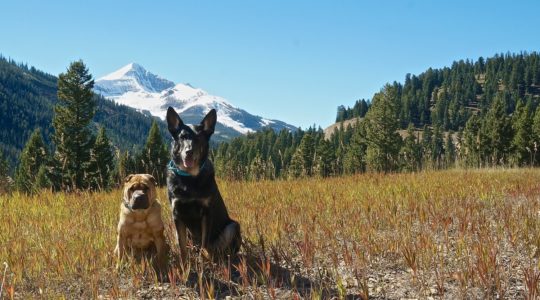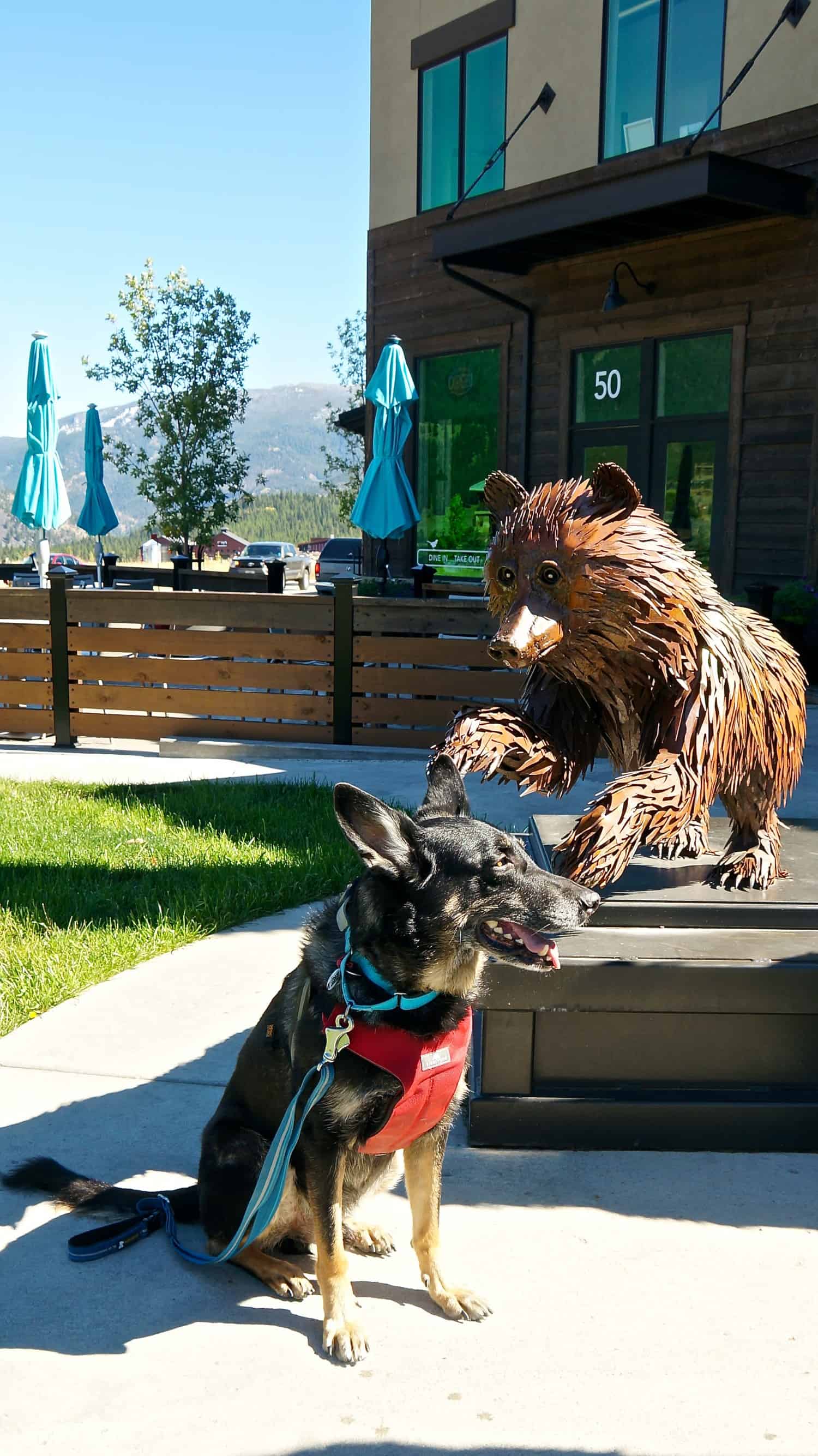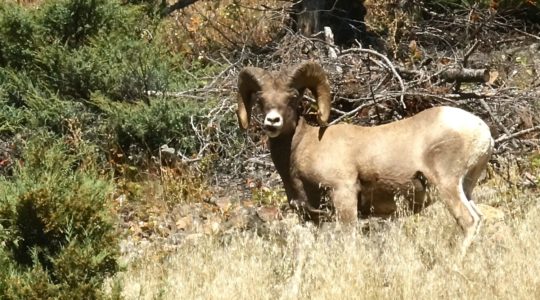 It's easy to see that, while Yellowstone National Park may present a challenge for people traveling with pets, the surrounding areas provide more than enough entertainment to keep any dog happy! Just balance your time inside the park with plenty of dog friendly excursions outside it's boundaries, and your entire family will enjoy your vacation at Yellowstone.
Planning a pet friendly trip of your own? We'll make it easy:
Pet Friendly Hotels | Pet Friendly Destinations | Pet Friendly Activities
Amazon Affiliate Disclosure: GoPetFriendly.com LLC is a participant in the Amazon Services LLC Associates Program, an affiliate advertising program designed to provide a means for website owners to earn advertising fees by advertising and linking to amazon.com, audible.com, and any other website that may be affiliated with Amazon Service LLC Associates Program. As an Amazon Associate, the owner of this site earns a commission from qualifying purchases.
(Visited 6,619 times, 1 visits today)