Last month I went down to the largest Global Pet Expo to date! There were more than 3,000 new product launches, 985 exhibitors, and 2,896 booths to explore. Just to give you an idea of the size of this show … walking one lap around the perimeter of the exhibit space ticked off a mile on your pedometer, and strolling up and down each isle racked up four miles! There's so much to see, I'm like a kid in the world's biggest candy store, searching out the gear that will make traveling with your pets easier. Here's what I found: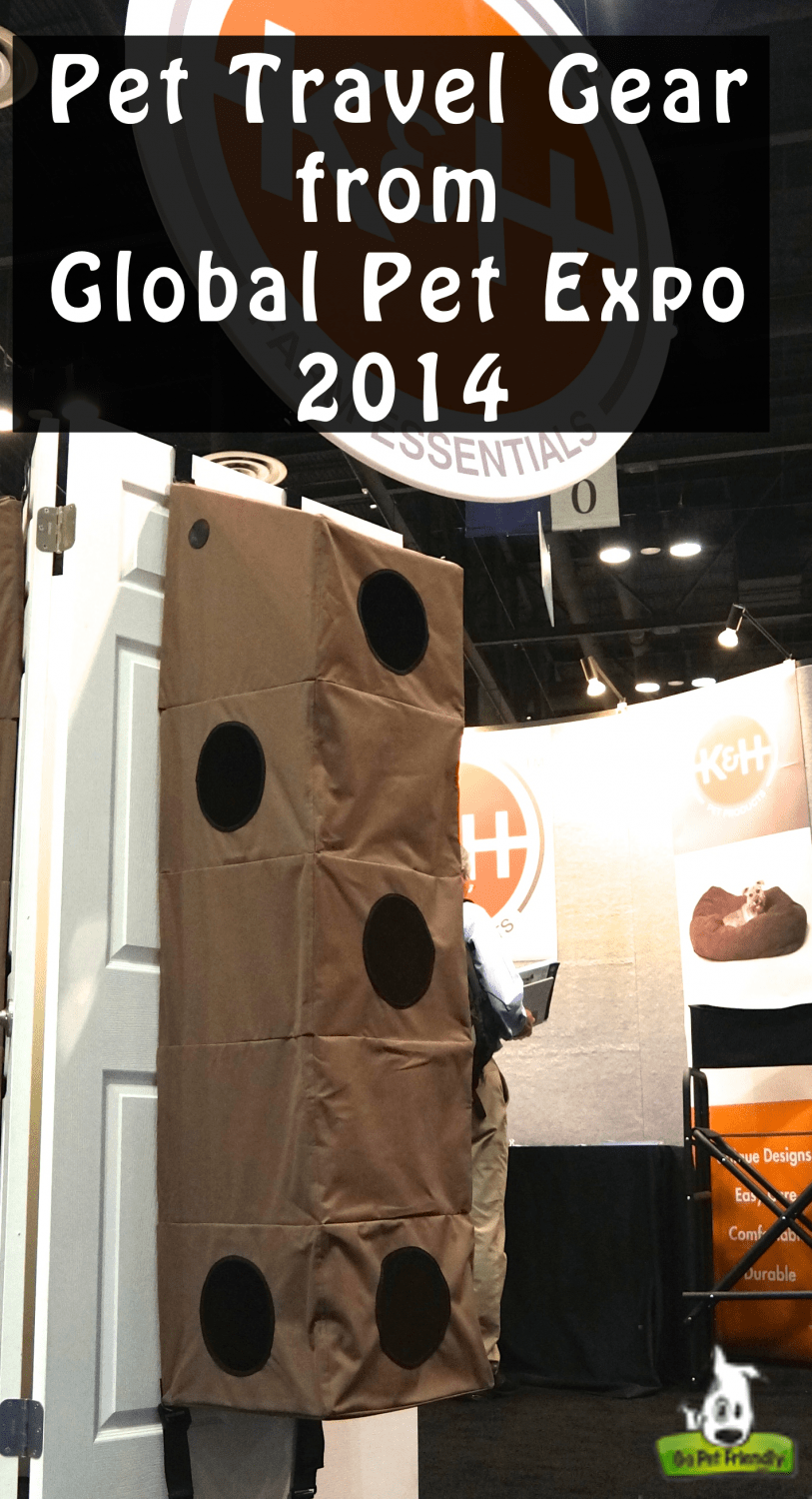 K & H Pet Products
More people travel with dogs than cats – it's a fact. And for that reason, many companies focus on pet travel products that are dog-centric. So, when I saw this hanging cat condo, I knew I had to kick off this post with it – to give the traveling felines their due!
This condo attaches over any door and is made of durable canvas, so it's sturdy enough for multiple cats' playing and rough housing. Even better, the entire thing folds flat, so it's super easy to travel with! Imagine being able to give your cat a comfortable place to retreat to when you're staying in a hotel or with family.  It's exactly what you're cat needs!
One of the most exciting booths at the show was Alcott's, with their line of adventure gear for pups on the go. From leashes and collars, to beds, harnesses, backpacks, and bowls – Alcott has all the essentials. What makes them special are the unique products they've created that truly do make pet travel easier and more fun! For example, doesn't every dog need his own pup tent? How about a sleeping bag?
For the water-loving breeds they have a life jacket, inflatable pool, shade canopy, beach blanket, and shammy for drying off that's much nicer than the old towel I've been using for Ty and Buster! And, they're serious about safety, too, with their 40-piece First Aid Kit and reflective vests for dogs and people. It's always fun to see what this creative company will come up with next!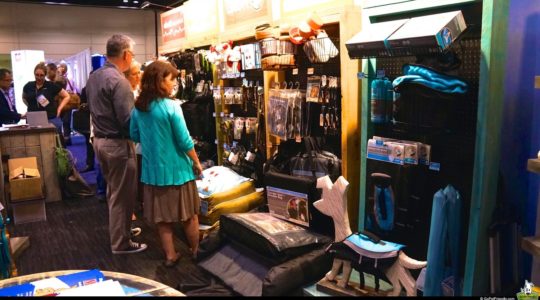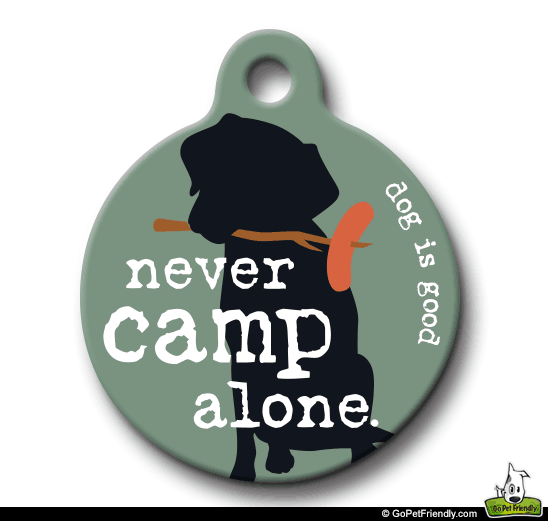 The number one concern when traveling with pets is always safety – and that includes taking precautions to make sure any that pet that gets lost is returned safely. Of course, there's no reason functionality can't be fun … and that's why we love these ID tags from PetHub! These tags allow anyone who finds your pet to access their profile via QR Code, web address, or toll free help line. And, it's easily for you to update the information provided to include a land line or local telephone numbers when you're traveling. You also have the option of providing additional information – such as required medication or additional emergency contacts – which you can't do on a normal engraved tag. Plus, the new "Never Camp Alone" design is right in our wheelhouse!
When I asked on our Facebook page what YOU wanted me to keep an eye out for at the show, Sonja said she was looking for a great pet carrier that was functional, but less outdoorsy. When I saw these gorgeous bags from teafco, I knew they were right up her alley! These carriers come in an array of vibrant colors, shapes, and sizes – so everyone with a small, furry travel companion will find one that's perfect for them.
The things I like best about the carriers are that they're very light-weight, seem durable, and are well designed – including  a smart strap for securing the carrier using the seatbelt in your car, and dual layer mesh windows that allow your pet to see out, but make it difficult for people to see inside.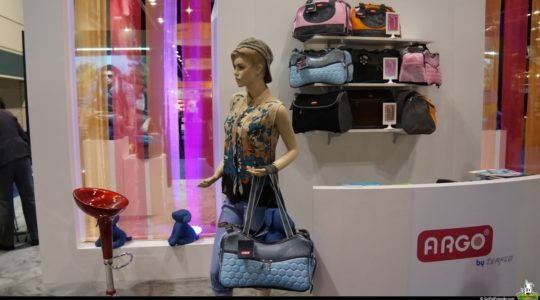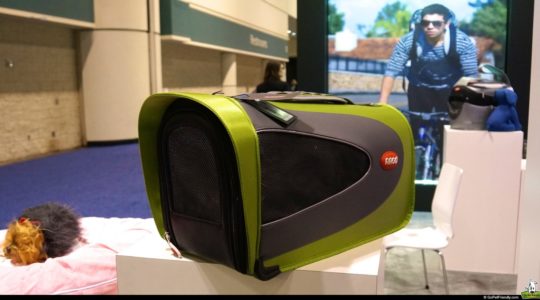 When it comes to car travel, Barbara let us know that her pup likes his booster seat for peering out the window, but he's fond of jumping out – which can cause a major distraction while she's driving! She sent us on a mission to find an option that's deep enough to keep her pooch in place. This booster from Solvit should do the trick, Barbara – and when combined with their car safety harness and tether, you and your dog will be safe and sound on your next pet friendly road trip.
Solvit also makes some of the best, most versatile dog ramps we saw at the show. Pamela and Jet Lane were both interested in light, easy to stow options that would help their dogs access the boat and RV, respectively. I think you'll find what you're looking for here, ladies!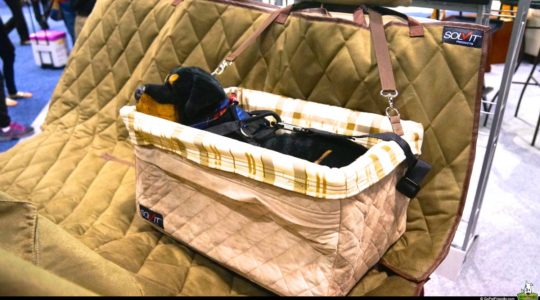 The new Sherpa® Safety Suite™ will be available June 1 and brings the carrier and car safety together in one package! Crash-tested and compatible with any brand of soft sided pet carrier, the Sherpa Safety Suite attaches to your car's standard in-seat latches to keep your pet and carrier securely in place while traveling inside the car.  Whether on a cross country road trip or a short jaunt to run errands, this combo offers a lot of piece of mind!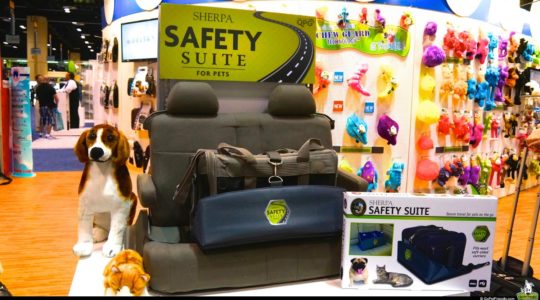 Our lives are infinitely easier because of the dog food we feed Ty and Buster. The Honest Kitchen's human grade, dehydrated diet keeps the boys healthy and looking great – and a 10 pound box makes 40 pounds of food, so storage is no problem in the motor home! Now they've introduced brilliant new packaging that makes it easier than ever to see which ingredients are in each formula, and explains the virtues of feeding your pet the best food. I only have good things to say about The Honest Kitchen – and it's nice to see some of those things now being printed on the box!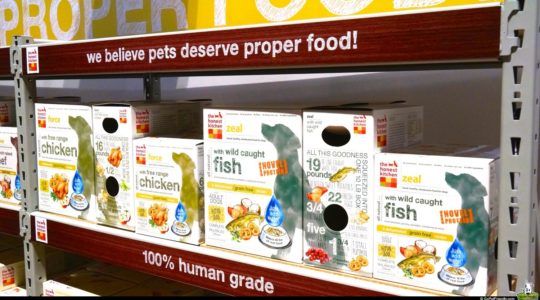 When you're serving something as delicious as The Honest Kitchen, the presentation should be as good as the food – and the dazzling bowls from ModaPet will not disappoint! Made from an food-grade ABS polymer, they are practically indestructible (perfect for traveling!), are BPA-free, and are dishwasher and microwave safe. They have a skid-proof bottom that feels like rubber, but is actually molded onto the bowl, so the bond will not break down. And the glossy finish makes them look like they're made of specialty glass! You've never seen a prettier pet bowl – in fact, I think a set of these cat bowls would make perfect ice cream dishes in the RV!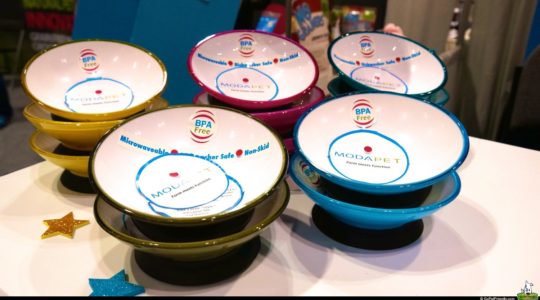 Earlier we saw the hanging kitty condo to give traveling cats a home away from home … well, Petmate has introduced a portable pet home that does the same thing for dogs! With a fleece interior and ventilated sides, this gives your pet a safe and shady retreat while you're on the go – and, the collapsible design makes storage a snap when you're not using it! Providing your pets with a comfortable, quiet retreat when they're in an unfamiliar environment helps them relax. This could be the perfect option for your next trip!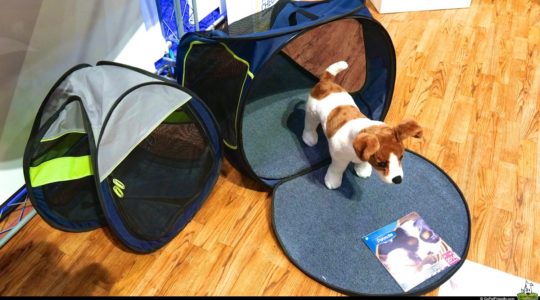 If your dogs are as big as mine, the portable pet home from Petmate won't be quite cut it – but one of these pet gazebos from Advantek would be fantastic! We see people setting up fencing for their pets in RV parks and campgrounds all the time – and sometimes it looks like a stiff breeze would blow it down. These pet gazebos set up easily without tools, are sturdy, provide shade for your pet, and come with a travel-friendly tote bag. Have more than one dog? The gazebos can even be connected to provide more space! It's a great solution to keep your pet safe while you're camping. Roxanne had us scouting out X-pen fencing and Loon's Haven Family Campground was interested in anything camping related – I think this covers both those requests!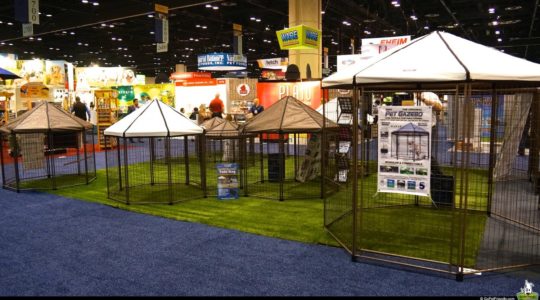 Keeping your pets entertained while you're traveling requires some creativity – especially if you have an aggressive chewer. Diane asked me to keep an eye out for good toys for those dogs that chew through everything, and the options from BIONIC are going to be you're best bet, Diane! Check out this testing chamber that pulls, twists, and tries to mutilate the BIONIC Urban Stick – to no avail. In fact, by the end of the three-day show, the machine had taken quite a beating and the toys still looked fine!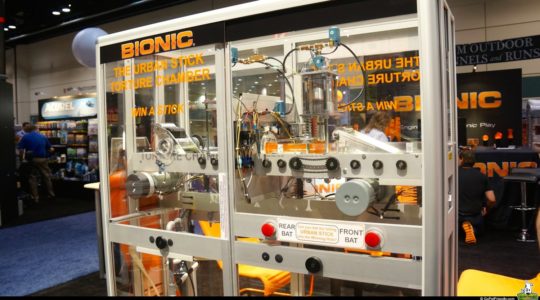 BIONIC makes their toys out of a revolutionary food-grade material and guarantees them to be indestructible. They come in five different shapes, including several that can be stuffed to give your pup something a little something extra to keep him busy, and they float, so they're great for the pool or lake!
Earth Conscious Outfits by Lupine
Stunning and environmentally friendly – yep, these new collars, leashes, and harnesses from Lupine are both! Made from recycled plastic bottles in nine designer colors inspired by the natural world, they stopped me in my tracks. They're soft to the touch, yet strong and come in all sized for dogs and cats. I can't wait until they start making a Martingale version, because that turquoise color would be lovely on Ty and Buster!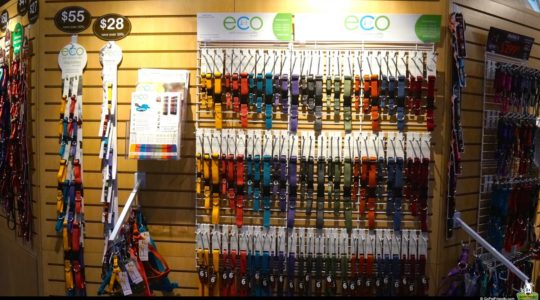 While we're on the subject of environmentally friendly products, let's talk about the new PoopBags – made from recycled content and newly USDA certified materials.  These are the first bags on the market to be a USDA Certified Biobased Product!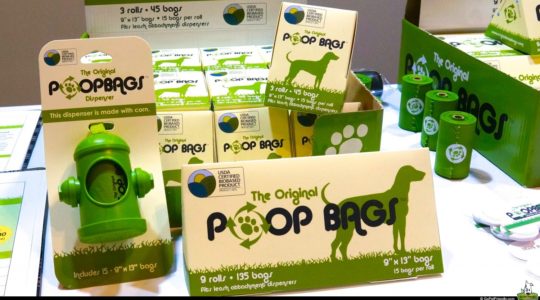 There's just no way to cover all the great products and people from Global Pet Expo in one blog post!  We've given you enough to chew on for today, but keep an eye out … there will be more conversations about great pet travel gear to come!
Amazon Affiliate Disclosure: GoPetFriendly.com LLC is a participant in the Amazon Services LLC Associates Program, an affiliate advertising program designed to provide a means for website owners to earn advertising fees by advertising and linking to amazon.com, audible.com, and any other website that may be affiliated with Amazon Service LLC Associates Program. As an Amazon Associate, the owner of this site earns a commission from qualifying purchases.
(Visited 440 times, 1 visits today)