Occasionally it's nice to take a break from living in the Winnebago and spread out in a hotel room. We got that opportunity last week when Rod spoke at a conference held at the Hilton San Diego Bayfront. Hilton is not one of the hotel chains you typically see at the top of pet friendly lists – but if other Hilton locations are taking notes from this one, that will be changing. This was the best experience we've ever had at a hotel! From the pet policy, to the facilities, to the location, to the staff – the Hilton San Diego Bayfront is doing it right.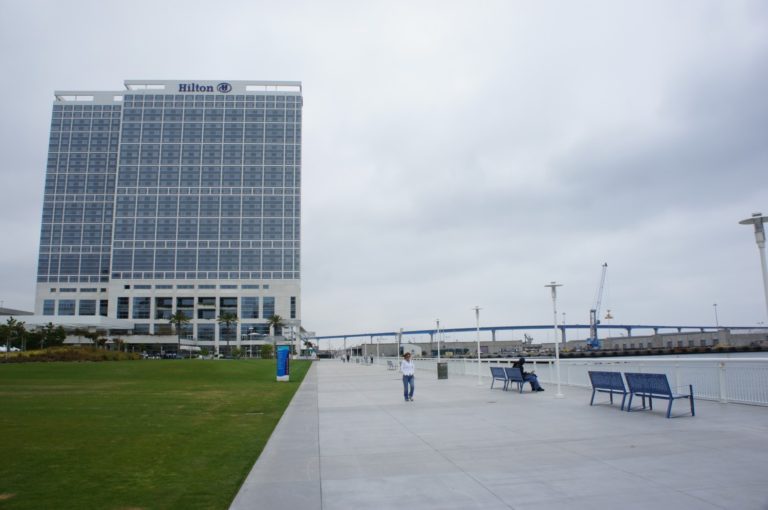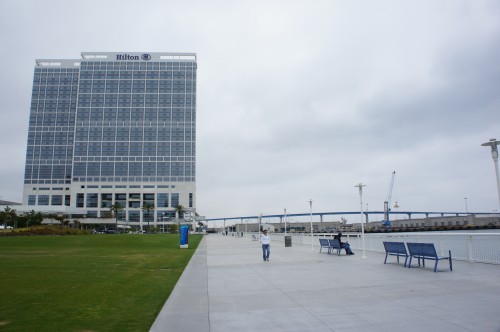 Pet Policy
We were glad to see a liberal 75 pound weight limit. Many hotels that consider themselves pet friendly enforce weight restrictions that are much lower – some as unreasonable as 20 pounds. Even with the 75 pound weight limit, Buster's put on a few pounds lately, so he sucked in his tummy when we went through the lobby … just to be safe.
Up to two pets are allowed in each room
Pets must weigh less than 75 pounds
The pet fee is $50, regardless of the number of days you stay
Pets may be left in your room unattended, but if they are, they must be crated
If I could make one suggestion it would be that the hotel removes it's weight restriction entirely. Really, if you're already at 75 pounds, what could it hurt?
Hotel Facilities
The Bayfront is San Diego's newest waterfront hotel, and the decor is clean and modern. The lobby is open with a soaring ceiling, and comfortable seating areas can be found all around the hotel if you're looking for a cozy spots. With two full-service restaurants and a Starbucks coffee shop on the premises, all of which have pet friendly outdoor seating areas, there's no need to survive on room service. And, the guest rooms are top notch.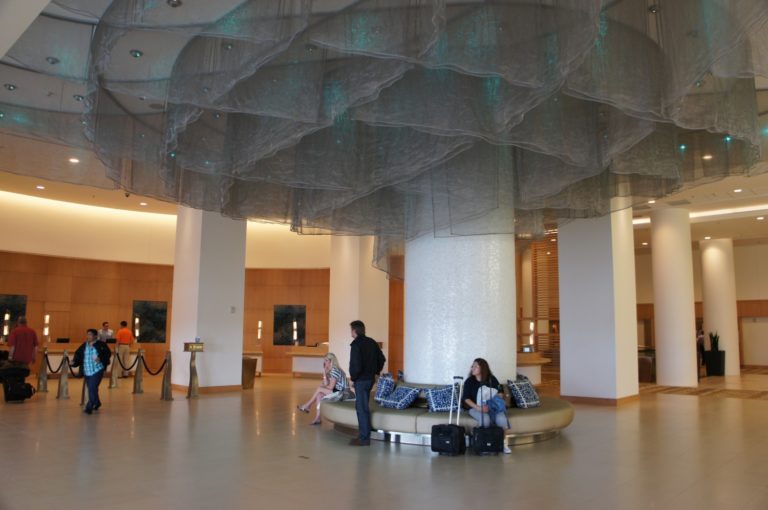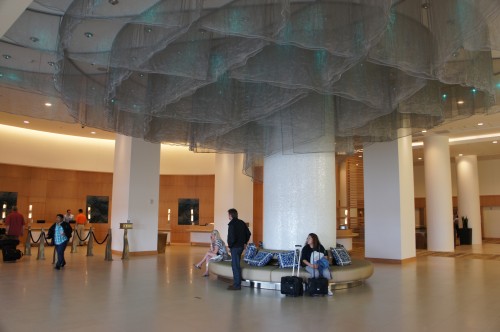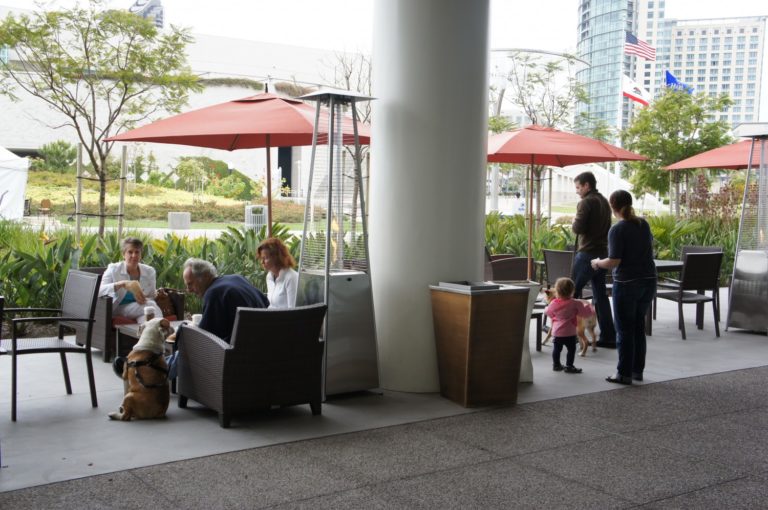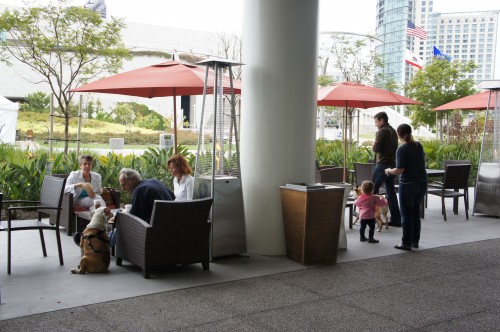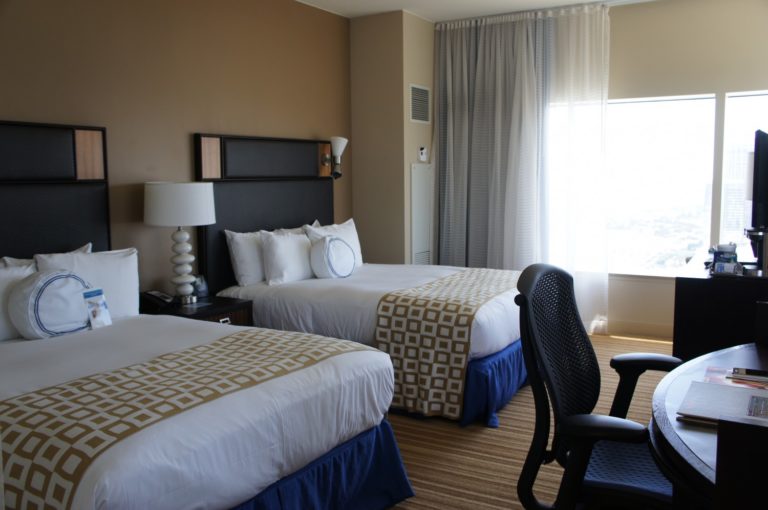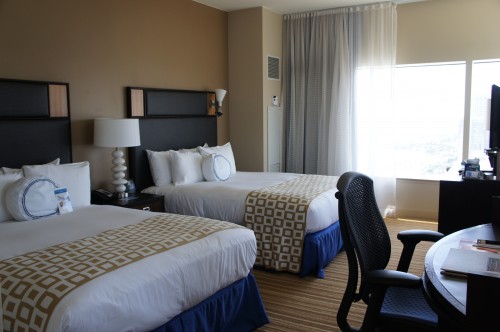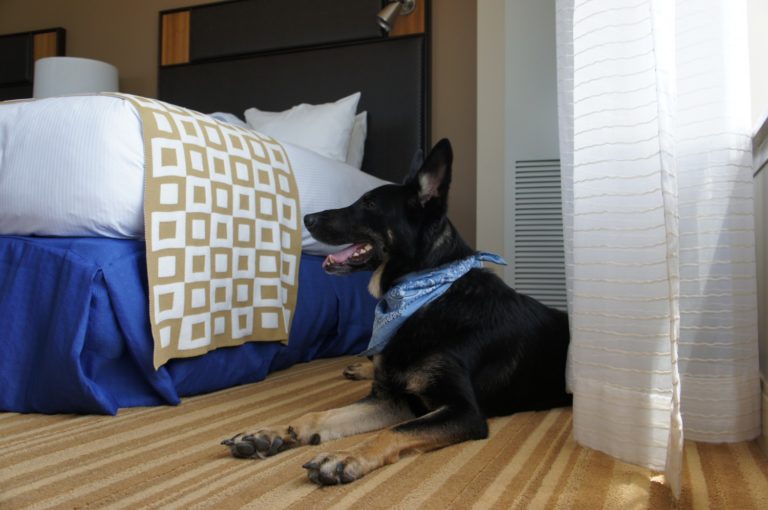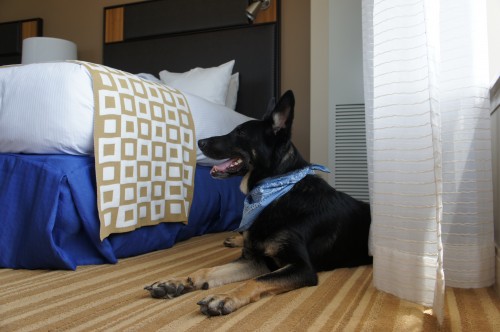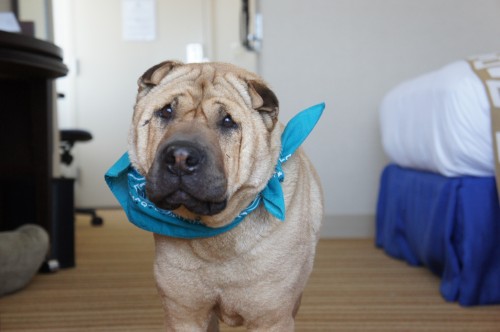 Location
The hotel's location couldn't be more convenient for people with dogs. Two blocks from the Gaslamp Quarter and a couple miles from Balboa Park, you're close enough without being right in the thick of things. There is a four-acre park next to the hotel, which is perfect for those late evening walks. And, exiting the hotel's lower level will put you right on the bayfront promenade – whether it's a short stroll down to Seaport Village or a four-mile walk out to Harbor Island, you'll have plenty of space to get your exercise.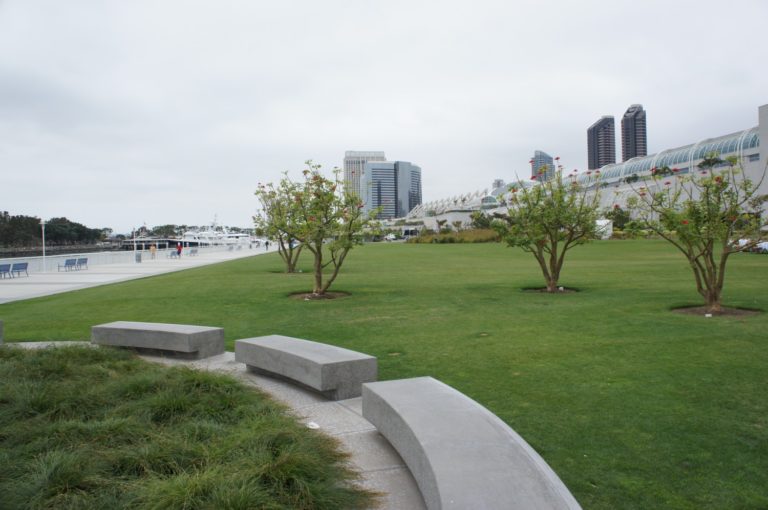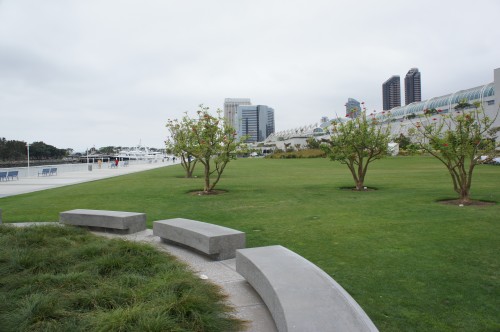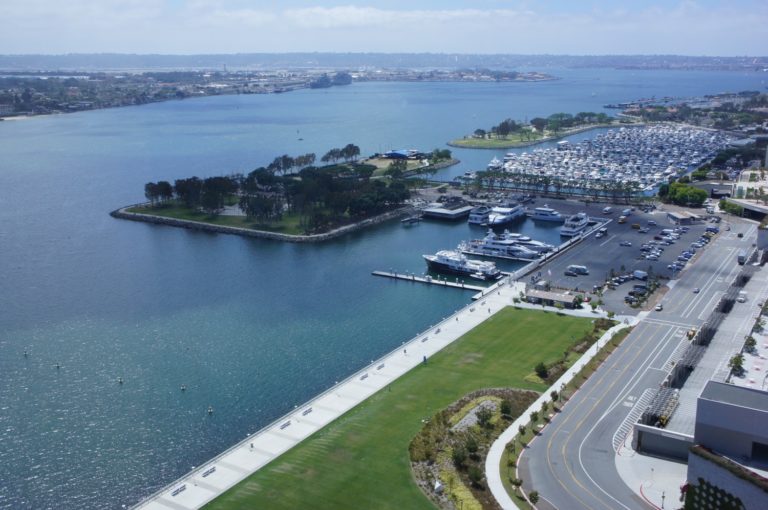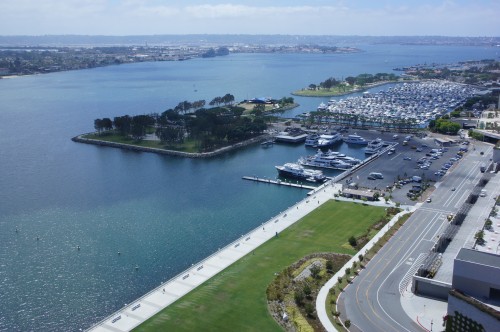 The Staff
I have never been at a hotel with a more helpful and friendly staff. From the bellman who phoned around to find us the best parking lot for the Winnebago, to the hostess at the restaurant who smiled at Buster every time she saw him, they made us feel truly welcome.
And so, for three blissful days, this was my office: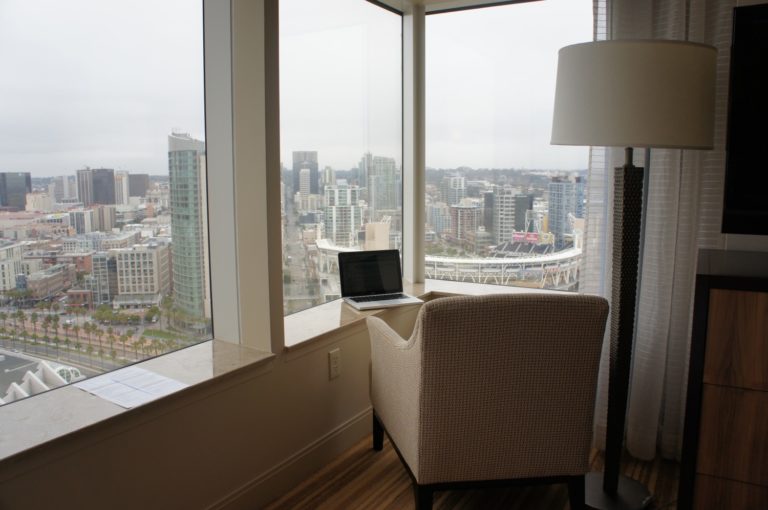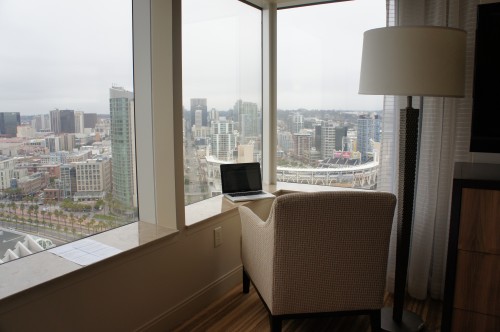 And this is what I looked out on: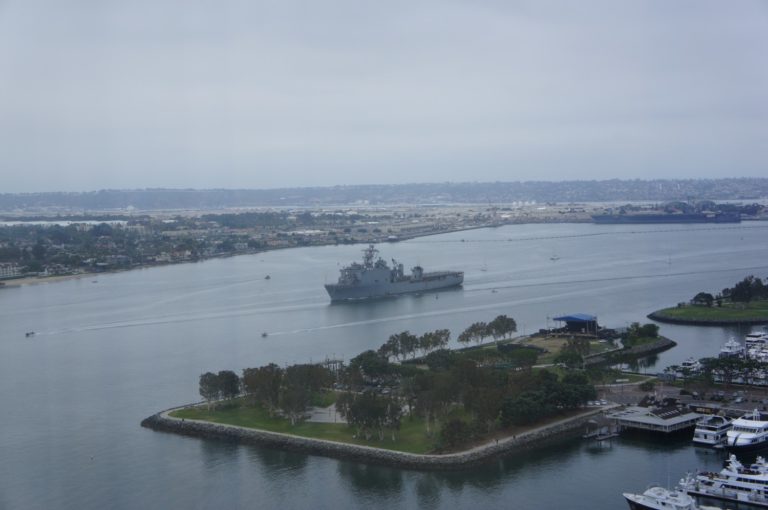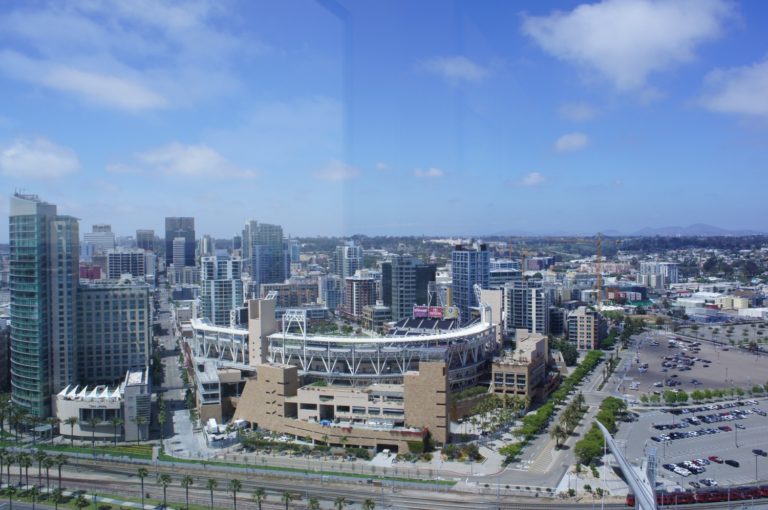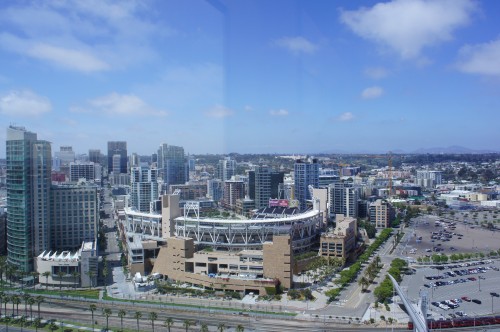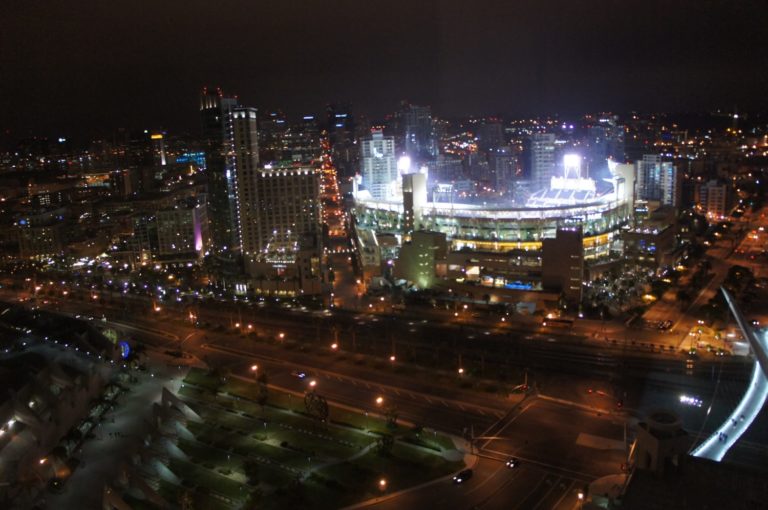 If you're looking for a pet friendly hotel in San Diego, don't overlook this gem! I'm curious if other Hilton hotels are as great as this one. Have you stayed at a Hilton recently? What was your impression of their pet friendliness?
(Visited 1,428 times, 1 visits today)