We're happy to bring you this guest post by Christine Gillow, author of Raising Ruby.
My husband Jeff and I have not taken a vacation without our 65-pound shepherd mix, Kiva, in nearly 13 years. Well, that's not completely true; we once spent 3 days without her in Las Vegas, but we missed her desperately. Trust me, it took a lot of mojitos by the pool to get over it.
Kiva has frolicked, hiked, and doggie paddled in 21 states and she's been our co-pilot on four cross-country drives. I always say that of the three of us in the car on long trips, she's definitely the best-behaved! She's a perfect traveler—patient and quiet during the ride, gleeful and eager as soon as we arrive. She's also a perfect hotel guest.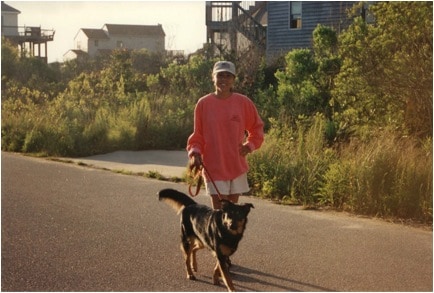 Isn't it true that canine travelers are usually the most polite? In all the years we've stayed in pet-friendly hotels, I've never once been woken up, witnessed anything unpleasant, or been disturbed by any canine guests. Most people wouldn't even think to bring their pets on vacation if the furry ones weren't well-mannered travelers. So why do some hotels try to overcharge and under deliver on their pet-friendly rooms?
In our early travels with Kiva, affordable pet-friendly accommodations were challenging to find. But over the past few years we've had no trouble locating hotels that accept larger dogs. Of course, when it comes to the rooms, it's a roll of the dice. Most pet-friendly rooms are great, but they can vary, even within the same chain. The pet-friendly room might wind up being very small, or maybe it's inconveniently located, or has a beautiful view of a brick wall. But as long as the hotel is maintained well and the room is very clean, I'm happy. For us, traveling with dogs means it's a dog-centered vacation—we spend most of the day outdoors, and in the evening it's always take-out enjoyed in the room with the company of our best friends.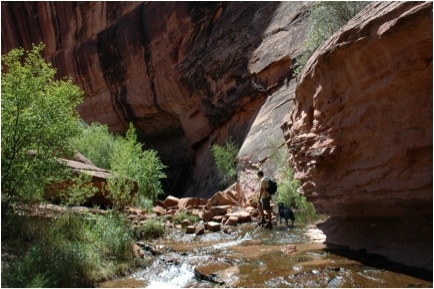 Last fall, we took an off-season road trip to Aspen, CO with Kiva and our 18-month-old Labrador retriever/golden retriever service puppy in training, Ruby. We prefer to travel off-season with our dogs so we can all enjoy the temperate weather and lack of crowds. Plus, it's easier to find reasonable hotel rates. Because we need pet-friendly lodging, I usually call around beforehand just to be safe, but this time I didn't book a room ahead. It was off-peak in Aspen—before ski season but with the leaves already off the trees—we just hopped in the car and didn't bother with reservations. It was a beautiful ride from Denver due west, and the weather was glorious. But as we rolled into town in late afternoon, I started to get slightly concerned…because let's be honest, we did need accommodations for two fairly large dogs.
We pulled up to a hotel that looked promising. It had plenty of grassy areas and the parking was convenient. The lobby was small but orderly, and yes, they accepted dogs. We were given a rate of $119 per night (plus tax); fair enough, although they also charged a $75 non-refundable pet fee which I thought was high. I was just relieved that they had no issue with the two dogs, so we booked the pet-friendly accommodations for two nights, got our bags out of the car, and took the dogs to the room.
You may have noticed that I've not mentioned the name of this hotel. And I'm not going to, because I have a little more consideration than this hotel's management had for us.
We walked upstairs and opened the door. The room was unclean. It smelled. Things were stained and sticky. There was a cobweb hanging from the corner of the ceiling that was easily the size of a pillow … and let's not even talk about the pillows.
It was unacceptable, but at the same time, we were worried. We had never been to Aspen before and it's an expensive town. Was this all we could get in Aspen at a reasonable price, even off-season, with two dogs?
We needed to stretch our legs after the drive, so we left the room and took the dogs for a walk. We stopped into a couple of hotels along the way and they were happy to show us their pet-friendly rooms. Each was clean and had nice accommodations for about the same price as the first place. Relieved, we headed back, and I settled the dogs in the car as Jeff went to the front desk to check out. Or so he intended.
Management wasn't having it. Because it had been exactly one hour since the time we checked in, the manager on duty would not refund our money. For both nights! He was not only impolite and insulting, he also refused to check the room to verify our claim that it was unclean and unacceptable.
My husband came back to the car, livid. I grabbed my phone and finally got a hold of a senior manager who was "not actually on site." That person was even more rude and argumentative than the first. Under no circumstances would he consider a refund and he would only offer a small discount on the two nights. I told him I had no intention of either staying in or paying for a room in that condition, I would immediately put the charge in dispute with my credit card company, and I was going to post our experience with this hotel on every travel site on the web I could find, including GoPetFriendly!
Perhaps that's what finally got through to him.
Minutes later, he called back. Totally different tone of voice. He had gone up to see the room himself (wasn't he off-site?) and found it exactly as we had described it. Apologies. Full refund.
An hour later, Kiva and Ruby were happily munching treats while my stressed-out husband and I started to relax over a bottle of wine. This time we were in an awesome pet-friendly hotel with the bonus of a great location for hiking with the dogs. To be honest, I would never even have considered this particular upscale chain because of cost (especially in Aspen), but after the horrendous experience at the first hotel, we just took a chance and stopped in to speak with the manager. The off-season rate we were given was around $200 per night—over our budget, but they don't charge an extra pet fee, so that made the total price comparable to the first hotel. And it was for a suite! With a fireplace and two balconies! It was Ruby's last weekend with us, a special occasion, so we just couldn't refuse.
The hotel had a great pet-accessible outdoor lounge with beautiful views and they also provided special pet amenities. The staff was warm and friendly, too. I'd love to mention the name of this chain, but I wouldn't want a web search to result in linking their name with the negative treatment from the other hotel described above. If you're curious, drop me a line over at Raising Ruby and I'll give you the scoop!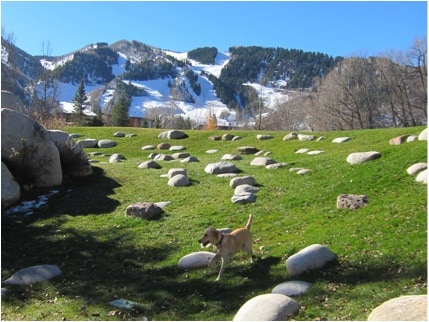 After traveling with pets for years, I never would have expected a situation like this, but it happens. Learn from our near-disaster experience! We did!
TIPS
• Always ask to see the room before you check in. The staff at a reputable hotel will be happy to show you their pet-friendly accommodations.
• Never feel you have to take an unclean, unsanitary, or otherwise unacceptable room just because you're traveling with pets.
• A hotel may advertise itself online as "pet-friendly" and rank very high with that search term, but that does not automatically mean it's the best choice in town.
• Ask if the hotel provides special amenities for your pets. Some even offer discounts at local pet supply retailers.
• Off–season travel means wider pet-friendly availability and great rates in hotels that are typically in a much higher price range. It also means no crowds and comfortable weather for pets!
GPF Note: You, like Christine, can also write a review of the places you stay on the GoPetFriendly website to help other pet travelers decide which hotels are right for them.
Author bio: Christine Gillow blogs at Raising Ruby about her experience training and caring for a  golden/lab service puppy for Canine Partners of the Rockies (CaPR). Ruby is currently in training to become a service dog for an individual with a mobility-related disability. CaPR raises, trains and places highly-skilled service dogs with Colorado residents to facilitate their greater independence. CaPR is accredited by Assistance Dogs International.
Photo Credit: All photos in this post are by Christine and Jeff Gillow

Planning a pet friendly trip of your own? We'll make it easy:
Pet Friendly Hotels | Pet Friendly Destinations | Pet Friendly Activities
Amazon Affiliate Disclosure: GoPetFriendly.com LLC is a participant in the Amazon Services LLC Associates Program, an affiliate advertising program designed to provide a means for website owners to earn advertising fees by advertising and linking to amazon.com, audible.com, and any other website that may be affiliated with Amazon Service LLC Associates Program. As an Amazon Associate, the owner of this site earns a commission from qualifying purchases.
(Visited 203 times, 1 visits today)