It's common knowledge among pet travelers that most of the national parks in the US have strict policies regarding pets, and Carlsbad Caverns in New Mexico is no exception. Fortunately, a helpful RVer gave us a heads up about the restrictions we'd run into with Buster and Ty and saved the day!
Pet Restrictions at Carlsbad Caverns
Weather is always the unknown variable when you're traveling, and at Carlsbad Caverns it could have derailed our plans. For the safety of the pets and because vacationers may not have experience with the powerful New Mexican sun, the park has instituted a policy that prohibits visitors from leaving their pets in their vehicles when the temperature is over 70 degrees. Considering highs in the winter average in the 50s and 60s, it's no wonder we had to stick around longer than planned to get a day in late April in the 60s.
The park does provide kennels for $6 per day in an air-conditioned room, but they are not attended and employees do not handle the pets, so any required potty breaks are your responsibility. Pets are placed in size-appropriate cages and water is provided. In addition, you're welcome to bring their bedding, toy, and food.
For a lot of pets and their people, this would be a perfectly acceptable arrangement. But, as we've discussed many times, Ty and Buster have some challenges and they're not used to being in crates anymore. Leaving them in this kennel with other pets and strangers coming and going would be a recipe for disaster for our boys.
Traveling with dogs that have issues means you need to accommodate their limitations … and for us that meant hanging out until the clouds blew in and the temperature dropped so Buster and Ty would be allowed to wait for us inside the Winnebago. Our schedule is flexible, so the delay didn't matter much – but your vacations plans may not be easily rearranged. If you're planning to visit Carlsbad with your pets, we wanted you to know what to expect.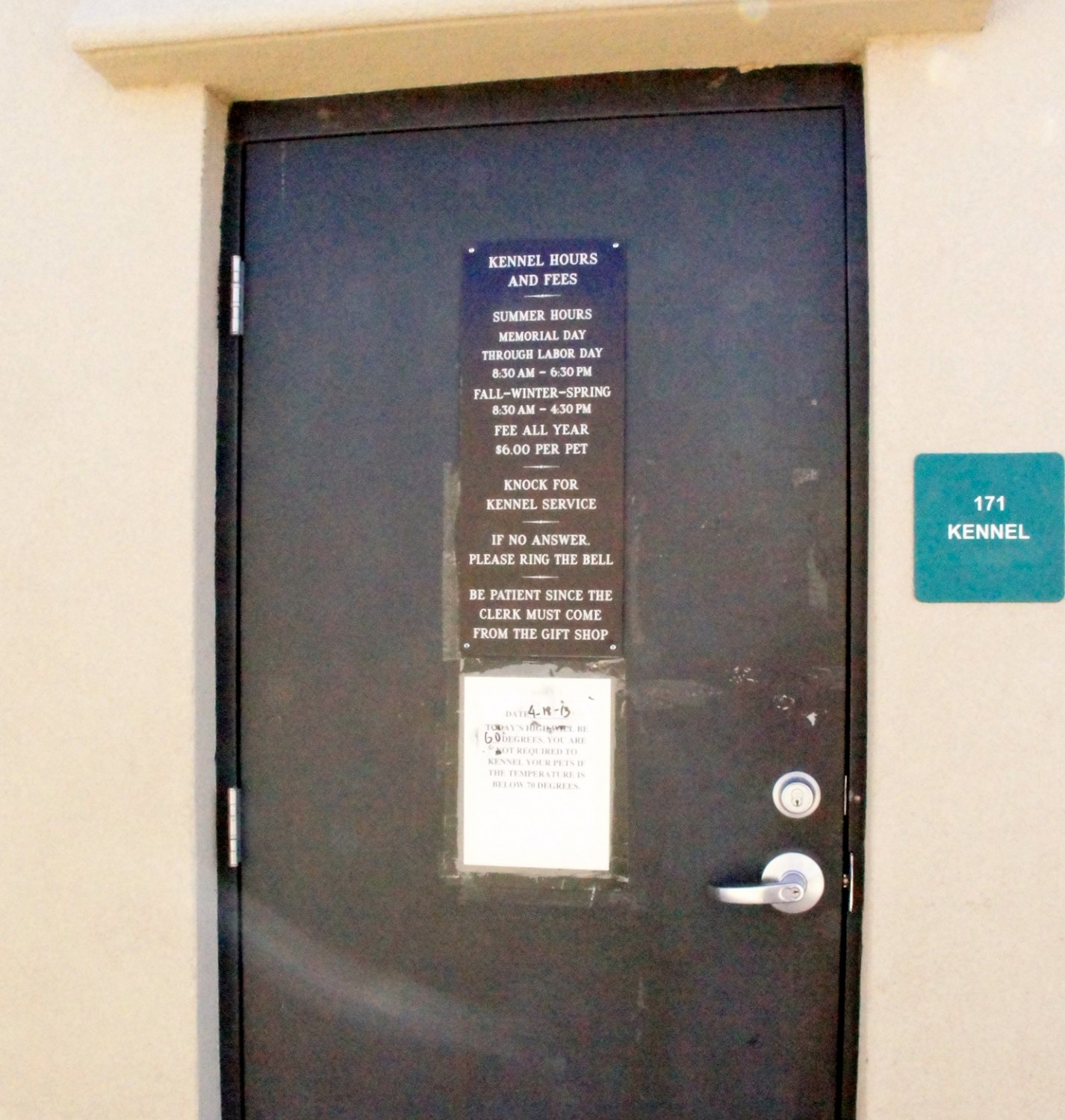 In addition to the kennel requirement, pets are not allowed on any of the park's more than 50 miles of primitive backcountry trails. They could join you for a ride around the 9.5 mile Walnut Canyon Desert Drive, a gravel road passing through desert scenery. Unfortunately, because the road is narrow and winding, it's not recommended for motorhomes, so we have no pictures for you.
Inside the Cave
There are a number of self-guided and ranger-guided tours of the cave available and the opportunity to see the nightly departure of the Mexican free-tailed bat colony leave the cave during the summer months. It would be easy to spend a whole day exploring, but based on the excellent advice of the GoPetFriendly.com Facebook community, we opted for the self-guided tour through the natural entrance.
The paved path twists down just over a mile, dropping more than 750 feet through a huge hole in the Earth. Taking the elevator down would have meant missing out on some of the most interesting parts of the cave! And, between the audio tour we picked up in the bookstore and the plaques along the way, in just a few hours we were thoroughly educated on how the cave was formed and it's history and inhabitants. The dogs were happy and so were we.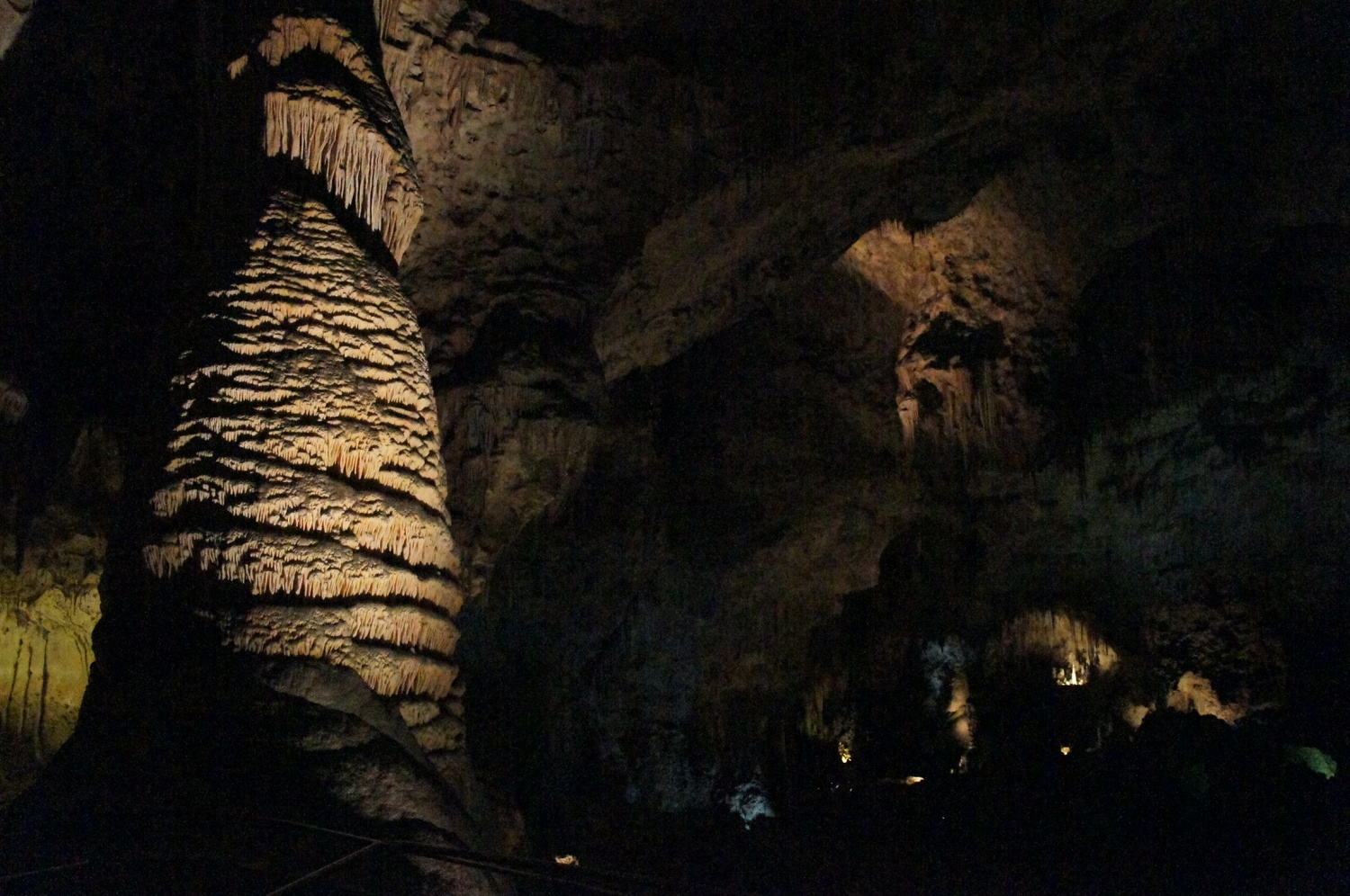 To Go … Or Not To Go
Deciding whether we're going to visit places like Carlsbad Caverns is ruff. This is a world-famous natural wonder and on some level I feel like we should experience it. On the other hand, the policies are certainly not what I'd consider pet friendly. It's completely understandable that pets aren't allowed in the cave, but trails at the Grand Canyon and Acadia welcome pets – why not allow them here?
Ultimately, we leave with mixed feelings – glad to have seen it at all, but resentful of the polices that keep us from digging deeper because we don't want to leave the dogs any longer than necessary and we won't hit the trails without them. Should we wrack it up to the "pet traveler's dilemma?" What are your thoughts?
Planning a pet friendly trip of your own? We'll make it easy:
Pet Friendly Hotels | Pet Friendly Destinations | Pet Friendly Activities
Amazon Affiliate Disclosure: GoPetFriendly.com LLC is a participant in the Amazon Services LLC Associates Program, an affiliate advertising program designed to provide a means for website owners to earn advertising fees by advertising and linking to amazon.com, audible.com, and any other website that may be affiliated with Amazon Service LLC Associates Program. As an Amazon Associate, the owner of this site earns a commission from qualifying purchases.
(Visited 4,842 times, 1 visits today)