Before we started traveling full-time I was a chronic planner. I guess it's in my genes … just ask my sister about the three-ring binder she assembled when she hosted Thanksgiving a few years ago … or talk to my baby sister about the itinerary for her wedding this fall – she's scheduled the entire four-day weekend, right down to nap time!
I used to be the same way. Combine my internal scheduler with the German temper I inherited from both my mother and my father, and a stubborn resistance to ever alter a plan once made, and you'll see that something had to give. I gave up making plans, and it's worked out wonderfully.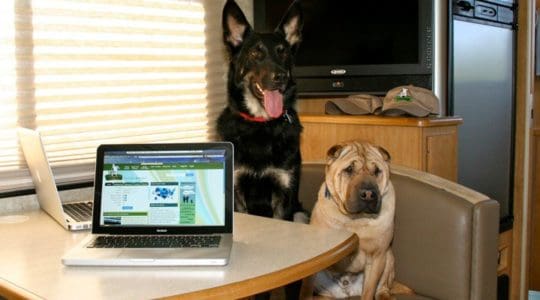 Not having plans has given us so much flexibility, but the transition to spontaneity was a real adjustment for this recovering accountant! Deciding each morning what that day would hold didn't come naturally. Then I noticed something … when we had reservations down the road, but wanted to stay put an extra day, it felt like our plans were shoving us along. Likewise, when we were ready to move on, but had paid up until the end of the week, it felt like we were trapped. I started to resent my own plans – and that's when I stopped making them.
With only a few exceptions (like the campground in Austin, where we spent a chunk of the winter), we don't make reservations. And when we show up, we don't commit to staying more than a night or two. Only once in the past 16 months have we been caught without a place to stay, and people are always happy to hear we'll be staying a little longer.
I've gone so far over to the "non-planning" side that now there are only two situations that cause me to go back to my old ways.
Special Occasions
Unless you make arrangements, it's easy for a special occasion to pass without much fanfare. I didn't want that to happen next month, when Rod and I will be celebrating our 10th wedding anniversary, so I bit the bullet. On the advice of our Facebook fans, I went ahead and booked a nice, pet friendly hotel in Newport, Rhode Island for five nights. We've agreed that we're going to leave our computers behind and enjoy some down time with each other. Because it's on the calendar, we've started to look forward to it, and THAT is one of the good things about planning in advance. I'm sure the anticipation will make our little vacation even sweeter.
Because I Have To
The other time I fall back into my planning old habits is because I have to. Today we'll be arriving back in Pennsylvania, and there are so many things to schedule! Time with our family, the Winnebago needs service, Buster needs his check-up at the vet, I've scheduled a check-up for myself, there's a pet products show in Atlantic City I'd like to go to, and we'll be spending a few days down in Philadelphia visiting friends. Fitting it all together is like trying to force pieces from different puzzles into one cohesive picture.
It reminds me why I gave up planning!
Planning a pet friendly trip of your own? We'll make it easy:
Pet Friendly Hotels | Pet Friendly Destinations | Pet Friendly Activities
Amazon Affiliate Disclosure: GoPetFriendly.com LLC is a participant in the Amazon Services LLC Associates Program, an affiliate advertising program designed to provide a means for website owners to earn advertising fees by advertising and linking to amazon.com, audible.com, and any other website that may be affiliated with Amazon Service LLC Associates Program. As an Amazon Associate, the owner of this site earns a commission from qualifying purchases.
(Visited 77 times, 1 visits today)