Our dogs are not perfect. Some days I wouldn't even go so far as to say they're well behaved. This may be surprising for some of you, as it was for some on-line friends we finally got to meet in person.
Back in Portland, Maine, we met up with Nancy and her beautiful Collie, Finnegan.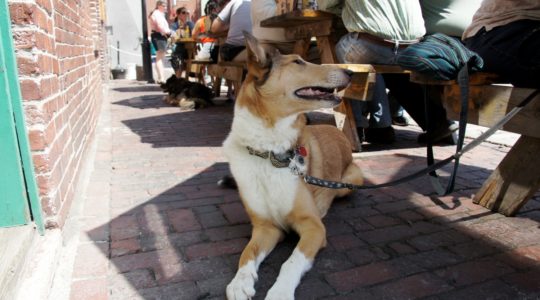 And in Portsmouth, New Hampshire, we got together with Angela and Tim and their dogs, Princess Xena and Boris Karloff.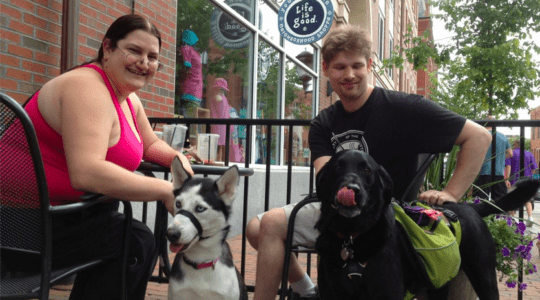 You'll notice there are no pictures of these wonderful dogs with Ty and Buster.
That's because our boys have issues.
Ty doesn't get along with other dogs and only tolerates a handful of people. (Rod and I are happy to count ourselves among the chosen few, but  we believe it's only because we scoop his food.)
Buster gets along fine with other dogs … except when he's on leash. Ever since we found him as a stray when he was about a year old, Buster's barked at other dogs when he's on leash. As it turns out, he's actually a little insecure around other dogs. So, when he finds himself tethered to me the slow-moving anchor, his perceived ability to escape evaporates and his anxiety increases. Buster's solution is to bark like crazy to keep the other dogs from approaching him … and it works. No dog or person in their right mind would walk up to him in the middle of an outburst.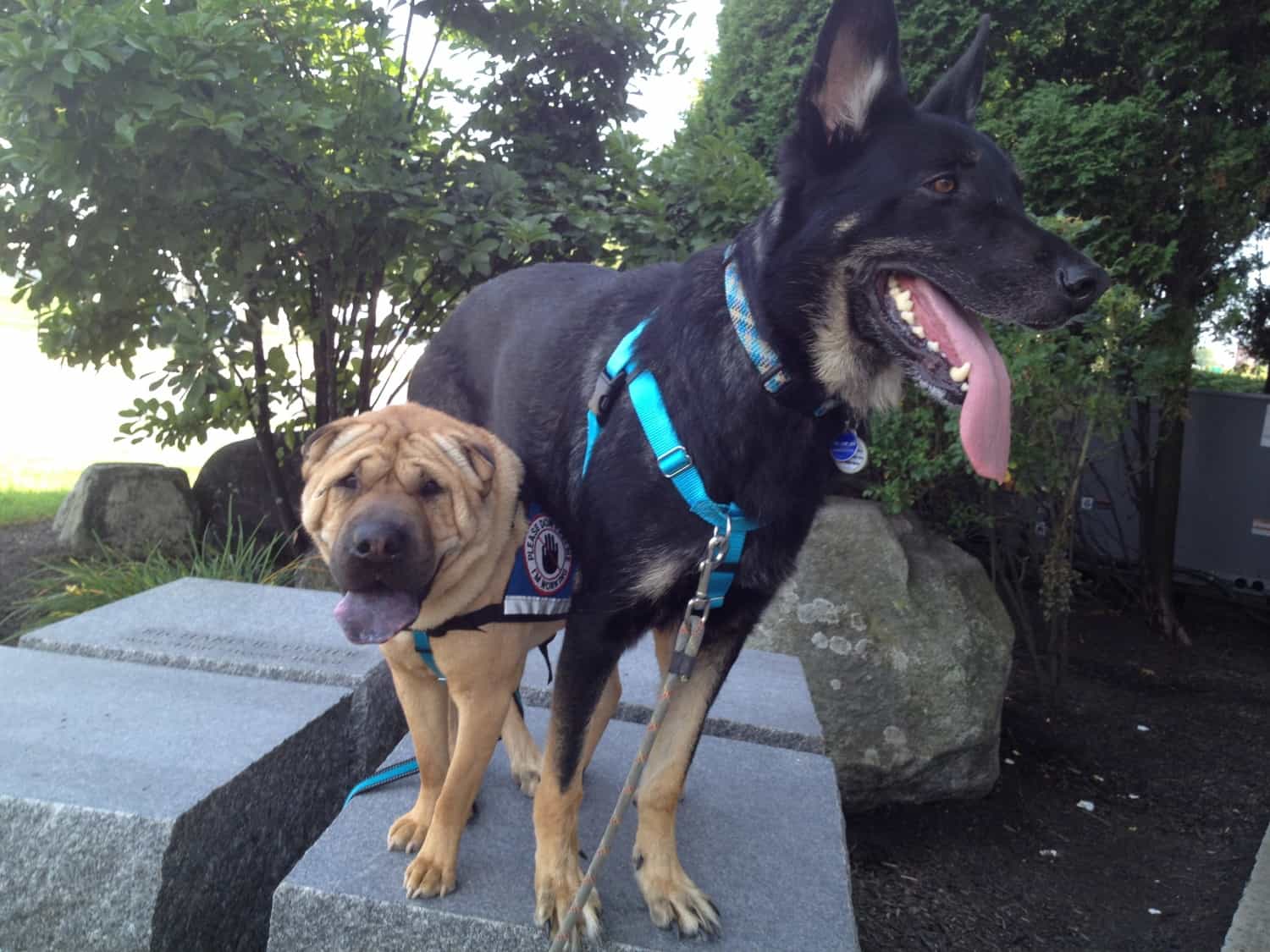 So there you have it … we travel with one dog that doesn't get the "friendly" part of GoPetFriendly, and one that couldn't be more friendly but occasionally acts like a deranged lunatic on leash.
How do we do it?
We know our dogs' limitations and we do our best to make accommodations for them. For example, in both cases above, I went to lunch with our friends and Rod stayed behind with our dogs. Buster and Ty simply aren't capable of going to lunch with other dogs and we're not going to set them up to fail. We also work hard at making sure Buster's far enough away from other dogs that he doesn't feel threatened when he's on-leash. That means we miss some fun dog-centric events, that we cross the street when we see another dog coming, and that we can't take him places where it's impossible to give him his space. For Ty, we got a vest to keep strangers at bay and it's working great!
Why do we do it?
I suppose we could have waited until we had the perfect dogs to start traveling, but that might have taken a lifetime! Most dogs could benefit from a little more training in some area or another – if you put traveling off until the training is done, you might never get going! Being on the road with our boys has certainly allowed us to work with Buster and Ty on the behaviors we'd like to change and over the miles they've made a lot of progress. Rod and I have also learned a lot about ourselves – there's nothing like dogs behaving badly to help identify which of your own personality traits need some tweaking.
We also want to you know that if we can do it, so can you!
Having dogs that are the picture of perfections isn't a requirement to have a great pet friendly trip. There's nothing quite like planing a vacation that considers your dog's needs and sharing it with him. I don't care that we don't get to do and see everything … because the things we do are so much better with Ty and Buster along!
Planning a pet friendly trip of your own? We'll make it easy:
Pet Friendly Hotels | Pet Friendly Destinations | Pet Friendly Activities
Amazon Affiliate Disclosure: GoPetFriendly.com LLC is a participant in the Amazon Services LLC Associates Program, an affiliate advertising program designed to provide a means for website owners to earn advertising fees by advertising and linking to amazon.com, audible.com, and any other website that may be affiliated with Amazon Service LLC Associates Program. As an Amazon Associate, the owner of this site earns a commission from qualifying purchases.
(Visited 574 times, 1 visits today)