With most activities, having the proper equipment makes the activity safer and more fun. Pet travel is no exception, and you'll find a wonderful selection of perfect travel gear when you start your search. Sometimes though, there's so much selection that it can be overwhelming. Today's guest post by Kendra Moore, owner of PetsMadePortable.com, walks us through some things to consider when choosing the best portable crate for your dog.
**** 
My husband and I decided to take a pet friendly road trip to a popular camping destination about 5 hours from our home. When we started planning our trip, we never questioned whether we would be bringing our Boxer, Abby, with us. She's part of the family and we knew she'd want to come with us and would be a special part of our camping adventure.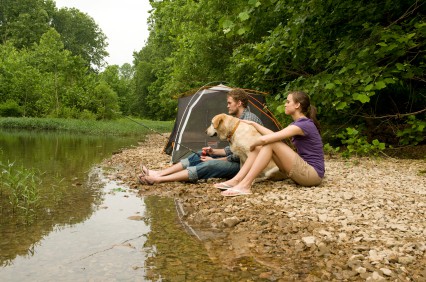 We also knew, however, that bringing Abby would add another element to the packing process. Bowls, food, leashes, toys and her bed were all essentials, but we also needed something to keep her secure during the drive and at our campsite. Allowing her to be loose in the back of our SUV wasn't the answer, but I wasn't quite sure where to start. I started looking into portable dog crates because I figured they would be a comfortable way for her to travel in the car and also be useful at the campsite.
What I didn't expect was the wide variety of crates that are available! Now came the hard part … what kind of portable dog crate to buy? Plastic, soft-sided or wire – there were so many choices and I was a bit overwhelmed.
Narrowing down the option seemed the best approach. I was able to rule out a soft-sided crate for Abby. At 70 pounds and still acting like a puppy, I knew that she would eat her way through that type of crate before we were halfway to our destination. So it was down to plastic and wire crates. Nowadays they also make Pet Tube Car Kennels, which are pretty slick for car travel, but they weren't an option at the time of our trip.
The plastic crate seemed like a good choice for us at first. My favorite feature of the plastic crates is that many of them are light and easy to transport. However, the plastic crates have less open surface area and I was concerned about ventilation and air flow for our summertime trip. Plus, I wanted to find a crate that was easy for Abby to see out so she'd still feel part of the group at the campsite. She is a friendly and social dog who likes to be a part of everything and I felt that she'd be more isolated in a plastic crate. I was convinced that for our particular dog a wire dog crate would best serve our purpose.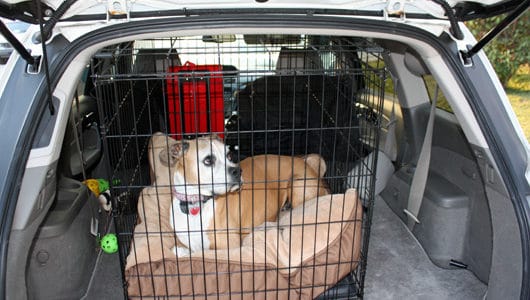 As it turned out, the wire crate was the right choice for Abby for a few reasons. It gave her adequate air flow, so I didn't have to worry about her overheating. I also liked that she could stand up in her crate in the back of the car while we traveled and be able to see out the back window – not quite like being able to stick her head out the window and feel the wind in her fur, but definitely a close second. I didn't want her to feel like we had stuck her in the back and forgotten about her! Lastly, I really liked that the model that we chose folds up, so it's easy to store when we're not using it.
So, you ask, how did Abby do on our 5-hour road trip? She did awesome!!! The wire crate fit perfectly in the back of our SUV and we secured it to the floor to prevent it from moving in case of an accident. Abby jumped right up into the back of the car and climbed in. She slept most of the trip, but definitely spent her fair share of time gazing at the sights out the windows. Best of all though, we knew that she was happy in her crate and was also safe and secure for the adventure ahead. And, for the times we couldn't keep an eye on her, the crate kept her from getting lost in the wild. Abby was definitely a happy camper!
This post was written by Kendra Moore, owner of PetsMadePortable.com, an online pet travel supply store. If you're looking for a portable dog crate they've got a great selection!
Planning a pet friendly trip of your own? We'll make it easy:
Pet Friendly Hotels | Pet Friendly Destinations | Pet Friendly Activities
Amazon Affiliate Disclosure: GoPetFriendly.com LLC is a participant in the Amazon Services LLC Associates Program, an affiliate advertising program designed to provide a means for website owners to earn advertising fees by advertising and linking to amazon.com, audible.com, and any other website that may be affiliated with Amazon Service LLC Associates Program. As an Amazon Associate, the owner of this site earns a commission from qualifying purchases.
(Visited 601 times, 1 visits today)