**This post contains affiliate links. Thank you for your continued support.
Walking into SuperZoo is like stepping into another world … one that revolves entirely around pets. Imagine a building the size of three football fields, divided neatly into a grid, with 2,100 booths laid out like city blocks. In each booth, a company with a passion for animals is showcasing their contributions to making pets' lives better. Everything you can imagine, and a fair amount that you haven't even dreamed of, line these isles … and you have just three days to take it all in.
When I say "take it all in," I'm joking, of course. There is no possible way to see it all, speak with brand representatives, learn about compelling features, and collect the stories behind the creation of every brilliant product here. Rather, you have to focus on your mission … and mine is to find new and exciting gear that will make traveling with pets easier.
SuperZoo is an obstacle course sent to test my stamina. It takes a Herculean effort to avoid getting side-tracked in this sea of bounty! But, I'm up to the task, and here is the treasure I've gathered …
Dexas Pet Products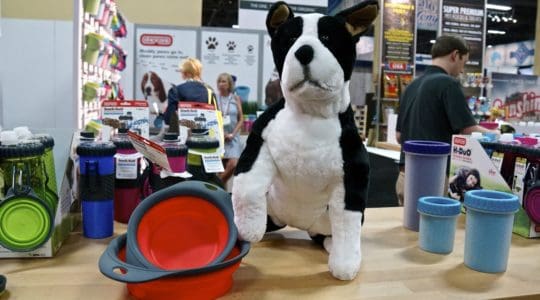 The Dexas booth was packed with great gadgets for traveling pets, from their large collapsible water bowls, to their MudBusters – gentle and easy-to-use paw washers in a variety of sizes. They also carry a line of collapsible elevated feeders (side-by-side water and food bowls), a combo kibble/water container with attached collapsible cup, and collapsible scoops with a bag clip built in so you can easily measure your pet's food.
Gen 7 Pets – SonicGuard Flea and Tick Protection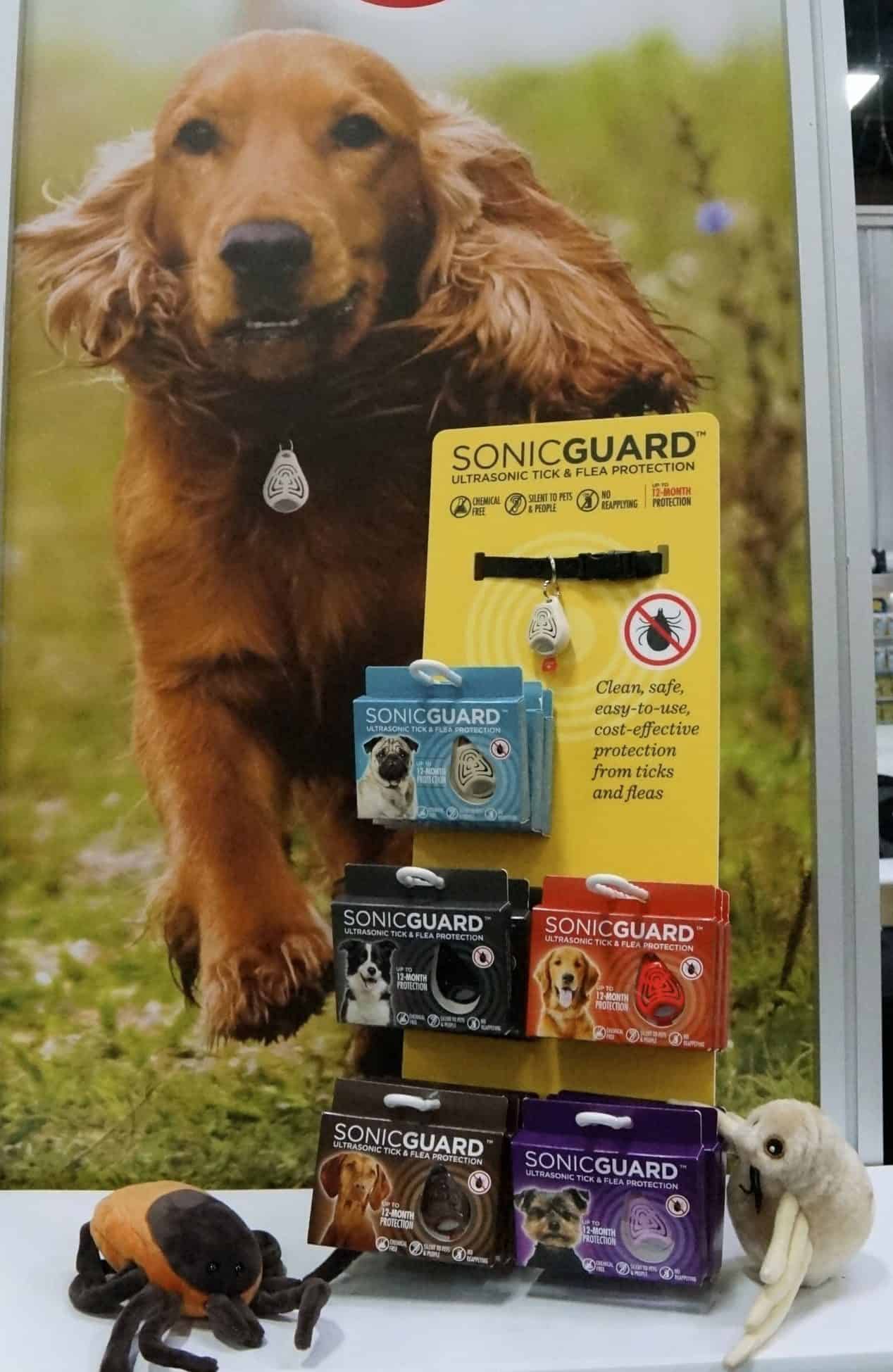 Gen 7 Pets launched SonicGuard (affiliate link) at SuperZoo, and I'm delighted to finally have an easy and effective alternative to chemical flea and tick treatments. Just like you, we don't always know when we're traveling to areas where fleas and ticks may be a problem, and I don't like treating the boys unless it's absolutely necessary. Now we can clip the SonicGuard devices to Ty and Buster's collars and they're protected by the ultrasonic wave that repels fleas and ticks. Better yet, the battery lasts for up to 12 months, which makes the $40 purchase price very reasonable!
Exciting New Treats From The Honest Kitchen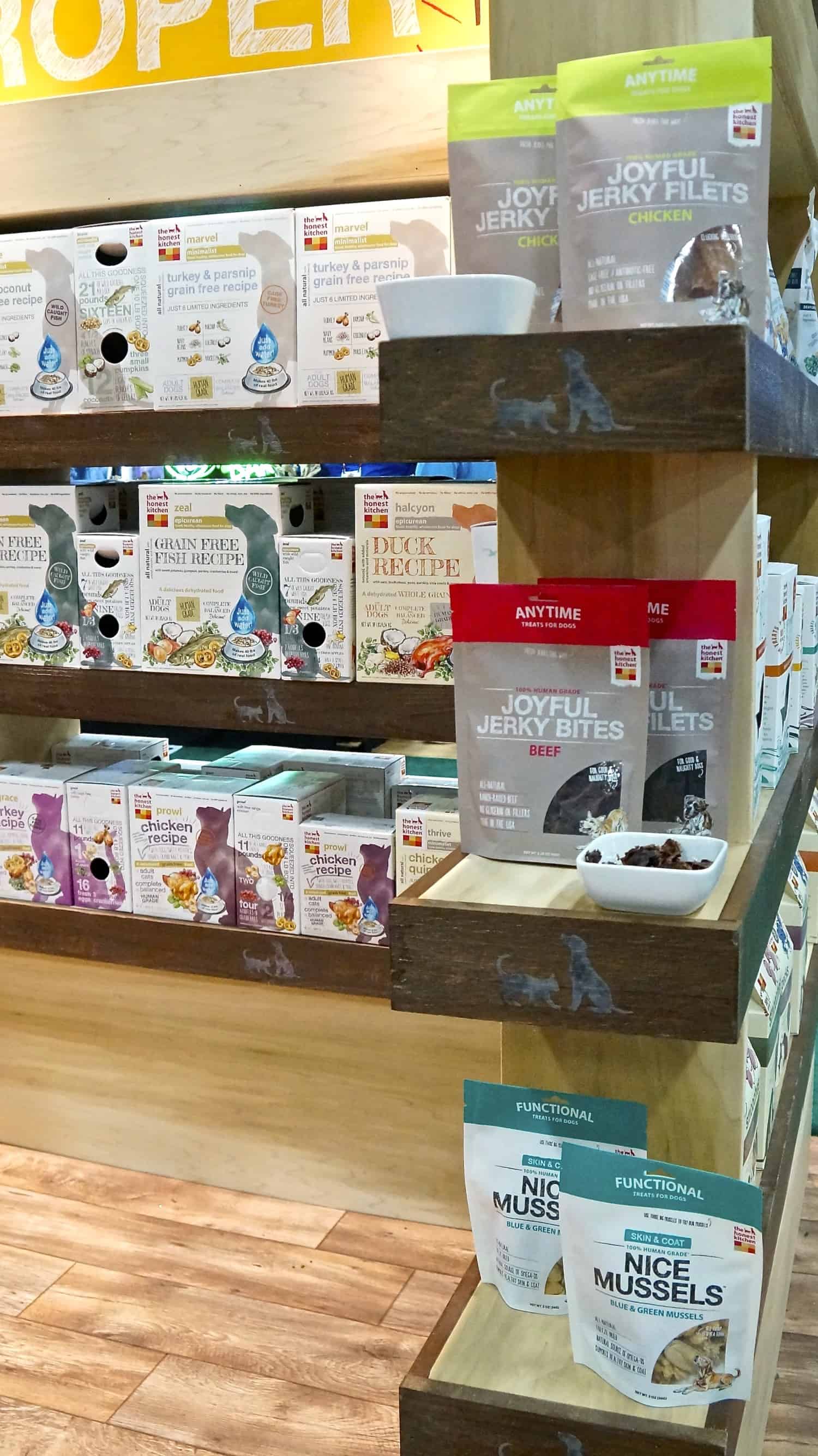 The training never ends when you're traveling with pets, and having high-quality rewards ensures you keep their attention. That's why finding chicken jerky and beef jerky treats in The Honest Kitchen's booth is so exciting – no more worrying about jerky made in China! Ty and Buster find jerky impossible to resist, and soon we'll be able to mix it up with dehydrated mussels, too. They'll be available purchase soon, and the boys will be drooling after just one whiff!
The Honest Kitchen's Proper Toppers are another great product for traveling pets. Some dogs lose their appetite when they're away from home, but sprinkle these on top of your pup's food and he won't be able to refuse.
Pendleton National Park Collection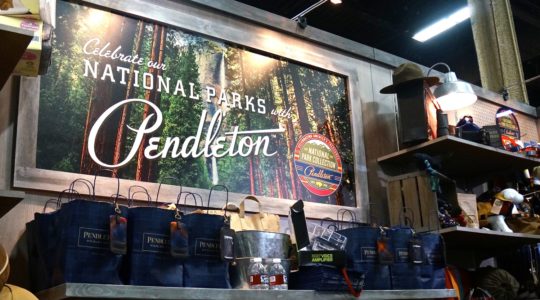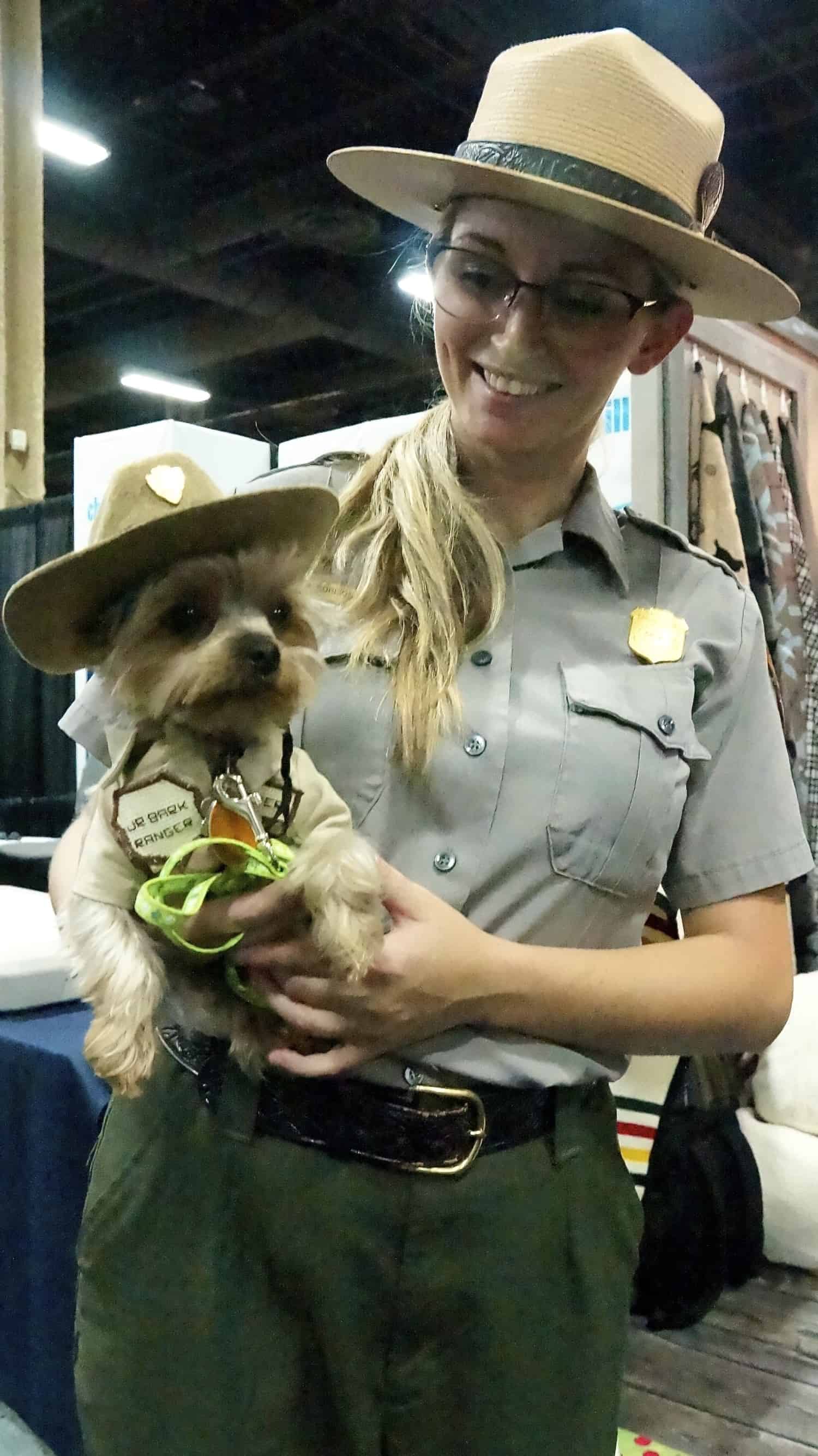 One of the highlights of SuperZoo was getting to meet Cooper, the Junior Bark Ranger from Lake Mead National Recreation Area, and learn about the new line of products celebrating our national parks from Pendleton.
In celebration of the National Park Service's 100th Anniversary, Pendleton created collections inspired by Acadia, Badlands, Crater Lake, Glacier, Grand Canyon, Great Smokey Mountains, Rainier, Rocky Mountain, Yellowstone, and Yosemite parks. Each collection includes a variety of products for people and dogs, including blankets, tote bags, socks, dog beds, folding water bowls, and collars.
New Car Safety Harness from Sleepypod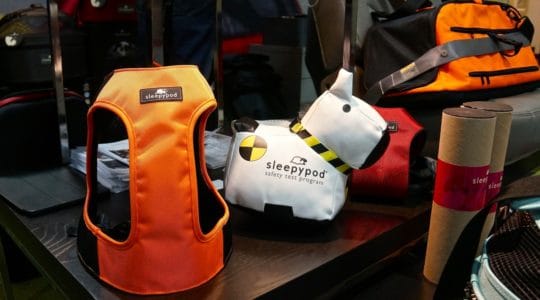 An early version of newest Sleepypod harness was on display at SuperZoo – it's coming soon, so keep an eye on the Sleepypod Facebook page!
goDog® Debuts New RhinoPlay™ Toys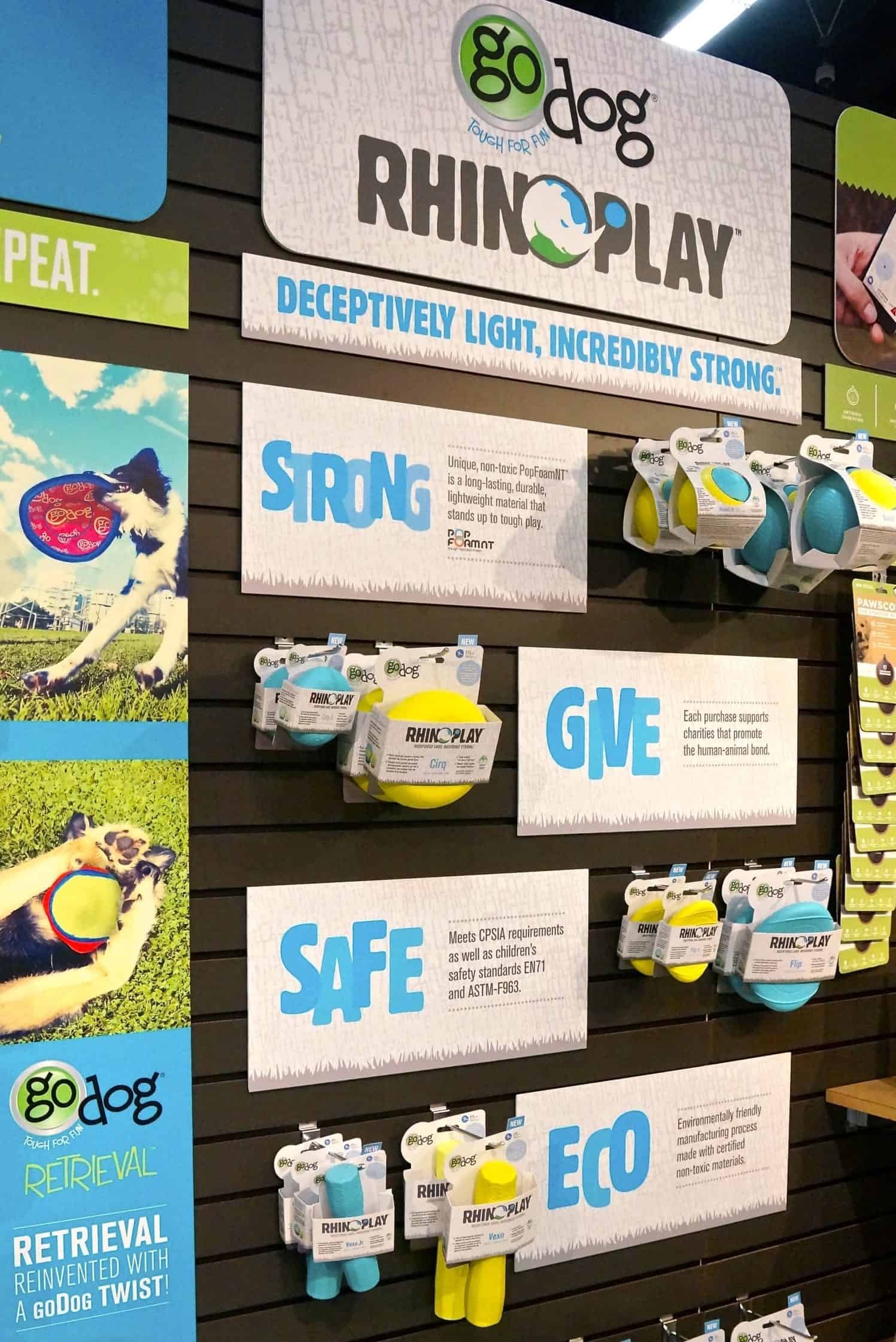 The new goDog® RhinoPlay™ line is perfect for fun-loving, traveling dogs! Made from a unique, eco-friendly material called PopFoam® NT™, these toys are lightweight, durable, and float.
Whether you're off for a game of fetch at the dog park, or hiking into a mountain lake, your pup will want to take his Rhino along. Add the fact that all sales of RhinoPlay™ toys (affiliate link) include a charitable give-back to organizations that promote play and enhance the human-animal bond, and this toy's a real winner!
Kurgo Mud Dog Helps with Clean-Up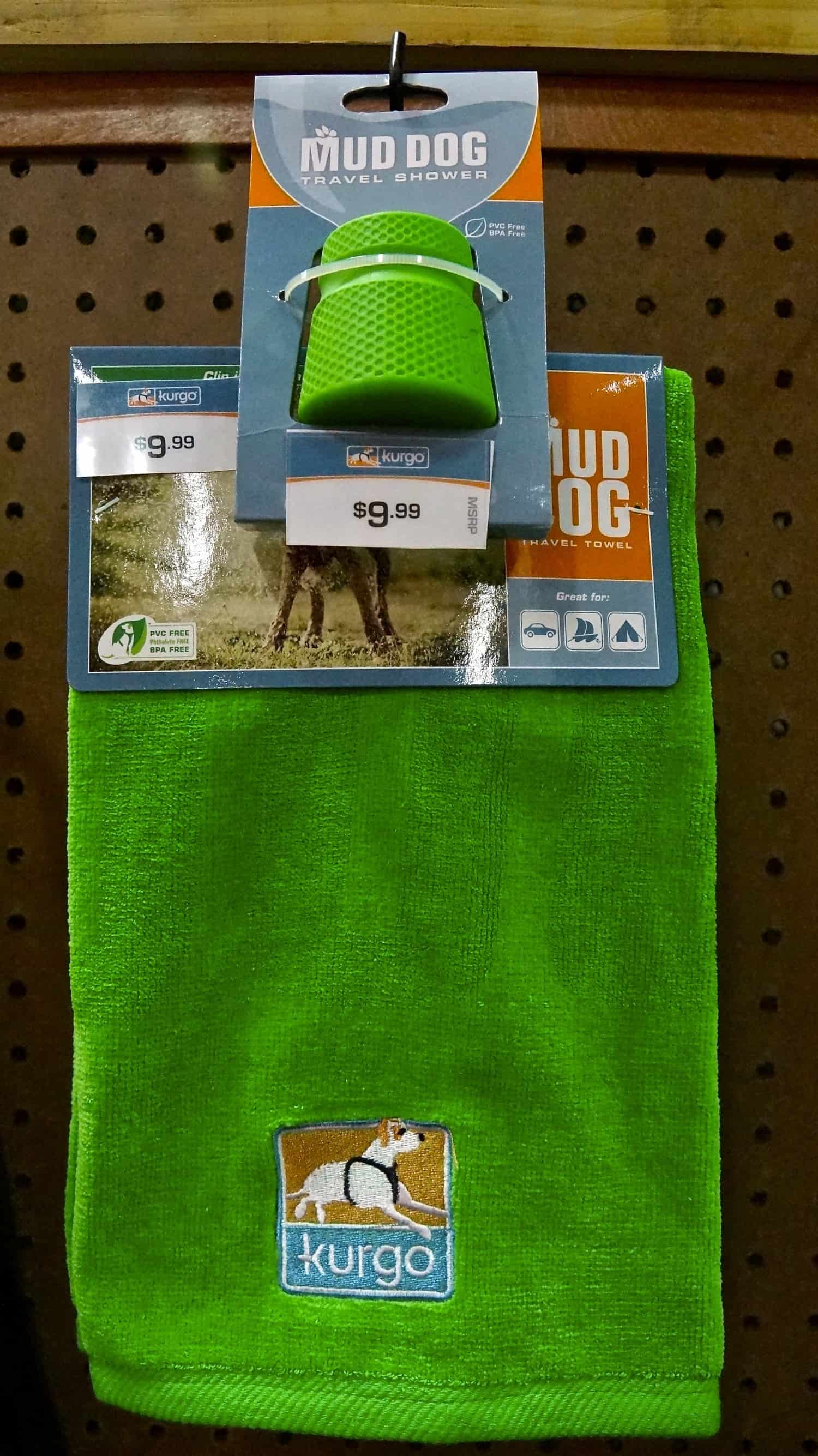 Traveling with dogs is sometimes a messy business. It seems dirt loves our dogs – mud puddles jump right into their paths, grass sticks to them like Velcro, and buckets of sand hitch a ride from the beach in their fur! Kurgo obviously understands our futile plight to keep the Winnebago clean, and has come up with a product to help – the new Mud Dog travel shower and towel.
Pop the Mud Dog travel shower onto any plastic water bottle, and you have an instant portable shower! It also works great to cool down your dog in hot weather, and if your pup like to drink from the stream, no worries, because it's made from food-grade silicone. Shower time varies by size of bottle (not included) and will last over a minute with a two-liter bottle.
A Pet With Paws – Eco-Friendly and Cruelty Free Products with Style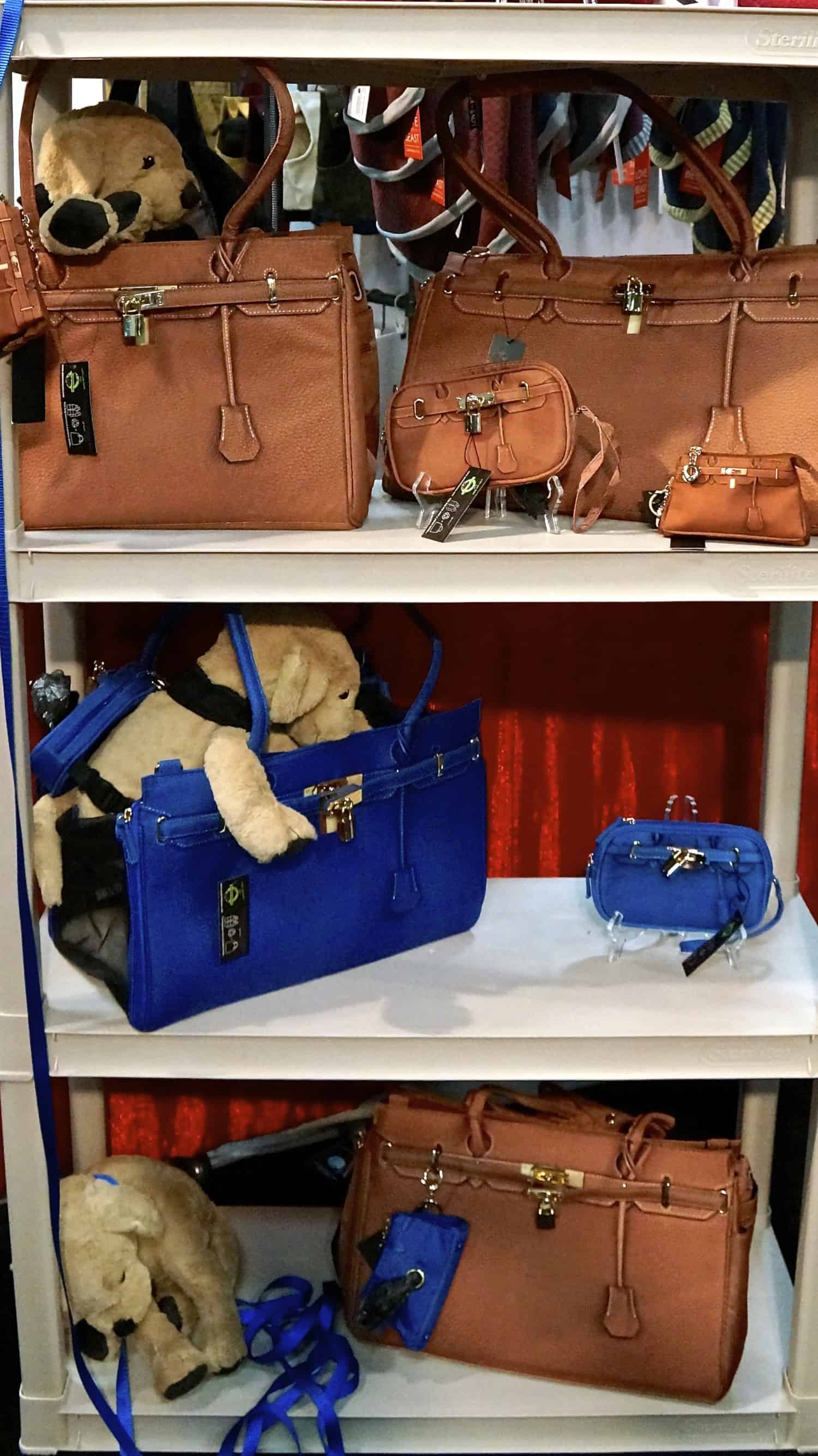 Pet carriers don't often catch my eye – clearly Ty and Buster are much too big to fit – but A Pet with Paws has created an exciting and beautiful new collection that is whimsical, functional, light weight and has panache.
At first glance you, you may mistake these products for leather, but in fact they're cruelty-free and sustainable, made from a fabric that comes from recycled plastic bottles! In addition to carriers, they also make stylish doggy backpacks, waste bag dispensers, and wristlets to hold your smartphone, keys, money and credit cards when you're walking your pup.
Solvit's Car Cuddler Combines Pet Bed and Seat Cover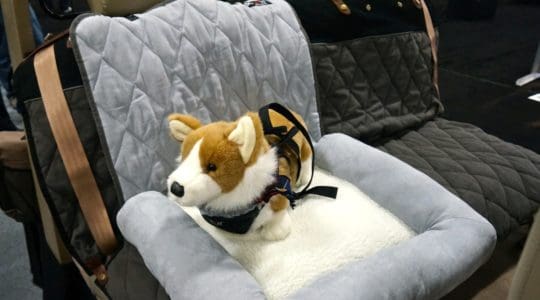 Solvit's Car Cuddler is a combination of a dog's favorite things … car rides and naps! This seat cover not only protects your upholstery, it keeps your furry travel companion comfortable during your trip. Constructed from micro-suede fabric and faux sheepskin, with a polyester fill, it's also machine washable. The small size is perfect for a bucket seat or half of a bench seat, and fits pets up to 30 pounds. For bigger dogs or multiple pets, the large size covers the entire bench seat.
Corky's Reflective Wear Makes Pets Visible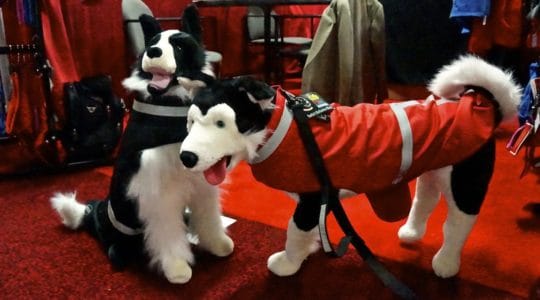 There's usually not a back yard available when you're traveling with your dog, so potty and exercise breaks require putting on a leash and getting out for a walk. Early in the morning and late in the evening, that can pose some hazards if your route is not well lit, because you and your dog may be hard to spot in low light.
To keep pets and their people safe, Corky's Reflective Wear produces collar covers, vests, and jackets for dogs that incorporate enhanced visibility material that can be seen for up to 1,000 feet. The jackets are also made from a comfortable, fleece-like material that is wind resistant, repels water, fast drying, machine washable and easy to care for – serving two purposes makes them perfect for traveling dogs!
Planning a pet friendly trip of your own? We'll make it easy:
Pet Friendly Hotels | Pet Friendly Destinations | Pet Friendly Activities
Amazon Affiliate Disclosure: GoPetFriendly.com LLC is a participant in the Amazon Services LLC Associates Program, an affiliate advertising program designed to provide a means for website owners to earn advertising fees by advertising and linking to amazon.com, audible.com, and any other website that may be affiliated with Amazon Service LLC Associates Program. As an Amazon Associate, the owner of this site earns a commission from qualifying purchases.
(Visited 646 times, 1 visits today)