This post is part of Blog the Change, a quarterly event hosted by BTC4Animals.com asking us to share a cause near and dear to our hearts. The idea is to blog, read, and BE the change for animals!
A few weeks back we loaded the GoPetFriendly-mobiles on a ferry and crossed the Strait of Juan de Fuca from Washington's Olympic Peninsula to Victoria, British Columbia. It's a pleasant 90-minute ride from Port Angeles over to Vancouver Island and, though it's a little pricey – about $300 round trip for the car, Winnebago, and two adults (dogs ride free) – it's well worth the investment to see this gorgeous city.
You can make ferry reservations online, which I recommend if you're traveling with a big vehicle. There aren't that many crossings each day … and you don't want to miss the boat! If you decide to go without a reservation, plan to arrive plenty early so you're sure to get aboard. US Customs requires drive-on passengers to be at the ferry terminal in Port Angeles 60 minutes before departure (90 minutes in Victoria), but it's fine to park your vehicle in line and then take a walk around town – as long as you're back in time for boarding.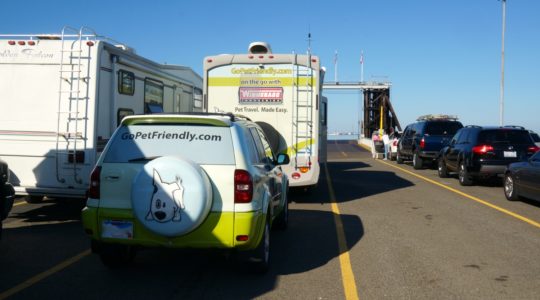 We did both … made our reservation AND got there early so we could take the dogs for a nice stroll around Port Angeles before we got on board. On the Black Ball Ferry Line dogs are welcome to join you above deck, but it's not a good situation for Ty and Buster (Dogs With Issues), so we like to tire them out and then let them have a snooze in the RV while we cross.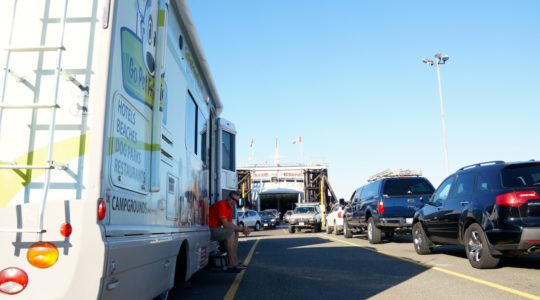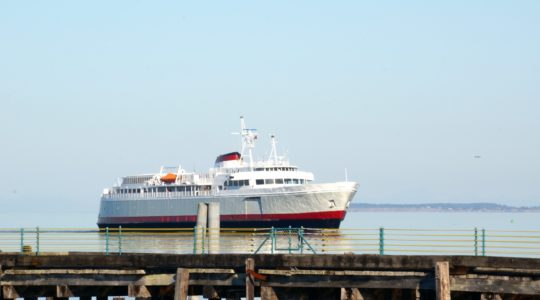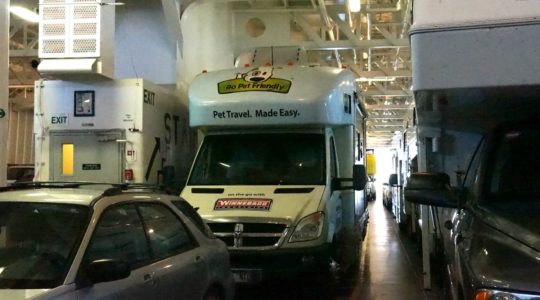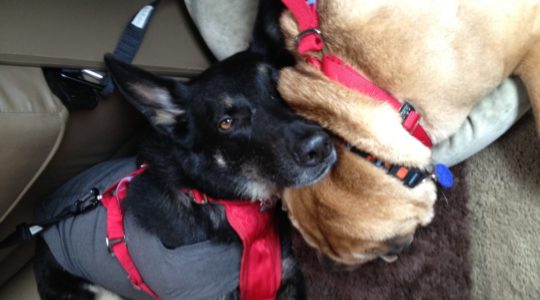 Once we got parked and got the boys settled in, we made our way above deck and were happy to see a bunch of dogs ready for the trip!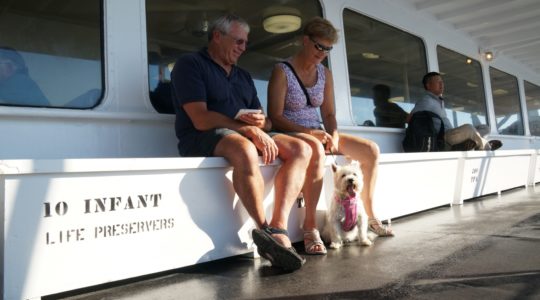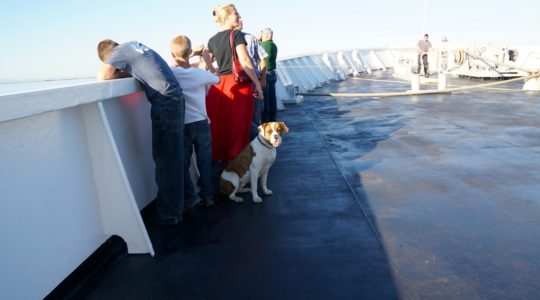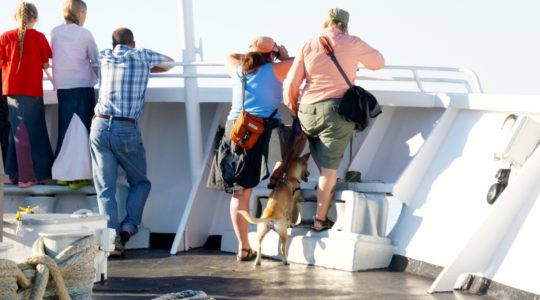 What I was disappointed to see – and this is a pet-peeve of mine – were the number of people foisting themselves on these dogs and their owners.
I watched one guy, squealing toddler in tow, walk right up to a large dog who was sitting perfectly still beside her family, bend over putting his face right in hers, grab her cheeks and start going on about what a good dog she was. All I could think was "Is this really happening?!" and her owners looked even more shocked than me. Luckily for him, she was a good dog! We can assume she was in an unfamiliar environment, since crossing on the ferry is not an everyday experience for most of us, and her body language was perfectly clear to anyone paying attention … she was tense. It was a disturbing scene to watch, and a perfect reminder of why we left Buster and Ty tucked into their cozy beds – so they wouldn't be subjected to this kind of treatment.
The more we all travel with our dogs, the more we'll run into people who understand very little about canine behavior. Just think of the ramifications if this dog had reacted badly … not only for her, but possibly for all the dogs who might want to ride the ferry in the future! Educating ourselves and taking the time to teach others the proper way to meet a dog is the best way to keep ignorance from turing into an unfortunate situation.
The next time someone asks to pet your dog, keep these tips in mind …
Tips for Greeting a Strange Dog
1. Don't approach the dog. Pretend you are ignoring the dog. Dogs prefer not to be zeroed in on by strangers. Have you ever noticed how well-mannered dogs meeting for the first time turn their heads away from each other?
2. Ask the dog's person for permission to meet their dog. Assuming they say yes, follow the steps below.
3. Stay relaxed. You can yawn, put on an easy smile, or slowly blink your eyelids. Keep you body loose. All these signal to the dog that you are not a threat.
4. Do not look the dog in the eyes. While eye contact signals trustworthiness to most Westerners, in the dog world it signals aggression or threat.
5. Turn your body so you are not facing the dog. Again, being face-to-face is polite to most of us, but can signal threat or aggressive intentions to a dog. Notice how well-mannered dogs greet – as they approach they make a half-moon curve as they pass each other and turn nose to butt.
6. Stand straight or squat. Do not crouch over the dog. I doubt you want to be crouched over by a stranger and neither does your dog. It's threatening.
7. Allow the dog to come to you. Most dogs are naturally curious and they will let you know if they are interested in you. If not, don't take it personally.
8. If the dog shows interest by sniffing you with a relaxed posture, tail wag (not all dogs will wag and not all wagging is friendly), perhaps looking at you with soft eyes – then you can slowly offer the dog your hand for investigation.
9. Let the dog sniff your hand, if she wants to, and then gently touch the dog on the shoulder, neck or chest, not the top of the head.
10. The dog will clearly tell you if she wants more interaction or if she is finished with you. Listen to her.
11. If at any time during the interaction the dog backs away, stop what you are doing.
Don't be afraid to be firm, and remember that saying, "No, this isn't a good time to meet my dog," doesn't make you a bad person. In fact, as our dog's best advocate and ambassadors of all traveling pets, it may be the kindest thing to do.
And, as much as we love them, we all need to respect dogs enough to give them their space.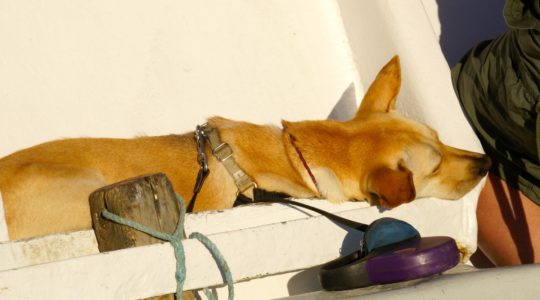 Planning a pet friendly trip of your own? We'll make it easy:
Pet Friendly Hotels | Pet Friendly Destinations | Pet Friendly Activities
Amazon Affiliate Disclosure: GoPetFriendly.com LLC is a participant in the Amazon Services LLC Associates Program, an affiliate advertising program designed to provide a means for website owners to earn advertising fees by advertising and linking to amazon.com, audible.com, and any other website that may be affiliated with Amazon Service LLC Associates Program. As an Amazon Associate, the owner of this site earns a commission from qualifying purchases.
(Visited 966 times, 1 visits today)