We want Take Paws to showcase more people having fun traveling with their pets. That means we want to see YOU and YOUR PETS out on the road! Now you can snap shots of your furry travel companions with recognizable landmarks – like this one of Buster and Ty at the Grand Canyon – and make them the stars of our Weekly Photo Challenge!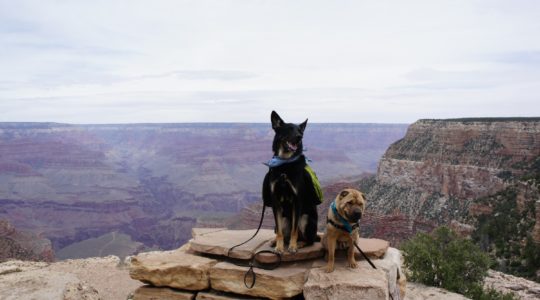 Submit Your Photos – Two Ways to Enter
Email – Entering your photos is easy … send them via email to [email protected] Be sure to include your name, the name of your pet(s), where you live, and the location that the photo was taken.
Instagram – Follow @GoPetFriendly on Instagram and tag your photos with the hashtag #GoPetFriendly. You'll be automatically entered in the contest and we'll contact you via Instagram if your photo is chosen.
On Instagram, you can add a hashtag to new or old photos by placing it in the photo description or in the comments. Either way, we'll be able to search and find all the photos with that hashtag included.
You can use more than one hashtag per photo, so go through your Instagram library and add the #GoPetFriendly hashtag to all of your pet travel photos!
Submit as many photos as you like! Each week we'll peruse all the submissions and choose the one will think will make the best Photo Challenge for that week.
Official Rules
The contest starts today and runs until we decide not to do it anymore. The contest is open to everyone over the age of 18. No purchase necessary and void where prohibited.
By submitting a photo to GoPetFriendly.com, you retain ownership and copyright. You are granting GoPetFriendly.com permission to post the photo on our website and through social media channels that may include Facebook, Twitter, Google+, Pinterest and others. Photos may also be shared by our contest partner's social media channels. Your name and e-mail address will not be published with your photo. Professional photos may be watermarked. By submitting the photo to GoPetFriendly.com, you are claiming ownership and granting us the right to share the photo. Copyright infringement of professional photography will not be tolerated. Once photos have been submitted, they cannot be removed except in the instance of copyright claim.
To enter via Instagram, you must follow @GoPetFriendly on Instagram AND use the #GoPetFriendly hashtag on your photo. Using the @GoPetFriendly mention is not sufficient to enter the contest. If we miss the "@GoPetFriendly" mention, there is no way for us to go back and search to find your photo – hashtags are archived and searchable, while @ mentions are not.
By entering a photo in this contest, either via email or Instagram, you are claiming ownership of the photo. All selected entries will be required to provide a release stating that they own the rights to the photograph submitted. We reserve the right to disqualify an entry if their photograph does not meet publishing standards or ownership of an image cannot be proven.
Planning a pet friendly trip of your own? We'll make it easy:
Pet Friendly Hotels | Pet Friendly Destinations | Pet Friendly Activities