Arriving in a new city often triggers a bit of shyness. Like our canine companions, we've learned to introduce ourselves by sniffing around the edges before diving in.
Take a look at the map and you'll see Portland is a city of bridges. It's also perfectly walkable and quite dog friendly – just the kind of place we enjoy exploring with Ty and Buster.
We started on the Central Eastside. Being east of the river let us get the lay of the land, and this industrial side of town has an appeal all it's own.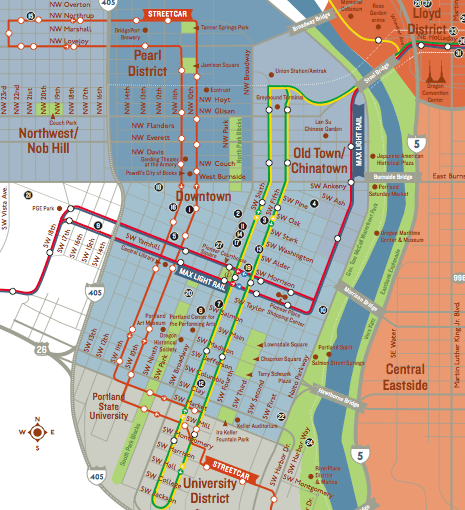 Cafes and coffee shops, all shiny and new, have sprung up amongst the long-standing factories and warehouses – and the views weren't bad either!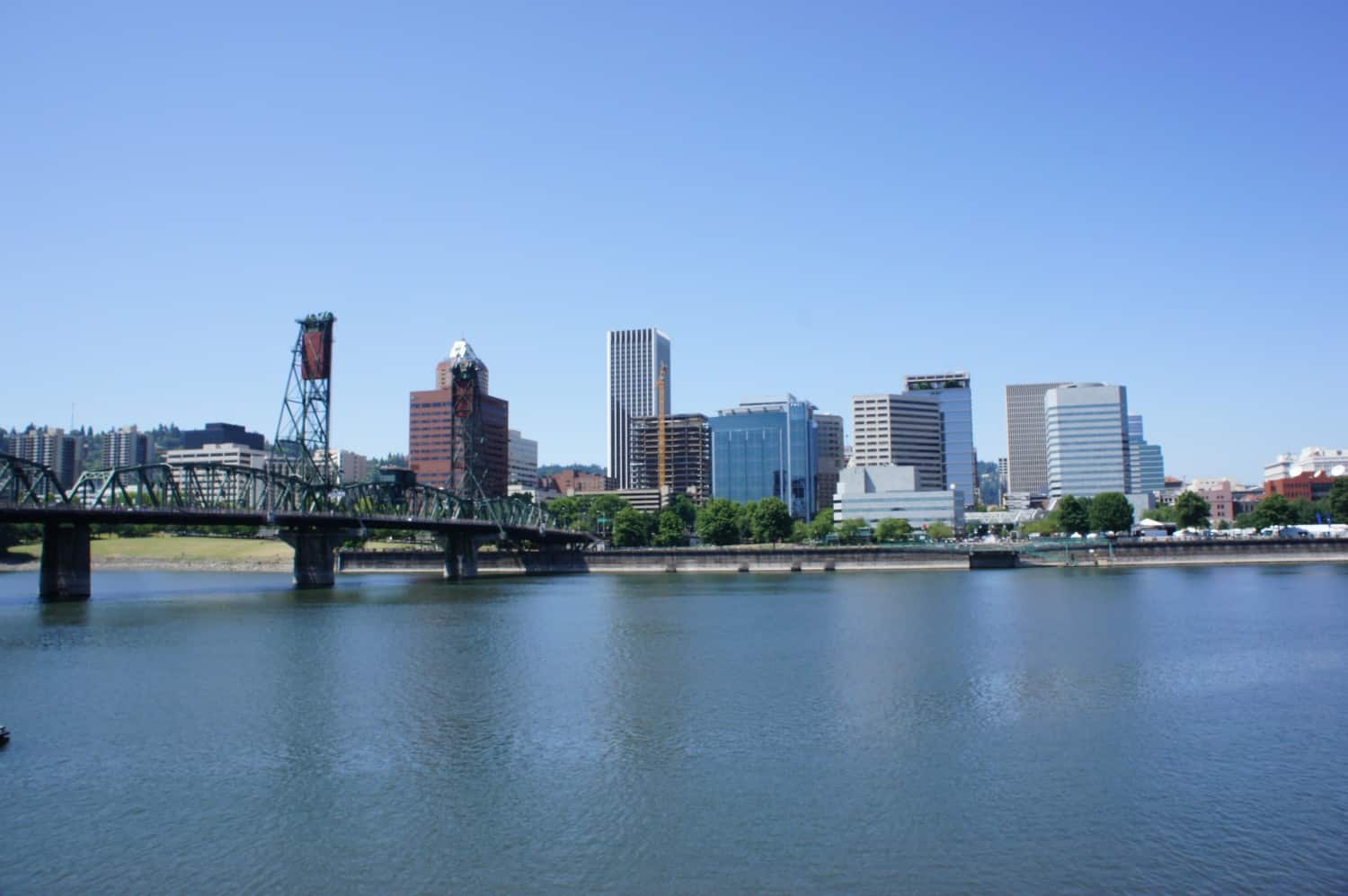 Walking the Eastside Esplanade (the green strip on the map running along the east side of the river) allows for some great shots of the city, or just settle on a bench and watch the boats pass by. At lunch time it was bustling with walkers, runners and bikers – everyone out enjoying the sun on a gorgeous day. It's just what we needed to get our feet beneath us before venturing across the Steel Bridge toward downtown.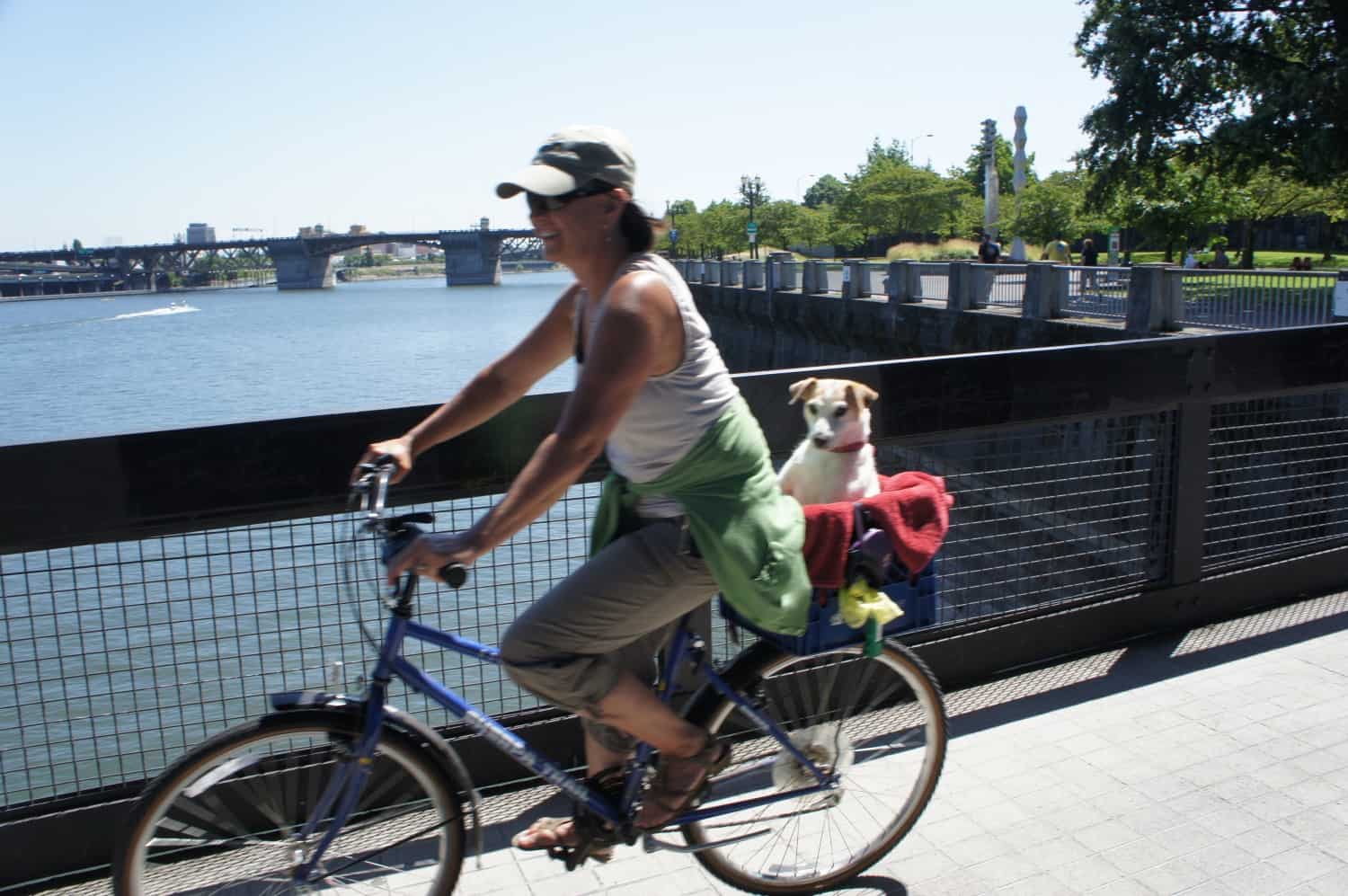 Mirroring the Esplanade, on the west side of the river is Waterfront Park, which acts as the city's front yard. People were picnicking, strolling, and splashing – clearly reveling in summer. Even Buster was drawn in – Thundershirt and all!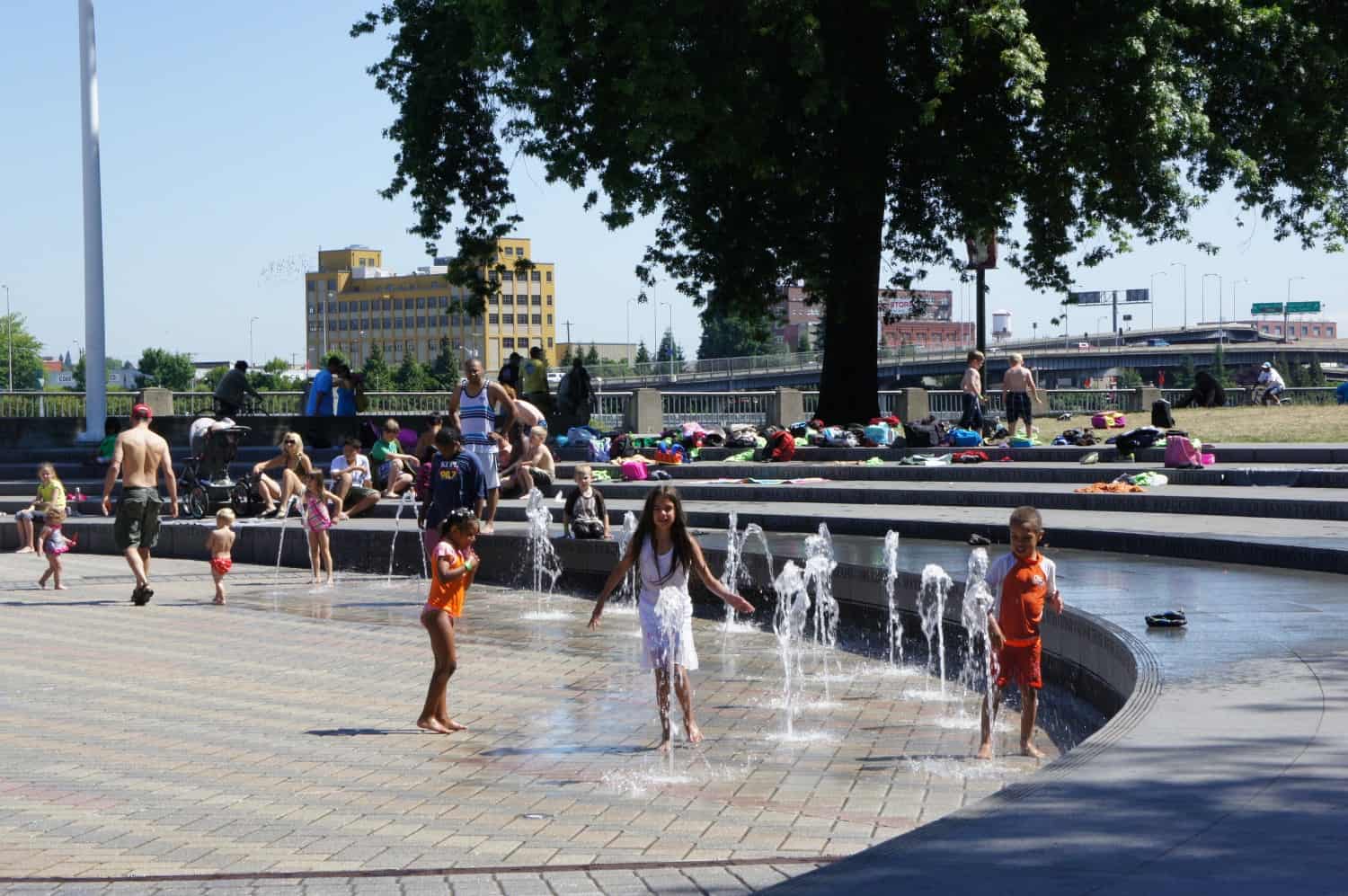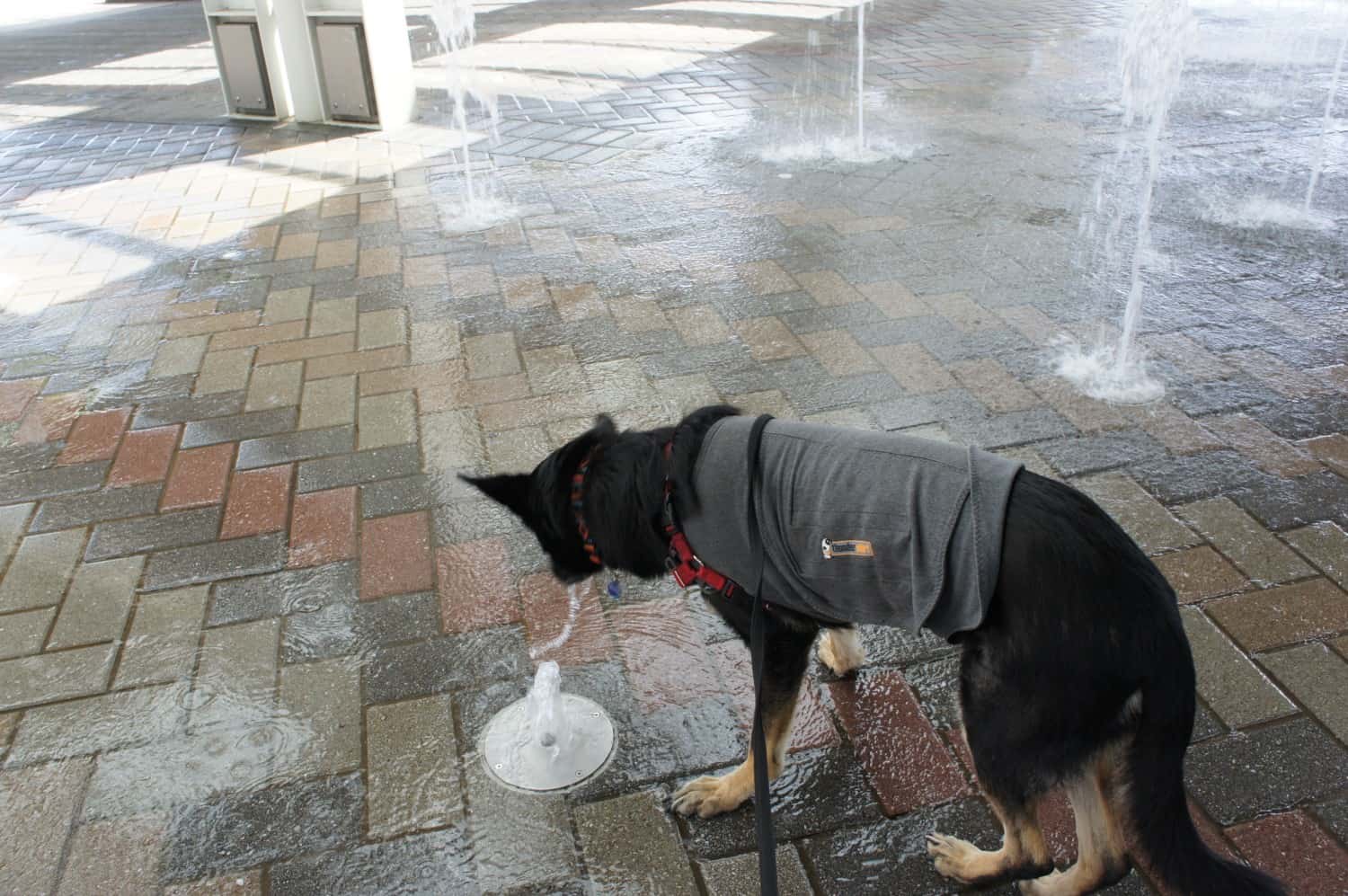 The downtown neighborhoods each have their own feel, and walking from one to the next is an excellent way to spend the day. The Pearl District, formerly a rail yard, was our favorite, with it's eclectic combination of architecture, window shopping opportunities, and huge off-leash area for the dogs to play. I'm sure our partiality has nothing to do with meeting another comical and energetic German Shepherd.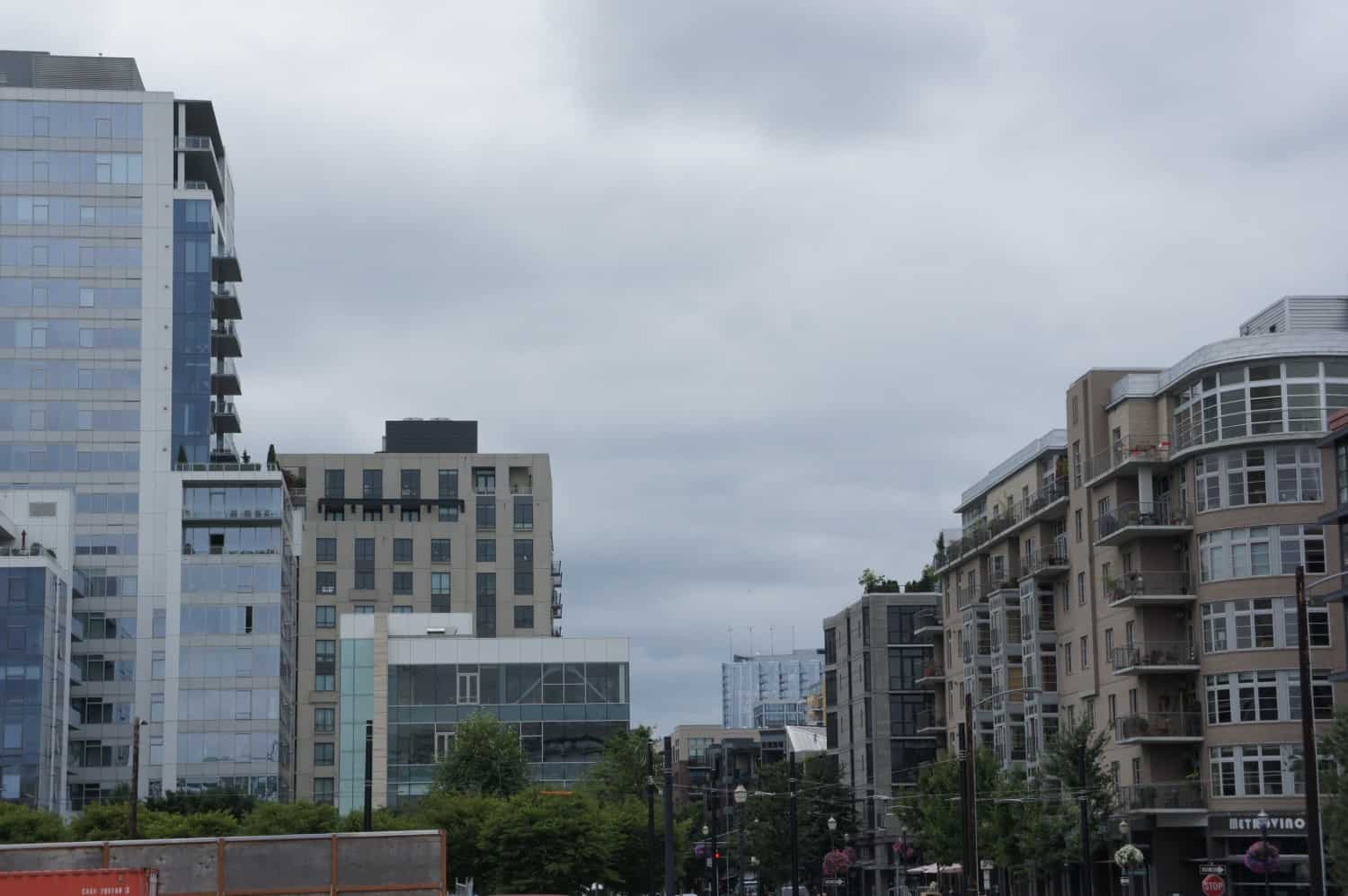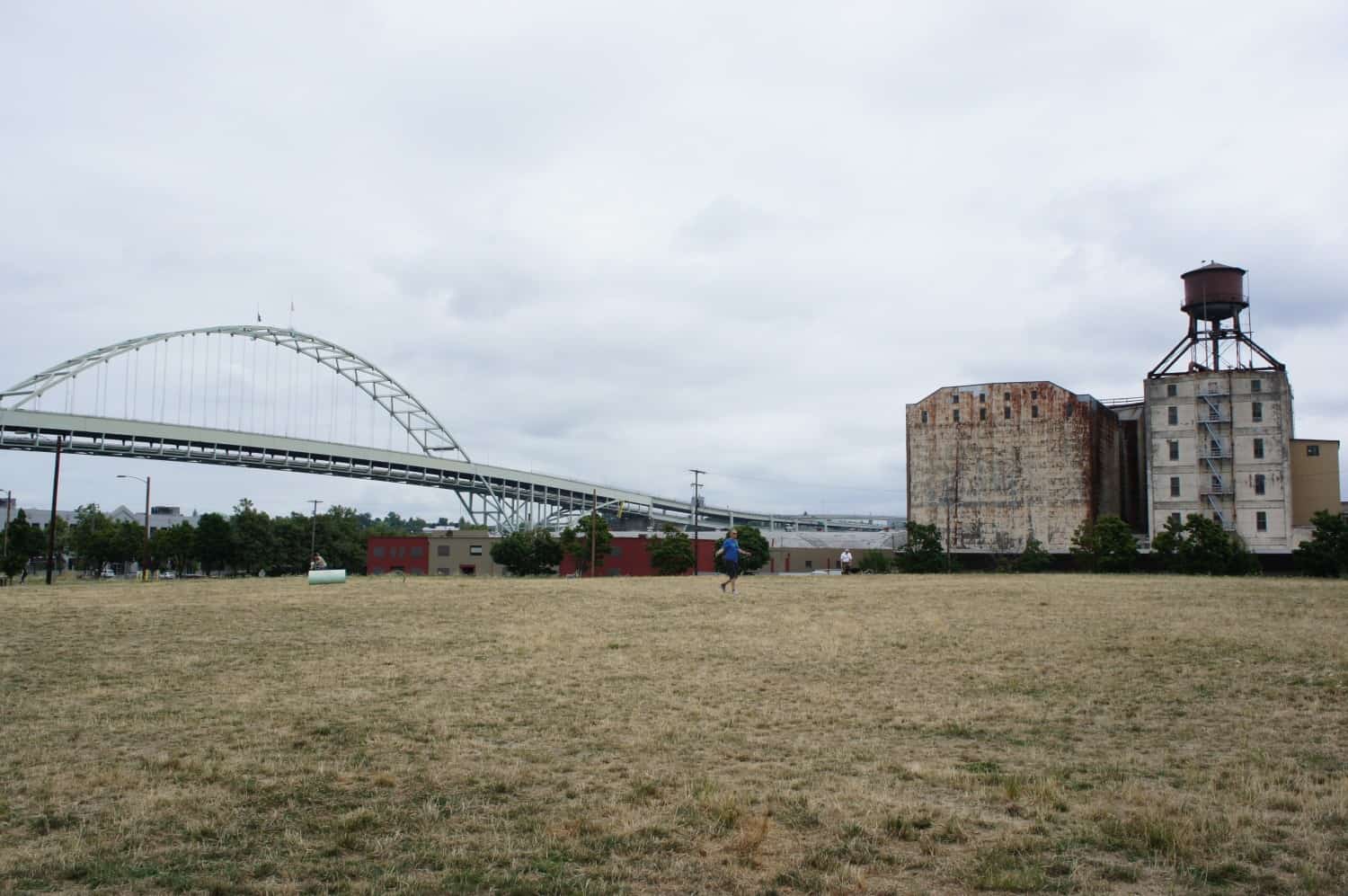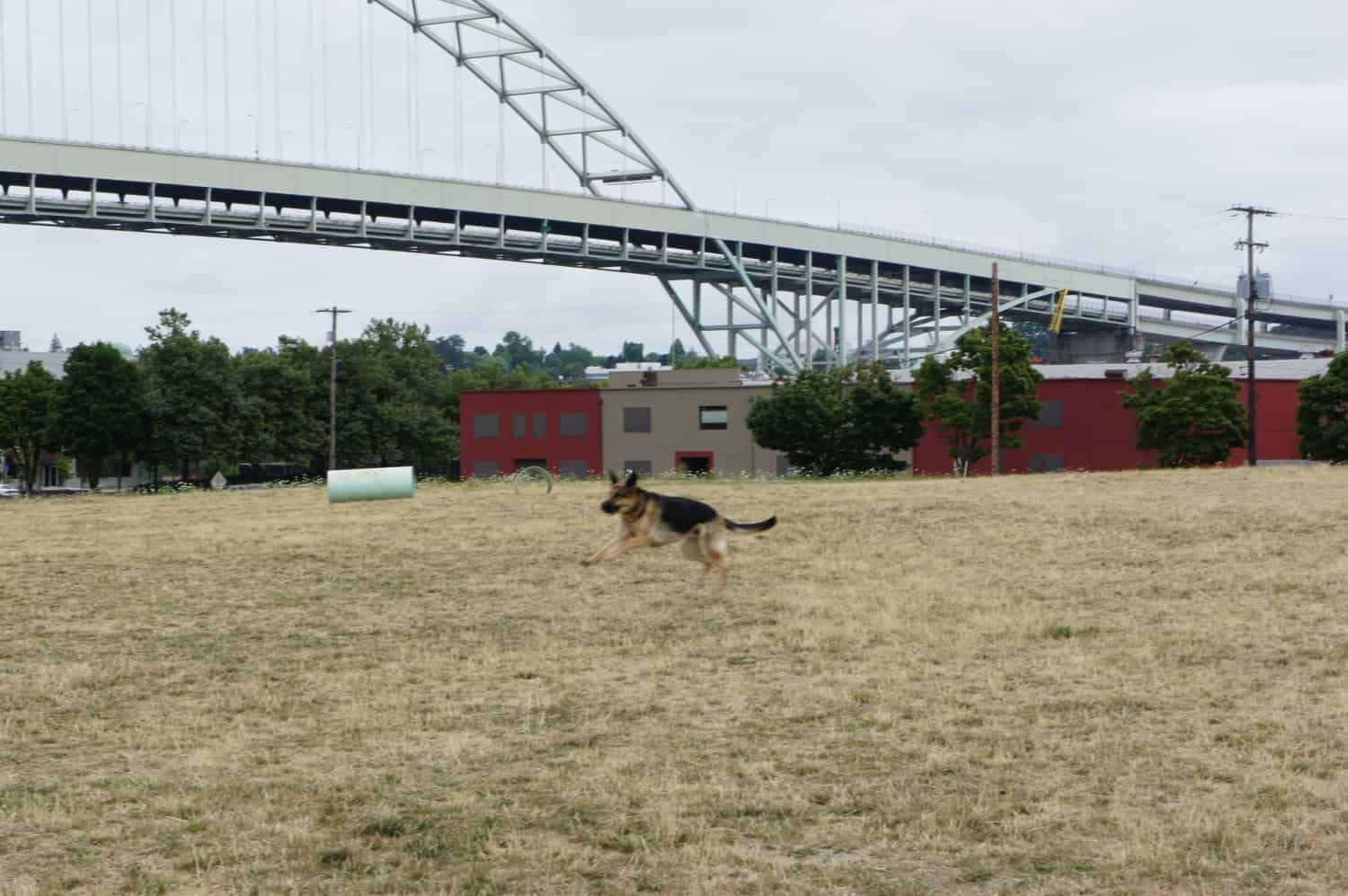 The clean lines of the Pearl district give over to the laid-back, come-as-you-are vibe of Nob Hill. Charming Victorian homes in different stages of restoration and vintage clothing stores are the theme here.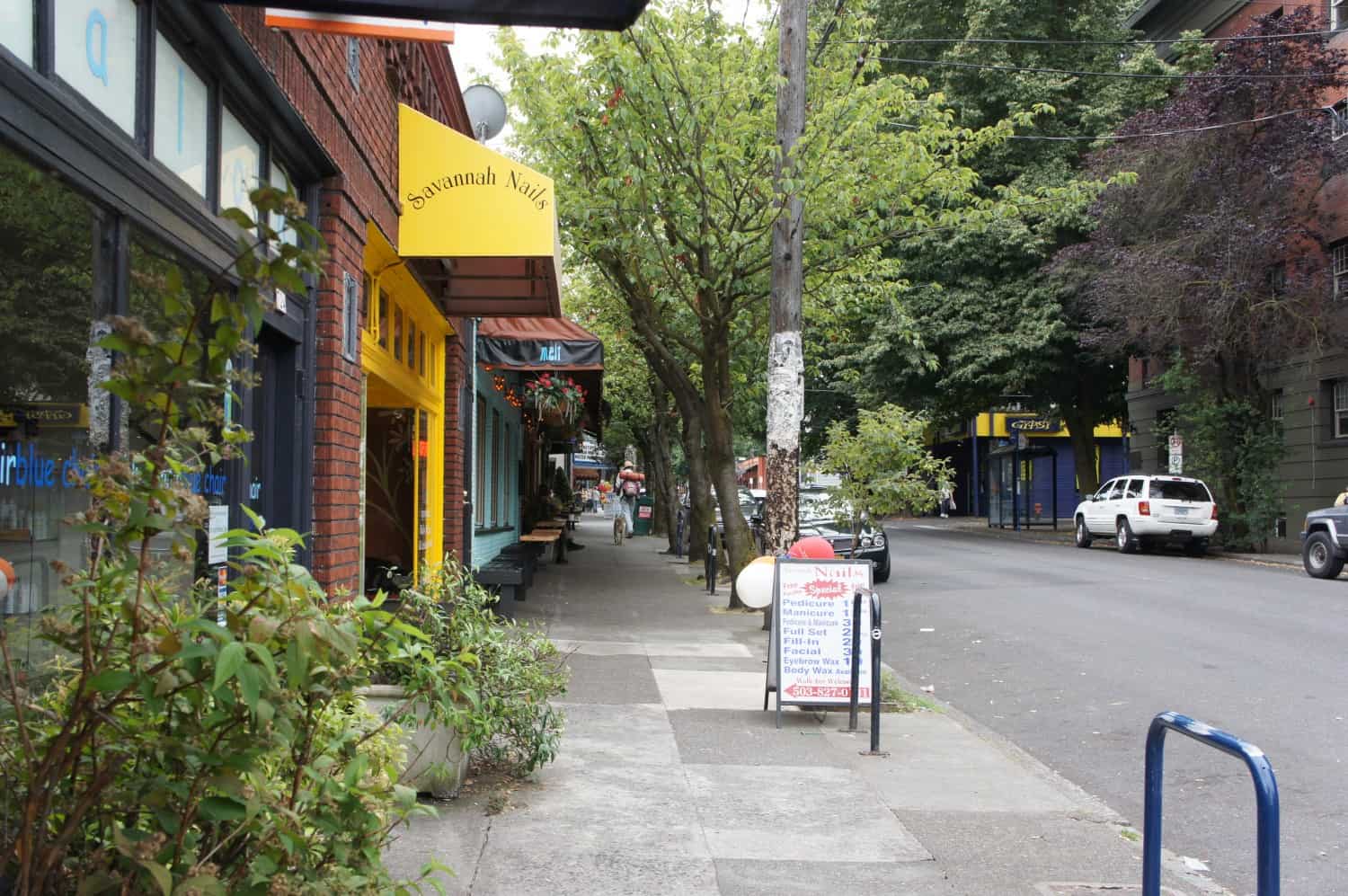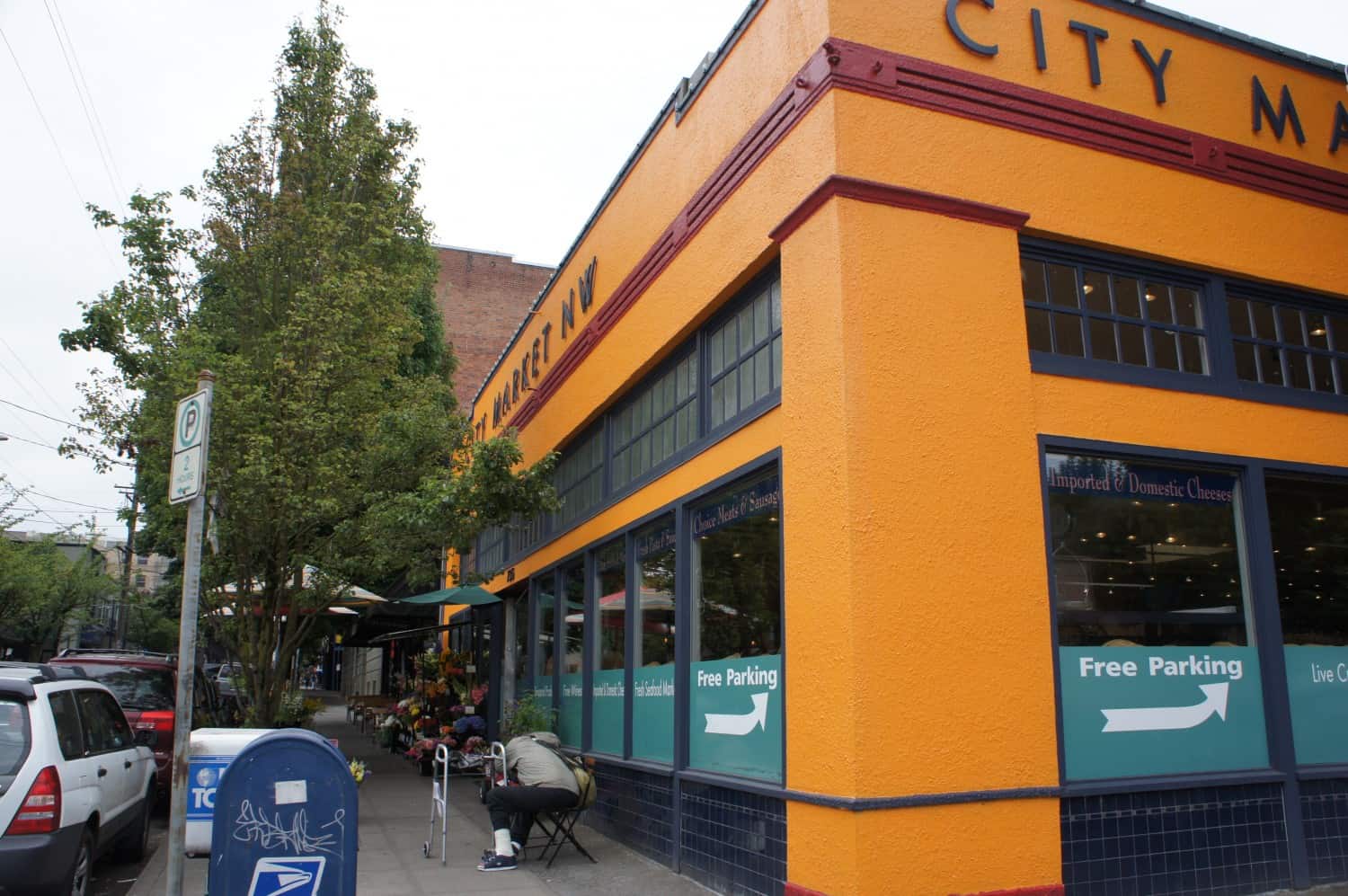 In this part of town, do not miss Nature's Pet Market – the pet supply store that saved our butts! (We cut it a little too close, and Buster and Ty would have gone hungry waiting for a shipment if they hadn't stocked The Honest Kitchen dog food.)
In a fantastic coincidence, we realized we'd met the owners of the store a couple of weeks back in Florence! We happened to wander in as they were celebrating their second anniversary in this location. We got to say hello again, and also caught their pooch helping herself to the anniversary cake!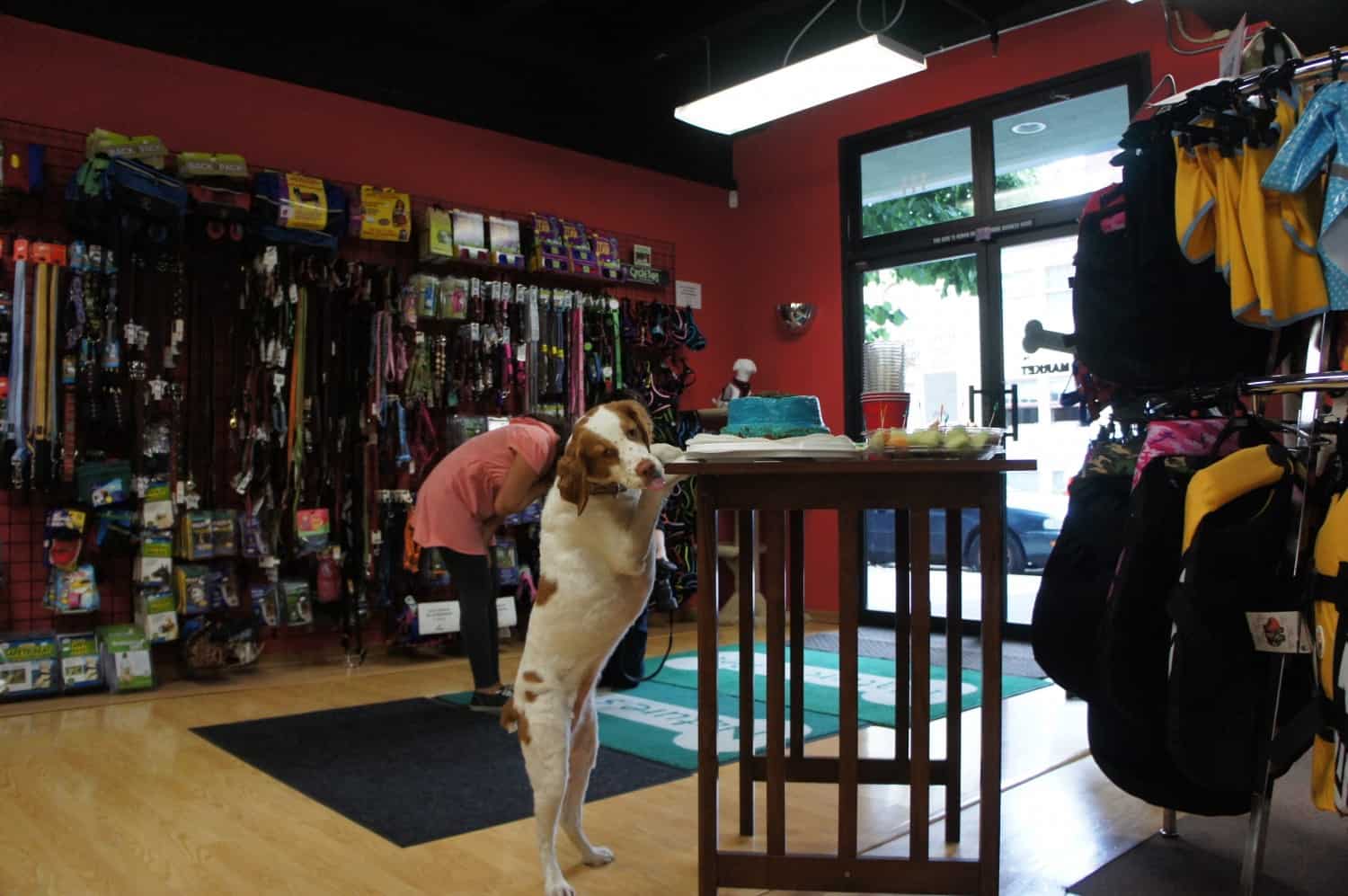 The downtown area, with it's tree-lined streets and flowered open spaces, gives a distinctly different feel than the glass-and-steel ambiance of Chicago's Loop or Center City Philadelphia. Unlike other cities we've visited, there is no palpable undercurrent of agitation – possibly due to the lack of cabs blasting their horns (most people use the free streetcar). Even the people seem more relaxed – less self-important hustle, more take life as it comes.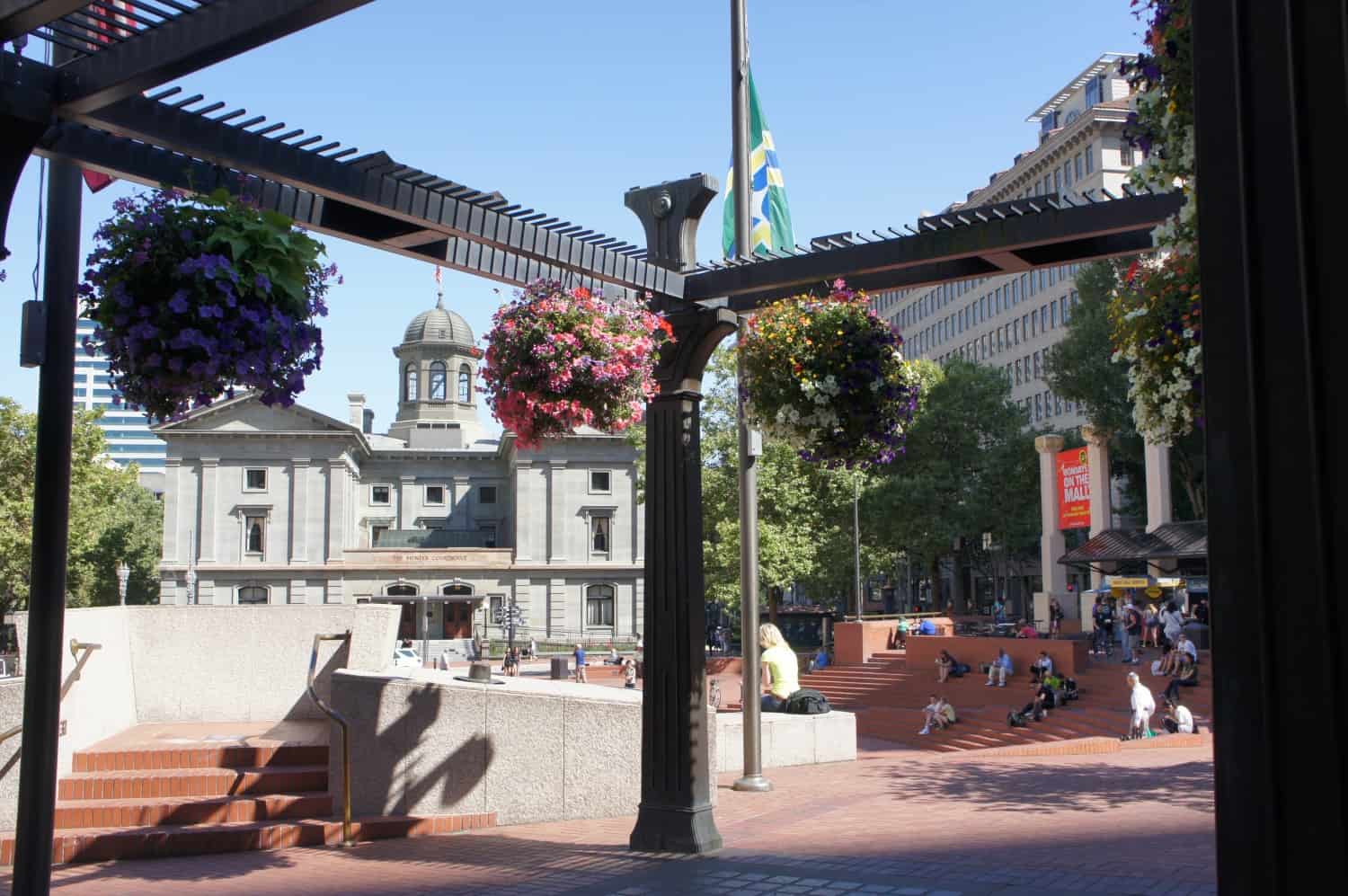 Primed by this recent post on DogJaunt, we were looking forward to sampling some of the food carts that have taken Portland by storm. Lining entire city blocks, and making everything from dumplings to waffles, you could eat all day … and we did.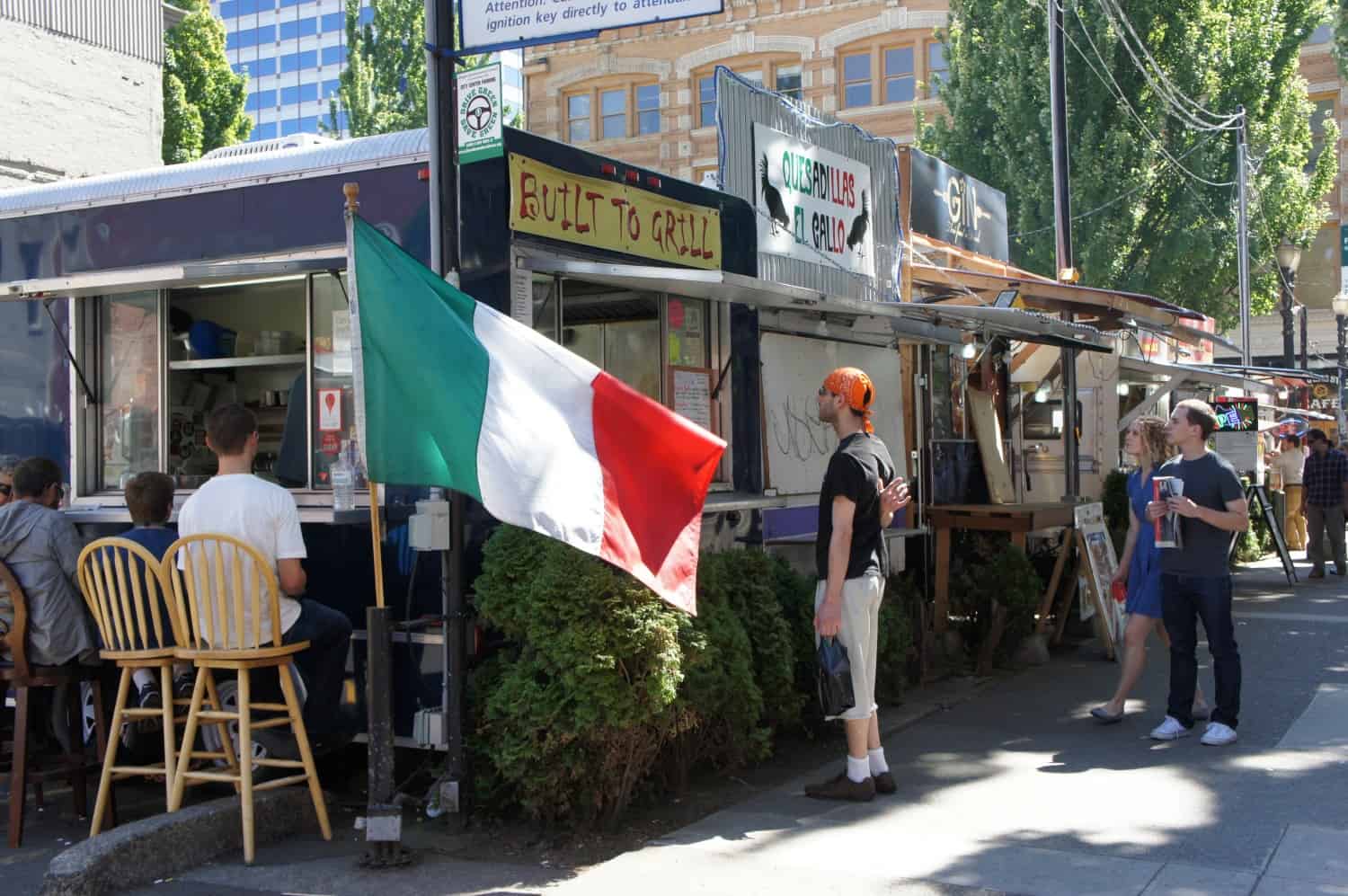 Buster and Ty couldn't resist the photo op when they came upon a local celebrity – a beaver from Oregon State!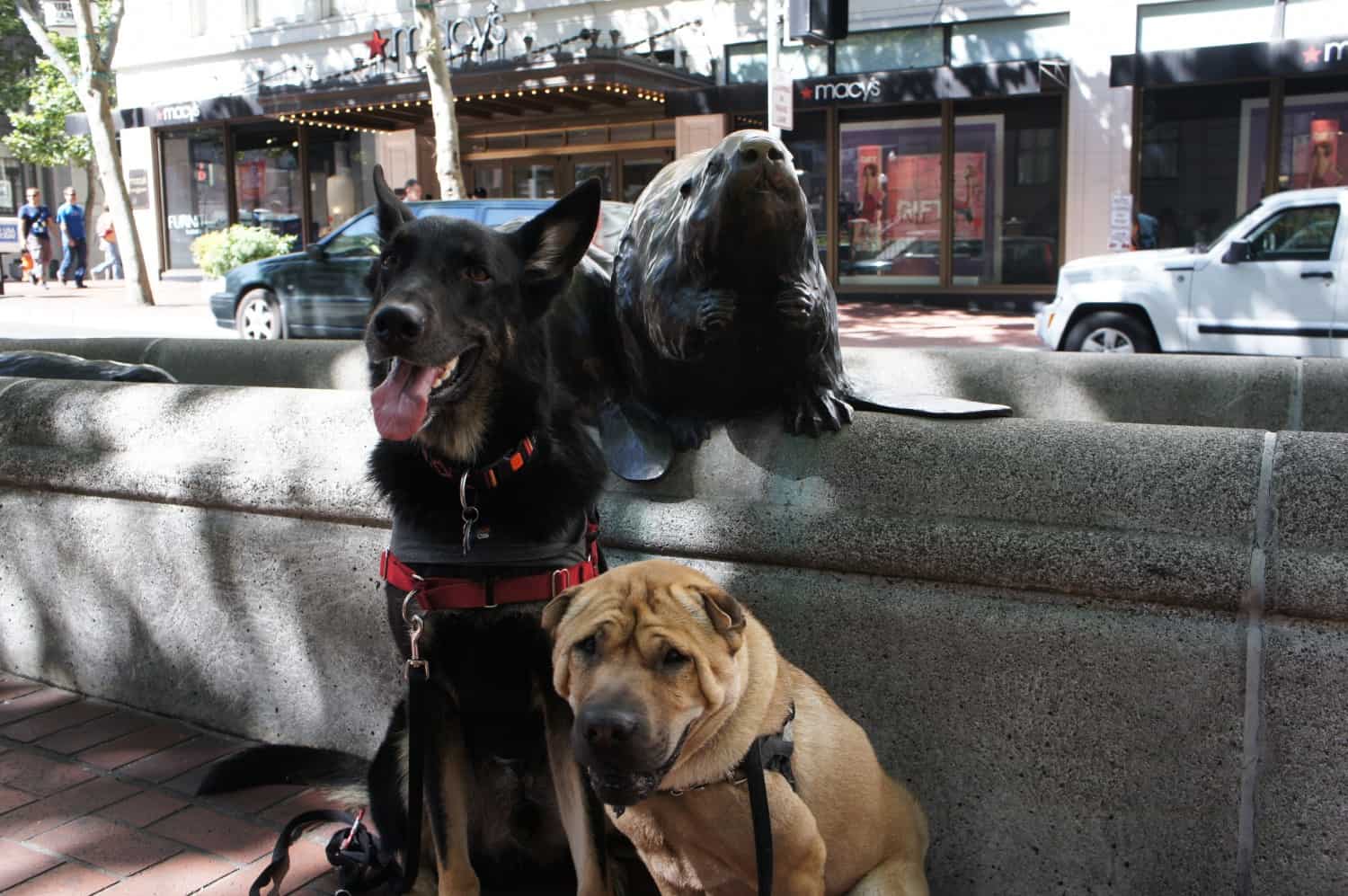 As we were heading back across the river to the Winnebago we caught a glimpse of Mt. Hood – watching over The City of Roses from behind a building.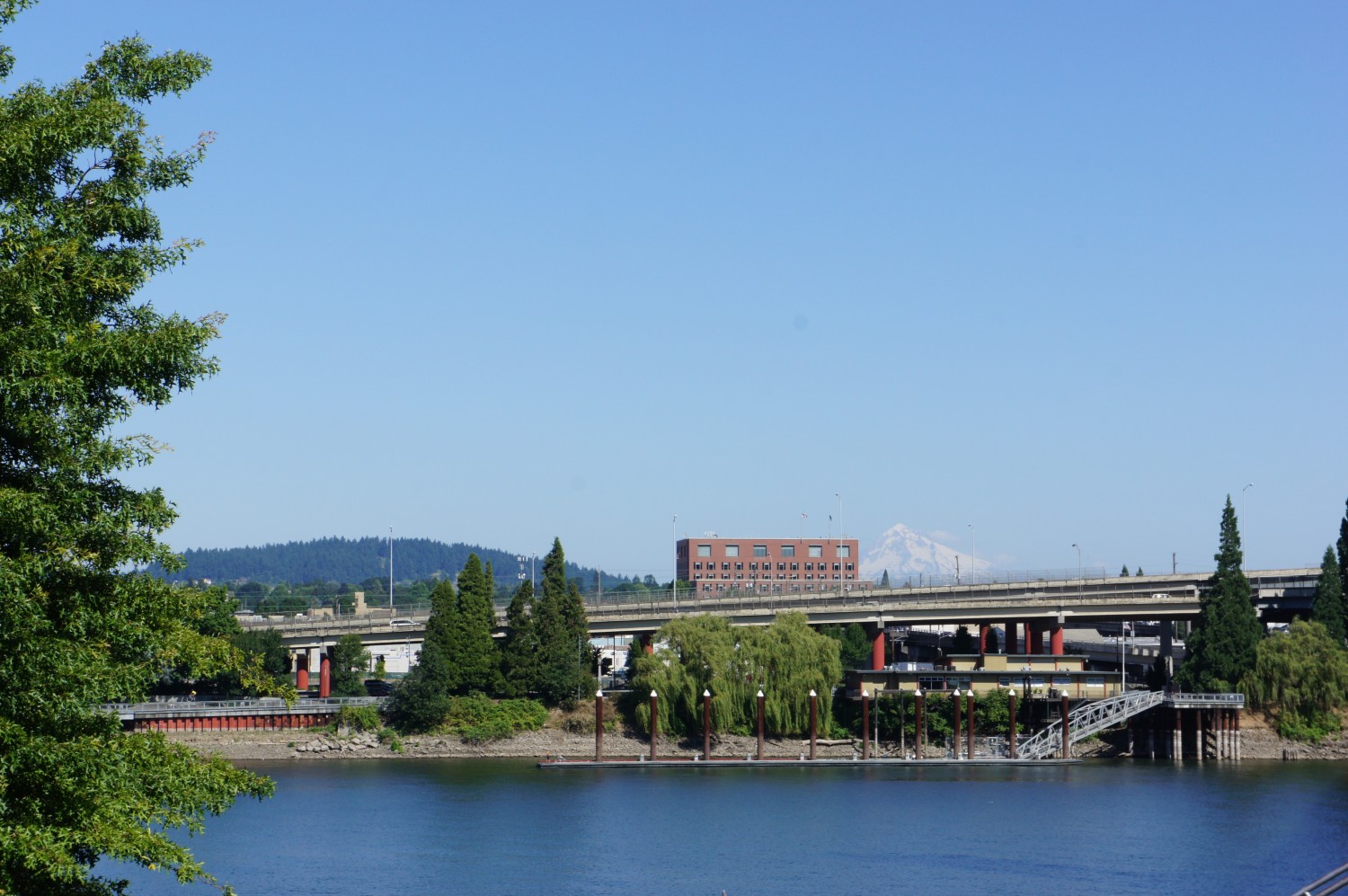 One visit to Portland, and we're totally in love with this city! If you're planning to visit here, you'll find a plethora of pet friendly hotels in Portland to choose from. Pack your walking shoes, and have a great time!
Planning a pet friendly trip of your own? We'll make it easy:
Pet Friendly Hotels | Pet Friendly Destinations | Pet Friendly Activities
Amazon Affiliate Disclosure: GoPetFriendly.com LLC is a participant in the Amazon Services LLC Associates Program, an affiliate advertising program designed to provide a means for website owners to earn advertising fees by advertising and linking to amazon.com, audible.com, and any other website that may be affiliated with Amazon Service LLC Associates Program. As an Amazon Associate, the owner of this site earns a commission from qualifying purchases.
(Visited 2,273 times, 1 visits today)