Just two short months ago I revealed a secret … we were beginning to think about moving up to a larger motorhome. After nearly four years of traveling, we've determined this mobile life really agrees with us. And with no intention of stopping, it seemed having more space for ourselves and the dogs made sense. Our idea was to start shopping for the next GoPetFriendly-mobile when we got settled in Austin this winter, in the hopes of having our new home before we struck out on the 2014 travel season.
You'd think we'd have learned by now that timing rarely works the way we plan! Last week, while surfing the Internet, I came across a 2013 Itasca Meridian, built by our favorite RV manufacturer, Winnebago … and it looked perfect for us. It was at the Camping World in El Paso, and it was on sale because the new 2014 models are already coming off the production line.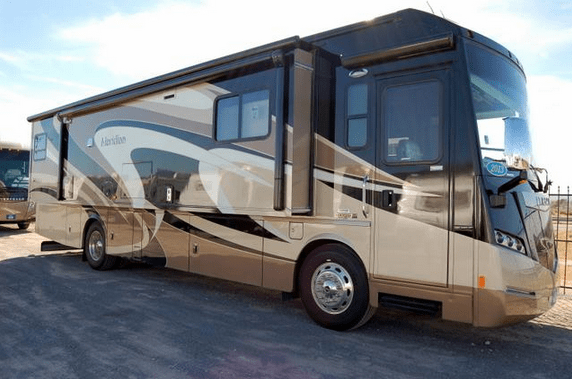 A barnstorm of phone calls and emails flew back and forth for the next several days. Our biggest challenge was locating financing – it seems that most banks are not anxious to lend money to two self-employed people who do not own real estate where you're likely to be able to locate them. Go figure!
While the paperwork was being poured over, Rod and I had a few heart-to-hearts about life, traveling, and the pluses and minuses of this coach. It was clear we were ready for more space, but was this coach the right one for us? One of our biggest concerns (no pun intended) was the size of this behemouth. We'd pictured ourselves moving from our 24-foot Winnebago View into something more in the 34-foot range. This bad boy is 37 feet long – which may not seem like a lot until you consider that our loft back in Philly was 40 feet long – and we'll be towing a car behind this!


Ultimately, the deciding factor was the convenient layout of this RV. There are two sofas (Buster has already claimed one of them), scads more counter space in the kitchen, an extending table with buffet for our office, and a bedroom all the way in the back that doesn't require a ladder to access.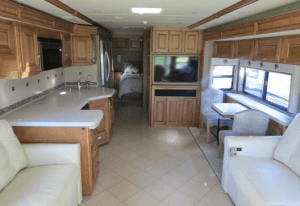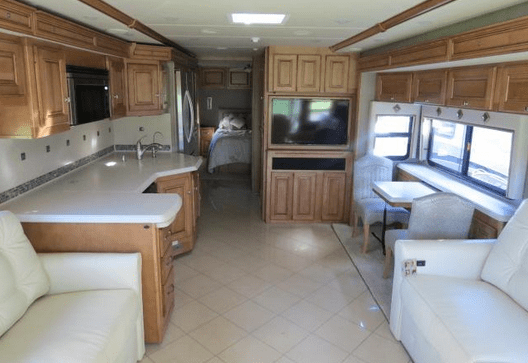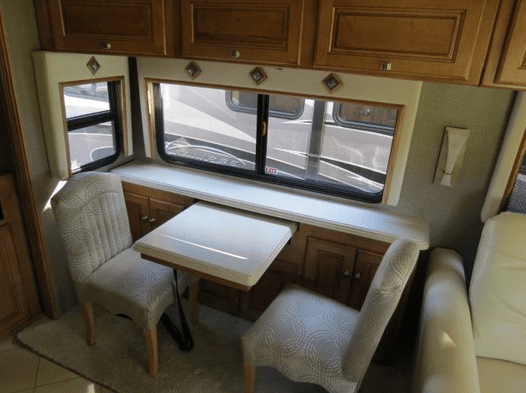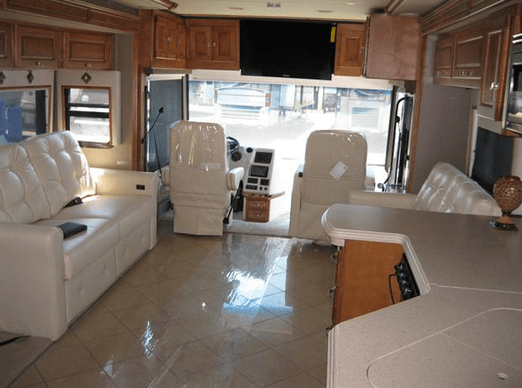 On Friday we got the final approval for the purchase, so now we just have to drive down to El Paso to pick her up! Rod's speaking in Vegas this week, but as soon as he's done – we're on a mad dash to Texas. We've scheduled the walk-through and delivery for the 19th, which – I swear – can't get here fast enough.
Things came together so quickly that we won't have time to design and wrap the new motorhome in GoPetFriendly.com graphics before we take off … so we'll be traveling incognito for a few months. We have some fun ideas to get you involved in the wrap design, so stay tuned for news about that over the next few weeks!
Finally, we want to say thank you. Your support has caused GoPetFriendly.com to flourish – we absolutely couldn't have done this without you! And, we hope you'll continue to enjoy our adventures as … we're movin' on up!
PS – If anyone has tips for me on driving this beast, please leave a comment below!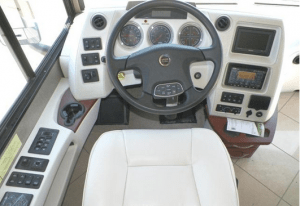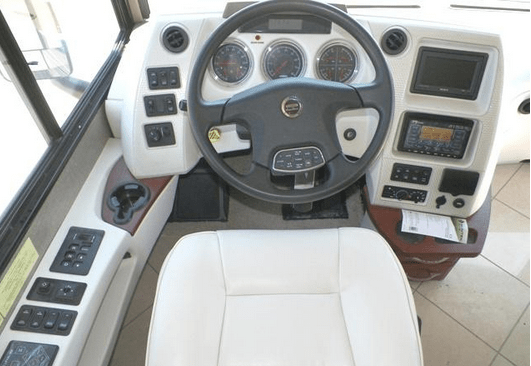 Planning a pet friendly trip of your own? We'll make it easy:
Pet Friendly Hotels | Pet Friendly Destinations | Pet Friendly Activities
Amazon Affiliate Disclosure: GoPetFriendly.com LLC is a participant in the Amazon Services LLC Associates Program, an affiliate advertising program designed to provide a means for website owners to earn advertising fees by advertising and linking to amazon.com, audible.com, and any other website that may be affiliated with Amazon Service LLC Associates Program. As an Amazon Associate, the owner of this site earns a commission from qualifying purchases.
(Visited 502 times, 1 visits today)