It's funny how a place can completely surprise you … once you actually go there.
Ever since we decided to make North Dakota one of our summer destinations, the sarcastic comments have been flying. Not many shared pleasant stories of their experiences, and some even questioned whether we'd misspoken and meant South Dakota – surely our intention was to see the Black Hills, right? After all, what could possibly interest us in North Dakota?
I have to admit, the comments got to me, and my own expectations of our visit began to sink. Trading in my curiosity and just accepting the opinions of others crossed my mind – after all, a quick drive through the state would allow us to say we'd "done" it.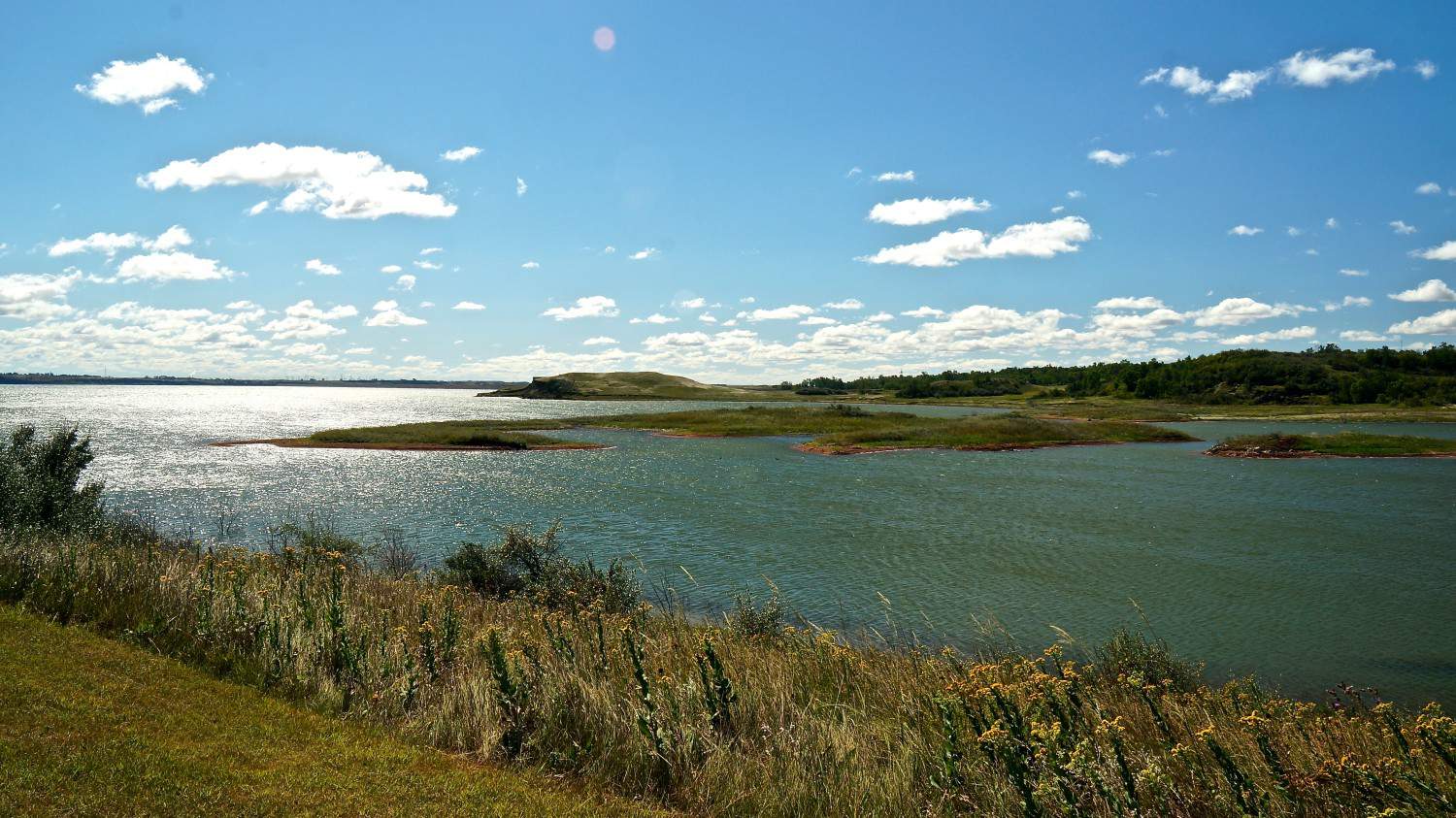 But, after exploring a bit, I'm wondering if any of the people making those disparaging remarks have ever actually been here! Perhaps they were just passing along what they'd heard about a place they'd never seen – like I would have done if we hadn't taken the time to experience it ourselves. Regardless, I've been completely surprised – in the most wonderful way – by North Dakota. And I hope you'll learn from my near miss to never sacrifice your own adventure for the impressions of others.
Lake Sakakawea State Park
After departing Bismarck, we headed north to Lake Sakakawea State Park. (The legendary Native American woman the park is named after is "Bird Woman" in Hidatsa, and the Three Affiliated Tribes, Mandan, Hidatsa, and Arikara, claim this is the official way to spell it.) The lake was created when the Missouri River was dammed in 1953, and resulted in the third largest reservoir in the country – topped only by Lakes Mead and Powell.
The land that was flooded in building the lake was primarily in the Fort Berthold Indian Reservation. The tribes were compensated, but lost 94% of their agricultural land, sadly destroying the traditional way of life for the Three Affiliated Tribes. The towns that were lost to the lake, Van Hook, Sanish, and Elbowoods, are commemorated in the names of the three campground sections at the state park.
Most of our readers know that we loathe planning ahead, and serendipity smiled on us when I called to reserve a campsite the day before our arrival. They'd just had a cancellation for one of the lakeside sites in the Elbowoods section, and we were able to book it for five glorious days! This was our view from the RV!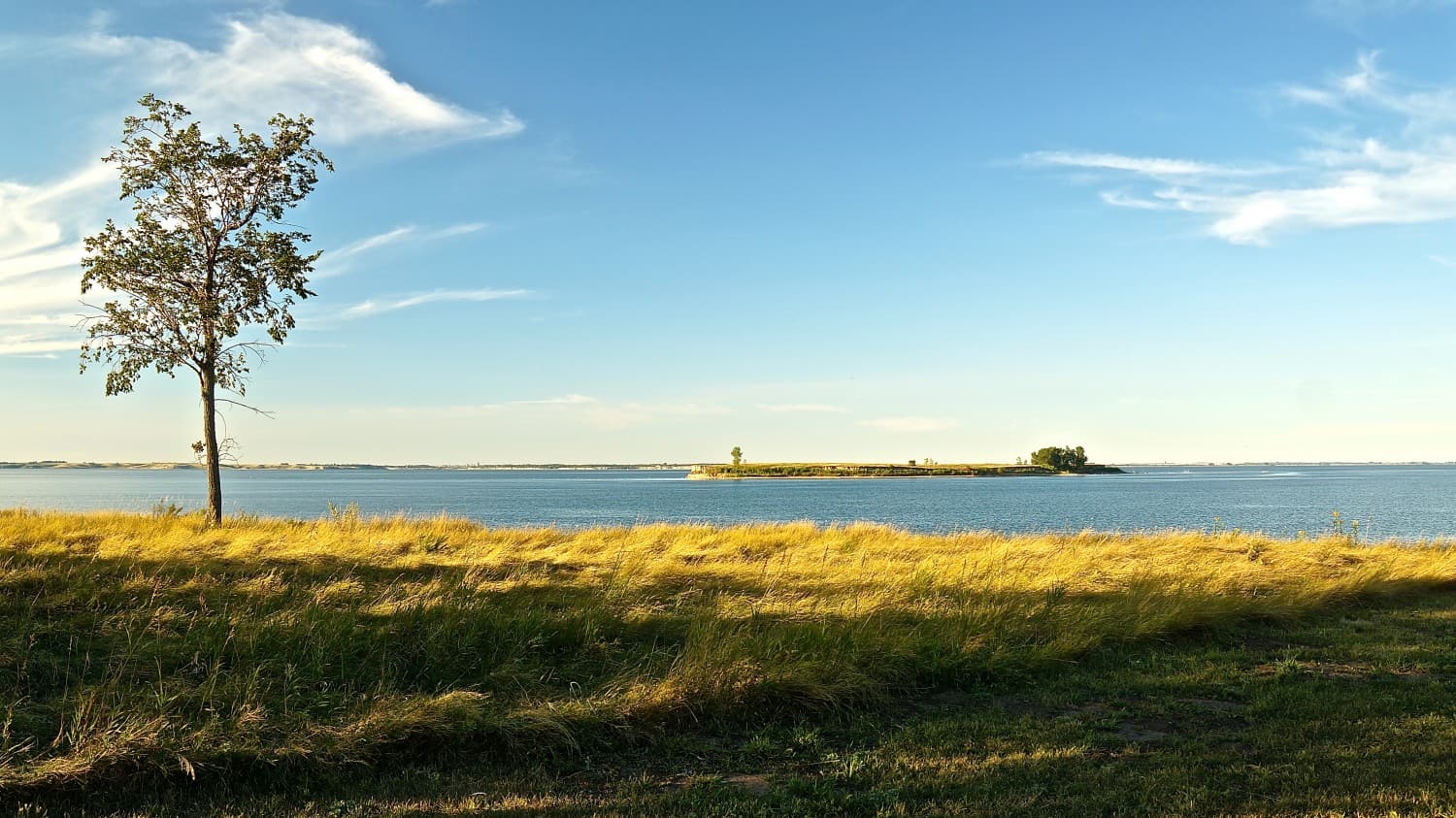 The park covers nearly 1,300 acres and has a marina, a swim beach, cabin rentals, camping and picnic facilities, and a section of the North Country National Scenic Trail passes through it's borders.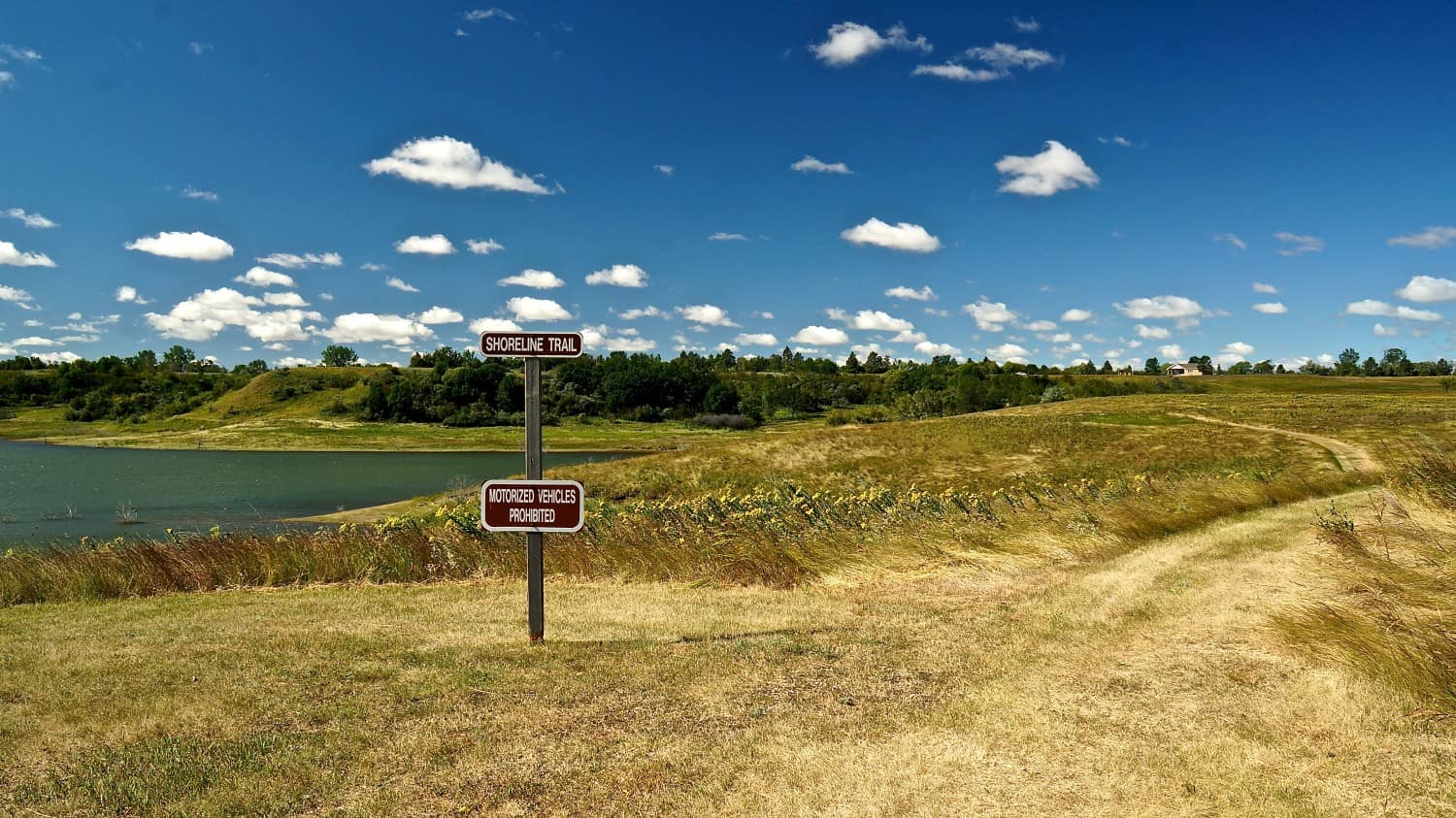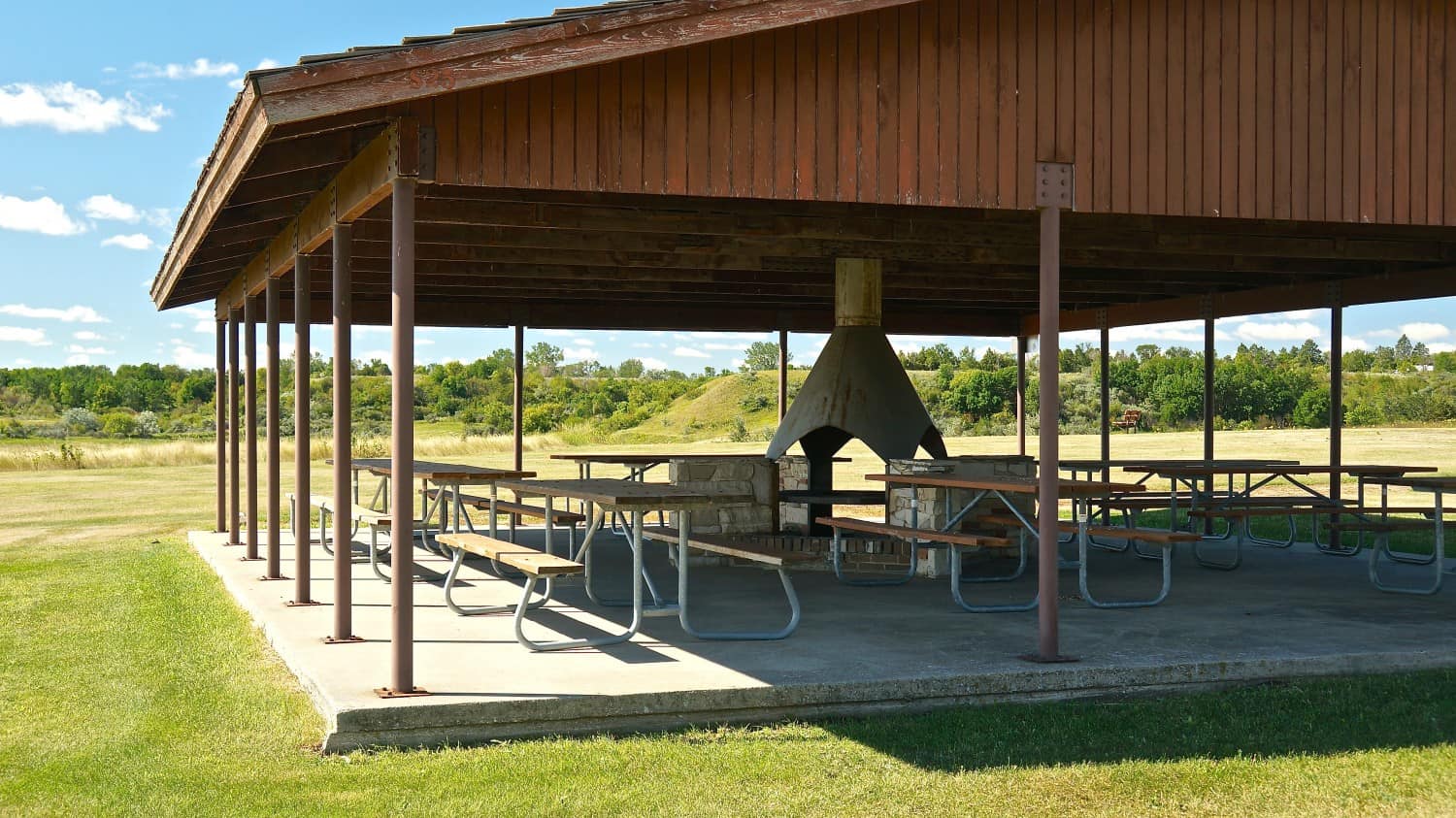 The vast open spaces, views of the lake, fantastic wildlife, and superb trails for walking the dogs were too good to resist, so when our five-day reservation was up, we extended our stay for a few more nights. When the time finally came to move on, we left with heavy hearts. This was one of the loveliest and best maintained campgrounds we've visited in all our years on the road. We're already looking forward to our next visit!
Knife River Indian Villages National Historic Site
From Lake Sakakawea we took a day trip down to the Knife River Indian Villages National Historic Site – my pick in North Dakota for the Ultimate Pet Friendly American Road Trip. These villages are where Sakakawea lived when her husband was hired by Lewis and Clark as a translator for their journey. Sakakawea and the couple's infant son joined the expedition, and she was instrumental in the group's success.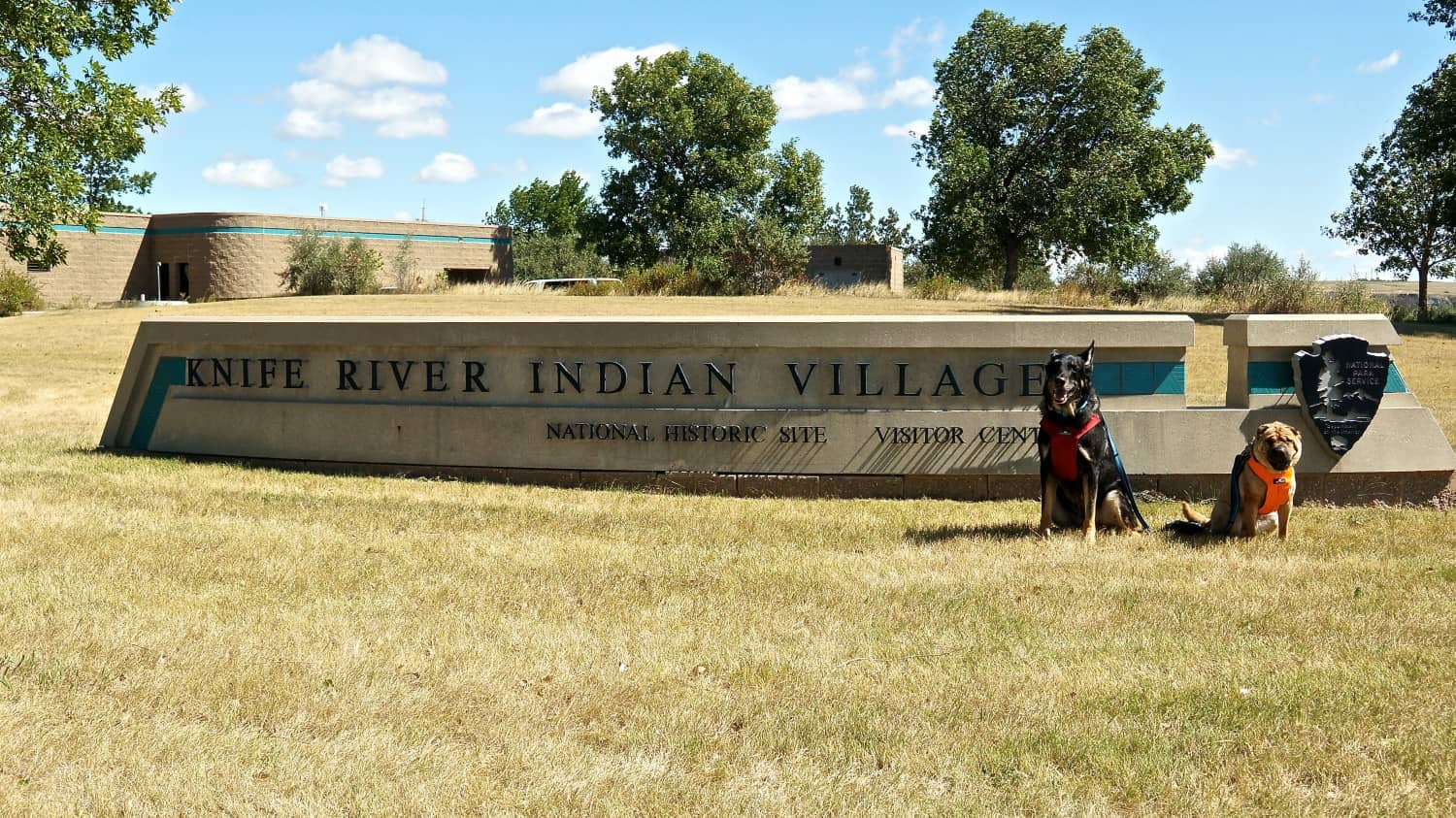 These villages were inhabited by Earthlodge people, who hunted bison and other game, but were essentially farmers living in villages along the Missouri River and its tributaries. A replica of one of the earthlodges has been recreated, and when you walk out to the village sites, you can see the indentations where many dwellings were once located.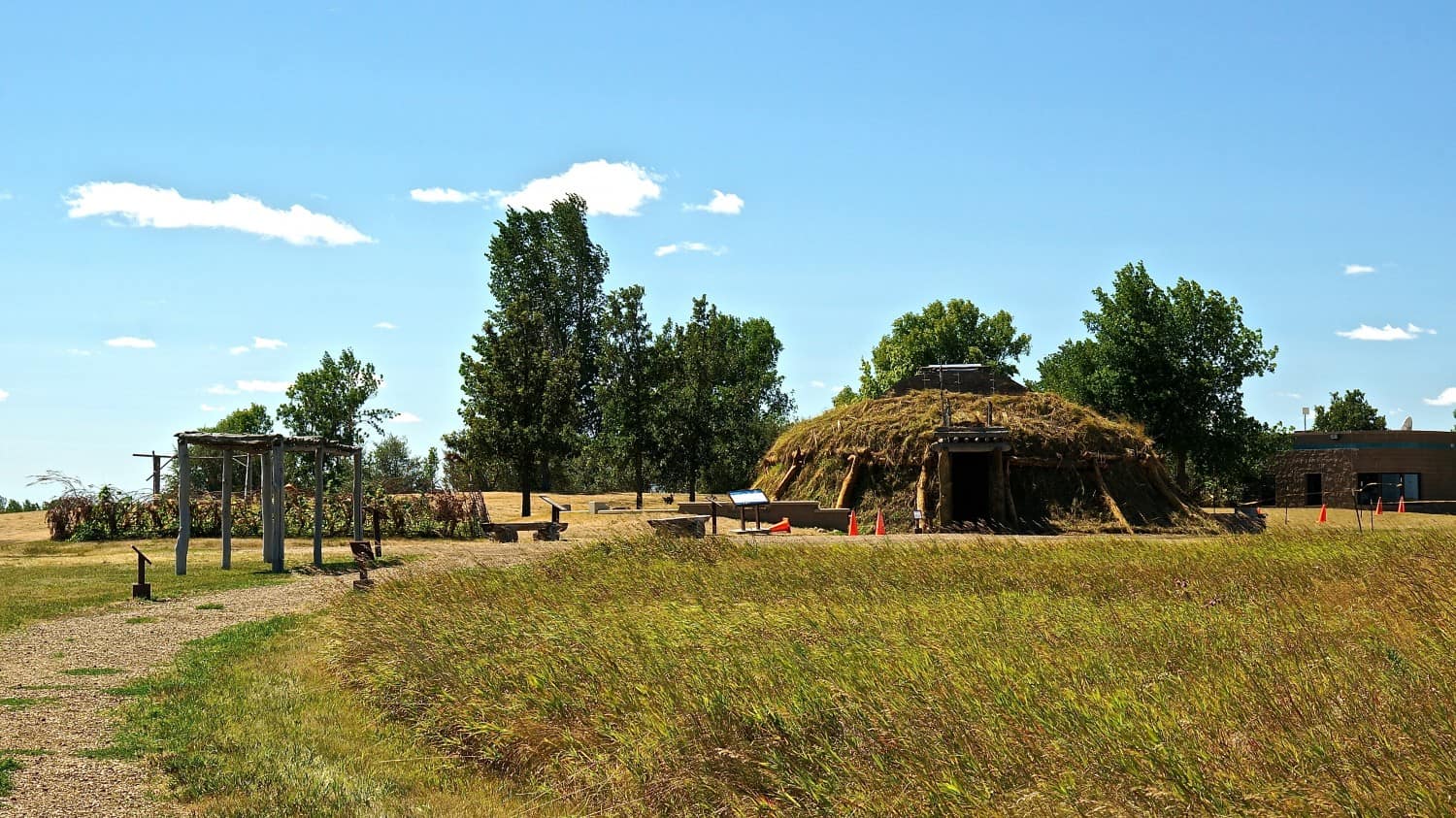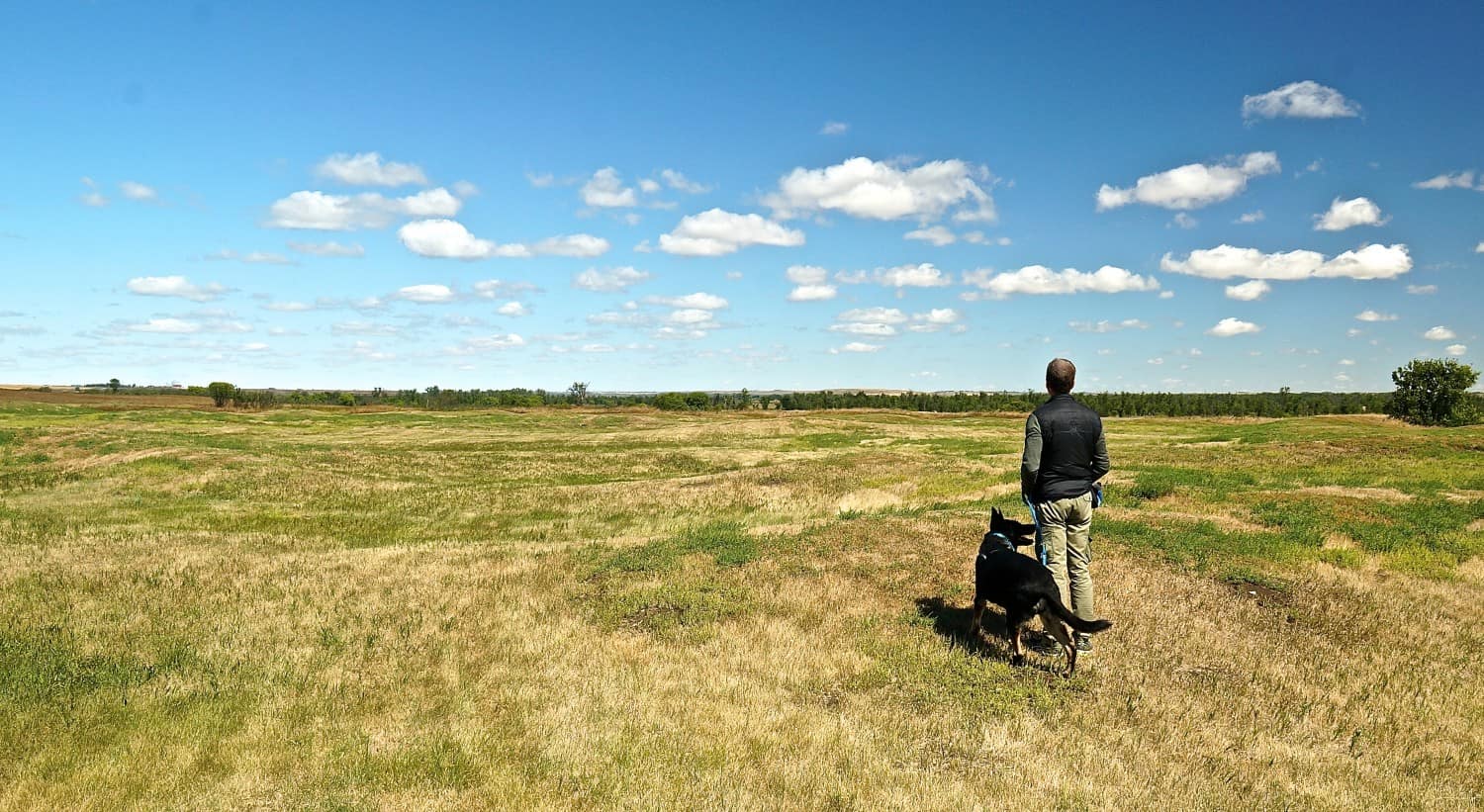 The trails are all pet friendly, and the ranger even offered to accompany us and answer any questions we might have along the way! Since Ty's afraid of strangers, we opted to strike out on our own and it felt like we had the whole park to ourselves! And the informative plaques along the way were perfect for picking up the historic details.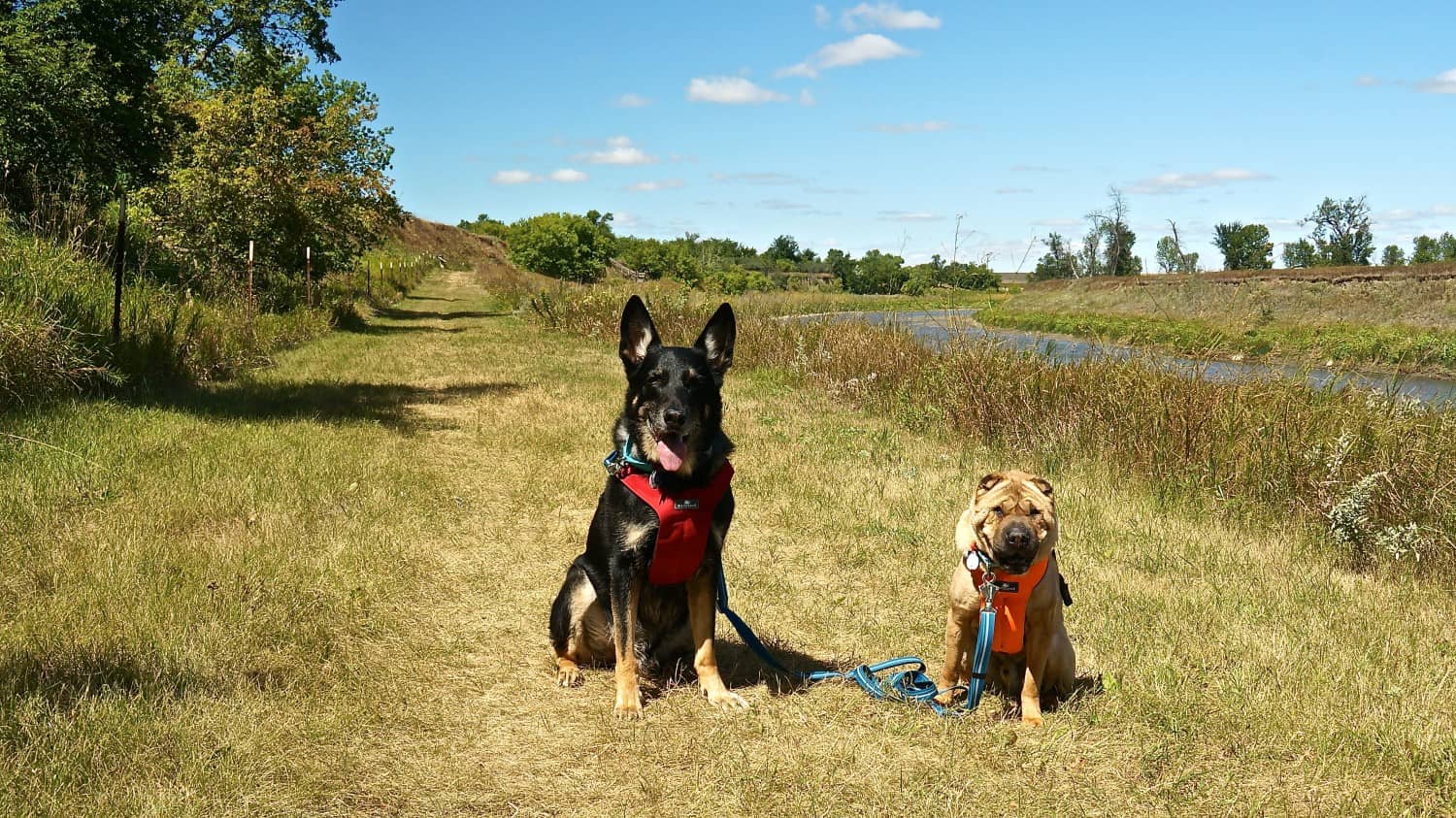 On our way home, we took the scenic route and stopped at Fort Mandan in Washburn to get the boys' picture with Seaman – Captain Lewis' Newfoundland on the Lewis and Clark Expedition!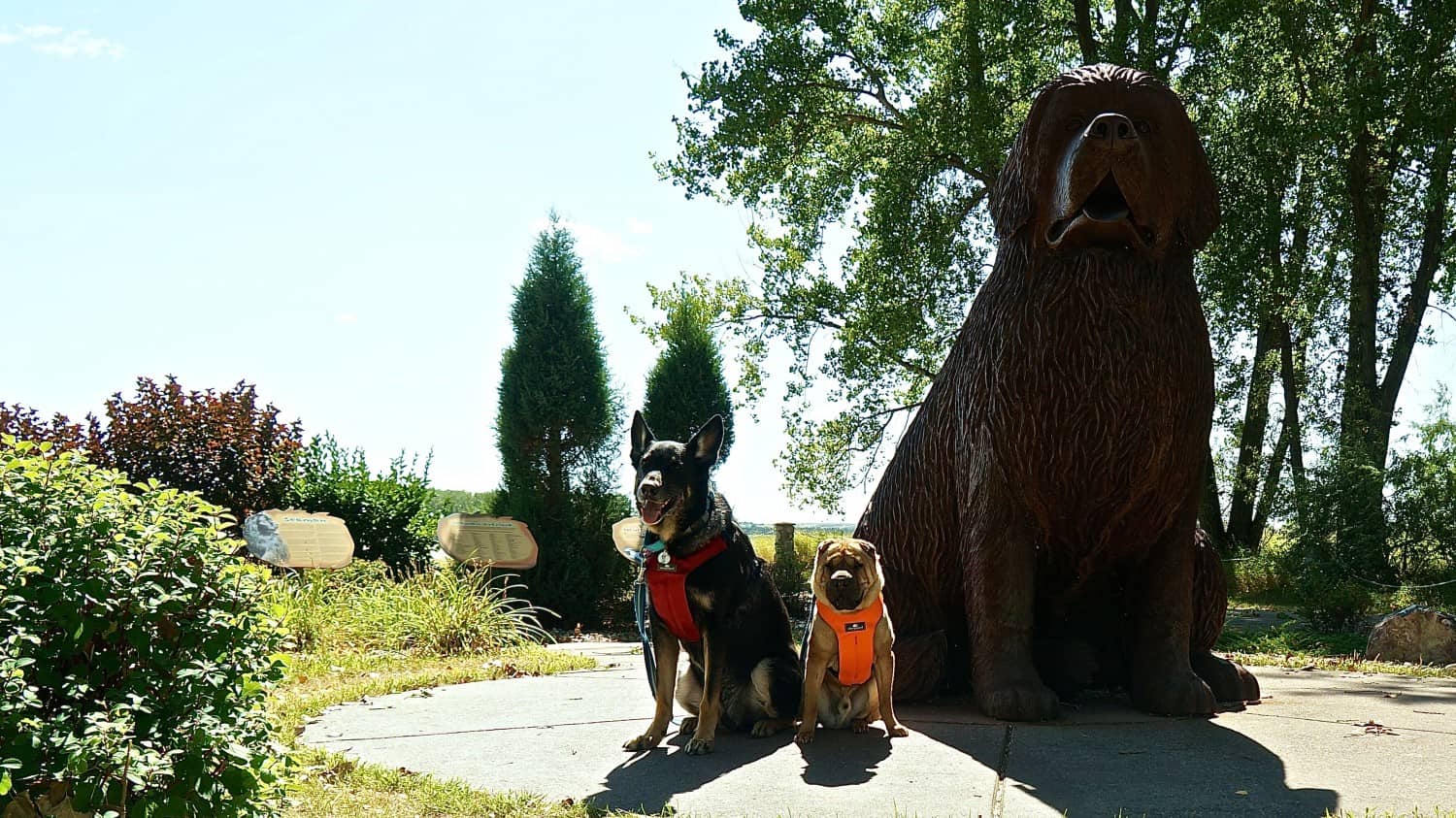 Day Trip to Minot
From Lake Sakakawea, it was about an hour drive north to Minot. On the way, we stopped in Garrison at Fort Stevenson State Park, which we'd been looking at across the lake for days. It's another beautiful North Dakota park, with two marinas, cabin rentals, camping and picnic facilities, hiking trails, a swim beach, and canoe/kayak rentals. Unfortunately, the campsites don't have the same spectacular views of the lake as those at Lake Sakakawea.
Fort Stevenson supplied other military posts in the Dakota Territory, and there are some remnants of those days still around. The boys had a good time exploring the trail and learning a little about the history of the area.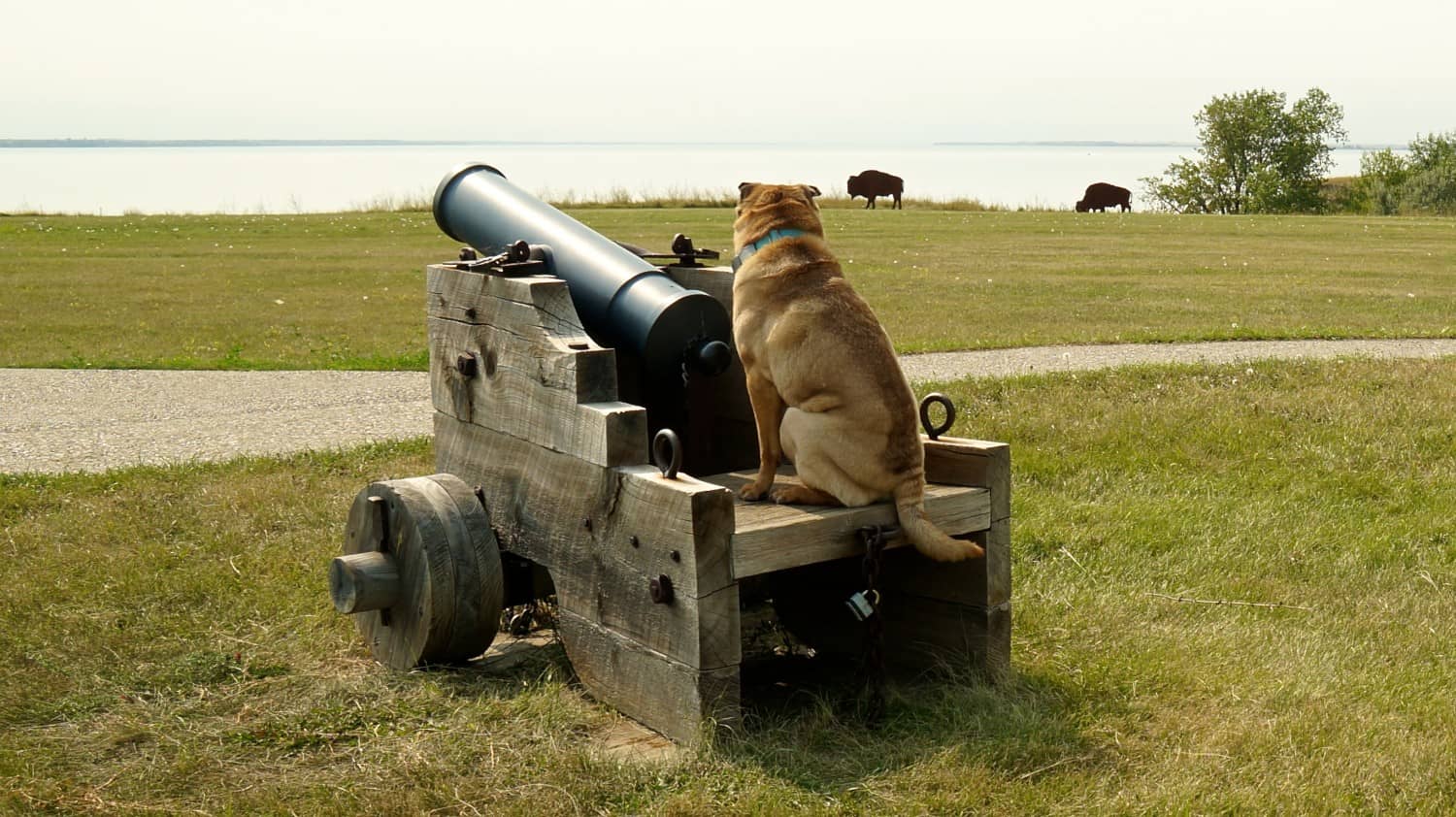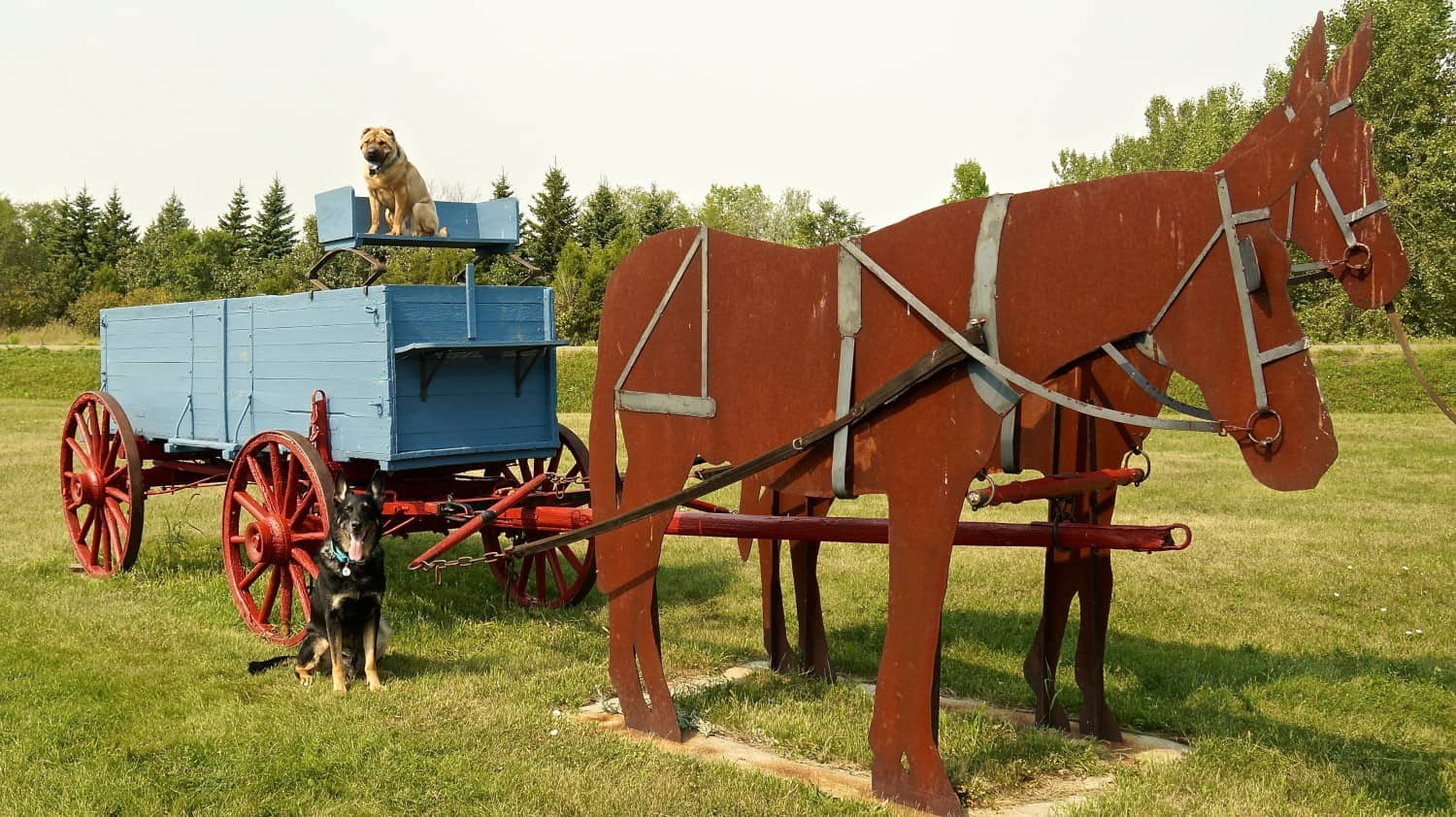 In fact, the boys had so much fun that by the time we arrived in Minot it was getting a little late. The Scandinavian Heritage Park was the only stop we got to make before we needed to drive home so that Ty's supper wasn't late. (Fans of Ty know what a serious infraction that would be!)
This is a beautiful park that celebrates the culture, traditions, and contributions that the five Nordic countries (Denmark, Finland, Iceland, Norway, and Sweden) have made to our heritage. From a statue of Hans Christian Anderson, to examples of their unique architecture, to their most recognizable symbols, we thoroughly enjoyed our visit.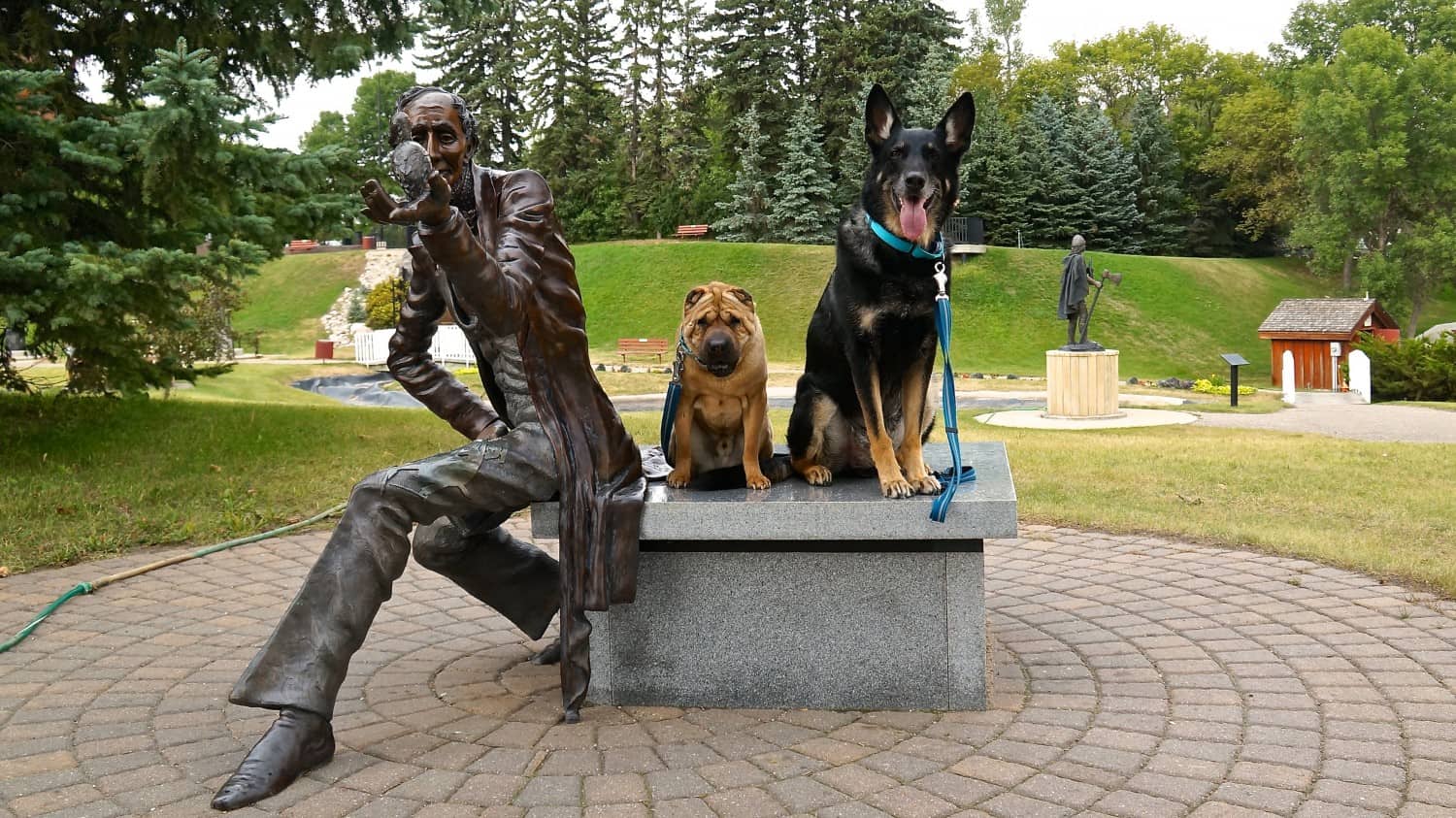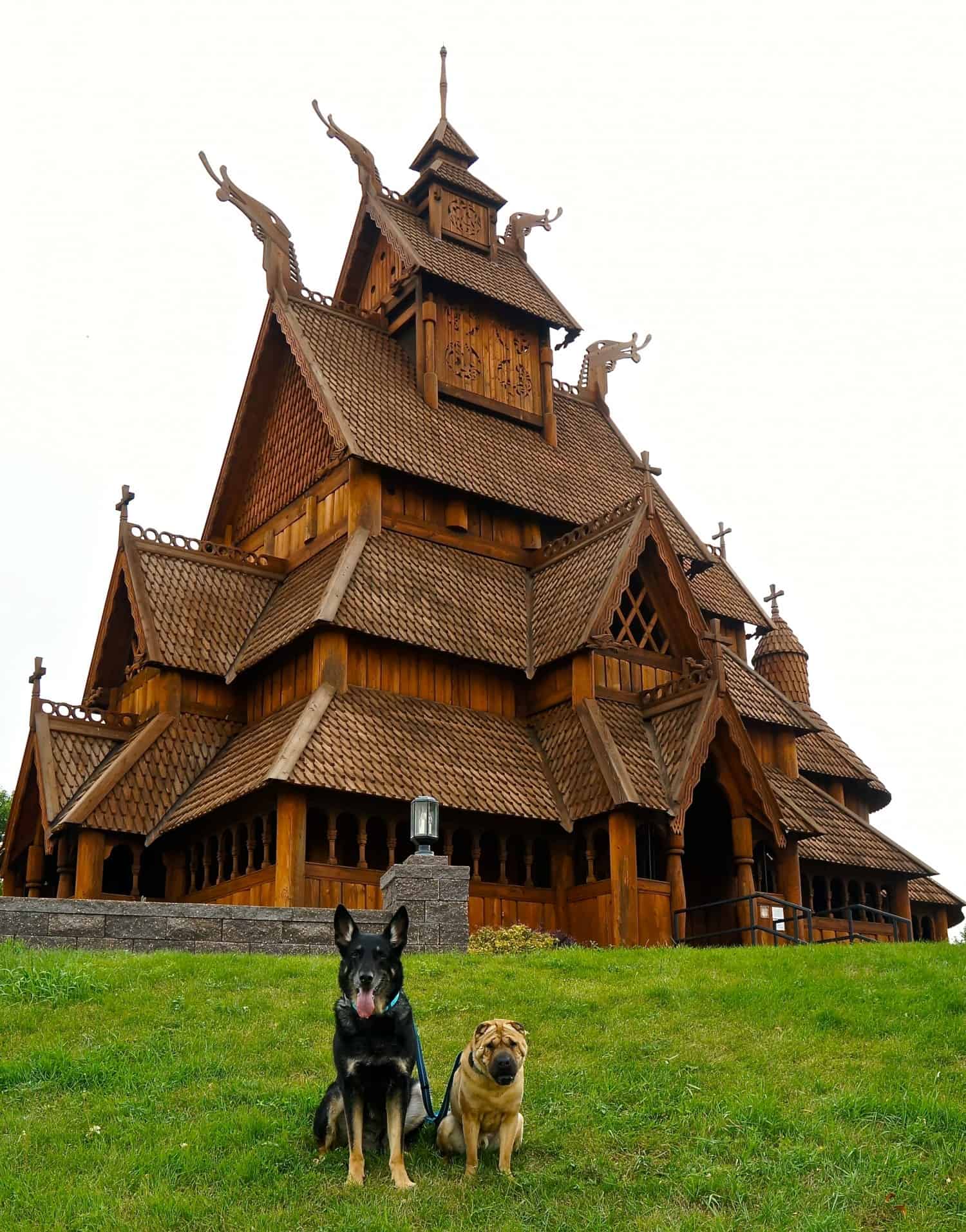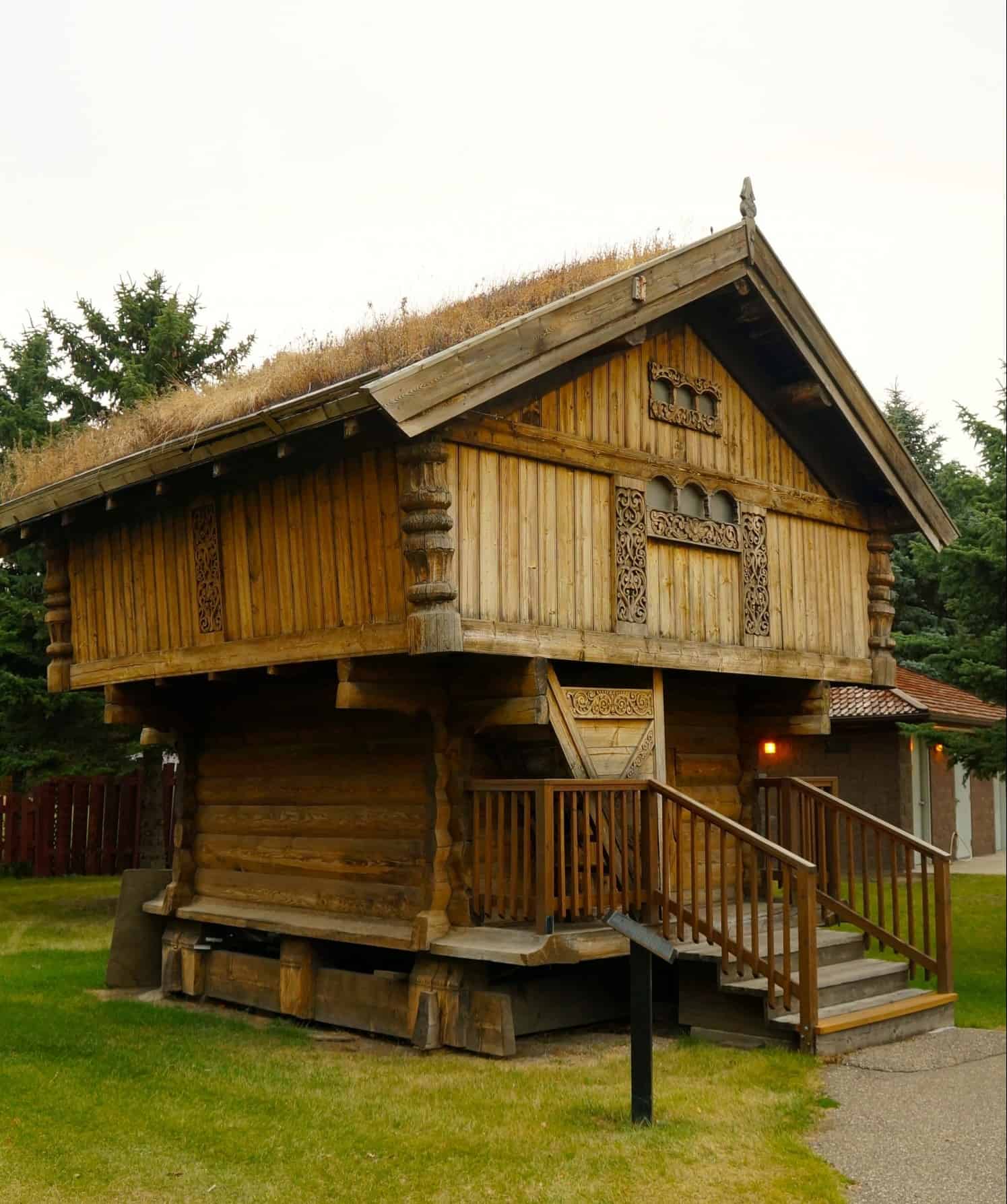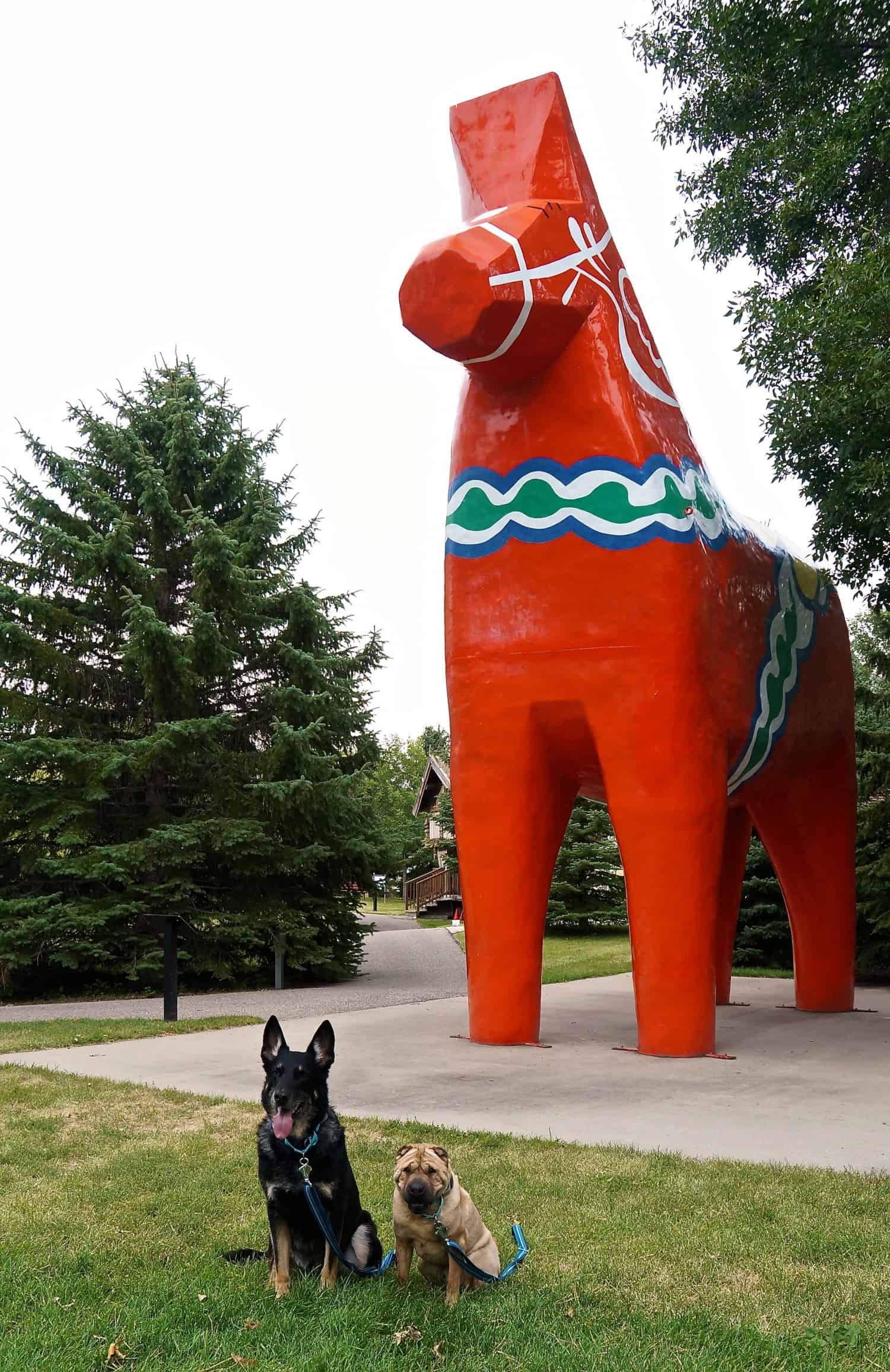 Our next stop in North Dakota will be the town of Medora, where we'll be seeing Theodore Roosevelt National Park and exploring pet friendly activities in the area that Ty and Buster will enjoy. Stay tuned!
Update
We finally made it back to Knife River Indian Villages. Read about our most recent visit now!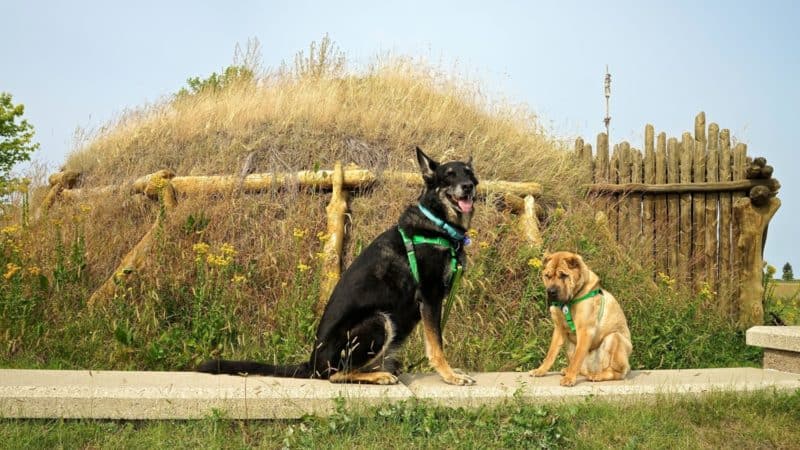 Planning a pet friendly trip of your own? We'll make it easy:
Pet Friendly Hotels | Pet Friendly Destinations | Pet Friendly Activities
Amazon Affiliate Disclosure: GoPetFriendly.com LLC is a participant in the Amazon Services LLC Associates Program, an affiliate advertising program designed to provide a means for website owners to earn advertising fees by advertising and linking to amazon.com, audible.com, and any other website that may be affiliated with Amazon Service LLC Associates Program. As an Amazon Associate, the owner of this site earns a commission from qualifying purchases.
(Visited 1,592 times, 1 visits today)