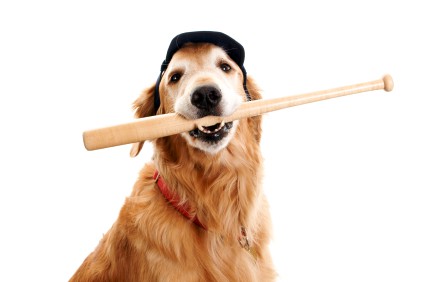 After our recent Bark at the Park with the Trenton Thunder, we've still got baseball on our minds.
Imagine your diva dog breaking into song:  Take me out to the ball game, Take me out with the crowd …. Did you know that several major league baseball teams put on "Bark in the Park" promotional events?  The San Francisco Giants have been doing it the longest – their "14th Annual Dog Days of Summer is scheduled for Sunday, August 29.  The Pittsburgh Pirates have the most "Pup Nights" – six spread throughout the 2010 season.  A cool side benefit is that a portion of ticket sales are donated to local non-profit organizations that help animals in need.
A properly trained owner and a well socialized dog are prerequisites to attend these games since (1) there is normally one designated entrance where most dogs hang until the gate opens and (2) only certain sections are reserved for people with pooches to sit and watch the game.  If you join in the festivities, remember to bring proof of your pup's rabies vaccination (a current tag should suffice).  Call the ticket office to confirm other particulars.
The following teams have already played pet friendly games (sorry I did not get this posted sooner!):
Houston Astros – Sunday, April 11
Pittsburgh Pirates – Tuesday, April 20
New York Mets – Saturday, April 24
Florida Marlins – Friday, April 30
Atlanta Braves – Sunday, May 2
However, there are still 14 dog friendly games left in the regular season. If you live near these ball parks, grab your whole family and let your canine ruff, ruff, ruff for the home team.
Pittsburgh Pirates – Tuesday, May 11
Cincinnati Reds – Wednesday, May 26
Chicago White Sox – Thursday, June 3
St. Louis Cardinals – Sunday, June 6
Pittsburgh Pirates – Tuesday, June 15
Pittsburgh Pirates – Tuesday, July 20
Oakland As – Friday, July 23
Pittsburgh Pirates – Tuesday, August 17
San Diego Padres – Friday, August 27
Atlanta Braves – Sunday, August 29
San Francisco Giants – Sunday, August 29
Cincinnati Reds – Tuesday, September 14
Pittsburgh Pirates – Tuesday, September 21
Kansas City Royals – Sunday, October 3
Note: Many minor league baseball teams have similar dog-at-the-park promotions.  Check them out, too!
Amazon Affiliate Disclosure: GoPetFriendly.com LLC is a participant in the Amazon Services LLC Associates Program, an affiliate advertising program designed to provide a means for website owners to earn advertising fees by advertising and linking to amazon.com, audible.com, and any other website that may be affiliated with Amazon Service LLC Associates Program. As an Amazon Associate, the owner of this site earns a commission from qualifying purchases.
(Visited 120 times, 1 visits today)