Taking your dogs on a vacation to Las Vegas is about as good an idea as taking small children there. This city's bread and butter is it's over-the-top adult entertainment options. The palatial casinos, the stunning variety of world-class shows, the marvelous restaurants and clubs … they're not pet or kid friendly. So, if that's what Vegas means to you, I suggest leaving the dogs and kids home with a sitter where they'll have more fun.
But, if you're not into "that" Vegas scene and don't mind digging a little deeper, you can find some great pet friendly things to do nearby!
The Strip
Though we've never had Ty and Buster along before, Rod and I have been to Sin City many times, so we knew what to expect in the way of pet friendly options. There are several pet friendly hotels in Las Vegas, but many have weight restrictions that Buster exceeds and others charge significant pet fees. The reason we were in town was because Rod was speaking at a conference on business valuation, and we wanted to stay close to where he was giving his presentations. Luckily, the RV Park at Circus Circus was both pet friendly AND within walking distance of the conference hotel.
Being on the Strip gave us the chance to take the boys for a little tour of the landmarks. We wanted to avoid the crowds, so we got up early on Sunday morning and walked Ty and Buster down Las Vegas Boulevard. The weather was perfect this time of year, but the sidewalks were surprisingly crowded at 7am! I guess we weren't the only ones hoping to find a little peace and quiet in the early morning hours … or maybe the partygoers just hadn't made it to bed yet from the night before! Either way, we got a few shots and then got the boys out of the malay.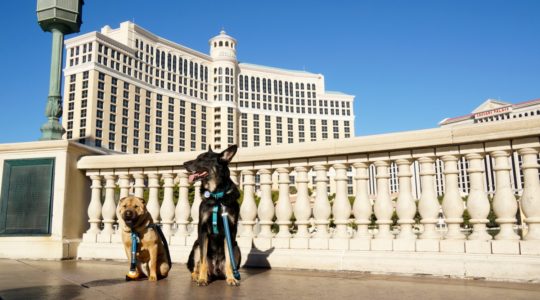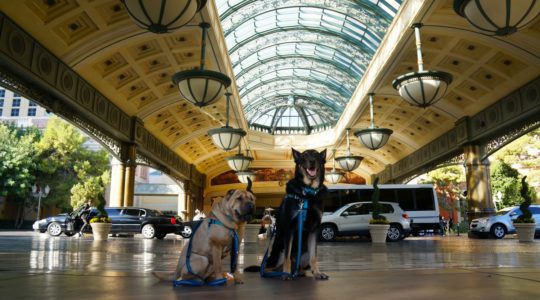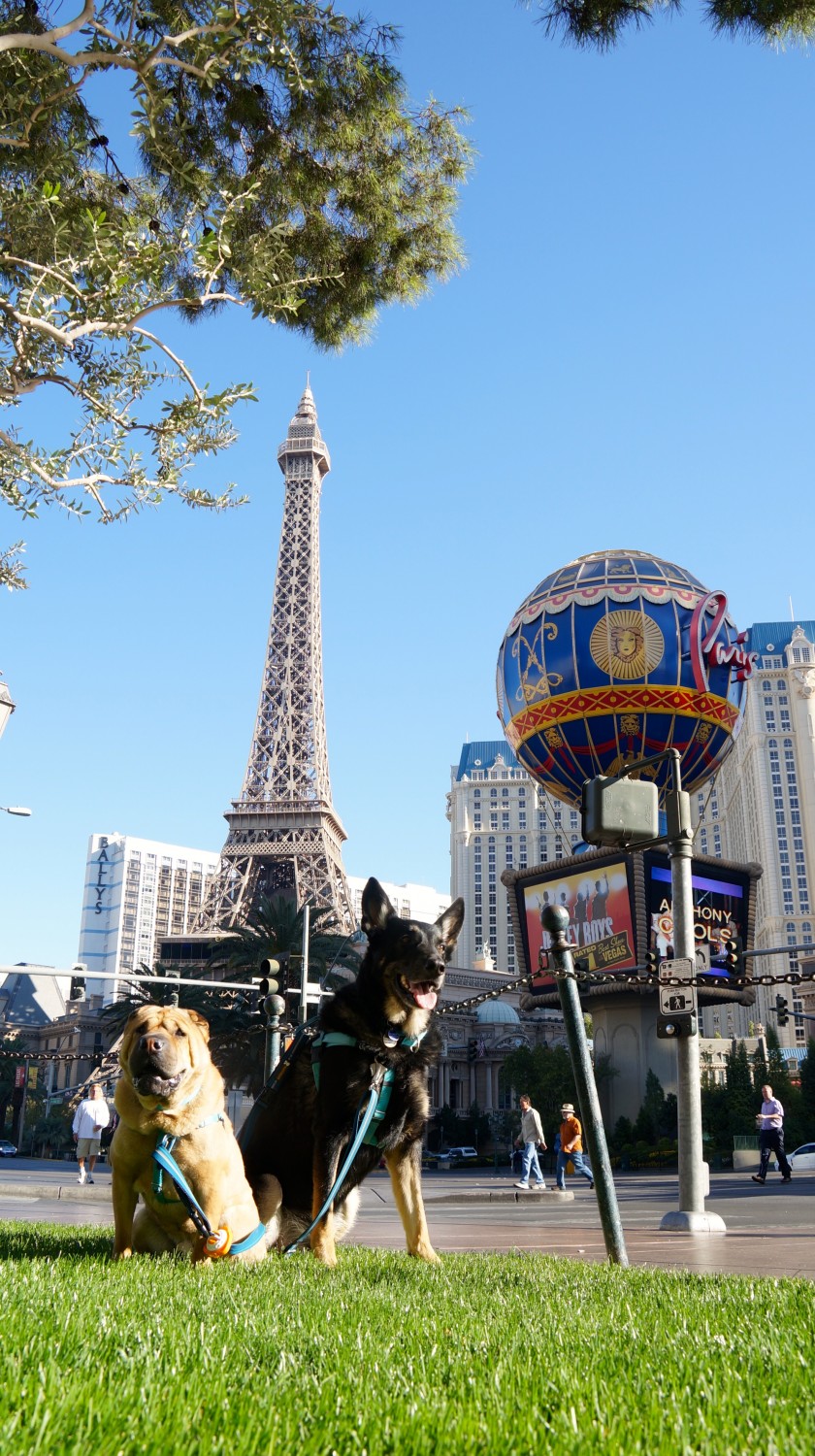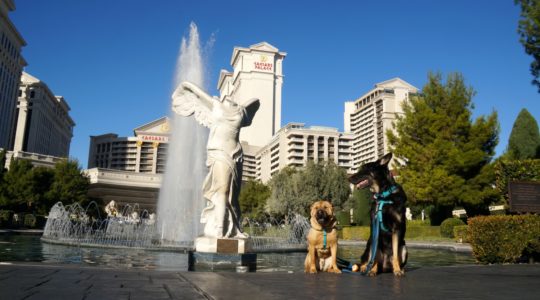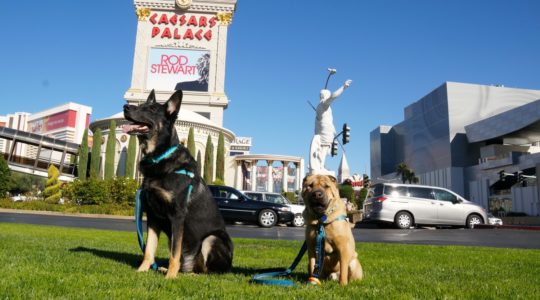 Lake Mead
As soon as we could make a break for it, we packed things up and took off for Lake Mead. It's only about a 40 minute drive from downtown Vegas, but it's an entirely differently world. The only sensory overload you'll get out here is from the gorgeous views, the amazing stargazing, and the call of coyotes.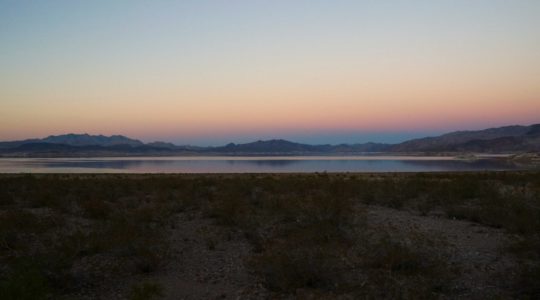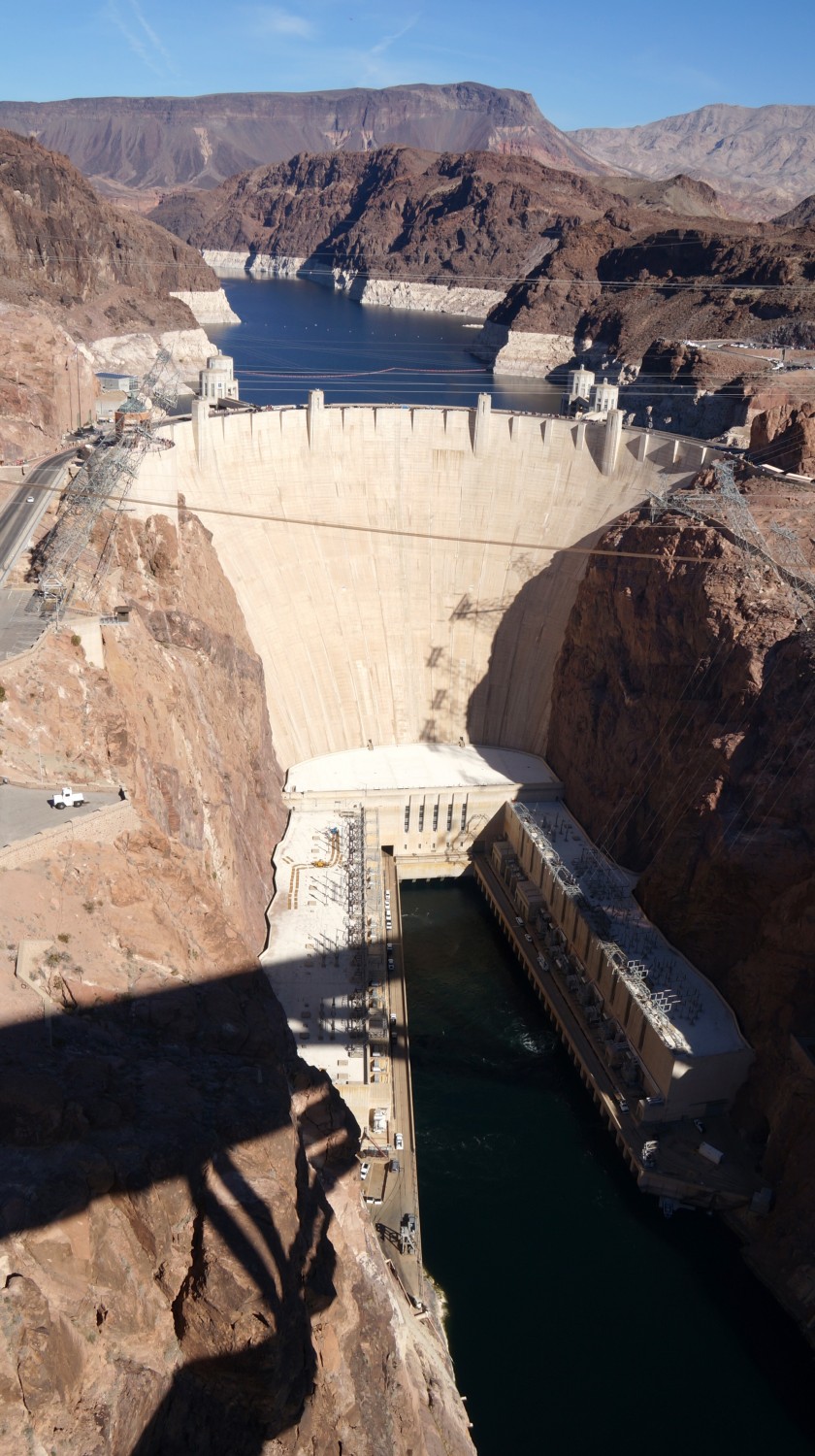 The Lake Mead National Recreational Area encompasses almost a million and a half acres and follows the Colorado River from Grand Canyon National Park to just north of Bullhead City, Arizona. We stayed at an excellent RV park near Boulder Beach, just a few miles west of Hoover Dam. Though the area is managed by the National Park Service, the dogs were welcome on the trails and lakefront, as long as they were on leash.
A Little Adventure
When we were in Coeur d' Alene this summer, a good friend took me out to try stand-up paddle boarding and I fell in love! Ever since then, I've been trying to arrange a lesson so Rod and I could go together – I think this would be a fun activity for us to do with the dogs as we travel around, and I really wanted him to like it, too. It finally worked out while we were at Lake Mead! I found a rental company at the Westin Lake Las Vegas that provided a brief introduction and then rented boards by the hour on a small private lake. It was perfect!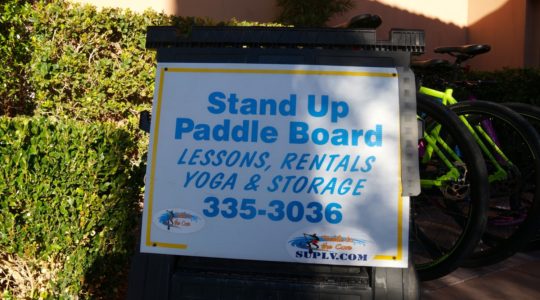 We decided not to include the dogs in this initial lesson … remember, I want Rod to like this! Giving us a little time to figure it out ourselves seemed like a good idea before we threw Buster and Ty into the mix. However, if you're questioning whether people really do SUP with their dogs, I give you this:
And, here's a pad that you can get to put on the front of your board to give your pup more traction: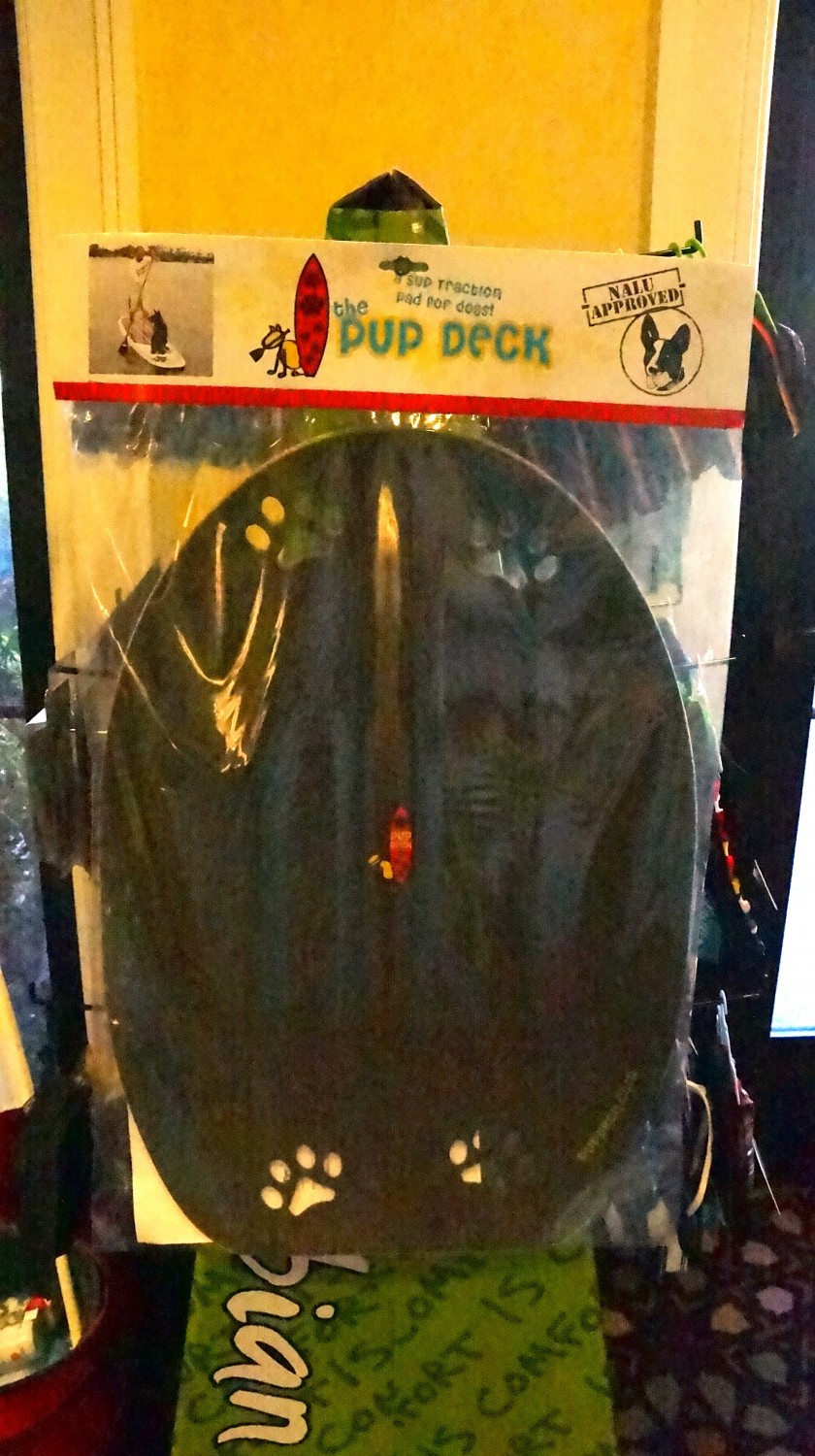 We checked in at the office and then headed down to the beach for our lesson. It was a great sunny day … though, truth be told, the water was FREEZING! My feet started going numb just stepping in to get on the board. Needless to say, there was a lot of incentive not to fall in.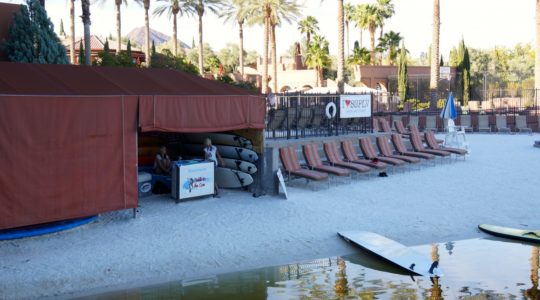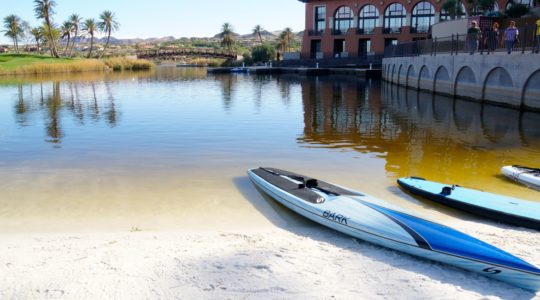 We paddled around for a couple of hours, and it's much easier than I thought it would be! I consider myself pretty clumsy (and Rod would agree), but I didn't fall off the board and neither did Rod. I can, however, see how it would be a bit more challenging with the dogs. I think we'll wait to take them on a warm day when none of us would mind getting wet … otherwise it would be easy to lose your patience and no one would have fun.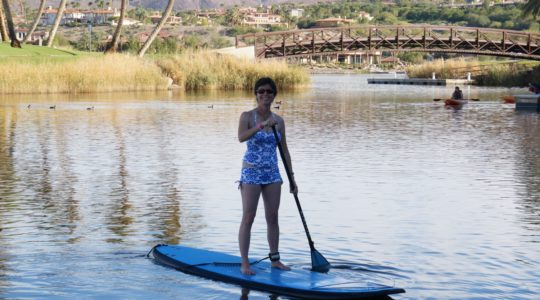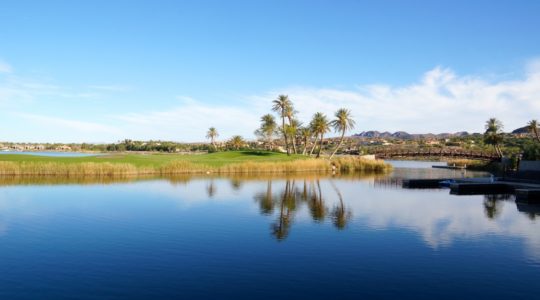 When you're done paddling, you can head back to the outdoor seating area at the hotel for a drink and a snack – it's dog friendly!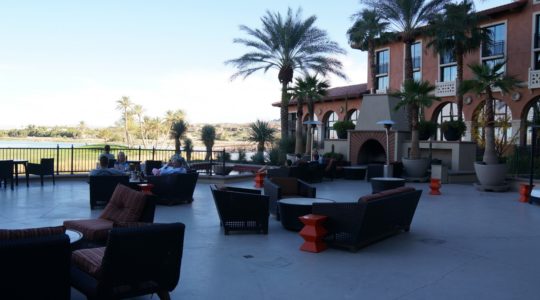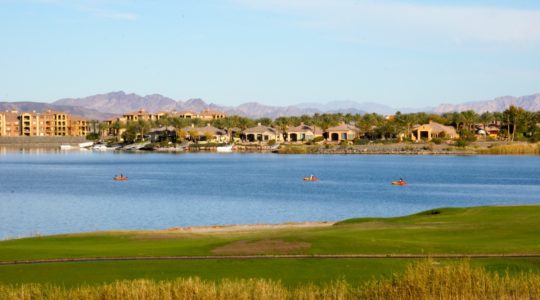 If you get a chance to try SUPing, give it a shot. Believe me … if I can do it, so can you!
Amazon Affiliate Disclosure: GoPetFriendly.com LLC is a participant in the Amazon Services LLC Associates Program, an affiliate advertising program designed to provide a means for website owners to earn advertising fees by advertising and linking to amazon.com, audible.com, and any other website that may be affiliated with Amazon Service LLC Associates Program. As an Amazon Associate, the owner of this site earns a commission from qualifying purchases.
(Visited 5,471 times, 1 visits today)