A couple of weeks ago I was chatting with a friend, and she asked if we would be decorating for the holidays. She imagined that we wouldn't have room to store the mountains of ornaments, miles of lights, and masses of figurines that occupy most households this time of year. I assured her that, while she was right about our limited storage space, it would not keep us from embracing the spirit of the season – not only would we be decorating, but I'd write a post to show her how it all turned out. So, put on your favorite holiday music, grab a mug of egg nog, and kick up your slippers, Jodi, this one's for you – and everyone else who's been wondering the same thing!
Decorating the Motorhome for the Holidays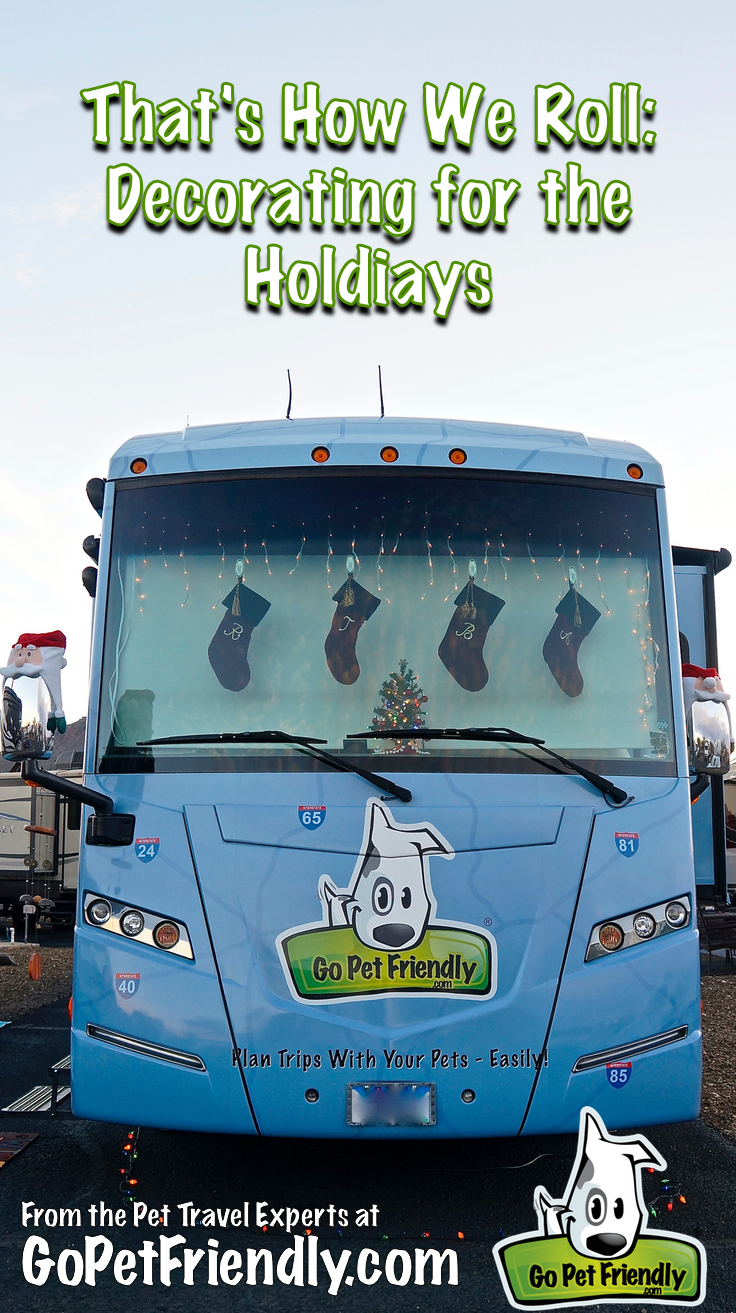 One of the obstacles – and blessings – of moving from a house into a motorhome is that you can't take it all with you. When we decided that we were going to live full-time in our RV, we got rid of most of our stuff – including most of our holiday decorations. The only Christmas ornaments we kept are the sentimental ones I've collected since childhood, and I couldn't bear the thought of risking their fragile lives bumping around with us, so they're carefully stored at my sister's house.
You might wonder, when you start out with no ornamentation and little space to store it, how do you embrace the festivities? Easy – you just do it on a much smaller scale!
The first year we were in the motorhome, I flew back to Wisconsin to visit my family for the holidays. My mom had decorated a tiny little Christmas tree for each of our bedrooms and told us to take it with us when we headed home. It was the perfect size for the RV, and now Buster takes the lead on making sure the ornaments are properly placed.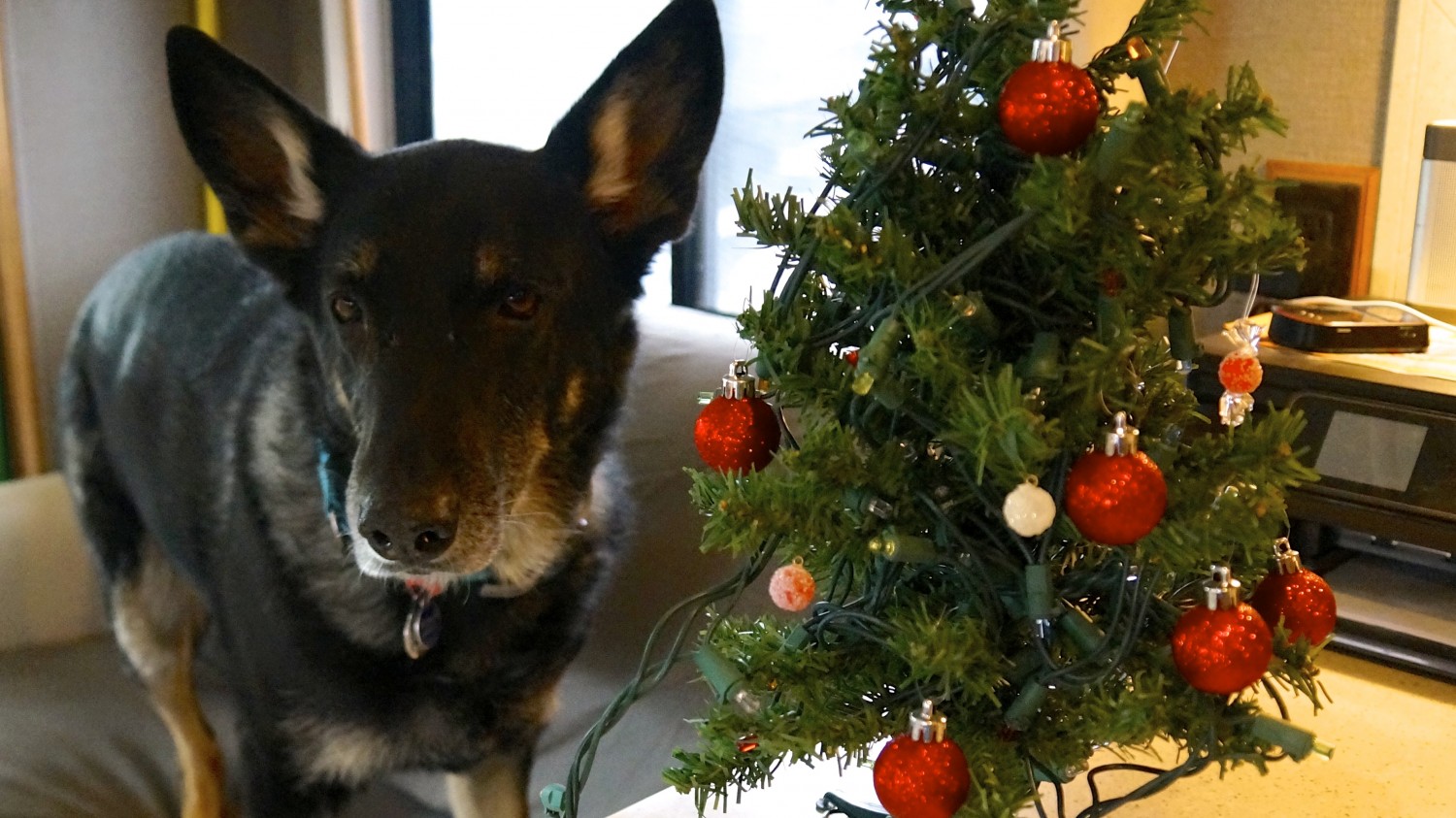 Finding miniature lights and ornaments is a cinch nowadays, but tracking down an appropriately-sized tree skirt was another matter. We solved that with a trip to the craft store. A piece of felt, some pom-pom trim, a few buttons, some decorative accents, and a little imagination was all we needed to make one that's just right.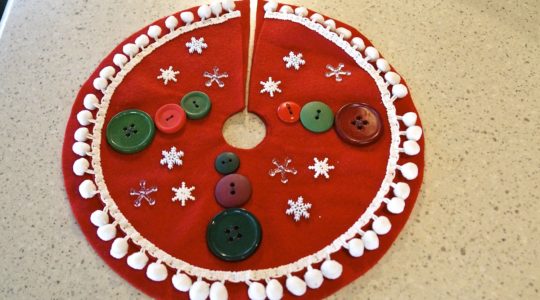 Light a pine-scented candle to perfume the air, and our miniature Christmas tree is complete.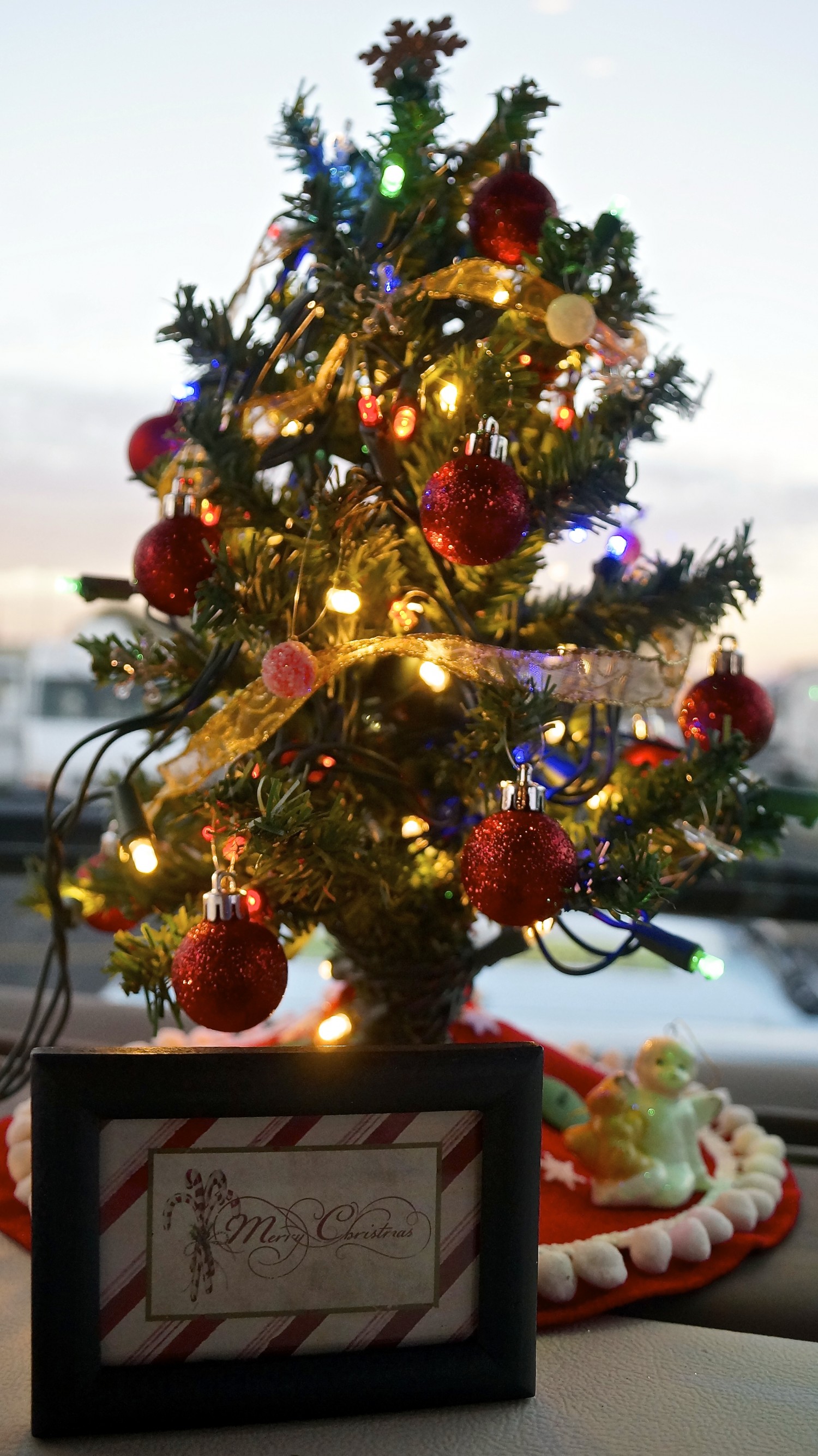 This year we added a second tiny tree to our decorations. The grocery store had these rosemary plants, trimmed in the shape of an evergreen. With a few trimmings, including some of the left over snowflakes from making the tree skirt, it not only looks nice – it smells fantastic!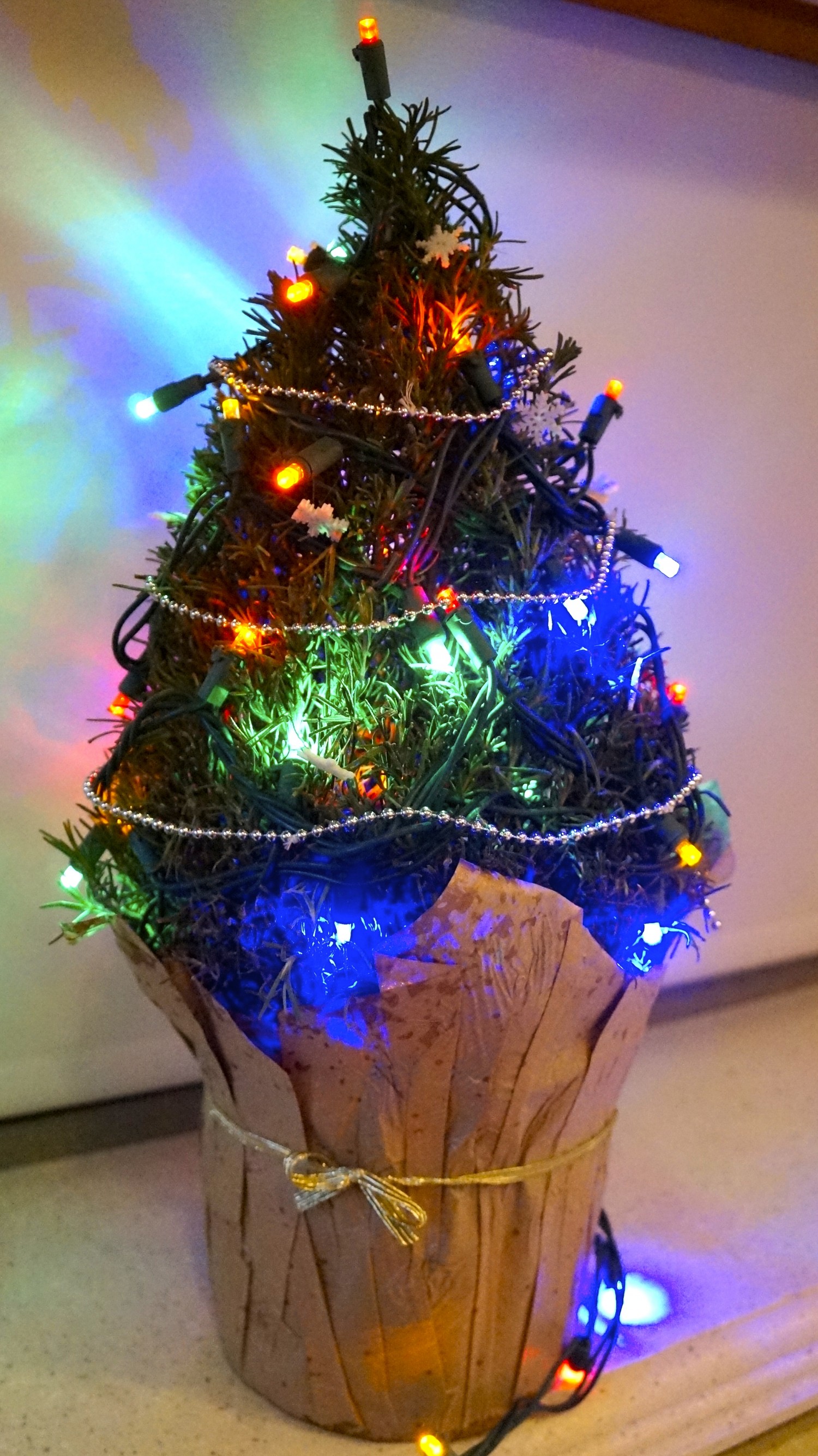 Of course, lights, lights, and more lights are a necessity this time of year, and we have one string of icicle lights that fits perfectly across the windshield. We have another string of colored lights that we lay on the ground under the RV, and Ty usually steps up to untangle! those. His advice? The urge to take a nap can strike right in the middle of the job, so it's best to work on this project in your bed.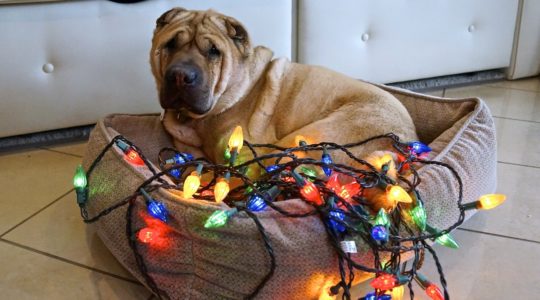 We hang the stocking with care across the windshield, so it's easy for Santa to find them. Using Command hooks from 3M makes it painless to remove them without any sticky glue residue being left behind.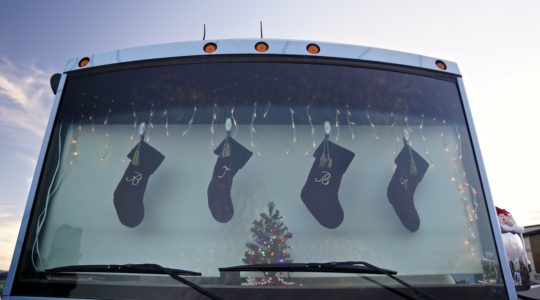 The final touch are two Santa hats that fit perfectly on the mirrors on each side of the coach.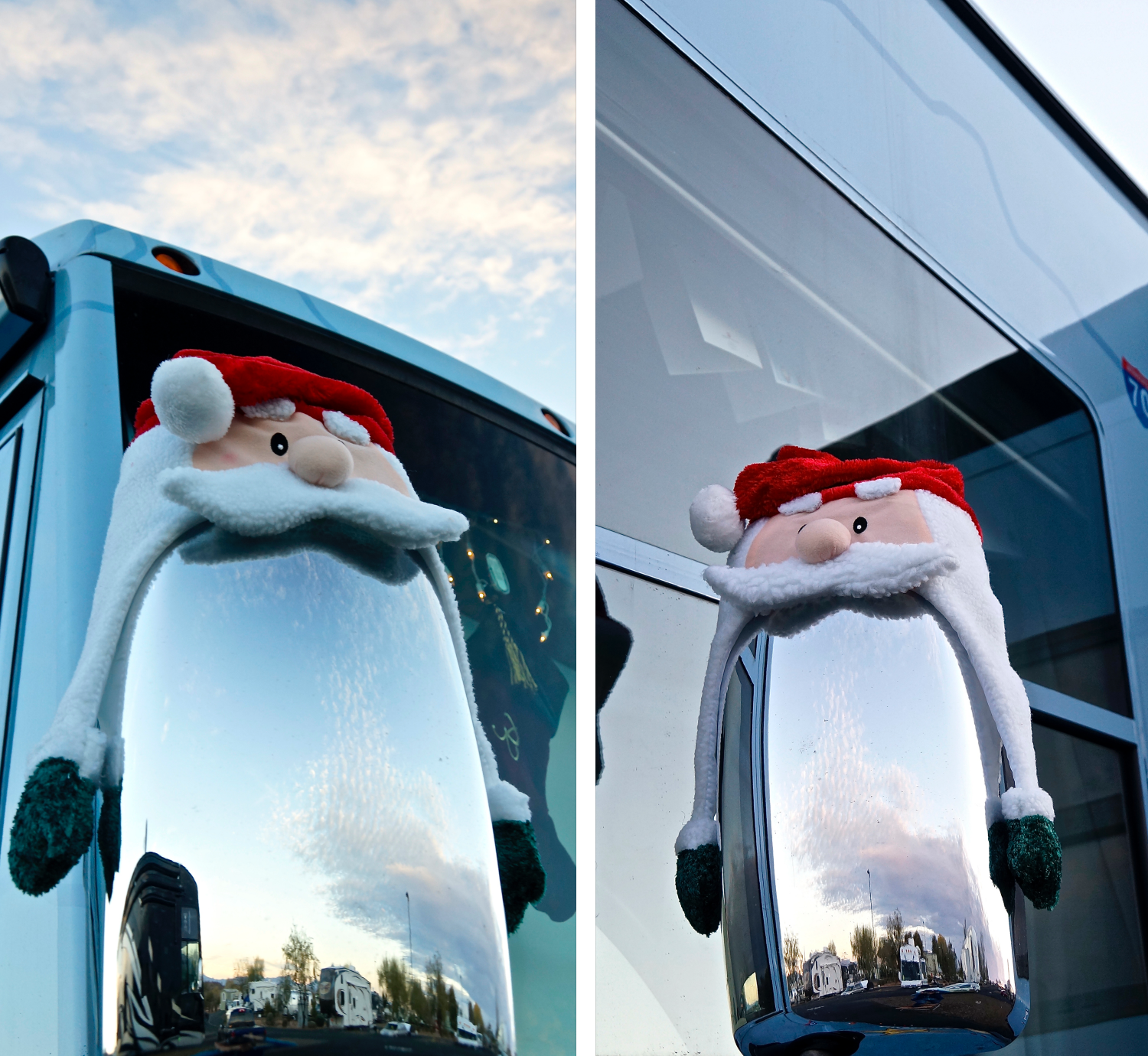 When it's time to take everything down, it all packs into one plastic tote – except the rosemary tree, of course. I'll be planting that in my herb garden!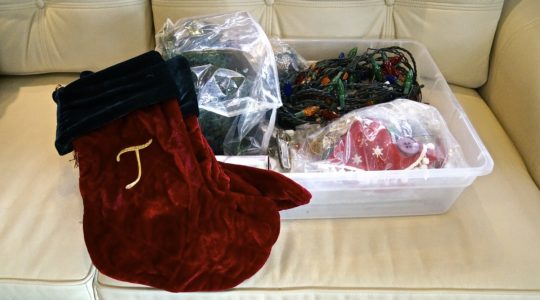 So there you have it – decorating for the holiday, motorhome-style! If you had any concern that travelers like us would be missing out on this popular holiday tradition, rest assured we're fully embracing the season. In fact, creativity is on full display at RV parks all around the country this time of year.
Happy holidays and all the best for a woof-tastic 2016 to all of you!                                               
With love from Amy, Rod, Ty and Buster
Planning a pet friendly trip of your own? We'll make it easy:
Pet Friendly Hotels | Pet Friendly Destinations | Pet Friendly Activities
Amazon Affiliate Disclosure: GoPetFriendly.com LLC is a participant in the Amazon Services LLC Associates Program, an affiliate advertising program designed to provide a means for website owners to earn advertising fees by advertising and linking to amazon.com, audible.com, and any other website that may be affiliated with Amazon Service LLC Associates Program. As an Amazon Associate, the owner of this site earns a commission from qualifying purchases.
(Visited 277 times, 1 visits today)