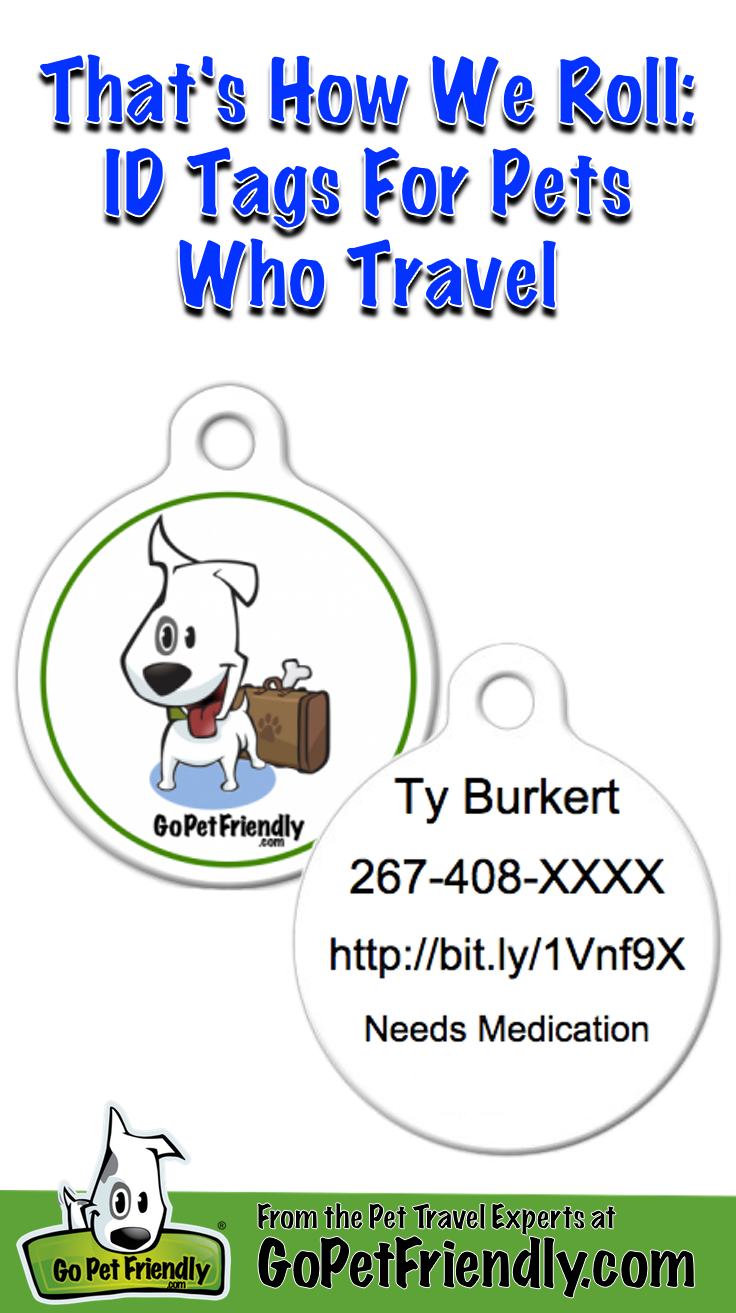 My friend, Pamela of Something Wagging This Way Comes, recently moved aboard a sailboat with her husband and their dog, Honey. They're traveling full-time too, but they're cruising from place to place, rather than driving like us. She came up with a fantastic idea for Honey's tags, and I'm making my own version for Ty and Buster!
Traveling with our pets means that we're constantly taking them to new and unfamiliar locations. We take every precaution, but if we ever got separated from Ty or Buster, it's unlikely they'd be able to find their way home. And because we move around so much, it's a little more difficult to track us down – especially if we're in an area without cell phone coverage!
Pamela's idea is to set up a web page and put the url on Honey's ID tag, so whoever finds her has all the information they'll need to get her back home. This is brilliant! It's easy to update our location as we travel, and we can share more information about our dogs than what we're limited to on a quarter-sized ID tag – like the fact that they need medication, and that Ty's afraid of strangers and other dogs. We could even add information about the last place the dogs were seen, or details of a reward for their return. And the web page is easily accessed via a smartphone, tablet, or computer. Did I say Pamela's idea is brilliant?!
Step 1 – Setting up a webpage
I feel a little silly for not thinking of this myself – after all I have this blog, and we've been traveling with the boys for nearly six years! All I needed to do was set up a page on the blog for each of the boys and spend a few minutes putting their information together. Here's now Ty's page turned out: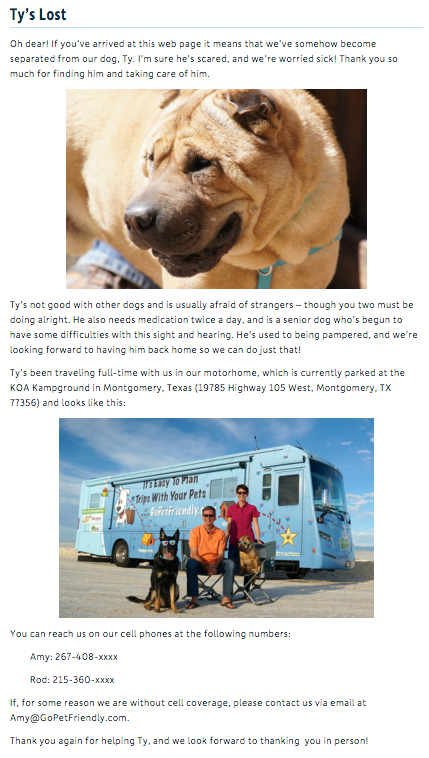 If you don't already have a blog (or have a friend who has a blog) where you can add a "Lost Dog" page, setting up a free account on WordPress is a cinch, and there are tons of resources on the Internet to walk you through it. Taking this route, the only cost you'll incur is for your hosting, and a small package with a good host shouldn't be expensive.
Step 2 – Shortening the Link
Once you have your "Lost Pet" page set up, you'll have a long url that brings you directly to that page. For example, the url for this blog post is: https://www.gopetfriendly.com/blog/thats-how-we-roll-id-tags-for-traveling-pets
Obviously, that's too long to fit on an ID tag, so you'll need a url shortener like bitly to give you a clipped, unique url that works the same way as the long one. This is what the shortened url for this blog post looks like: http://bit.ly/1Vnf9Xk – much handier for fitting on an ID tag!
Step 3 – Making the ID Tag
Purchasing an ID tag and engraving it in the pet store is quick and easy, but if you're looking for a bit more selection in designs – or want to design your own pet ID tag – shopping online provides a lot more options. I used DogTagArt.com to customize dog tags for Ty and Buster with their new "Lost Dog" urls on the back. Here's an example of what Ty's will look like: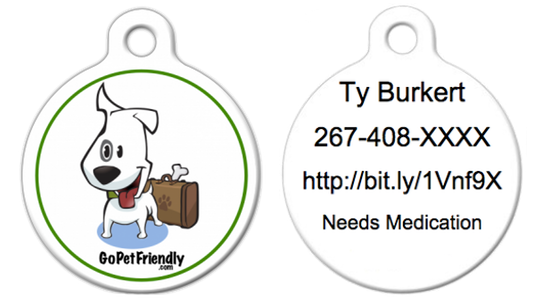 And that's all there is to it – now I can go to Ty's "Lost Dog" page and make any changes I need to, lickety-split! Thanks, Pamela, for the terrific idea!
Click here for more tips on making sure that you all come home together from your next pet friendly trip: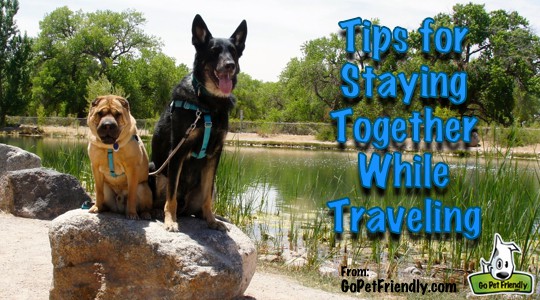 Planning a pet friendly trip of your own? We'll make it easy:
Pet Friendly Hotels | Pet Friendly Destinations | Pet Friendly Activities
Amazon Affiliate Disclosure: GoPetFriendly.com LLC is a participant in the Amazon Services LLC Associates Program, an affiliate advertising program designed to provide a means for website owners to earn advertising fees by advertising and linking to amazon.com, audible.com, and any other website that may be affiliated with Amazon Service LLC Associates Program. As an Amazon Associate, the owner of this site earns a commission from qualifying purchases.
(Visited 2,118 times, 1 visits today)