You may have heard that we have GAS. Not that kind of gas! We're talking about Gear Addiction Syndrome. Show us something shiny and new – tell us that might make traveling with the dogs easier or more fun – and we simply can't resist. Some things live up to their billing, some don't. And a few we can't imagine living without.
What kinds of products trip our trigger? The ones that are easy to use, durable, a good value for the money, and somehow improve our pet travel experience. Ty and Buster put them through the ringer and we see which ones are still standing on the other side.
In case you hadn't heard, this is unofficially the last week of summer! To celebrate, we've been announcing the recipients of our Best Pet Travel Gear 2012 awards and giving you the chance to win. Today we bring you the very important Thundershirt.
The Thundershirt
Buster was wandering Philadelphia as a stray when he found his way to us … and he arrived with some quirks. One of his more deafening behaviors was barking non-stop when we took him for a car ride. That was more than four years ago, and while we've made some progress, Buster still barks when we start driving and when we stop to get gas or to pay tolls.
In an effort to save our hearing and ease Buster's anxiety, we got him a Thundershirt for his 4th birthday. Now, I'd never travel without it! He's not perfect, but he's definitely calmer when he's wearing it. His barking and whining are so much better, in fact, that one day we forgot to put it on him and the normal bedlam ensued when we stopped for gas – while Rod was tending the pump, I got Buster into his Thundershirt. Since then, it's been a required part of our getting-ready-to-go routine.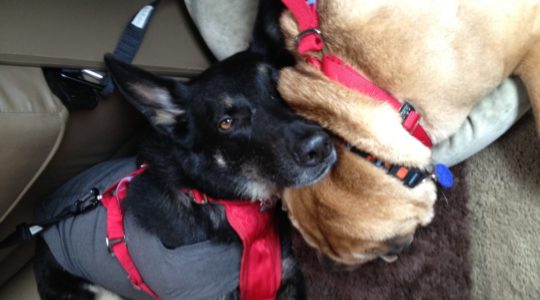 As you would expect from anything made of fabric, the Thundershirt is showing a little wear after a year and a half. But, to be fair, it's taken some abuse! It survived a direct hit from a skunk, a few trips into the lake, and countless rounds in the washing machine. For the $40 price tag, I feel we've more than gotten our money's worth.
Disclosure:  We purchase the Thundershirt for Buster with our own funds. The opinions expressed here are my honest assessment of the product based on my personal experience using it. Thundershirt will provide the prize to the winner of this contest.
Planning a pet friendly trip of your own? We'll make it easy:
Pet Friendly Hotels | Pet Friendly Destinations | Pet Friendly Activities
Amazon Affiliate Disclosure: GoPetFriendly.com LLC is a participant in the Amazon Services LLC Associates Program, an affiliate advertising program designed to provide a means for website owners to earn advertising fees by advertising and linking to amazon.com, audible.com, and any other website that may be affiliated with Amazon Service LLC Associates Program. As an Amazon Associate, the owner of this site earns a commission from qualifying purchases.
(Visited 234 times, 1 visits today)