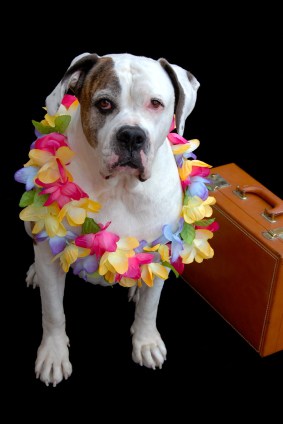 A lovely Hawaiian holiday sounds perfect for people and pets alike, and passing between states is not an issue in the contiguous majority, so you may not consider the complications that come with traveling to and from Hawaii. The Aloha State is rabies-free, and has strict requirements for dogs and cats when they enter the state.
If you begin planning early and your pet meets the pre- and post-arrival requirements, he or she may qualify for Hawaii's 5-day–or-less quarantine program. This program includes a provision which may allow your pet to be released directly to you after inspection at Honolulu International Airport. Dogs and cats that do not meet all of the requirements of the 5-Day-Or-Less program may be quarantined for up to 120 days upon arrival in Hawaii.
Note: Special rules apply to assistance dogs. Please check with the proper authorities to meet their requirements.
Requirements for 5-Day-Or-Less Quarantine
To qualify for the five-days-or-less quarantine ALL of the following conditions must be met:
The pet must have received at least two rabies vaccinations in its lifetime.
The rabies vaccines must be administered more than 30 days apart.
The most recent vaccine must have been given at least 90 days prior to arrival in Hawaii, and not more than the vaccine's licensed booster interval listed on the manufacturers label. (Not more than twelve months prior to arrival in Hawaii for a 1-year vaccination, or not more than 36 moths prior to arrival in Hawaii for a 3-year vaccination.)
The pet must have a working microchip implanted by a veterinarian for identification purposes.
The pet's blood sample, identified by the microchip ID number, must have been tested by specified laboratories for rabies antibodies between 120 days and 36 months prior to arriving in Hawaii and the results must have been successful.
Your pet must be treated with an approved tick prevention medication by a veterinarian not more than 14 days prior to arriving in Hawaii.
All documents and paperwork, including the two most recent rabies certificates and a health certificated completed within 14 days of arriving in Hawaii, must be submitted and all fees must be paid in accordance with the detailed rules.
If your pet meets all the above requirements and passes inspection, he or she may qualify for direct release from the Animal Quarantine Holding Facility. The direct release program is available at Honolulu International Airport, Kona Airport (Big Island), Kahului Airport (Maui), and Lihue Airport (Kauai). To be eligible, your pet must arrive at the facility during normal inspection hours and pets on international flights must clear US Customs. When scheduling your flight, keep in mind that it can take up to one hour for the airlines to transport a pet to the Airport Animal Quarantine Holding Facility.
Pets not able to be picked up the day of arrival are transferred to the Animal Quarantine Station the following morning as part of the 5-day-or-less program, and fees for that program, plus daily quarantine, fees apply.
If Quarantine Is Required
Following a successful rabies antibody test result, animals must wait at least 120 days before arriving in Hawaii. If the pet does not have the blood test prior to arrival, or arrives before 120 days has passed, he or she will be quarantined until the 120 days waiting period is completed.
Puppies and kittens are no exception, and would have to be about 10 months old to meet all the requirements to qualify for the five-days-or-less quarantine program. If they cannot qualify, they will be quarantined for up to 120 days. In addition, Hawaiian residents choosing to travel from Hawaii with their pets must meet conditions similar to the requirements listed above for the five-days-or-less quarantine program, or their pets will be quarantined for up to 120 days upon their return.
While in quarantine, owners can go to the quarantine station to provide for all their pet's needs, visit their pet during the afternoon visiting hours, and schedule appointments to use the on-site facilities to groom their pet. However, except to be groomed, animals cannot be taken out of the kennels.
The quarantine centers handle minor ailments and administer medication, but do not have facilities for major medical problems. Owners must select, contact, and register with a state-approved private veterinary facility in case of a medical emergency while their pet is in quarantine. Unless a veterinary hospital has agreed in advance to accept an ill pet, treatment could be delayed. Most private hospitals require a refundable or a partially refundable deposit prior to accepting an animal for evaluation, so contacting several hospitals to obtain deposit and price information may be in your best interest.
Additional Information
Animal Quarantine Station
99-951 Halawa Valley Street
Aiea, Hawaii 96701
Phone: (808) 483-7151
Airport Animal Quarantine Holding Facility Phone: (808) 837-8092
Email: [email protected]
Website: http://hdoa.hawaii.gov/ai/aqs/animal-quarantine-information-page/
You can find more general tips on traveling with pets on our Tips & Resources page.
Planning a pet friendly trip of your own? We'll make it easy:
Pet Friendly Hotels | Pet Friendly Destinations | Pet Friendly Activities