Ten years old … it doesn't seem possible! He was just a fluffy little puppy, into everything, and now he's a decade old?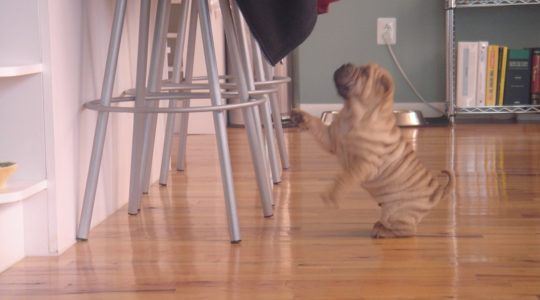 He's been a character right from the beginning – a little guy who knows his mind, and isn't all that interested in your opinion. He's kept us laughing all these years, and we certainly couldn't let this milestone birthday pass by without an appropriate amount of fanfare.
When you travel full-time, where you happen to be has an impact on your activity options, and this year for Ty's birthday we were visiting Grand Teton National Park. Since pets aren't allowed on any of the trails in the park, we had to get a little creative with our picks.
First, we had a nice big moose stop by the campground to wish Ty a pleasant day.
Then we packed the boys up and got them out for a nice hike in the national forest – where all the trails are pet friendly!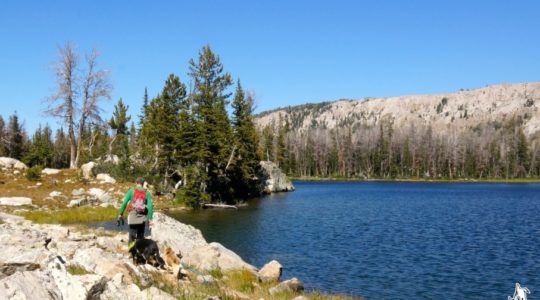 On the way home we picked up a pizza so Ty could share the crusts. (We have no pictures of that, for obvious reasons.)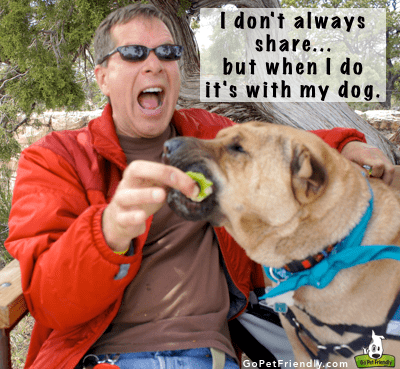 Next came the piece de résistance … his birthday cake. If you follow our Facebook page, you know that Ty helped himself to a couple of stick of butter a few months ago. Luckily he has a stomach of iron, and there were no ill effects from his scavenging, so we've been giggling about his thieving escapade ever since. Ty's weakness for dairy products was the inspiration for his birthday cake.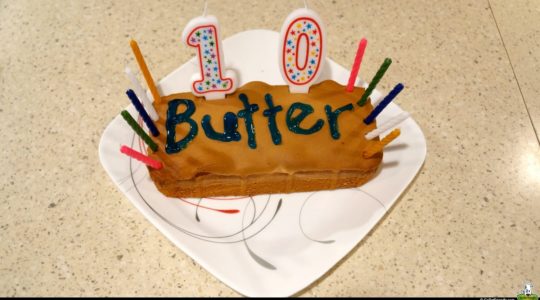 And he posed very nicely, without trying to swipe it!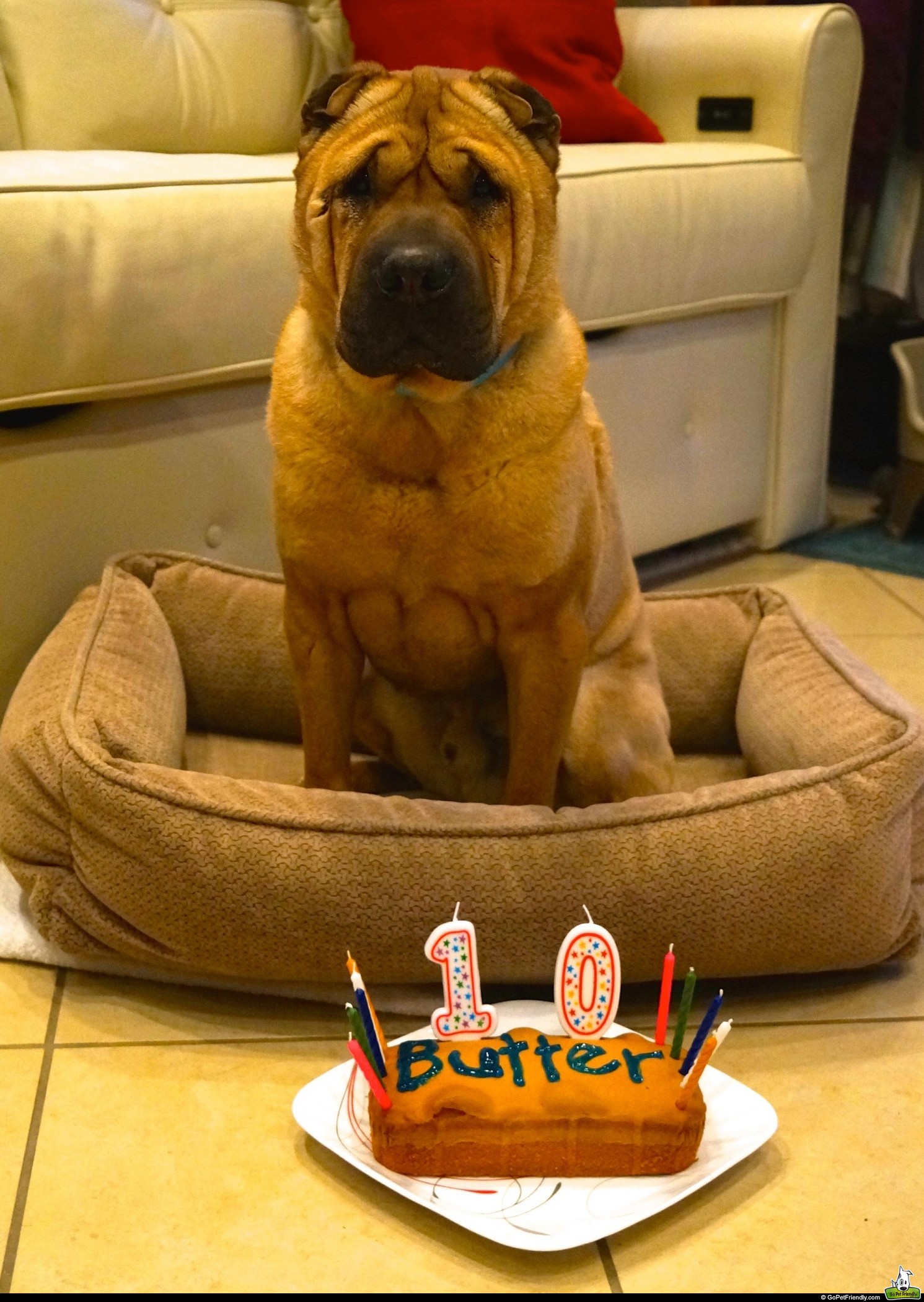 After we all enjoyed a slice of cake, the boys broke out their finest bottle of Cabarknet, courtesy of the PrideBites vineyard. They drank into the wee hours of the morning, reliving their favorite adventures and pranks.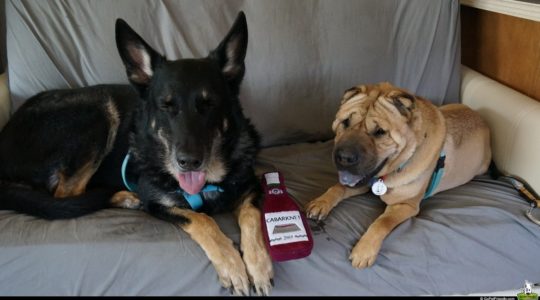 When it was finally time to call it a day, Ty snuggled up with is new friend, Dino (thank you, Quaker Pet Group!) and scurried off to dreamland.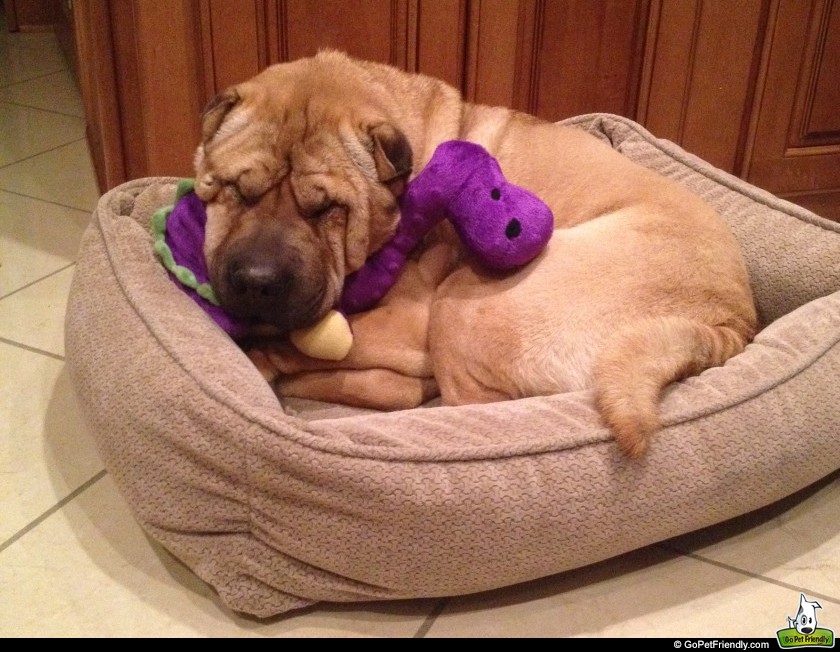 Good sleeps and yummy dreams, Fuzzy Pants … tomorrow's another day, and we're looking forward to many, many more adventures with you.
Planning a pet friendly trip of your own? We'll make it easy:
Pet Friendly Hotels | Pet Friendly Destinations | Pet Friendly Activities
Amazon Affiliate Disclosure: GoPetFriendly.com LLC is a participant in the Amazon Services LLC Associates Program, an affiliate advertising program designed to provide a means for website owners to earn advertising fees by advertising and linking to amazon.com, audible.com, and any other website that may be affiliated with Amazon Service LLC Associates Program. As an Amazon Associate, the owner of this site earns a commission from qualifying purchases.
(Visited 365 times, 1 visits today)