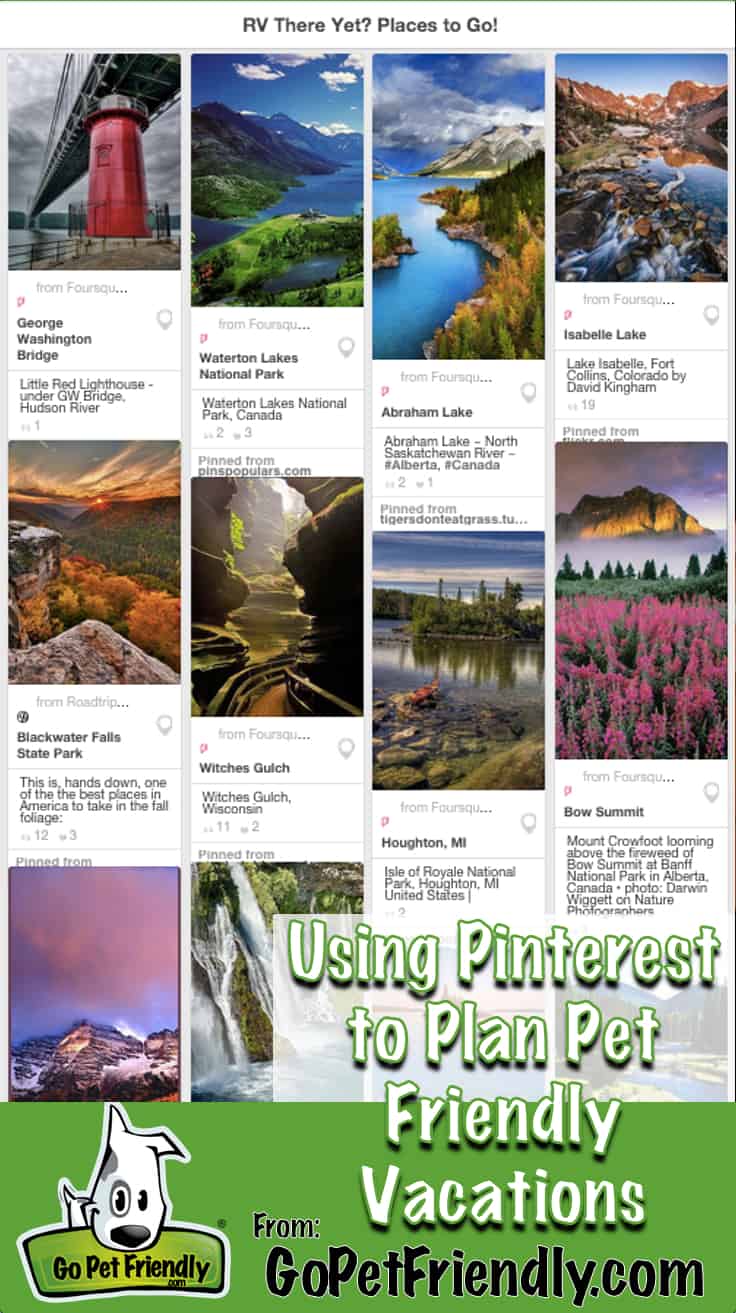 Truth be told, I'm completely addicted to Pinterest. It's a kaleidoscope of places to see and things to do … a magical place where time disappears and I lose track of everything that's going on around me. All those gorgeous photos are like a drug, and I never seem to get enough!
But when I come back down, I feel awful. Hours evaporated while I sat surfing and re-pinning. Surely there must be a way to organize this information so we could actually make use of it! Well, leave it to the folks at Pinterest to devise exactly such a system …
So how can you use Pinterest to plan your perfect pet friendly vacation? It's easy!
Step 1: When you set up a board, or edit a board in Pinterest, choose the option to include a map.
Step 2: An "Add Place" box appears under each photo, and Pinterest is linked to Foursquare, so nearly every photo you pin can be associated with a location. Check the description for the location the photo was taken, and add that place.
Here's my "RV There Yet?" board to give you an idea of what your board will look like when you get all the places added: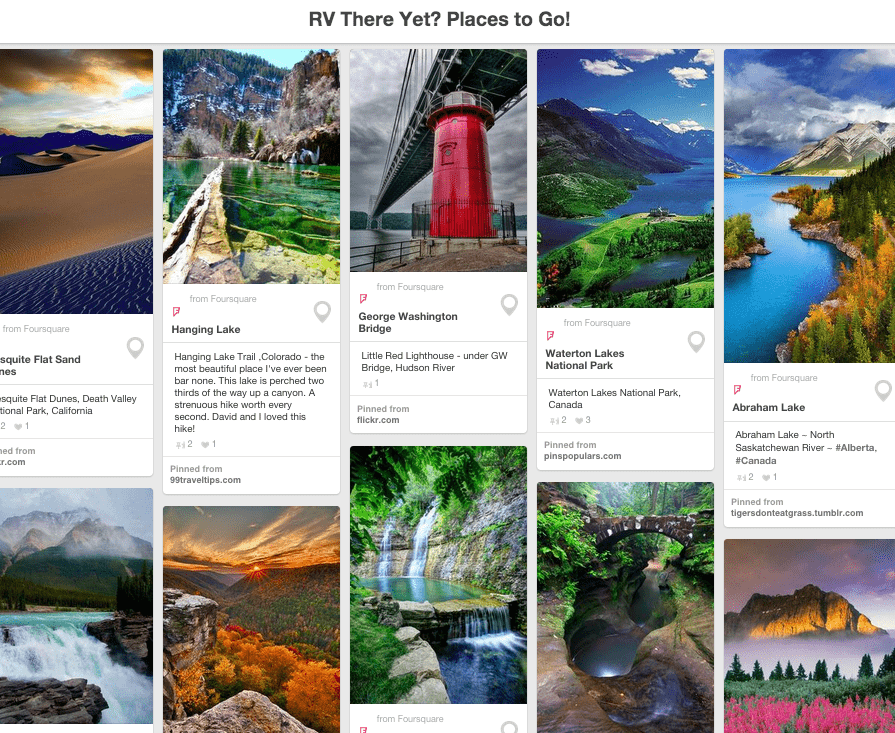 Step 3: Even with the places added, it would still be hard to use that board to plan a trip … but now you can view them all on the map!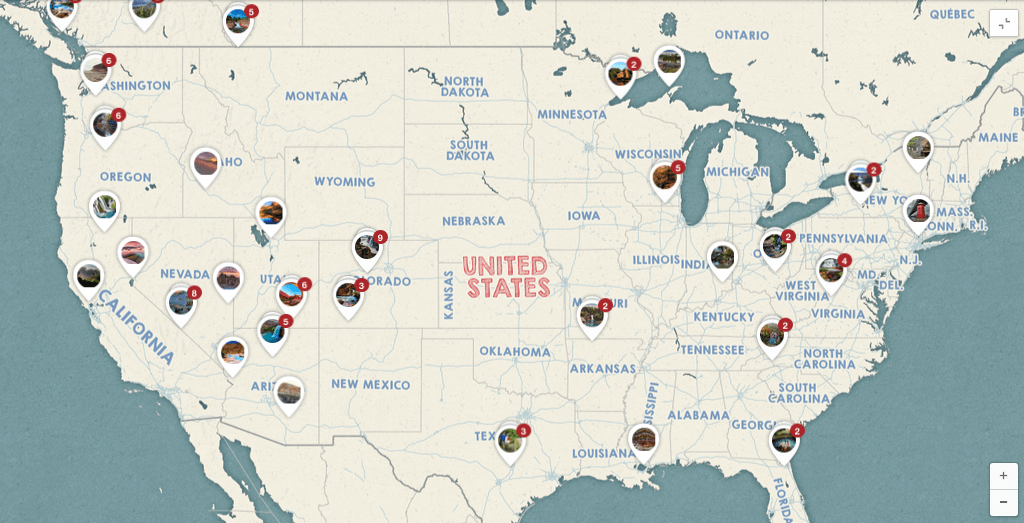 The small box in the upper right corner of the map expands and closes the map view, and the plus and minus in the lower right corner zoom in and out. When you open the map all your dreams are instantaneously organized – you can see where the places you're dying to go are concentrated! Now you can start laying out your road trip and connecting as many of those dots as your schedule will allow. Or, if you're always traveling like me, you can use this map to see when you'll be within striking distance of one of your "must see" spots.
Of course, we always want you to be able to include your pets in the fun! So, we've set up a couple of boards to get you thinking about pet friendly things you might want to do. You can easily re-pin any of the spots on our "Pet Friendly Destinations" board to your board. This is a collection of all the blog posts we've written about the pet friendly places we've traveled. Here's what that map looks like now: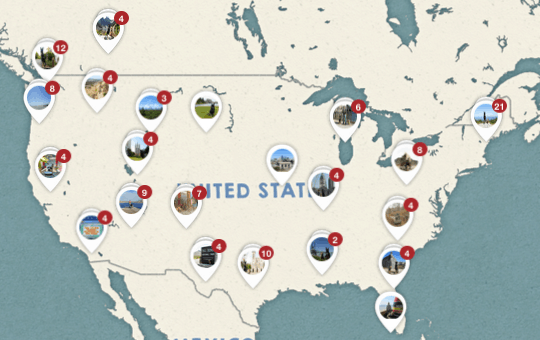 And we've also taken every one of our user-submitted Friday Photo Challenge pictures and put them on a "Where's Fido?" board! Now you can see where your fellow pet travelers have snapped spectacular shots of their pets, get inspired by their photos, and pin those locations to your road trip board.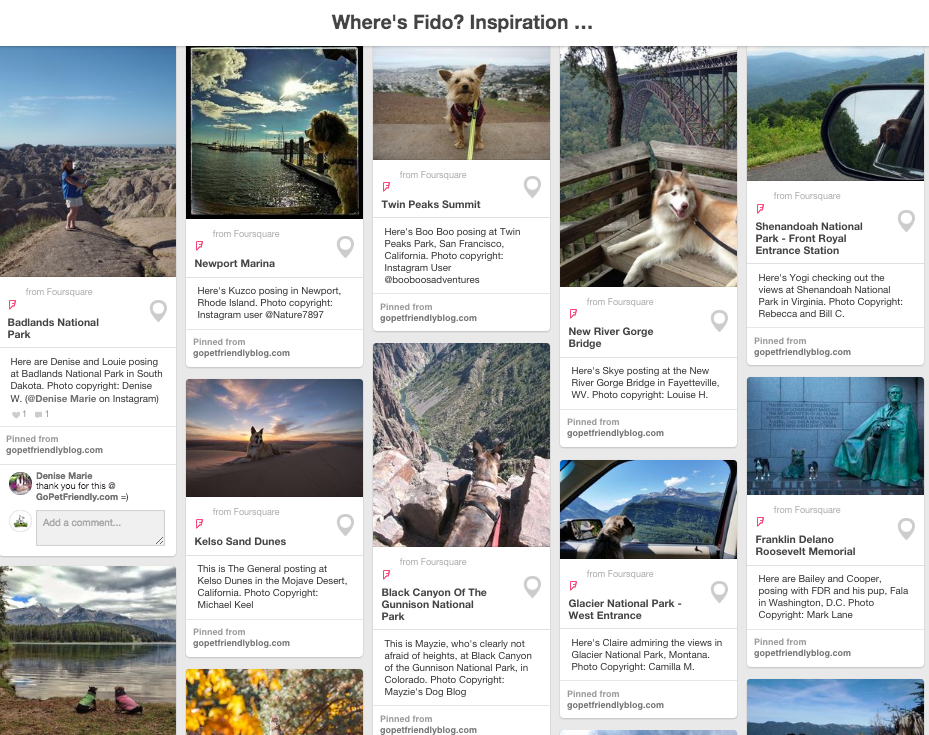 If you're looking for pet friendly vacation ideas, I hope you'll join us over on Pinterst – but don't say that I didn't warn you about how addictive it can be! We're pinning tips and location ideas for traveling with your pets, dog friendly restaurants and beaches, more on what's available in each state, and personal stories from folks who've been there and done it!
Planning a pet friendly trip of your own? We'll make it easy:
Pet Friendly Hotels | Pet Friendly Destinations | Pet Friendly Activities
Amazon Affiliate Disclosure: GoPetFriendly.com LLC is a participant in the Amazon Services LLC Associates Program, an affiliate advertising program designed to provide a means for website owners to earn advertising fees by advertising and linking to amazon.com, audible.com, and any other website that may be affiliated with Amazon Service LLC Associates Program. As an Amazon Associate, the owner of this site earns a commission from qualifying purchases.
(Visited 245 times, 1 visits today)