We arrived at a "pet friendly" campground to learn that Buster and Ty were – in effect – CONFINED to our campsite. Yes, you read that right.
Admittedly, I should have dug a little deeper before driving two hours to check in. I was lulled into a false sense of security when the first paragraph on their website touted pet friendly rental trailers and cabins! As we drove up to the office, Rod and I noted it was a big park and we'd have PLENTY of places to walk the boys. We were going to stay for a couple of days.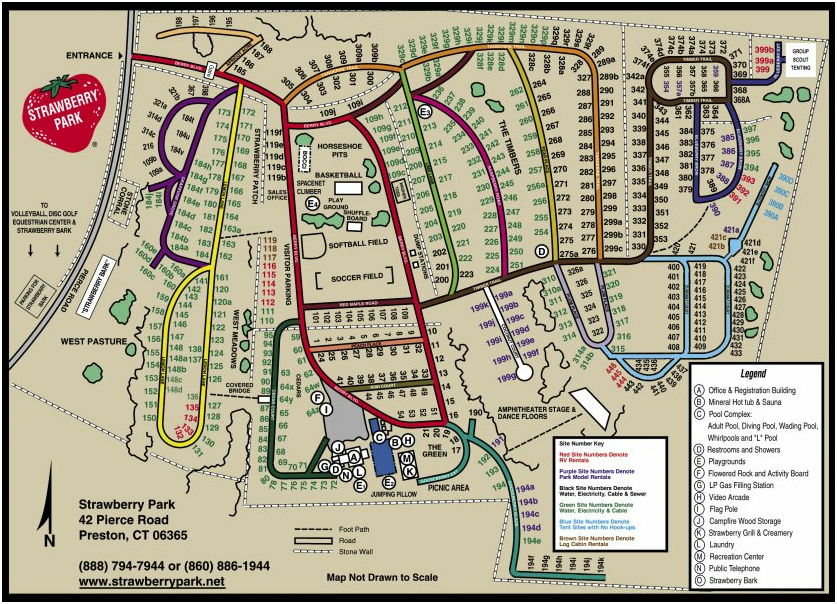 This sign was our first clue of trouble: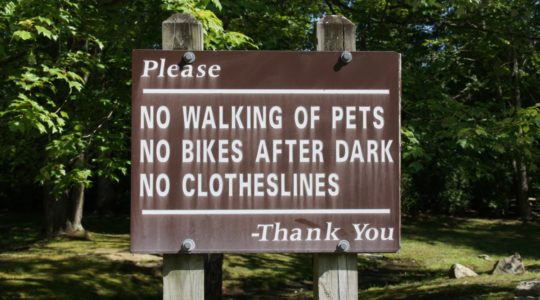 We looked at each other in confusion, "No walking of pets … what could that possibly mean?"
The staff let us know that, while pets were welcome, their paws wouldn't be allowed to touch the roads in the campground. The best part is that they have a really nice off-leash area … located about a half-mile from our campsite. To get the dogs there we had two options: (1) disconnect the Winnebago, DRIVE over to the park, and reconnect everything when we got back or (2) rent a golf cart for $59 per night, plus a $200 security deposit, and convince the boys to ride on that. Not happening.
Why not just say that pets aren't welcome. Their policy, which I found after poking around their website a bit, makes their feelings pretty clear. (The color and emphasis is theirs.)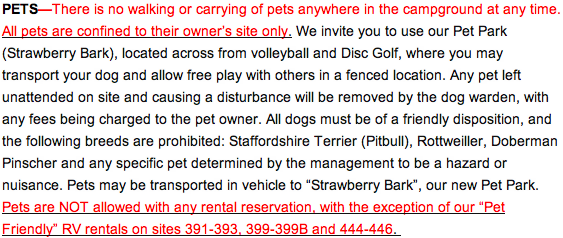 The explanation we received for the inordinately restrictive policy was a concern that dogs would bite people and that owners would not pick up after their pets. To their credit, the staff let us know that they are trying to get the pet policy changed, but some circumstances are slowing the process. A bit of online research revealed the park might be in bankruptcy and that could explain the red tape.
If you travel with your pet you know that not all "pet friendly" places are created equal. Businesses just paying lip service to the pet friendly movement broadcast their feelings in a number of ways, including charging exorbitant fees or enforcing weight restrictions that only permit the smallest dogs. In my opinion, this campground's policy takes things to a new level – they clearly wanted to attract pet travelers, but then go out of their way to make the stay unpleasant.
We're outta here! But not before we stopped for a romp in their dog park!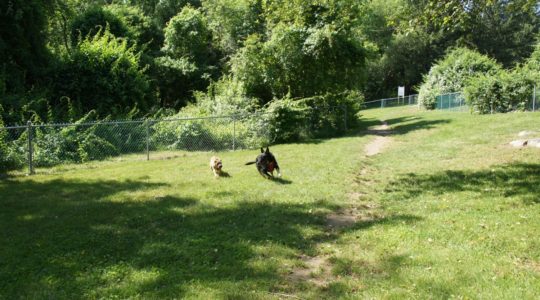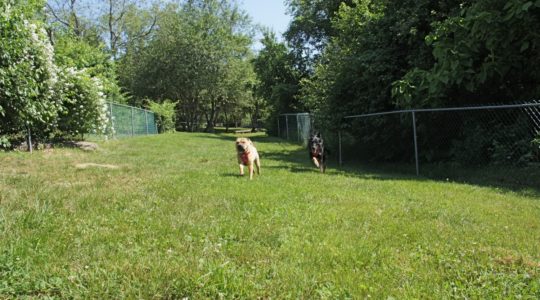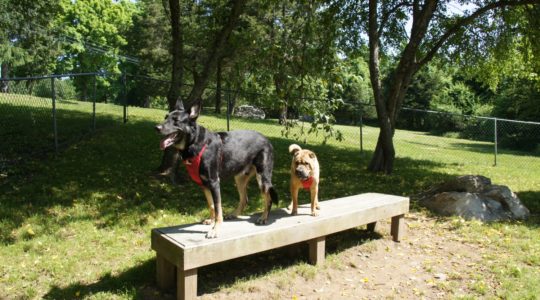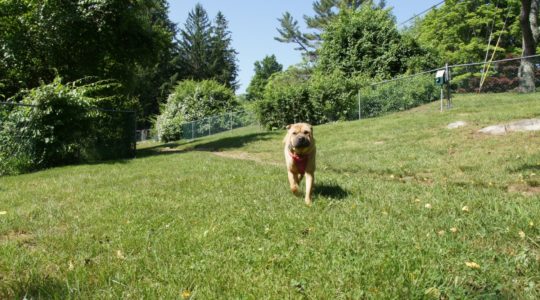 What do you think – am I making too much of this?
Planning a pet friendly trip of your own? We'll make it easy:
Pet Friendly Hotels | Pet Friendly Destinations | Pet Friendly Activities
Amazon Affiliate Disclosure: GoPetFriendly.com LLC is a participant in the Amazon Services LLC Associates Program, an affiliate advertising program designed to provide a means for website owners to earn advertising fees by advertising and linking to amazon.com, audible.com, and any other website that may be affiliated with Amazon Service LLC Associates Program. As an Amazon Associate, the owner of this site earns a commission from qualifying purchases.
(Visited 427 times, 1 visits today)