This post is part of a series on The Ultimate Pet Friendly Road Trip, our 10-month, 15,000-mile tour of the top pet friendly attraction in each of the lower 48 states.
Louisiana's Top Pet Friendly Attraction: The State Capitol Grounds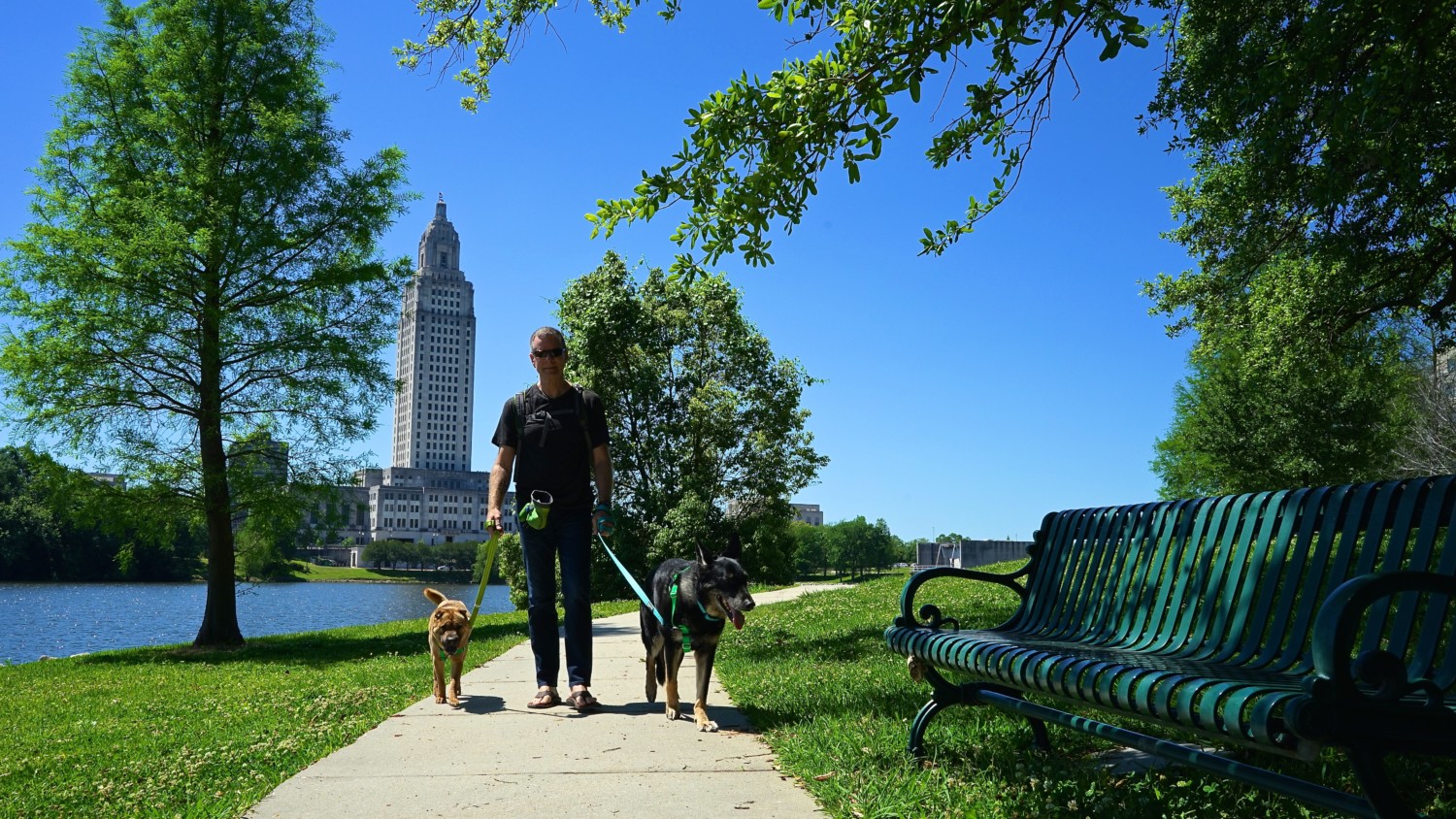 In 1931, in the early days of the Great Depression, Louisiana's governor laid out a bold plan. Huey P. Long wanted to build the country's tallest state capitol building, clad with limestone and marble from Vermont and Italy. He convinced the people that an efficient, modern structure would save the state money. Just 14 months and $5 million later, the building was complete!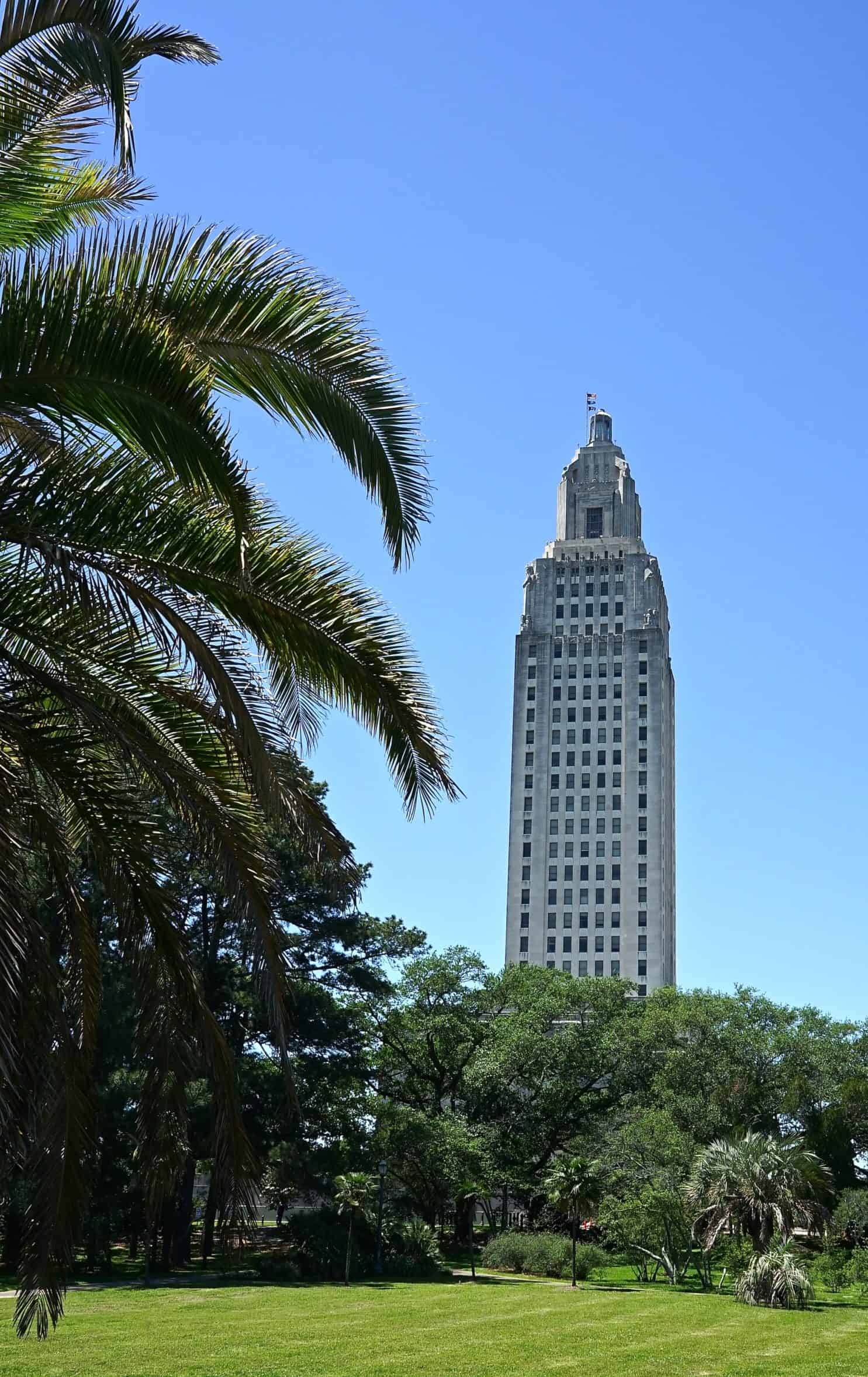 Standing 34 stories tall, Louisiana's capitol in Baton Rouge is still the tallest state capitol building in the United States. Its grounds and gardens are spread across 27 surrounding acres and offer picturesque views of the capitol from every angle.
There is a visitors center on the first floor and an observation deck on the 27th, but pets are not allowed inside the building. You will, however, find plenty of shady benches to take turns waiting with your pets if you want to appreciate the capitol's exquisite details and furnishings. We opted to spend all our time exploring outside, and there's plenty to see!
Pets at the Capitol
Pets on leash are welcome throughout the capitol grounds and gardens, but are not allowed inside the buildings.
Pets at the Louisiana State Capitol

Pets must be kept on a leash at all times

All pet waste must be picked up and disposed of properly

Pets are not allowed inside buildings
A grand staircase leads up to the capitol, with each of the 48 steps marked for the states, in the order they were added to the Union. (There were only 48 states when the building was completed. Alaska and Hawaii share the top step and were included when they attained statehood.)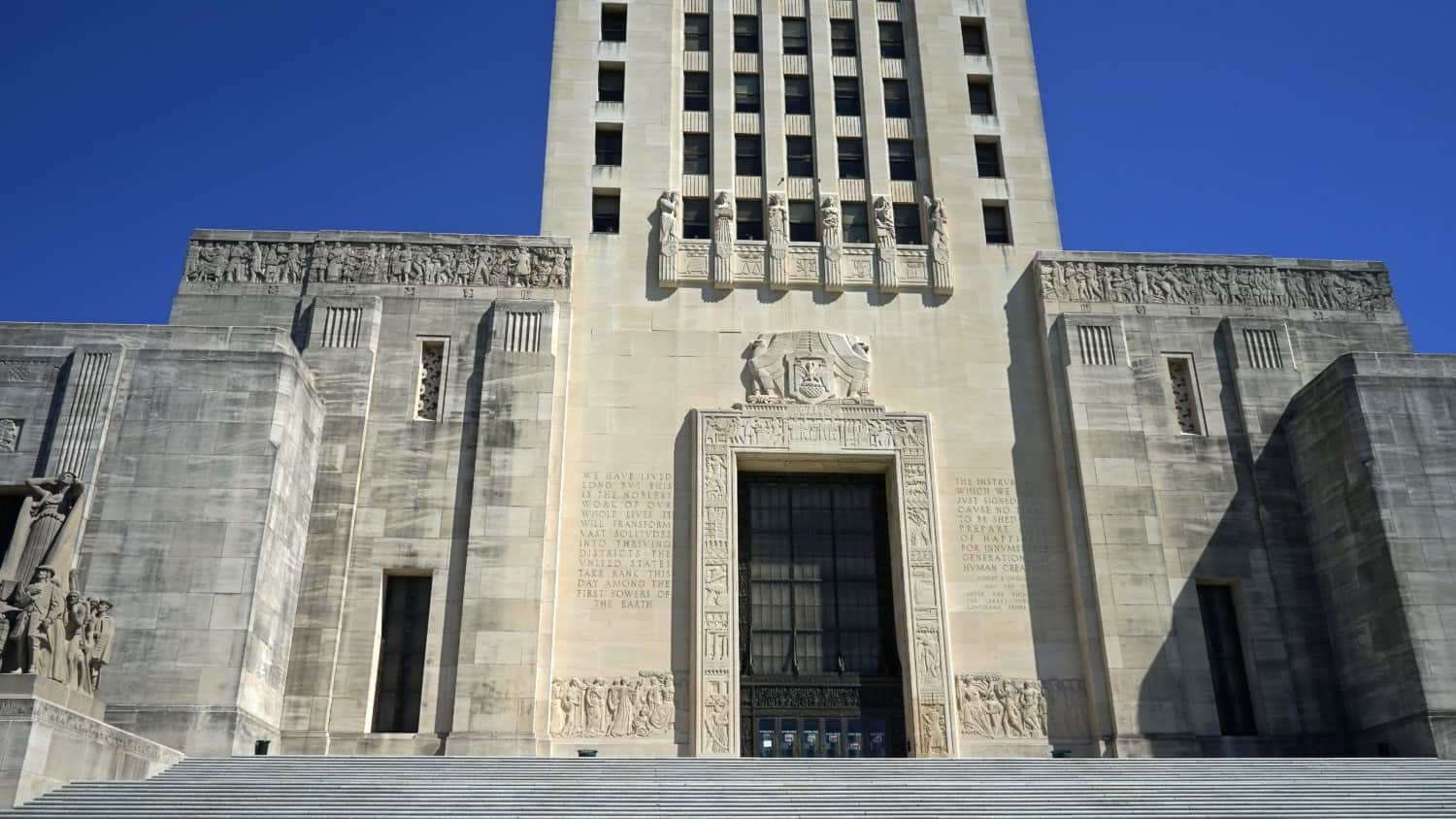 In 1935, just three years after the capitol's completion, then Senator Long was assassinated outside the governor's office on the first floor. He is buried in the center of the gardens, his grave marked with a statue of his likeness that faces the building he loved.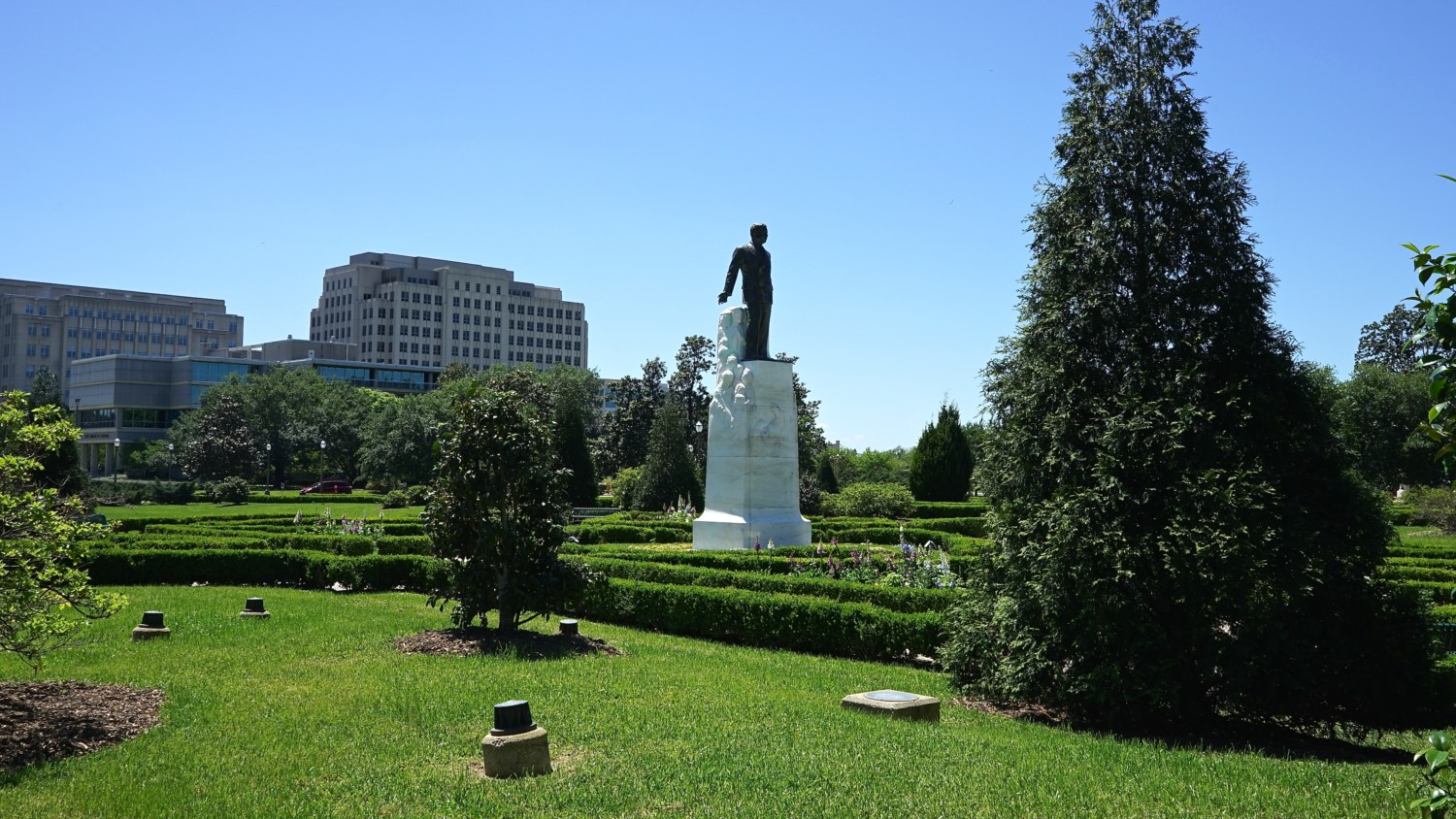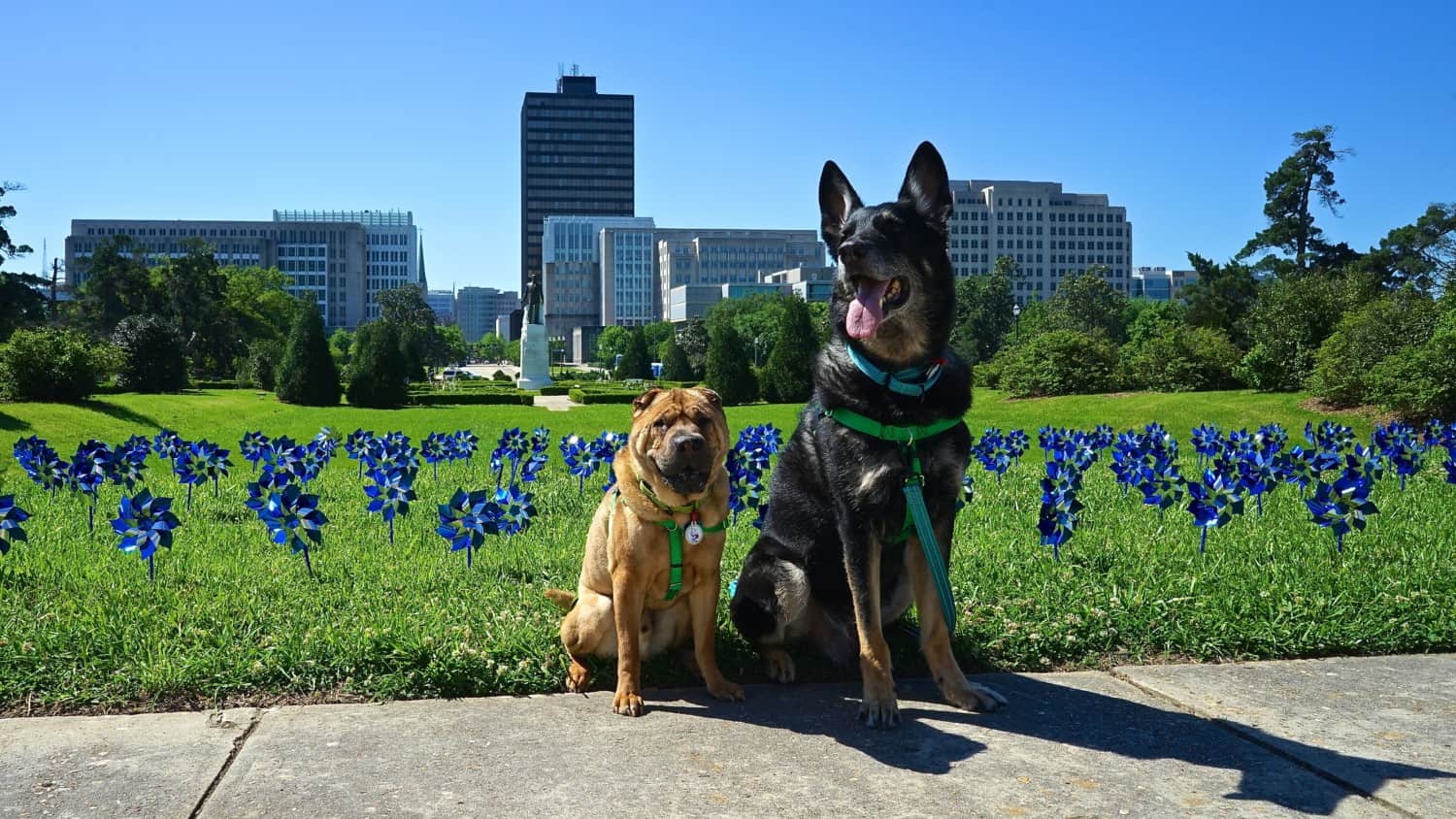 The land that the capitol now occupies has its own history. This area provided access to the lower Mississippi River, and evidence of it's strategic military location is still evident. To the west of the capitol, the Pentagon Barracks were constructed between 1819 and 1824, and were designed to house more than 1,000 troops. They now serve as the offices of the lieutenant governor and private apartments for state legislators.
To the east is Arsenal Park, where a warehouse erected in 1838 for gunpowder storage still stands. Here you'll also find canons perched atop a ceremonial platform built by Native American around 1,000 years ago.
Through out all these historic sites, paved paths wind under massive live oaks and palm trees, inviting you to stroll leisurely, or find a bench to contemplate all that has been and what will be.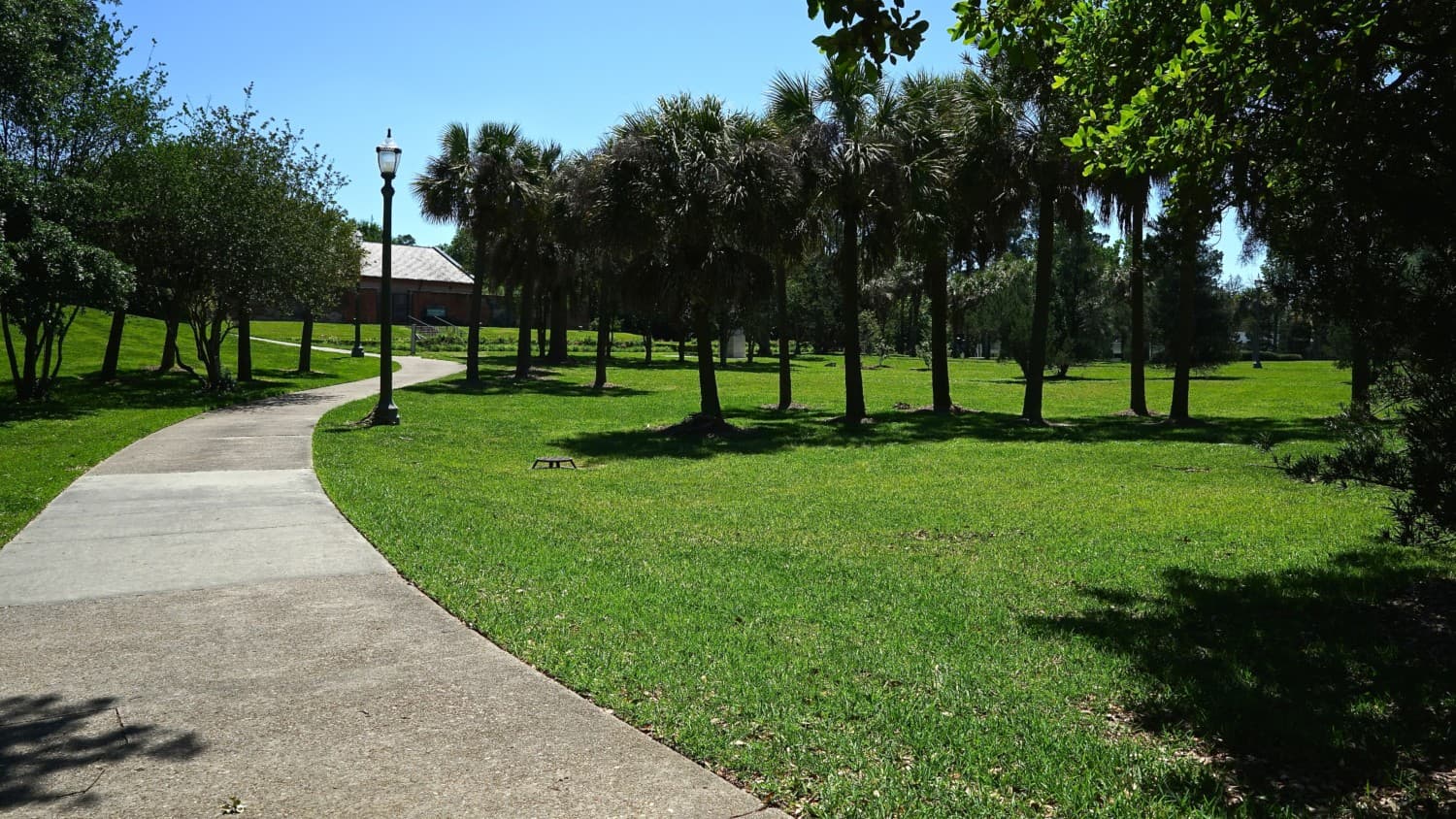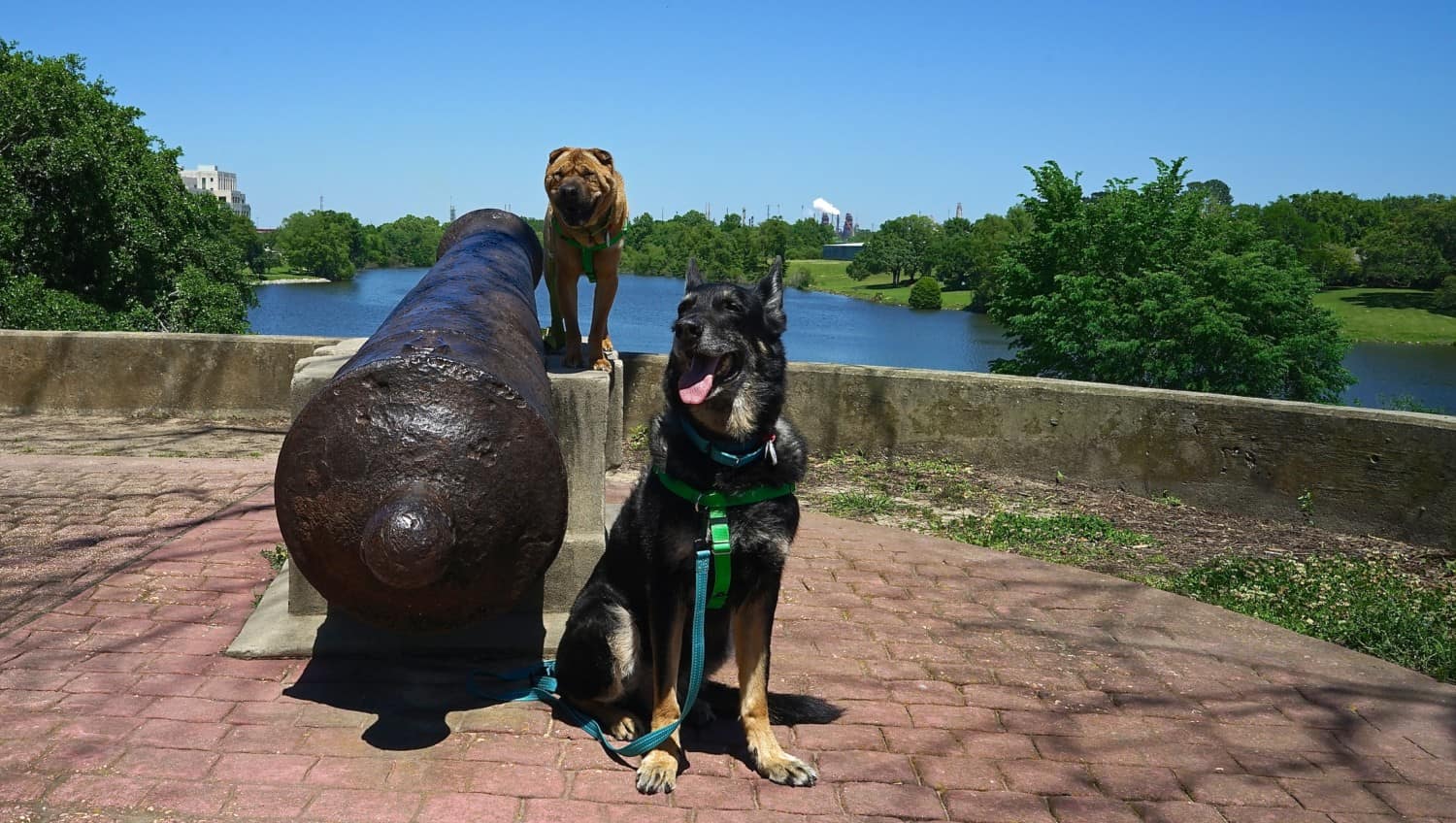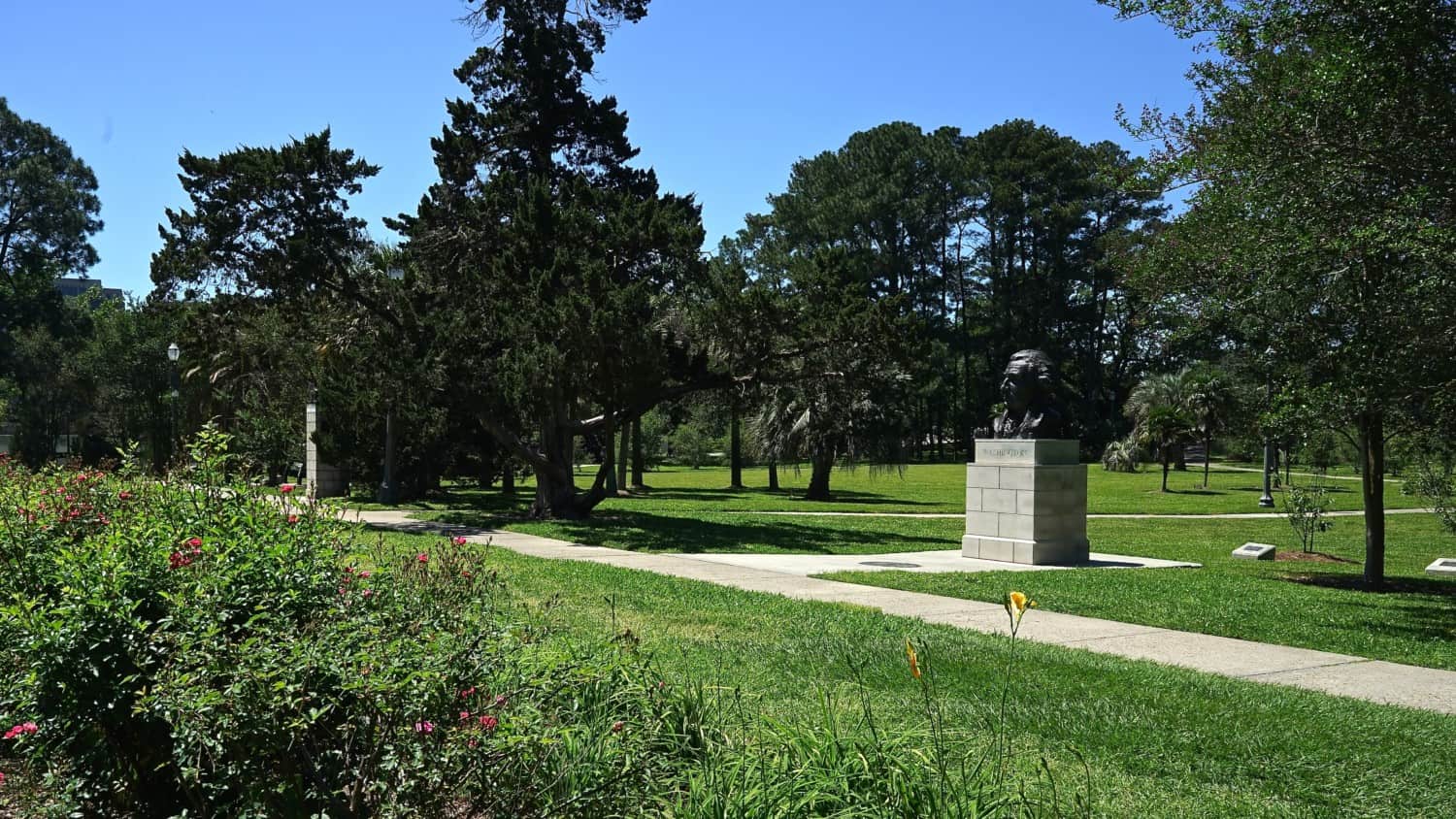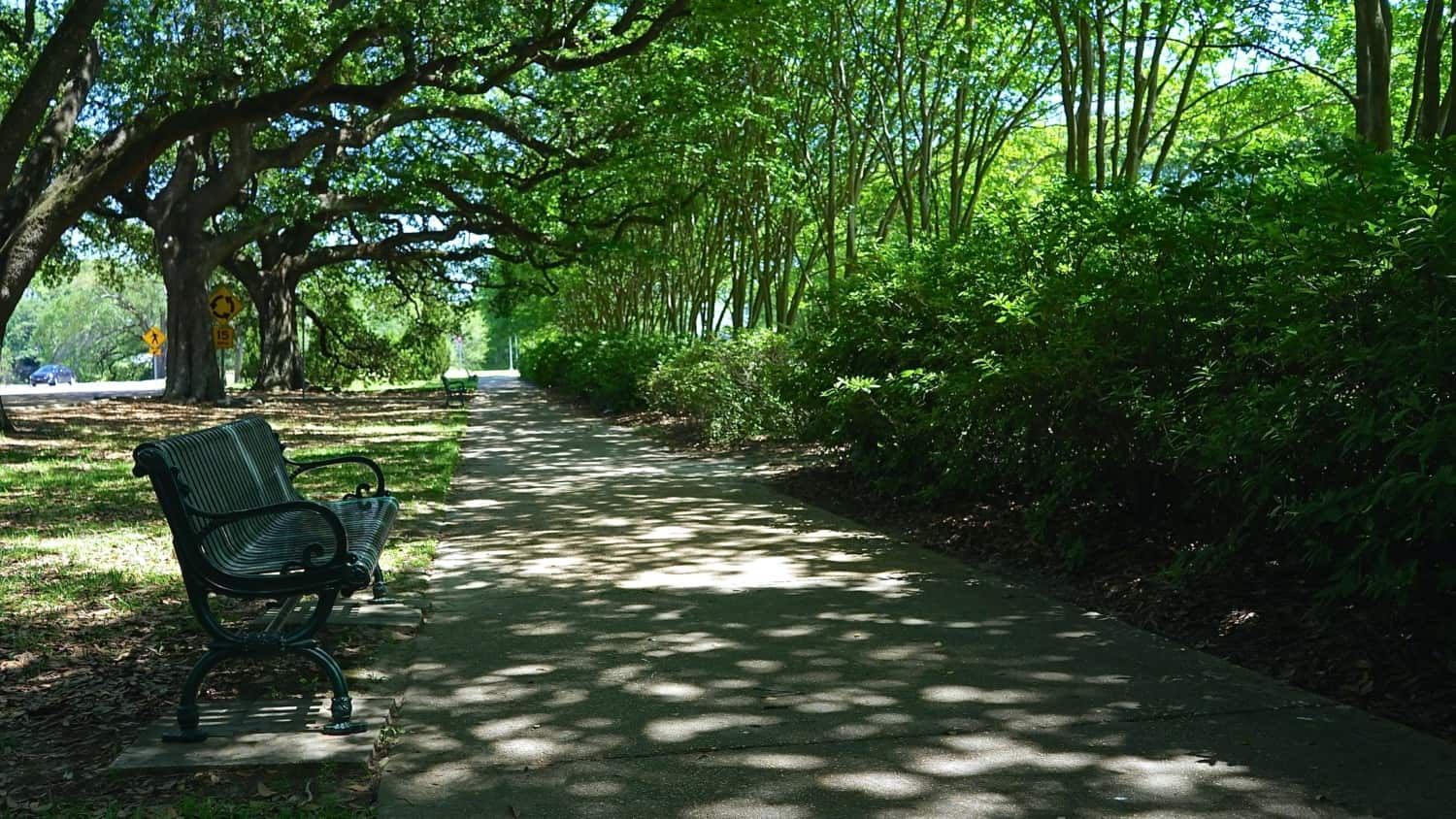 Behind the capitol is Capitol Lake, and another paved path follows the shore part way around. Turtles sun themselves on logs, and ducks tend their nests, all within a few feet of the state's most influential happenings.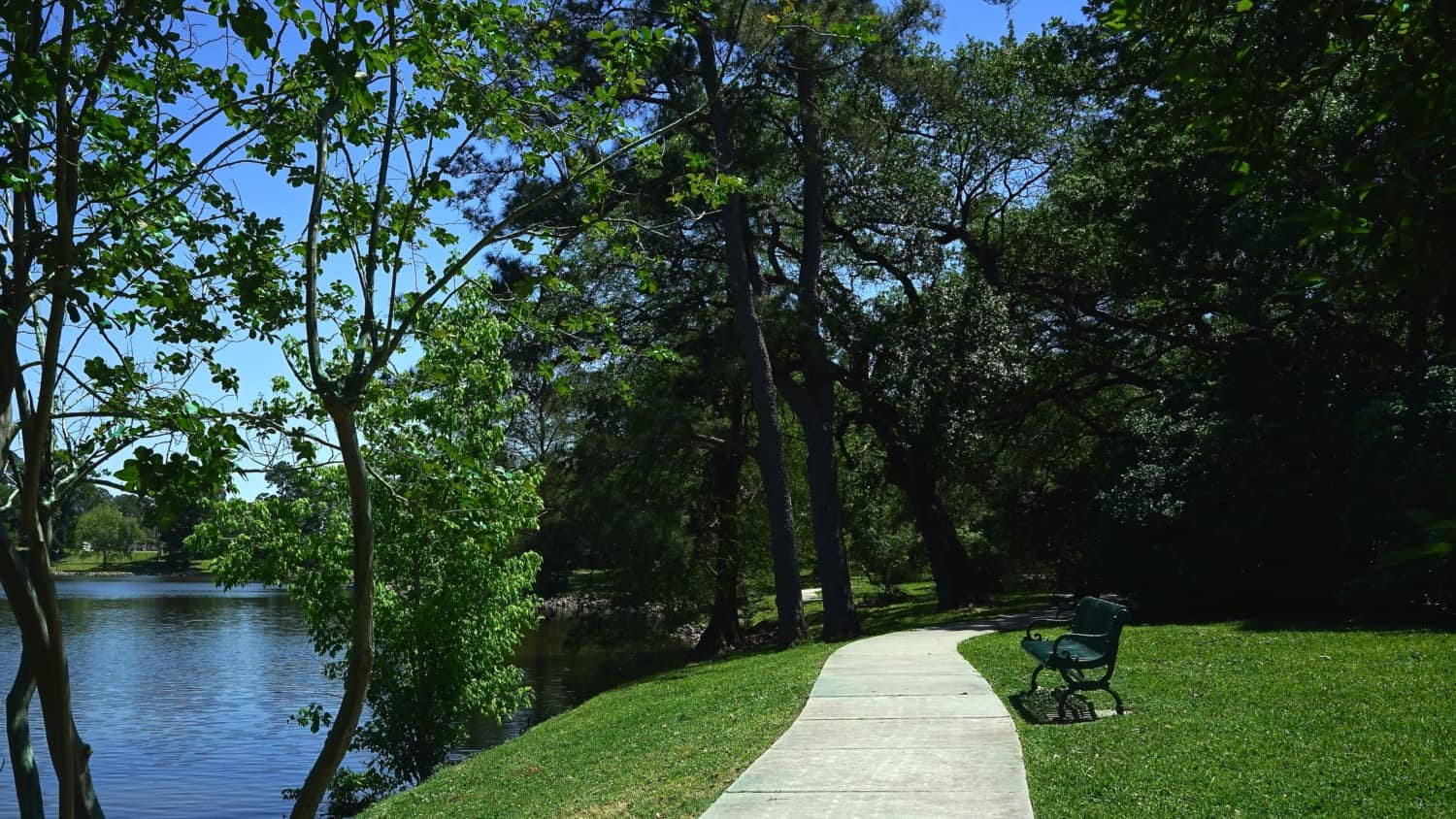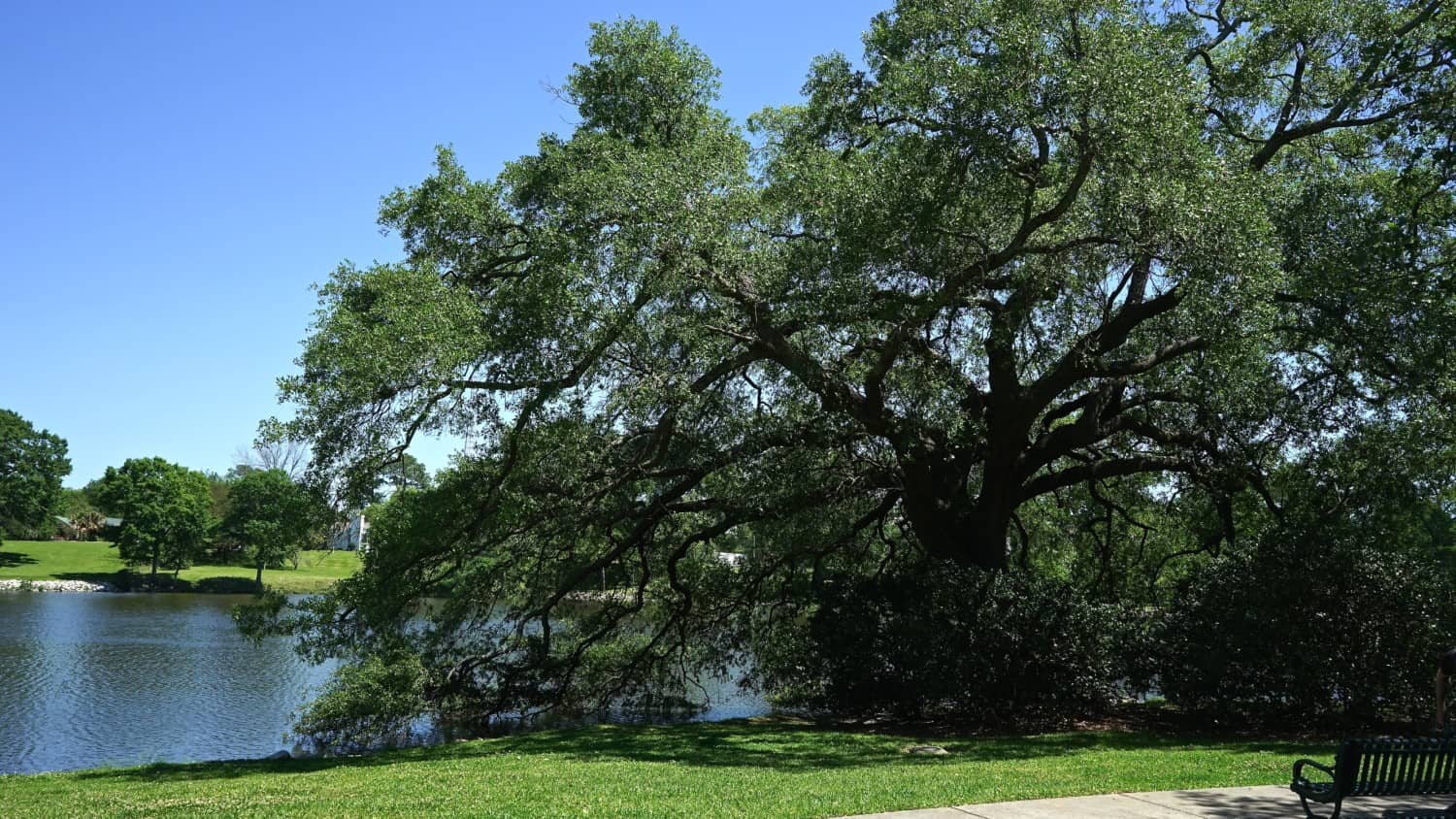 This is the perfect spot to pack a picnic, bring a book and your blanket, and while away the afternoon on the lakeshore. But keep in mind that your only a few blocks from the mighty Mississippi, and a walk along Riverfront Plaza is a must! The barge traffic is constant, and the tug boats are like worker bees maneuvering the massive cargo carriers around.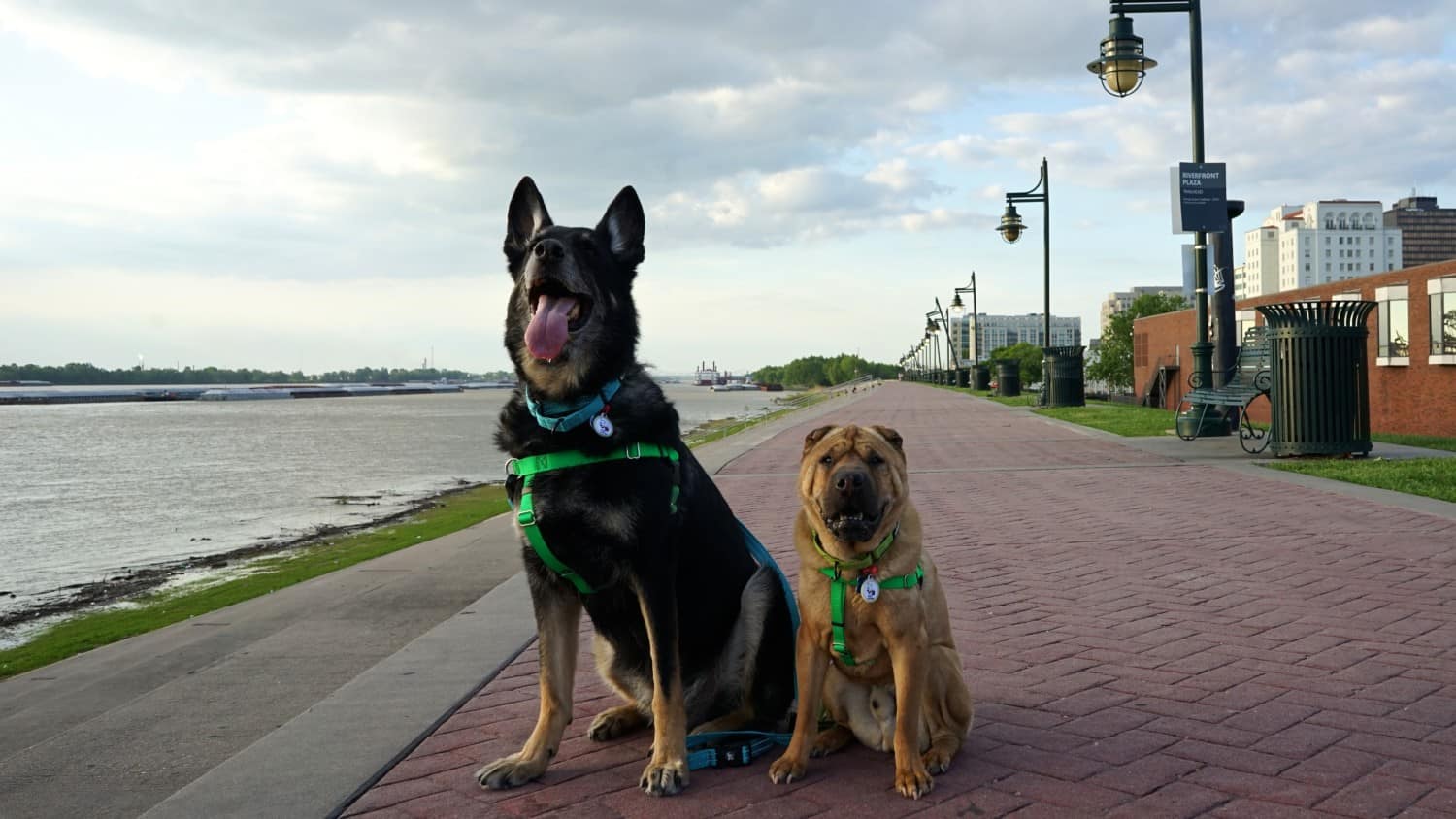 There are also some curious sculptures that make for fun photo opportunities. Boys, pose like this guy!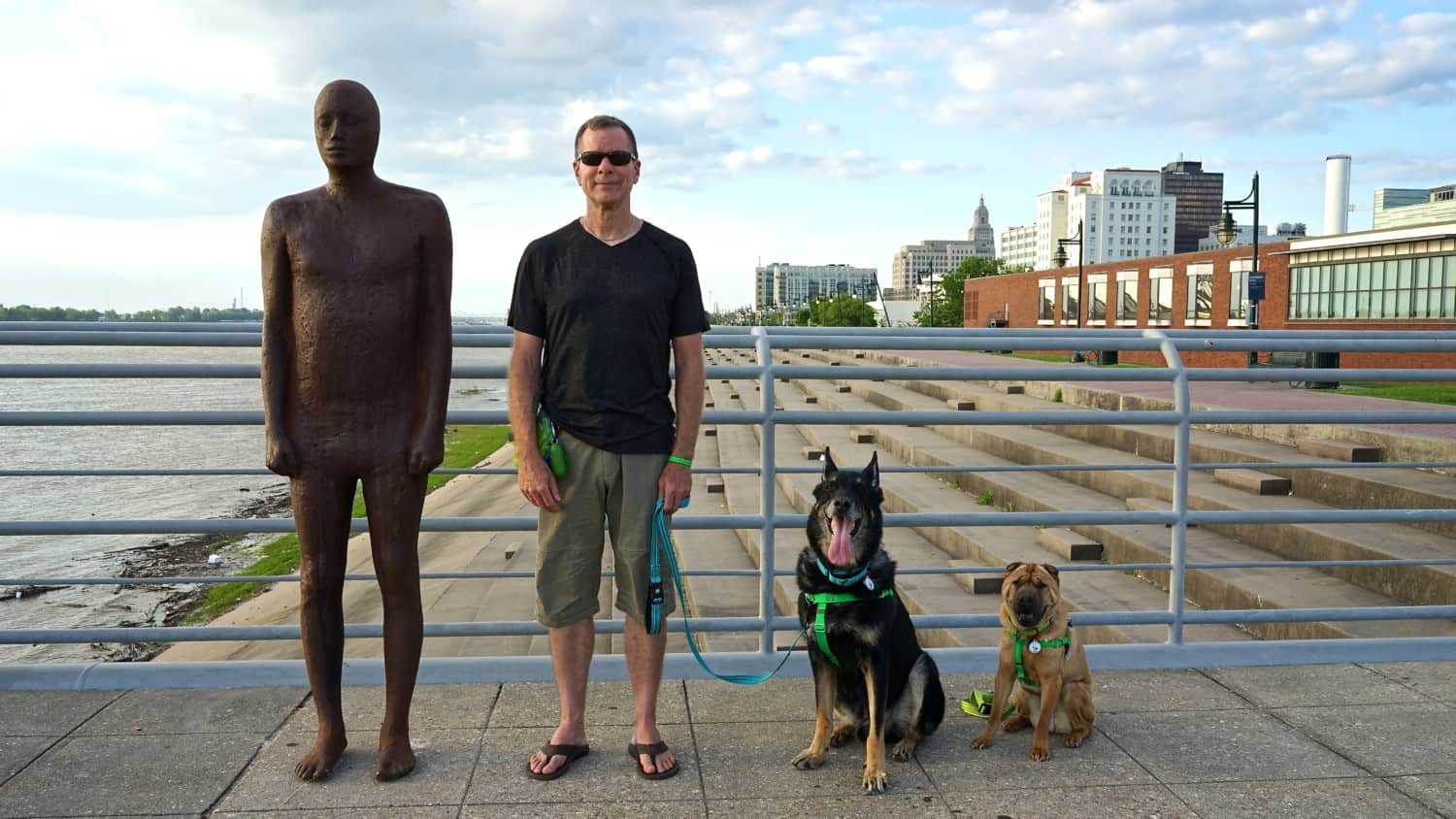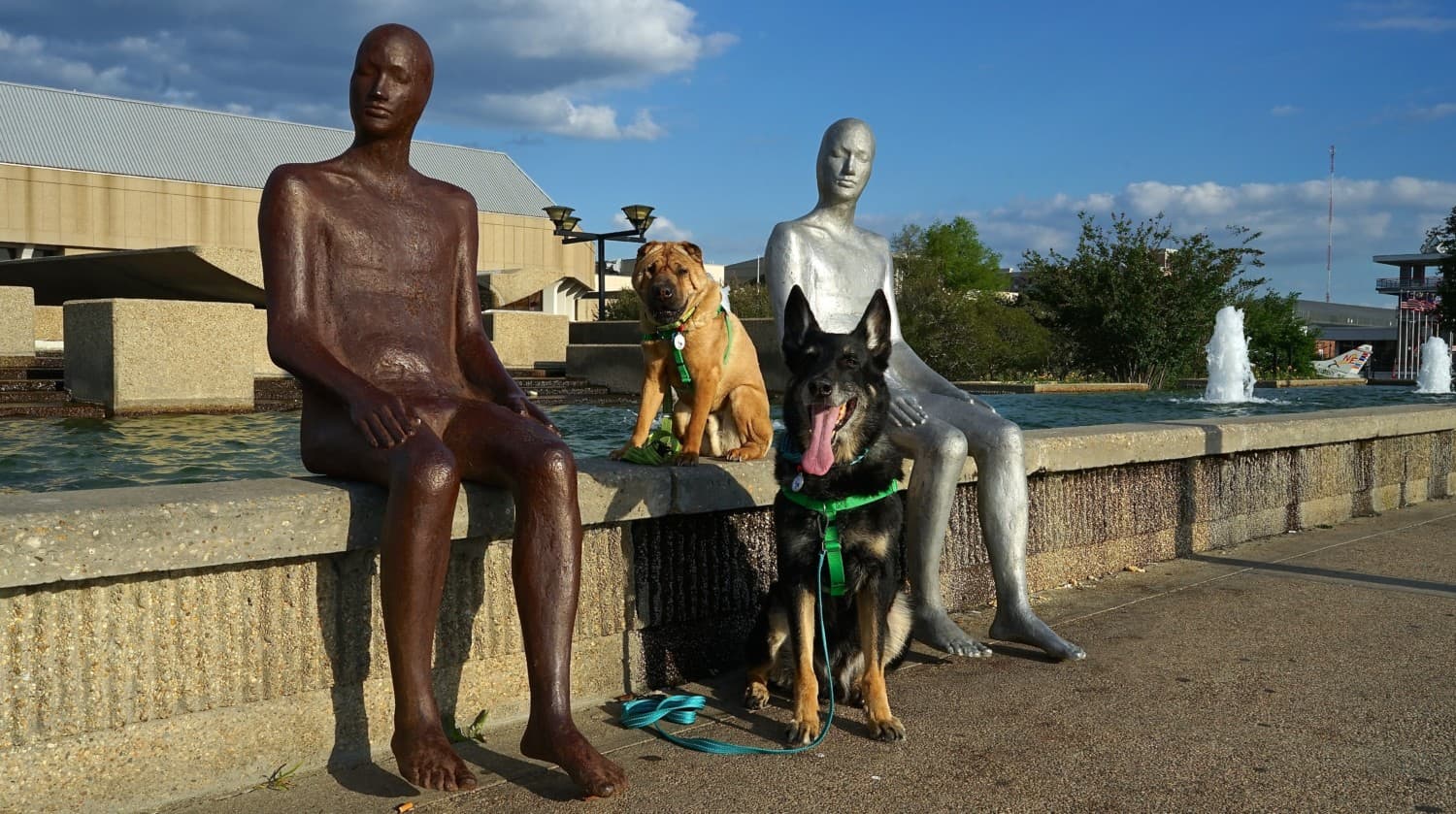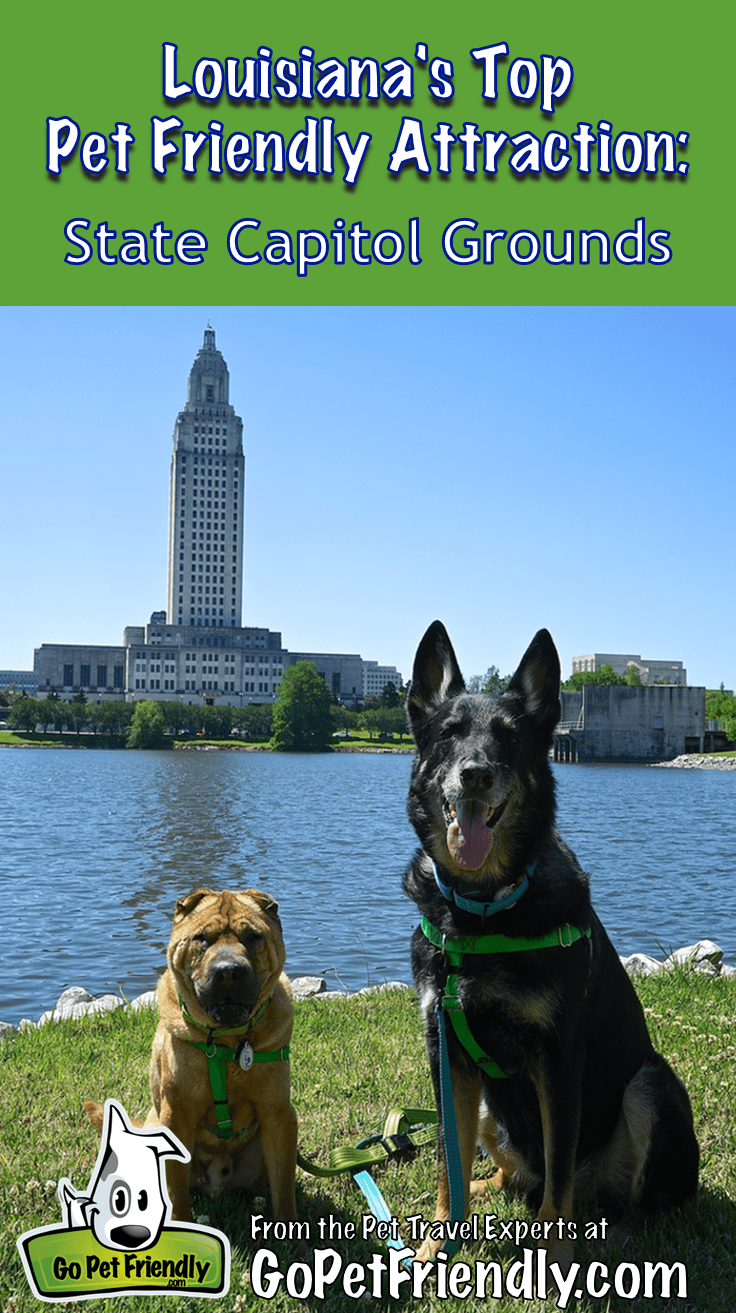 If you're getting the munchies or need a drink, check out Capital City Grill Downtown (100 Lafayette Street). Their courtyard seating area is next to a fountain for nice ambiance, they're happy to have your pup join you, and their tables are spread out enough to give big dogs room to stretch – which Buster really appreciated!
Thank You to Our Sponsors
Visiting the top pet friendly attractions in the U.S. with Ty and Buster is a dream come true. We'll be blogging about each one as we go along, so fasten your seatbelt and stay tuned!
The Ultimate Pet Friendly Road Trip wouldn't be possible without the support of our wonderful sponsors: Winnebago, 2 Hounds Design, Alcott, goDog®, PetGuide.com, Red Roof Inns, Sleepypod, The Bark, PetHub, RVPetSafety.com, and The Honest Kitchen. Please be sure to visit their websites and social media pages and thank them for their participation!
Planning a pet friendly trip of your own? We'll make it easy:
Pet Friendly Hotels | Pet Friendly Destinations | Pet Friendly Activities
Amazon Affiliate Disclosure: GoPetFriendly.com LLC is a participant in the Amazon Services LLC Associates Program, an affiliate advertising program designed to provide a means for website owners to earn advertising fees by advertising and linking to amazon.com, audible.com, and any other website that may be affiliated with Amazon Service LLC Associates Program. As an Amazon Associate, the owner of this site earns a commission from qualifying purchases.
(Visited 2,029 times, 1 visits today)