This post is part of a series on The Ultimate Pet Friendly Road Trip, our 10-month, 15,000 mile tour of the top pet friendly attraction in each of the lower 48 states.
Utah's Top Pet Friendly Attraction: Dixie National Forest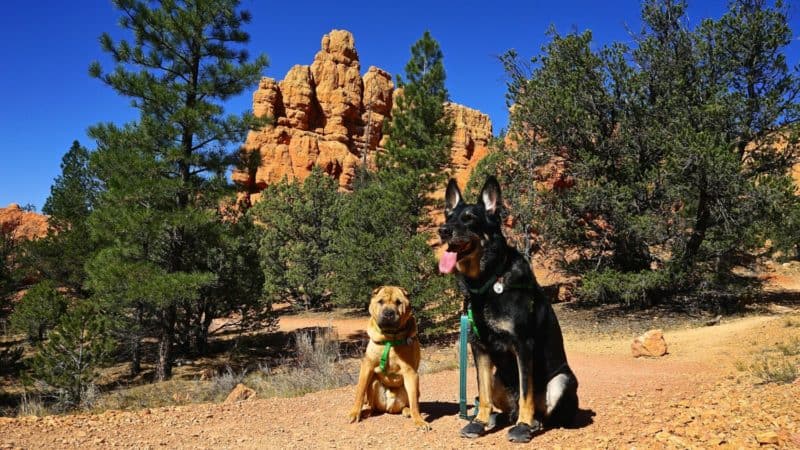 Southern Utah has such a concentration of breathtaking natural beauty, it's almost too good to be true. Within a half-day's drive you can visit Zion, Bryce and Capital Reef National Parks, and Cedar Breaks and Grand Staircase – Escalante National Monuments. The options are seemingly endless … unless you're traveling with a pet.
With the exception of some good hiking options at Grand Staircase, the very short Sunrise Point Trail at Bryce, and the 1.7-mile Pa'rus Trail at Zion (which is no where near the canyon that makes the park famous), pets are allowed very limited access to enjoy this spectacular scenery with you.
Does that mean your furry travel companion will be relegated to the back seat, enduring a perfunctory drive-through of this magnificent landscape, while you absorb as much as possible from the turnouts and overlooks with the rest of the tourists? Absolutely not – thanks to the Dixie National Forest!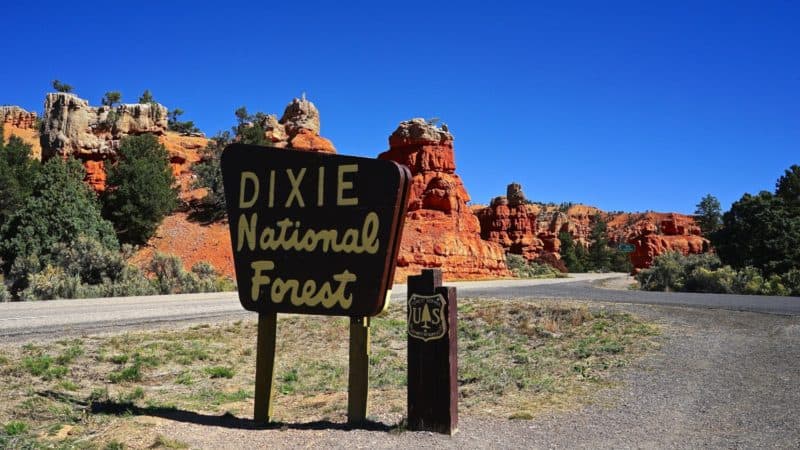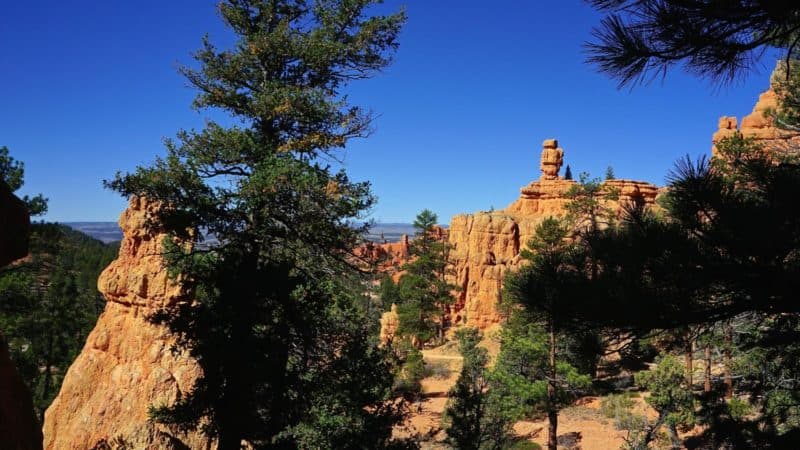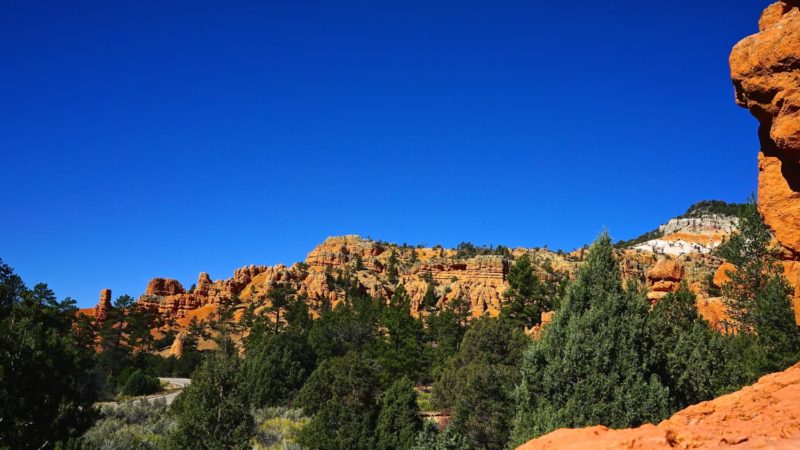 Covering almost 2 million acres, the Dixie National Forest is divided into four districts, one west of Zion National Park and the other three lying between Zion and Capital Reef. It would take a lifetime to explore the 1,600 miles of hiking, horseback riding, and bike trails, hundreds of miles of scenic byways, backways, and drives, 500 miles of fishing streams, and 90 lakes within the park's boundaries, and every square inch is pet friendly! If you're traveling to Utah with your pet, you simply can't afford to miss this.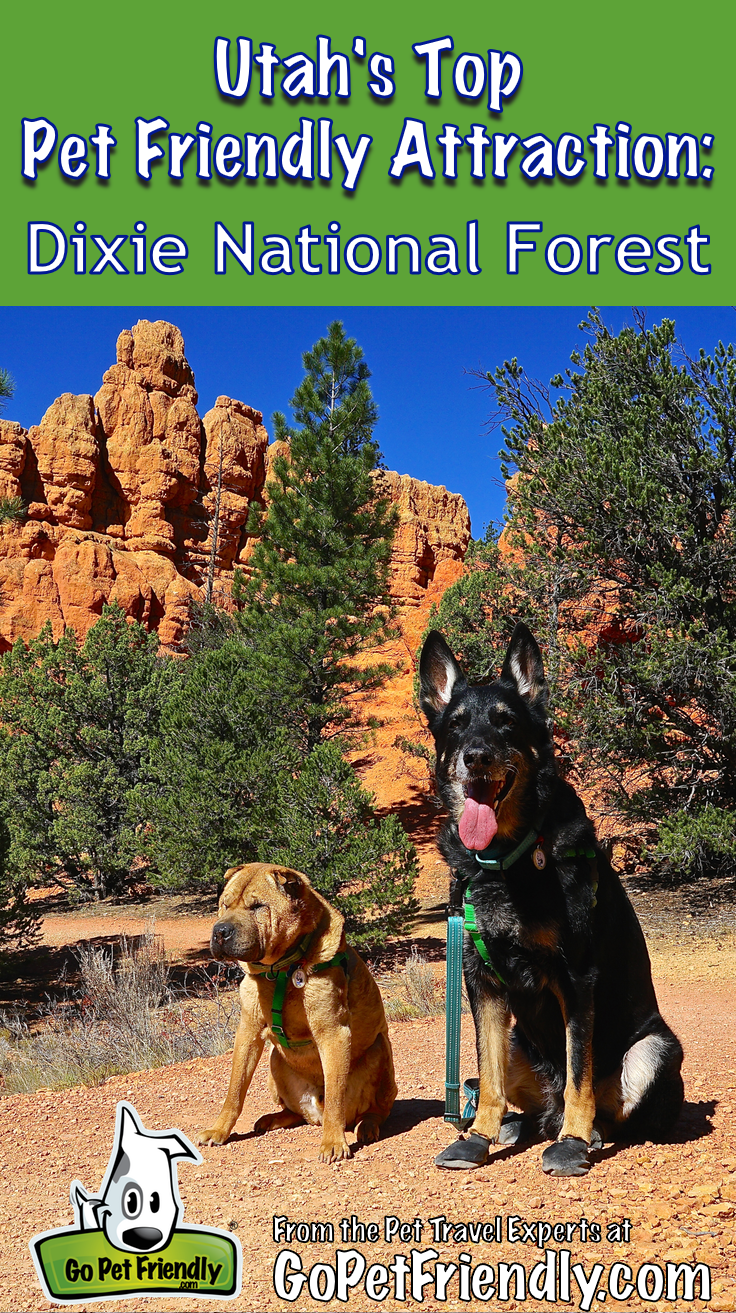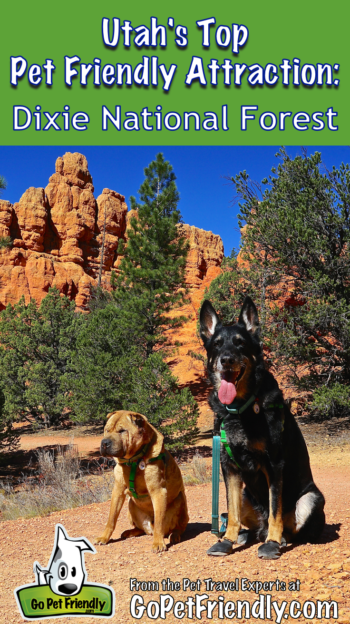 Dixie gets its name from the settlers who arrived here from southern states to plant cotton and other crops. They referred to the area as "Utah's Dixie" for it's mild weather, but in actuality Dixie encompasses a wide variety of climates and ecosystems. With elevations raging from 3,000 to 11,000 feet, annual precipitation running anywhere between 10 and 40 inches, and temperatures fluctuating between -30 and 100 degrees Fahrenheit – finding your preferred weather conditions may be possible without ever leaving the park.
Though we have more exploring to do, one of our favorite spots in the national forest is Red Canyon, where the red limestone and sandstone have been eroded into elegant spires and burly hoodoos. A stop at the Red Canyon Visitor Center is a wonderful starting point – you'll find maps, trail advice, and all the information you'll to ensure you visit is safe and fun.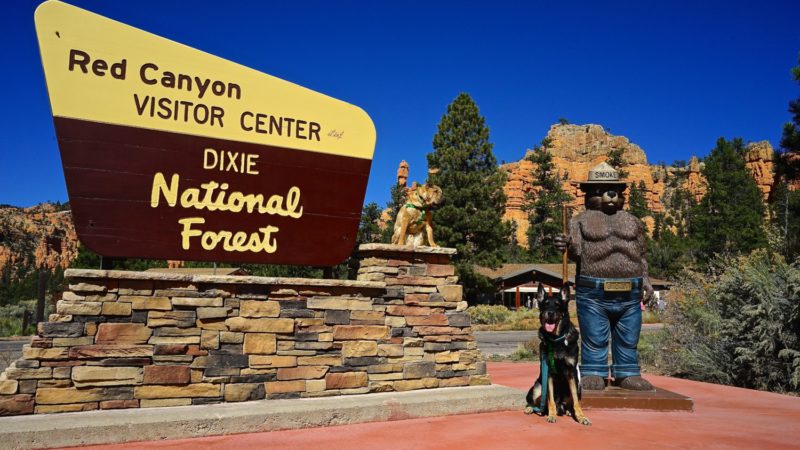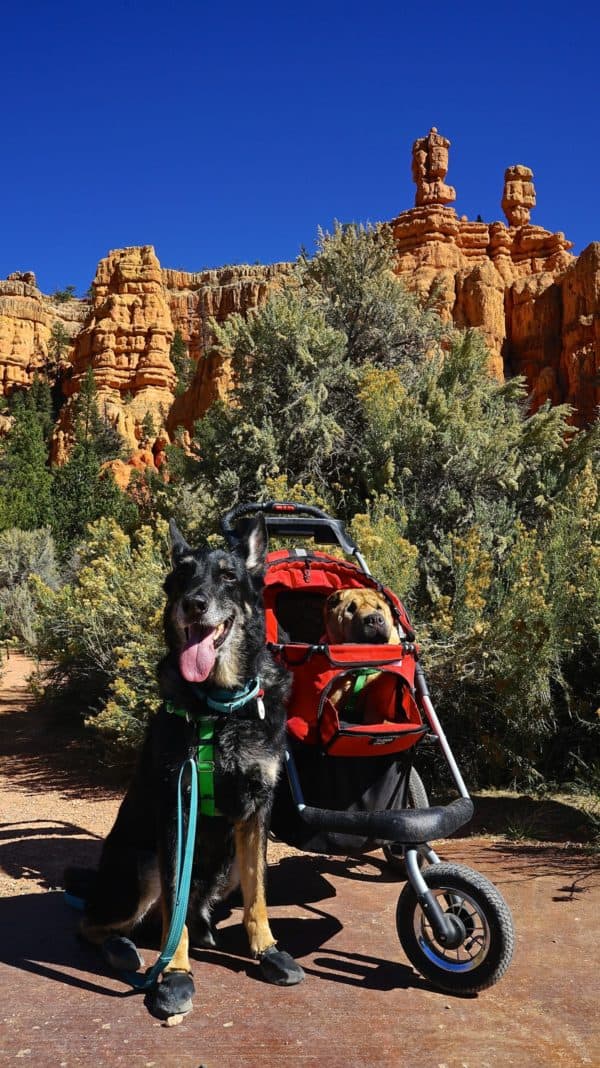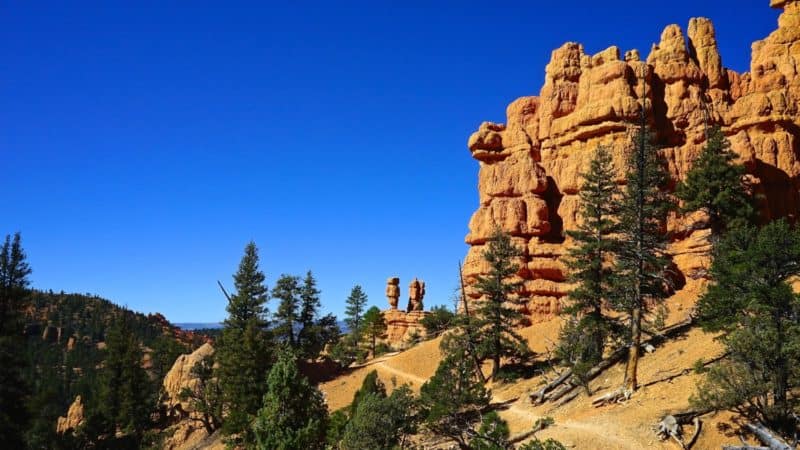 Pets at Dixie National Forest
Pets are welcome to enjoy the national forest's campgrounds, picnic areas, and trails with you, as long as they are on leash and cleaned up after.
Pet Rules at Dixie National Forest

Pets must be leashed, and leashes must be no longer than six feet
Pet waste must be picked up and disposed of properly
Pets are not allowed inside park buildings, including the visitor center
Hitting the Trails
Ty and Buster are always eager to hit the trails, and we started with the half-mile Pink Ledges trail, which runs up the hill from the Visitor Center. It's an interesting walk – especially if you pick up the interpretive guide before setting out – and allows you to begin to appreciate the scale of these massive rock formations. For the record, if you have a pet in a stroller, this trail is a bit too narrow and a little steeper than is comfortable for stroller navigation. We ended up carrying Ty in his stroller over some of the more precarious sections.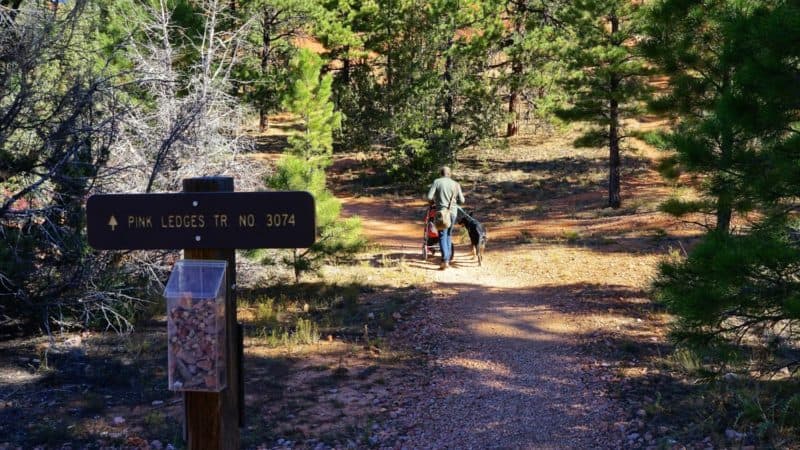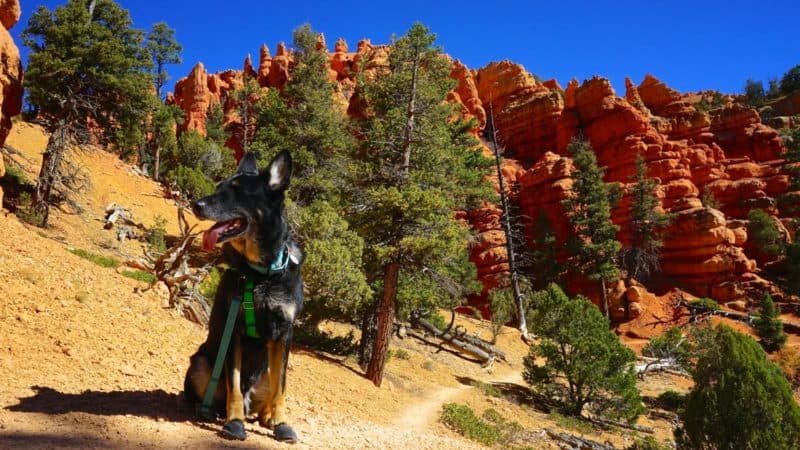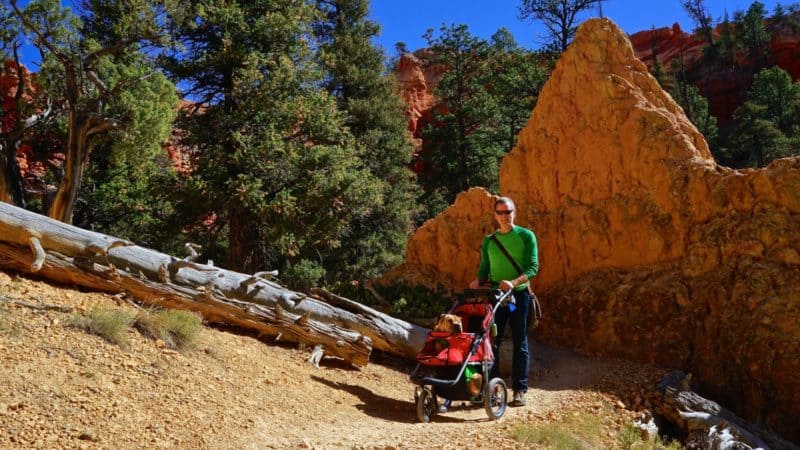 Pets on wheels, and anyone who prefers secure footing, will enjoy the paved Red Canyon Bike / Walking Path that runs more than 18 miles, from the entrance of the national forest into Bryce National Park. Following the route of Hwy 12, the bike path is well-maintained, and offers obstacle-free, easy hiking.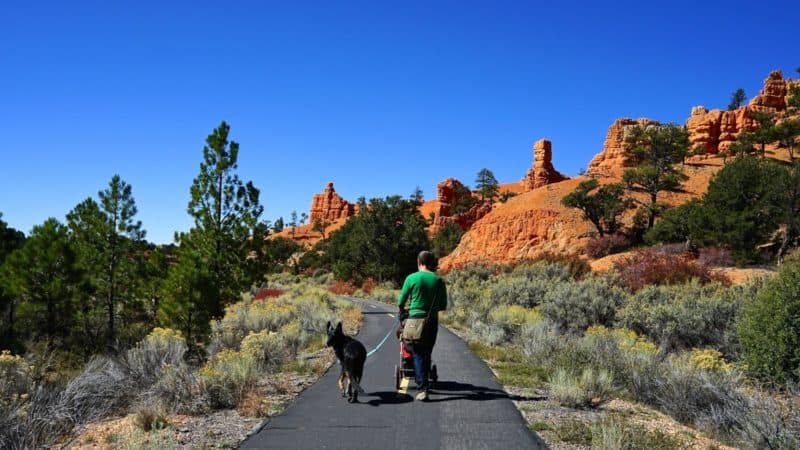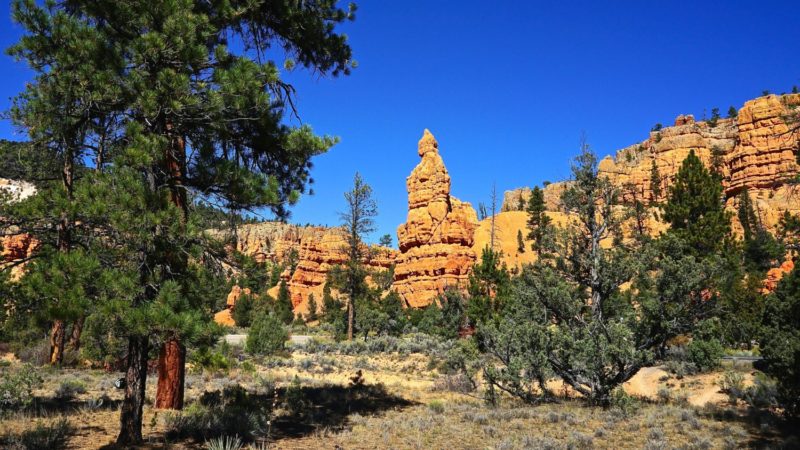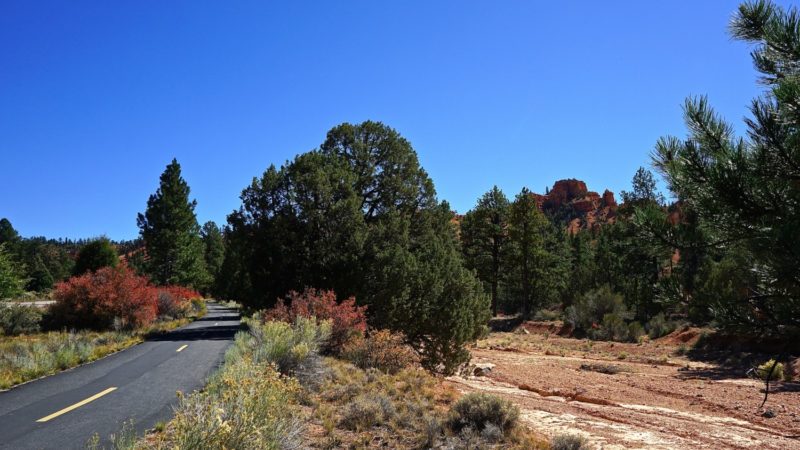 There are several other trails to choose from, and if you're hoping to get a closer look at some of the hoodoos that make this area unique, try the Golden Wall Trail. At 2.8 miles, this dirt trail will put you smack-dab in the middle of some of the best scenery Dixie has to offer.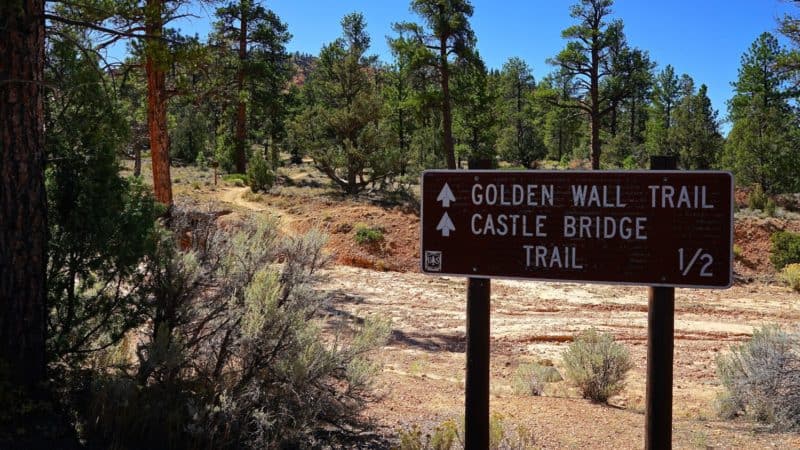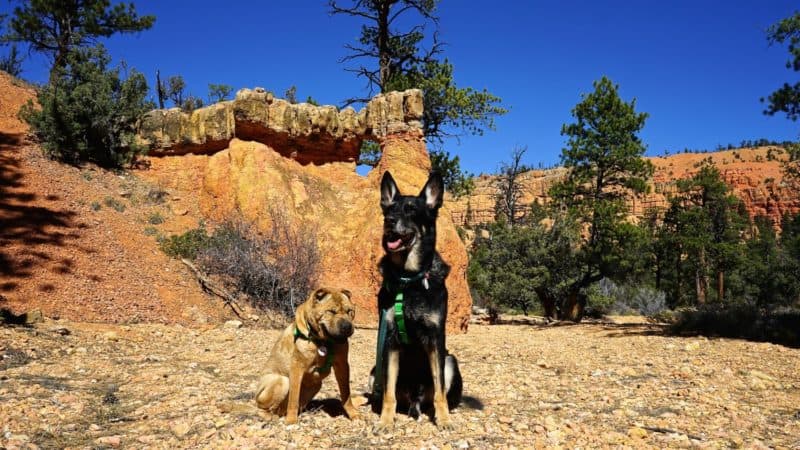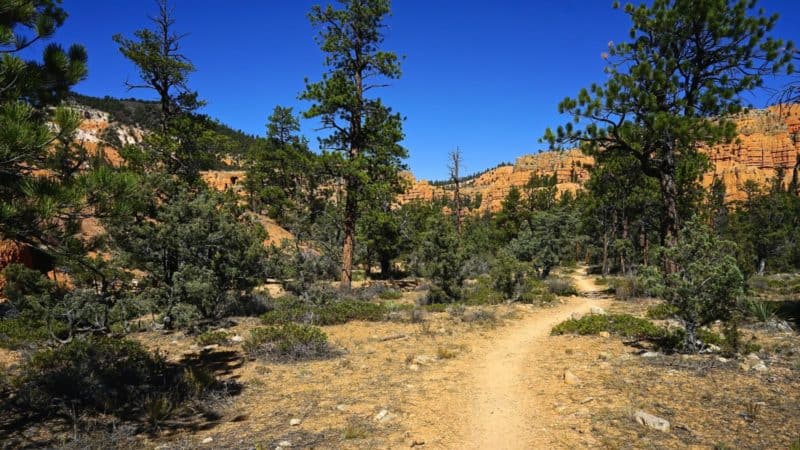 Scenic Drives
Hwy 12 – This All American Road covers 124 miles from Hwy 89, past the Red Canyon Visitor Center, and on to Torrey at the junction of Hwy 24. Along the way you'll pass through Bryce Canyon National Park, Grand Staircase – Escalante National Monument, and three state parks. Keep an eye out for views of the Henry Mountains, Circle Cliffs, and Navajo Mountain.
Hwy 14 – This State Scenic Byway winds its way from Cedar City, through the red rock canyons, over the Markagunt Plateau, and past Navajo Lake and Duck Creek. A short detour north puts you at Cedar Breaks National Monument, which is well work the drive!
Hwy 143 – Known as the Patchwork Parkway, this 55-mile scenic byway takes you across Utah's high plateaus to Cedar Breaks National Monument. Starting from either Parowan or Panguitch, both historic Mormon settlements, the route takes you through Brian Head, Utah's highest elevation community.
Camp Out
Dixie National Forest's four districts offer a total of 27 pet friendly campgrounds with varying amenities, and two that can accommodate horses.
Thank You to Our Sponsors
Visiting these attractions with Ty and Buster is a dream come true. We'll be blogging about each one as we go along, so fasten your seatbelt and stay tuned!
The Ultimate Pet Friendly Road Trip wouldn't be possible without the support of our wonderful sponsors: Winnebago, 2 Hounds Design, Alcott, goDog®, PetGuide.com, Red Roof Inns, Sleepypod, The Bark, PetHub, RVPetSafety.com, and The Honest Kitchen. Please be sure to visit their websites and social media pages and thank them for their participation!
Planning a pet friendly trip of your own? We'll make it easy:
Pet Friendly Hotels | Pet Friendly Destinations | Pet Friendly Activities
Amazon Affiliate Disclosure: GoPetFriendly.com LLC is a participant in the Amazon Services LLC Associates Program, an affiliate advertising program designed to provide a means for website owners to earn advertising fees by advertising and linking to amazon.com, audible.com, and any other website that may be affiliated with Amazon Service LLC Associates Program. As an Amazon Associate, the owner of this site earns a commission from qualifying purchases.
(Visited 15,719 times, 1 visits today)