This post is part of a series on The Ultimate Pet Friendly Road Trip, our 10-month, 15,000-mile tour of the top pet friendly attraction in each of the lower 48 states.
Delaware's Top Pet Friendly Attraction: Historic New Castle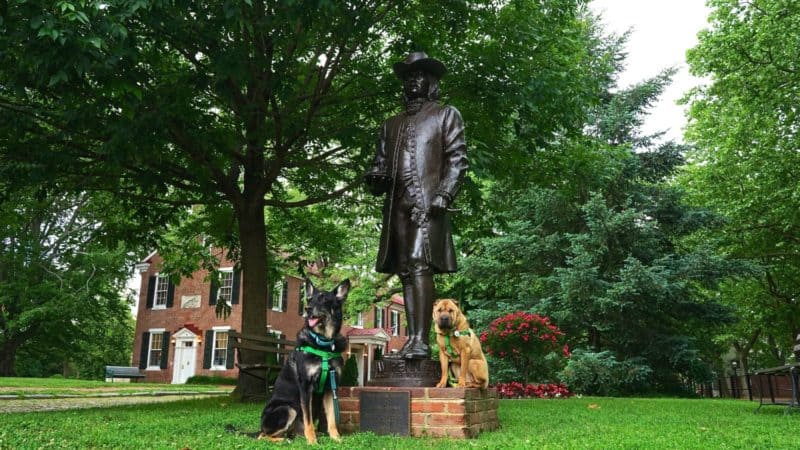 If you love strolling tree-lined streets, admiring beautiful examples of colonial Dutch and Federal architecture, and learning a bit about the early history of our country, historic New Castle will be right up your alley! It's prime location on the banks of the Delaware River positioned New Castle to be an early transportation center, and that brought prestige and wealth to the community. Thanks to preservation efforts, many of the homes built by those early settlers are not only still standing, they continue to house the city's residents.
New Castle has a colorful history. It was originally established under an agreement with the area's Native Americans as a Dutch fort by the West India Trading Company in 1651 – about 45 years after the English established their first settlement in North America at Jamestown, Virginia. Over the years the colony was seized by Swedish settlers, retaken by the Dutch, lost to the English, once again reclaimed by the Dutch, and then returned to Great Britain before finally being granted to William Penn by the Duke of York in 1680. New Castle is where Penn first set foot on American soil on October 27, 1682.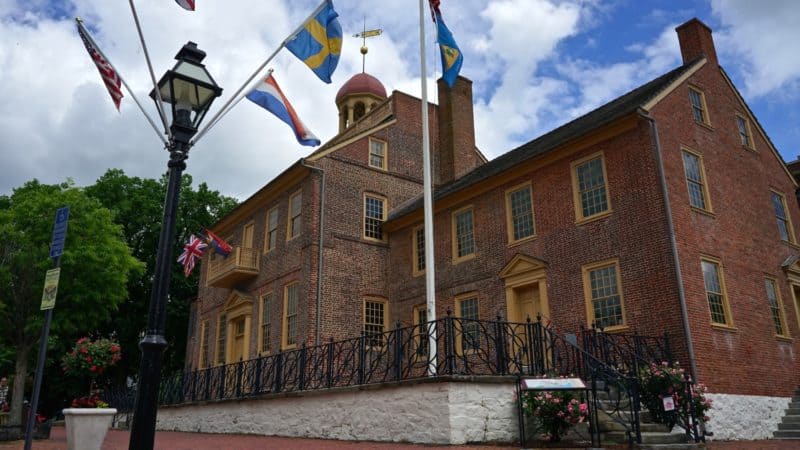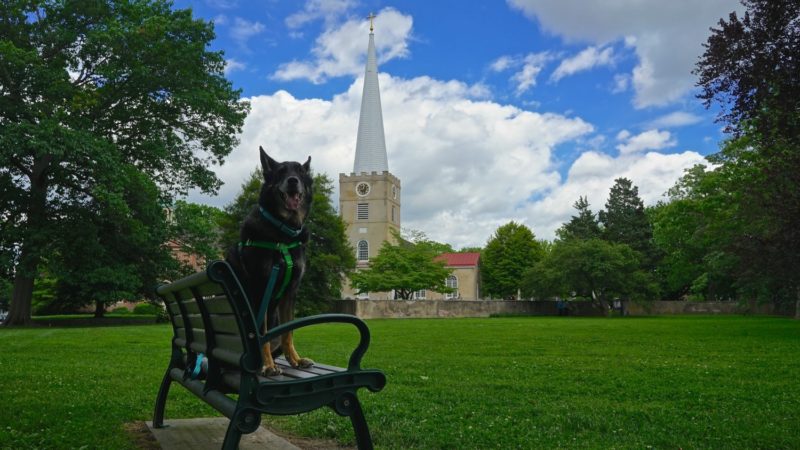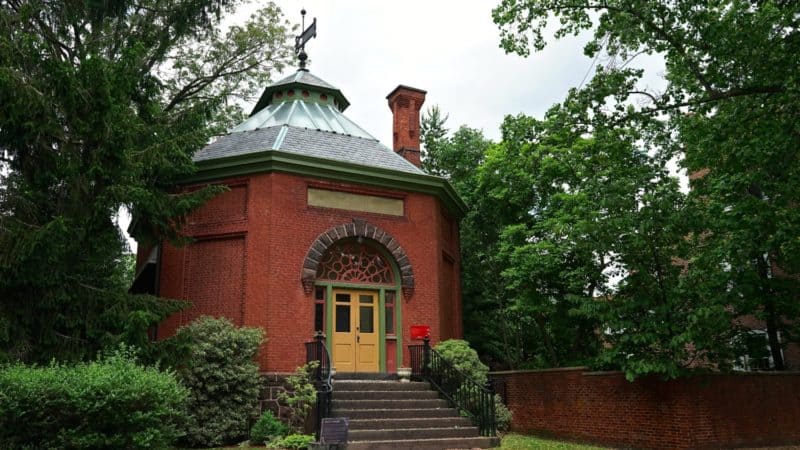 The influences of New Castle's early occupants are still evident to this day, and there are several ways to view the sites around New Castle. Of course, you can just wander about – the historic district is just 4 blocks by 5 blocks, so there's no chance you'll get lost.
But you might find your trip more enlightening if you follow a more structured itinerary. Start by organizing tours of some of the homes at the visitors center in the Arsenal at 30 Market Street. Pets will not be allowed inside the buildings, so bring a human friend, and take turns joining the tours.
Or, if you'd rather view the building from outside at your own pace, pick up a New Castle Heritage Trail map at the visitors center and begin the self-guided tour there.
Or download the AudioWalk tour of New Castle and enjoy a 2-hour narrated tour of the town, with fascinating information about the lives of the early inhabitants.
We opted for the AudioWalk, which begins at the Amstel House and gardens at 4th and Delaware. This home was built in 1738 for Governor Van Dyke, and in 1784, George Washington was a guest here for the wedding of Van Dyke's daughter.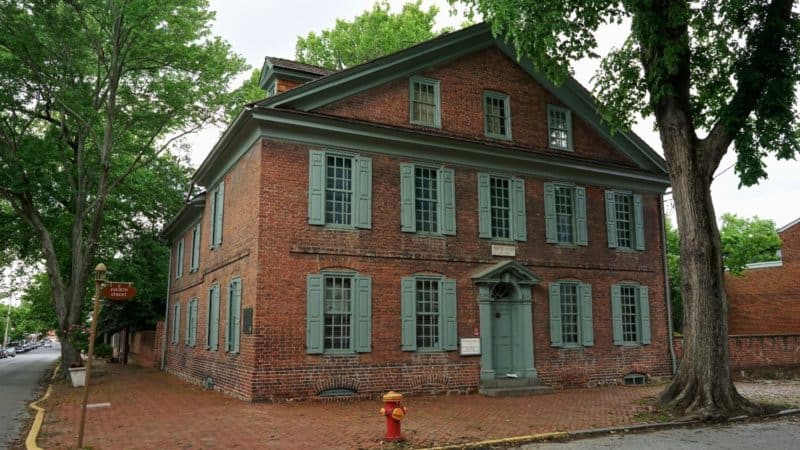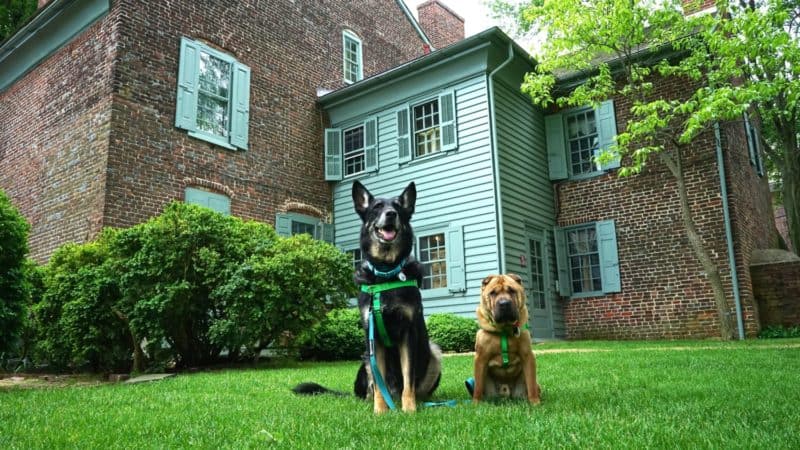 From there, the AudioWalk directed us along the streets, pointing out the unique architectural features of the homes, providing insights about the people who lived there, and describing what was life was like in the mid-1700s. For us, the audio tour was perfect – we could stop and start it as we chose, and it was fun to learn something new along the way. The recording lasted about two hours and covered 47 stops, but we took closer to four hours to complete it … with the added time for sniffing the roses.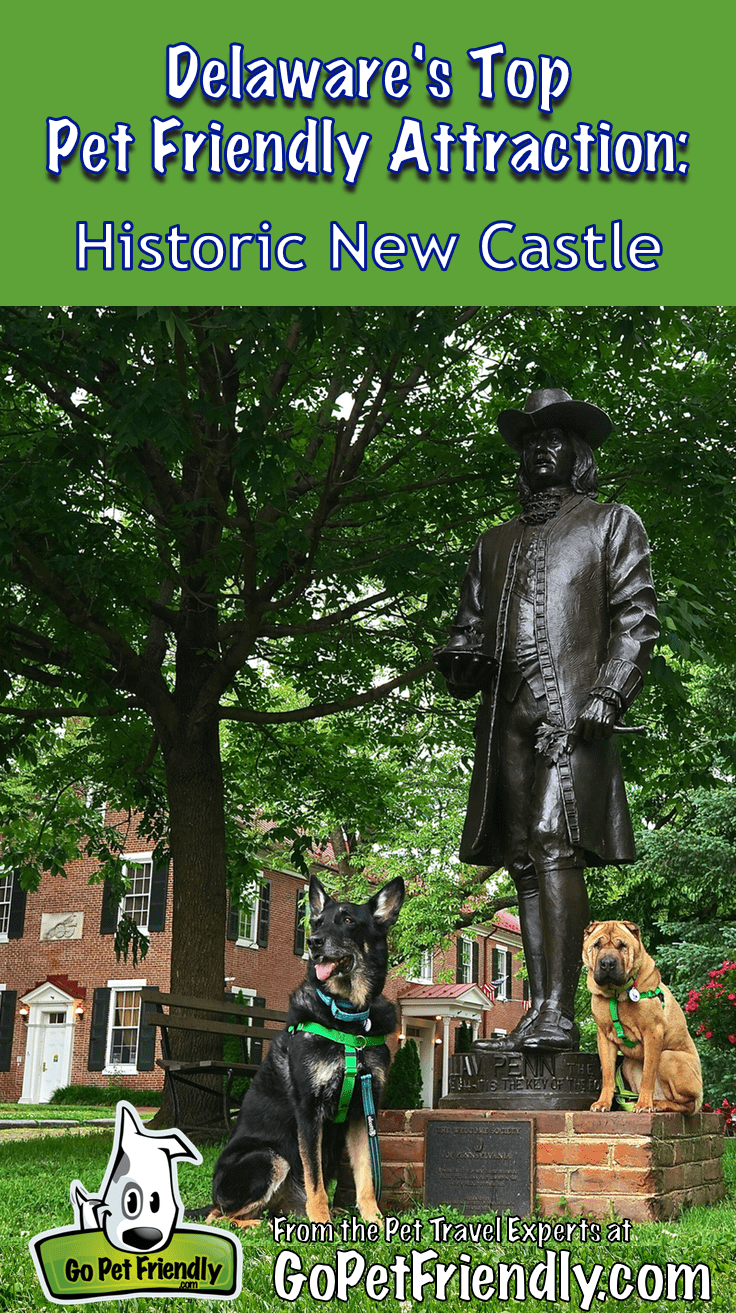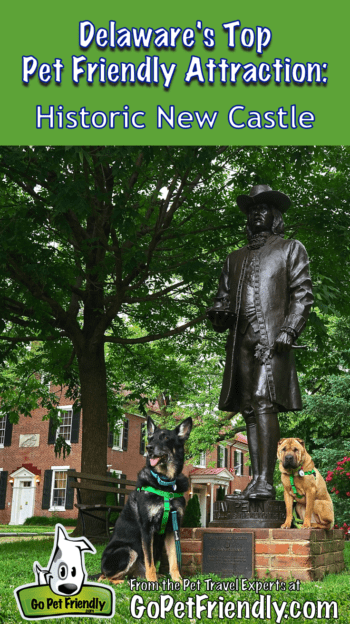 Pets in New Castle
New Castle is a living, working city and pets are very welcome to join you. Like in any other place, you'll want to keep your dog leashed and pick up after him. Also remember, that pets are not allowed inside on tours of the buildings.
Pet Rules in New Castle

Pets must be on leash

Pet waste must be picked up and disposed of properly

Pets are welcome in outdoor areas

Pets are not allowed inside the buildings
If you're planning your trip over mealtime, consider packing a picnic or ordering food to go and enjoying New Castle's Town Green or Battery Park. There are only a handful of eateries in the historic area, and none that we found had pet friendly outside seating options. Fortunately, there are some perfectly wonderful places to spread out a blanket or settle on a bench when the time comes.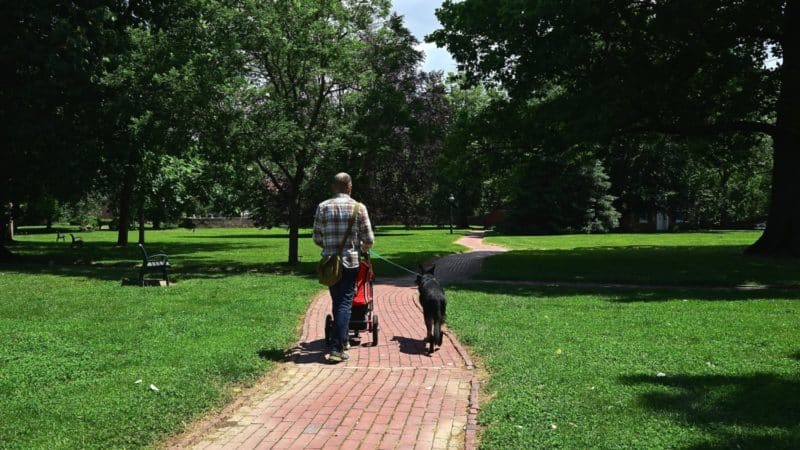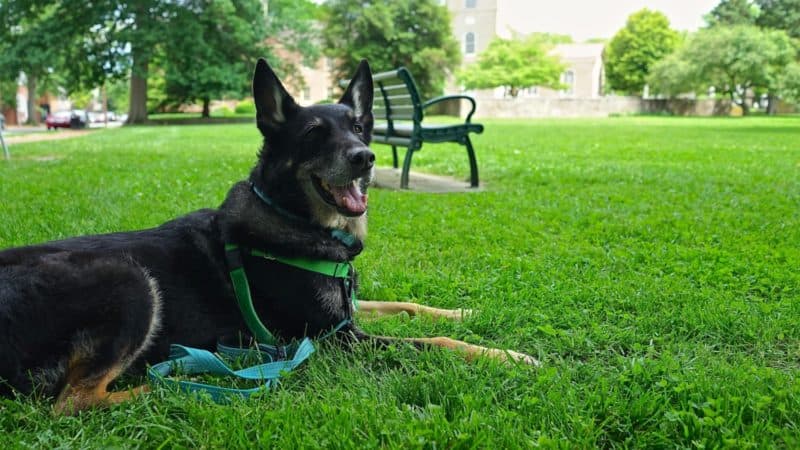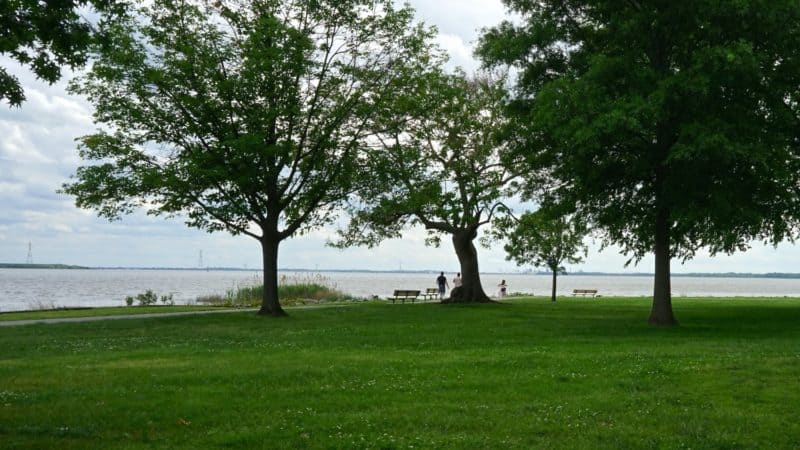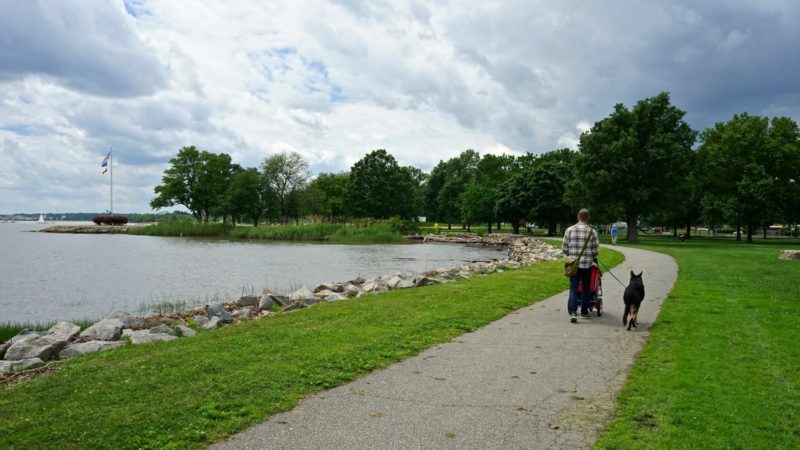 After lunch, be sure to walk out on the pier for a view of the Delaware Memorial Bridge, and then take notice of the lovely walkways that lead from the Strand down to the waterfront.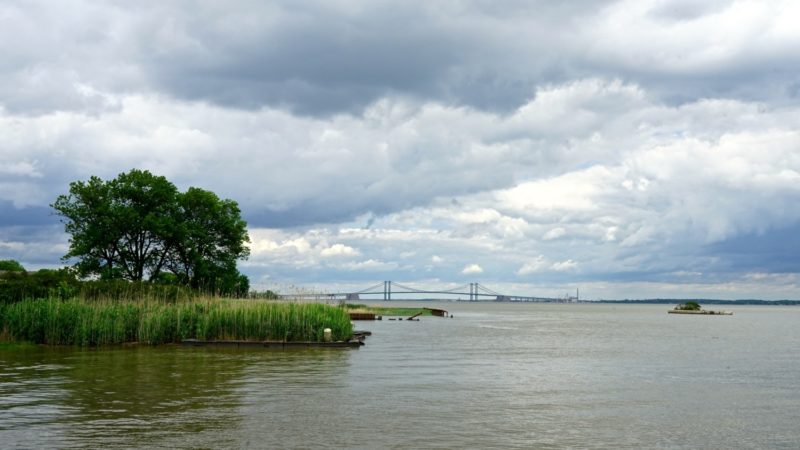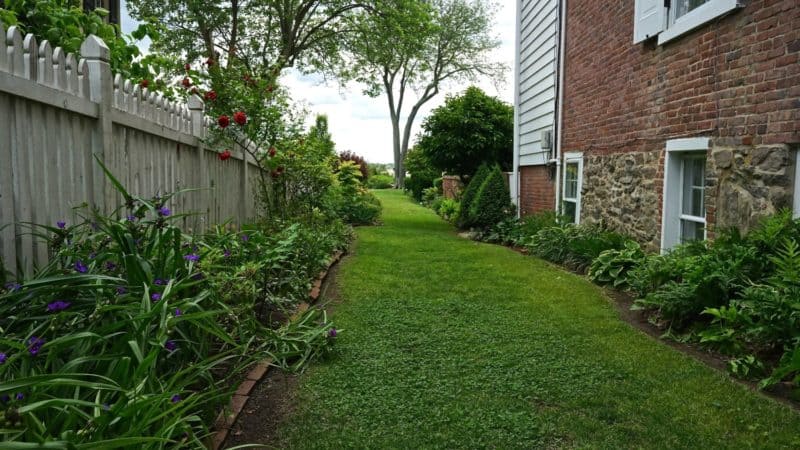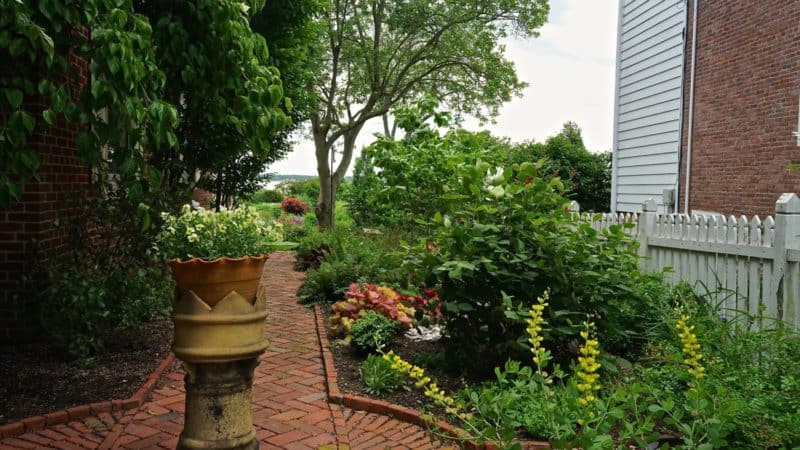 We found something intriguing around every corner in New Castle! If we've piqued your interest be sure to check the local calendar when planning your trip. From concerts in Battery Park, to Art on the Green, the city hosts festivals and celebrations throughout the year that you and your pet can enjoy together!
Thank You to Our Sponsors
Visiting these attractions with Ty and Buster is a dream come true. We'll be blogging about each one as we go along, so fasten your seatbelt and stay tuned!
The Ultimate Pet Friendly Road Trip wouldn't be possible without the support of our wonderful sponsors: Winnebago, 2 Hounds Design, Alcott, goDog®, PetGuide.com, Red Roof Inns, Sleepypod, The Bark, PetHub, RVPetSafety.com, and The Honest Kitchen. Please be sure to visit their websites and social media pages and thank them for their participation!
Amazon Affiliate Disclosure: GoPetFriendly.com LLC is a participant in the Amazon Services LLC Associates Program, an affiliate advertising program designed to provide a means for website owners to earn advertising fees by advertising and linking to amazon.com, audible.com, and any other website that may be affiliated with Amazon Service LLC Associates Program. As an Amazon Associate, the owner of this site earns a commission from qualifying purchases.
(Visited 2,117 times, 1 visits today)